The history of the brand dates back to 1884, when the McKinney family emigrated from Ireland to Australia and settled in Queensland. The head of the family, John McKinney, focused on developing the jewellery business, which soon gained recognition across the country. Today, the name and the success of John McKinney continue to live through the brand Margot McKinney, helmed by the fourth generation of the family – Margot herself.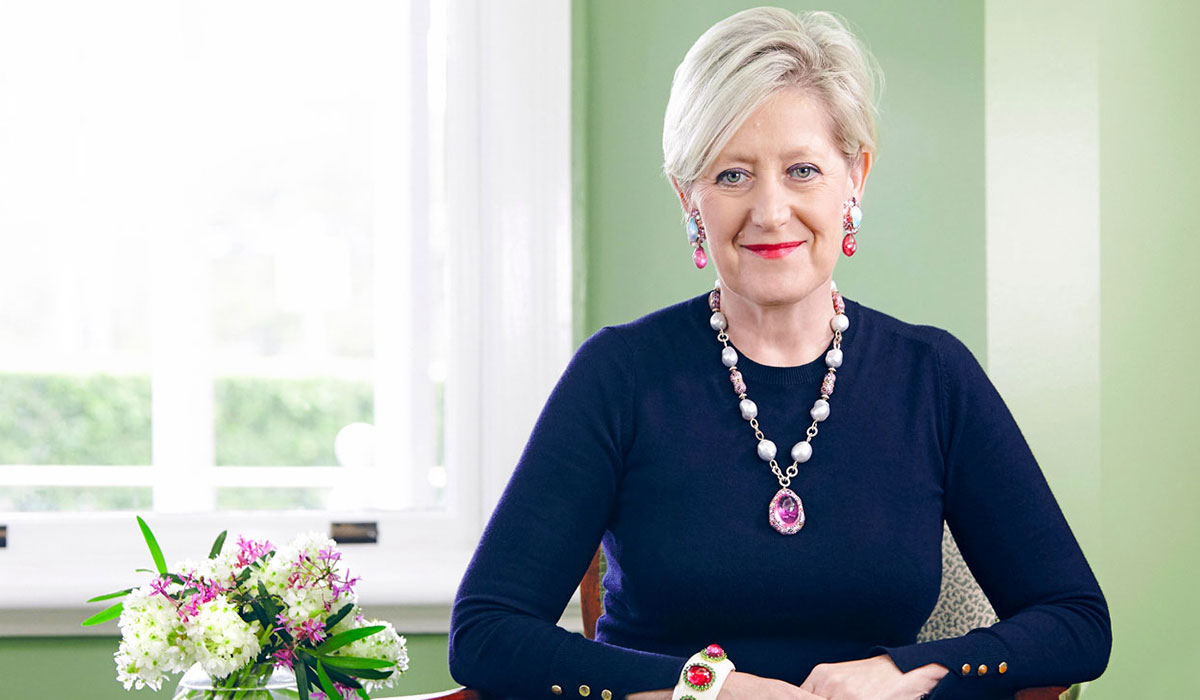 KP: McKinney family business has a rich heritage of over 130 years. How has jewellery aesthetics changed over time?
MM: Our family business is now in its 133rd year. However, I am the first to take the business international. When I was growing up, the quality of the jewellery was always paramount but the design was certainly less adventurous than what I now design. It met with the times and women had beautiful collections of traditional jewellery. But I perceive it more as wearable art and, as such, the aesthetics have changed enormously. I find my collectors much more drawn to the most dramatic and unique of pieces. Although the design has evolved over time, the symbolism attached to it remains the same: our pieces are always made with love and appreciation and worn in the same way.
KP: What influences you most when creating a design?
MM: There are many things that influence my style. I draw inspiration from the abundant travel I do each year and I am very thankful for all the incredible experiences. Several years ago, I noted that the word recreate (to unwind, give new life to) was the same as recreate (to refresh, recharge) and I am a believer that a refreshed, relaxed mind is a creative mind. I am always at my most creative after our summer beach holidays. Apart rom travel, art, fashion, interior design, music, food, wine, anything that feeds the soul, including meditation, yoga and the glory of feeling alive and healthy, are a great source of inspiration to me.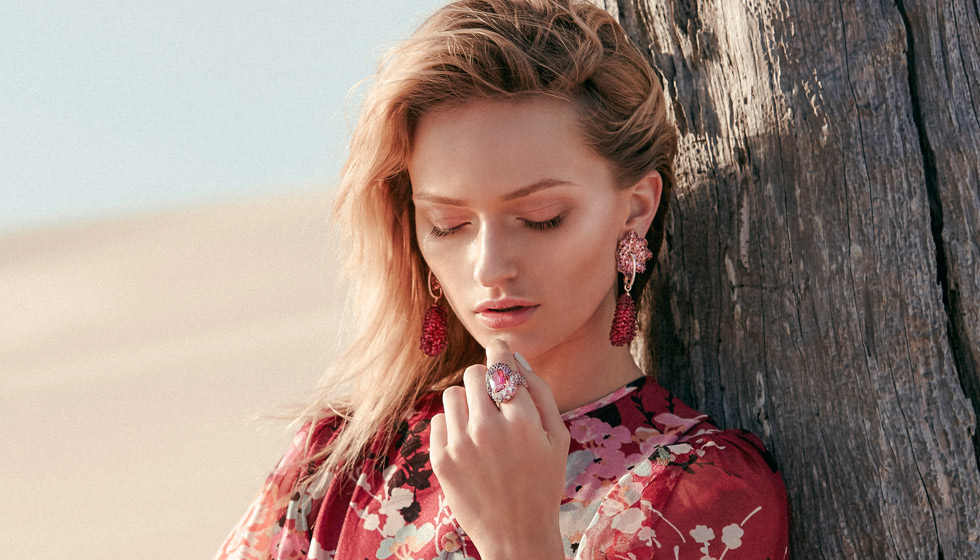 KP: What about the magnificent coloured gems that you encounter?
MM: They are most often my source of inspiration. Gems talk to me and when 'shopping' for them at trade fairs, I instantly know if I have an affiliation with one of them or the other. It is a personal journey and one of my favourite things to share with the collectors is the story of the gem and how the piece of jewellery was created.
KP: Are you drawn to bright gems because you grew up in a beautiful, sunny place?
MM: I guess this happens almost through osmosis. Childhood summer holidays were always spent at the beach in Queensland and I think the blue of the ocean, the sky and the green palm trees became indelibly stamped on my psyche.
KP: Do you believe in symbolism of colour and can it alter your mood?
MM: Most definitely. I think we all have days when we wake up and know it's going to be a black pants and sweater day, and then there are days when we leave the house confidently in a hot pink dress. Sometimes, putting on a colourful earring with the black sweater can change your day. It certainly affects the way people perceive you.
KP: How did pearls become a part of your colourful design?
MM: Australia produces the finest pearls in the world and I like to think I am an ambassador for the Australian South-Sea pearl industry. My mother wore pearls almost everyday, so I grew up with this warm memory. I adore the extravagant size of Australian pearls and love how flattering they are. They marry so well with a wondrous variety of gems, including the Paraiba tourmalines and opals. Their texture and shapes juxtapose so beautifully with the tumbled, cabochon gems, which I am drawn to.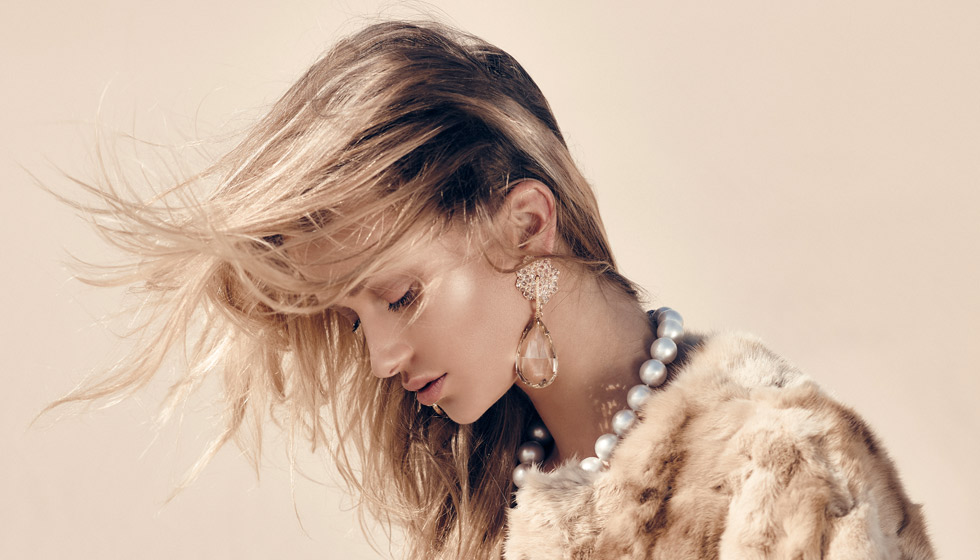 KP: Where did you get your fascination for volume and disproportionate/Toi&Moi jewels?
MM: I have always loved big statement jewellery and, with maturity, I have become emboldened to create adventuresome wearable art of a scale that may sometimes be surprising. I created a ring last year that featured a very large opal and I thought I might have pushed my own creative boundaries. A collector loved it and the ring found a new home extraordinarily quickly. I feel that confident jewellery resonates with collectors and allows the owner to dress in a way that makes a statement. The Toi&Moi is a Margot McKinney signature and the whimsy and the unexpectedness delights the senses. I see the glee in their eyes when women, wearing these earrings, turn their head to reveal a different colour on each ear.
KP: Your creations include transformable jewels. Is this a result of the current trend?
MM: I believe that being a woman designer crafting jewellery for women brings forth an understanding of how a woman likes to wear jewellery. An earring with a detachable drop can take you to so many more places, just as a necklace that can be worn long or in a double strand, like a choker, gives two different looks. I am a great proponent of adaptability.
KP: How do you connect jewellery and personal style?
MM: My collectors do this with such style. Last week in Los Angeles, I sponsored the premier trade event between the USA and Australia, G'Day USA. Several clients, from across the globe, joined me in LA for the festivities and over the course of three days I was left in awe seeing how these wonderfully stylish women wore my jewellery ever so creatively. It was an extraordinary experience for me. I love that a fabulously important Paraiba tourmaline collier can be worn with a white The Row T-shirt and a formal gown. Just exactly how I design my jewels to be worn – Often.
KP: Will we see a fifth generation continuing your legacy? What exciting things can we see happening?
MM: I am very hopeful that we have a fifth generation showing great interest in the family business. These are early days but if excitement and confidence is an indicator, then I am encouraged. This year, I am collaborating with a wonderfully talented Australian artist Kathryn Brimblecombe-Fox for a very exciting and innovative jewellery collection not seen before. Stay tuned.