'Per Fumus' or 'through smoke' is the Latin origin of the word 'perfume'. The art of making perfume goes back thousands of years with Egypt and Mesopotamia the birthplaces of perfumery. Fast forward centuries and the early Europeans were then the first ones to create perfume containers that could be worn as jewellery, as much a practical option as a decorative symbol of status.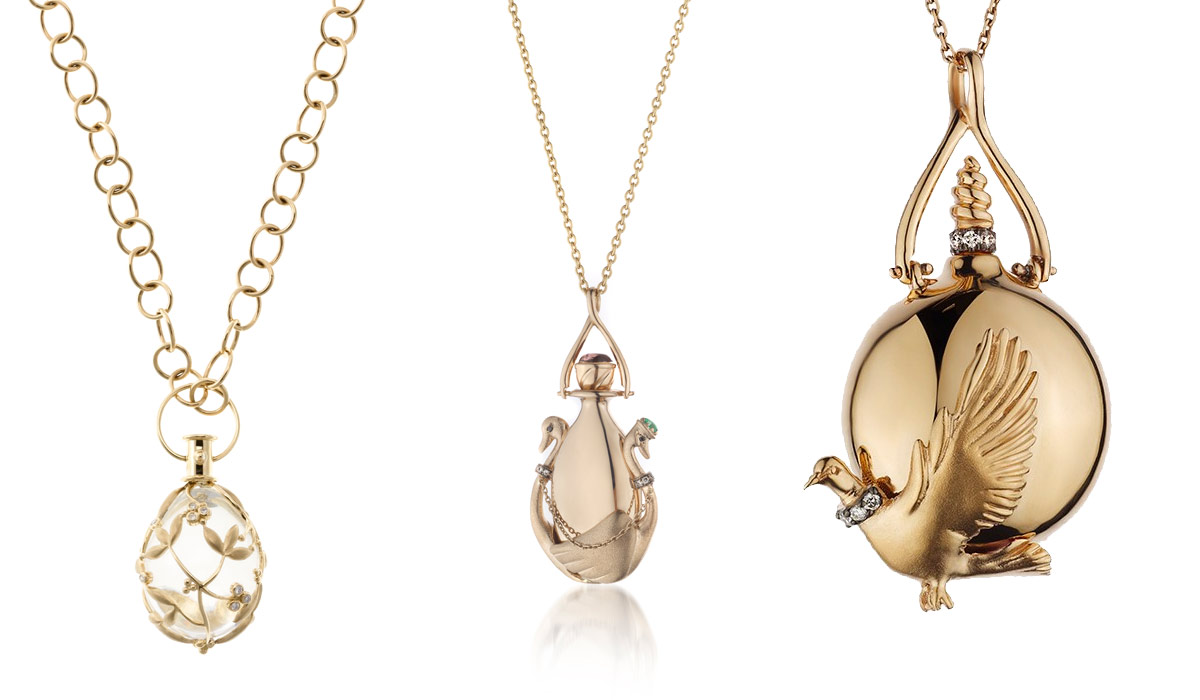 Nowadays, contemporary designers pursue the fashion with arresting concepts. Literally combining past and present, Katherine Jetter revels in reviving antique artefacts in her Bronze collection. The 'Bronze Perfume Bottle' pendant features a 2,000-year-old Roman Empire Bronze bottle with 20K yellow gold collar and bulb pin stopper with champagne diamonds suspended from a 24K yellow gold rolo chain.
More as a tribute to the past than using antique components, other jewellery designers create modern perfume bottle jewels with a hint of another era. Temple St. Clair with their 'Vine Amulet' in 18K yellow gold, rock crystal and diamonds; or Melie Jewellery with the Scent of Love Collection that was inspired by 'The Dove's Neck Ring' book written in 1027 both have a vintage touch to them.
Dionea Orcini's Il Profumo Collection is inspired by scented pendants or pomanders used as aromatherapy. The designer says that "kings and queens were depicted with precious pomanders made of gold and studded with gems, worn with pride as they were considered the ultimate jewellery accessory". So she created her own version of jewels for modern kings and queens in a shape of an orb that opens using a concealed hinge to reveal a scented silk rose.
In the same vein, Arman Sarkisyan came up with a more menacing option, the 'Poison Ball Pendant' in 22K gold and black diamonds featured below.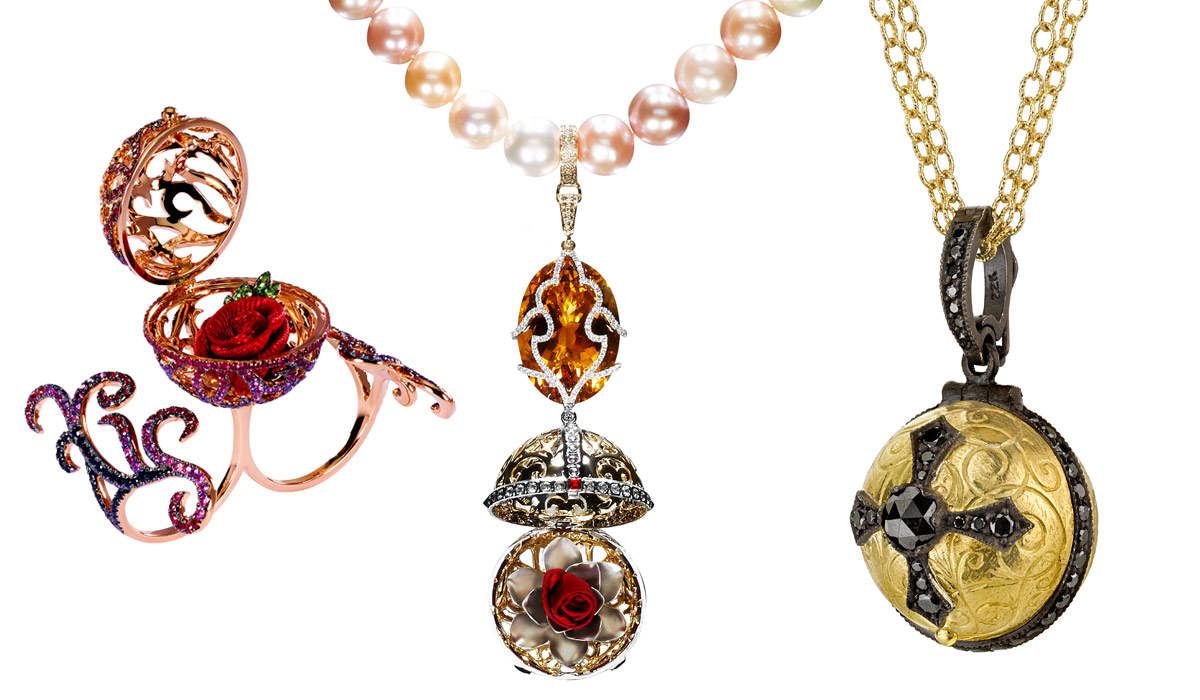 In terms of elaborate designs, Caratell fashioned the pinnacle of precious perfume bottles. Michael Koh created delicate works of art where floral gem-paved lids crown hand blown Venetian glass vessels.
A step further on the luxury scale, Cartier offers an olfactory jewel, which contains bespoke fragrances, all produced by Mathilde Laurent, the Cartier's in-house nose. 'Taleb' from Cartier Magicien high jewellery is a perfume bottle necklace in yellow gold with plique-à-jour enamel that can be filled with a perfume of your choice.
However, not all contemporary perfume bottle jewels are richly decorated; a few designers have opted for sleek renditions instead. Take the 'Open Bottle' by Elsa Peretti for Tiffany & Co for example, which is very first designs created for the company. Crafted in 18K yellow gold with a jasper lid or in silver it resembles a miniature vase more than a perfume bottle per se.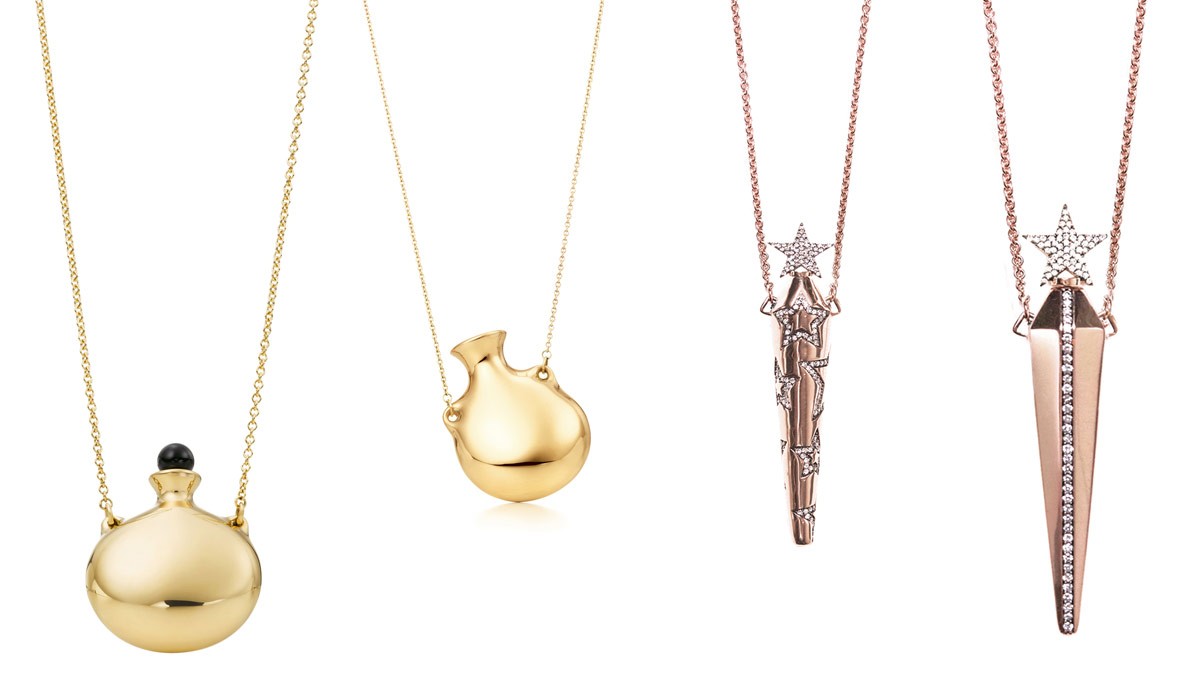 Squarely modern and sharp are the jewels in Diane Kordas' Amulette Collection. Her minimalist touch and her signature use of asymmetrical stars can be found in each 18K gold amulet embellished with diamonds and a precious stopper. The same contemporary approach was adopted by Paige Novick and Kilian Hennessy. Their collaborative jewellery collection the Paige Novick for By Kilian Fragrances Collection is available in black gold and vermeil, with white diamonds and grey pearls. The fragrance is infused using Kilian's groundbreaking process of having a scented ceramic disc hidden within the design, and each piece can be customised with a choice of By Kilian's unique scent.
It would not be possible to conclude this overview of perfume bottle jewels without mentioning that they are still very much in use in some parts of the world. In the Middle East wearing perfume is an everyday cultural duty which UAE-based Gafla kept in mind while creating the Merwad Collection. In Arabic, Merwad describes the perfume wand that women use to apply the scents. "The shape of the gold bottle is inspired by the sensual movement of smoke that is released from burning Oud wood, as well as the gentle ripples created by the drops of essential oils stored inside", Abdulla Beljafla, Creative Director evokes.