Before I say anything else, it is worth taking a moment to talk about the design of the jewel and the elegant frame conjured up for the huge diamond by Managing Director and principal innovator for the brand Jeremy Morris. You simply can't take your eyes of that central stone in its bed of petals! It is incredible to think that deep in the bowels of the earth, nature could create such an incredible diamond, the highest colour category, D (free from nitrogen impurities, which give diamonds a yellowish colour) with clarity "crystal clear water" (a type IIa diamond).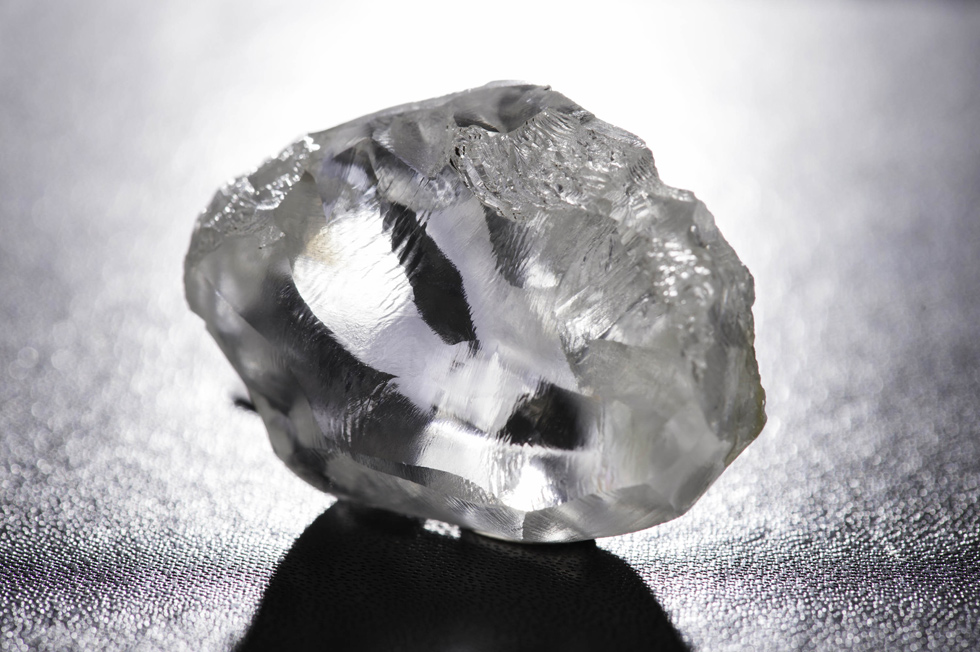 The summary that accompanies the diamond's certificate states that: "'gems of the finest water' was the phrase used by the famous 17th Century French gem merchant Jean-Baptiste Tavernier to describe the finest diamonds of the most exceptional colour and clarity which he encountered on his travels in India."
That is not the only interesting thing about this 60 carat diamond. It hails from one of the world's most famous mines, the Cullinan mine, near the town of the same name in South Africa. The mine is named after the man who engineered and built it, although the site itself was discovered by the Dutch-named Fabricius in 1890.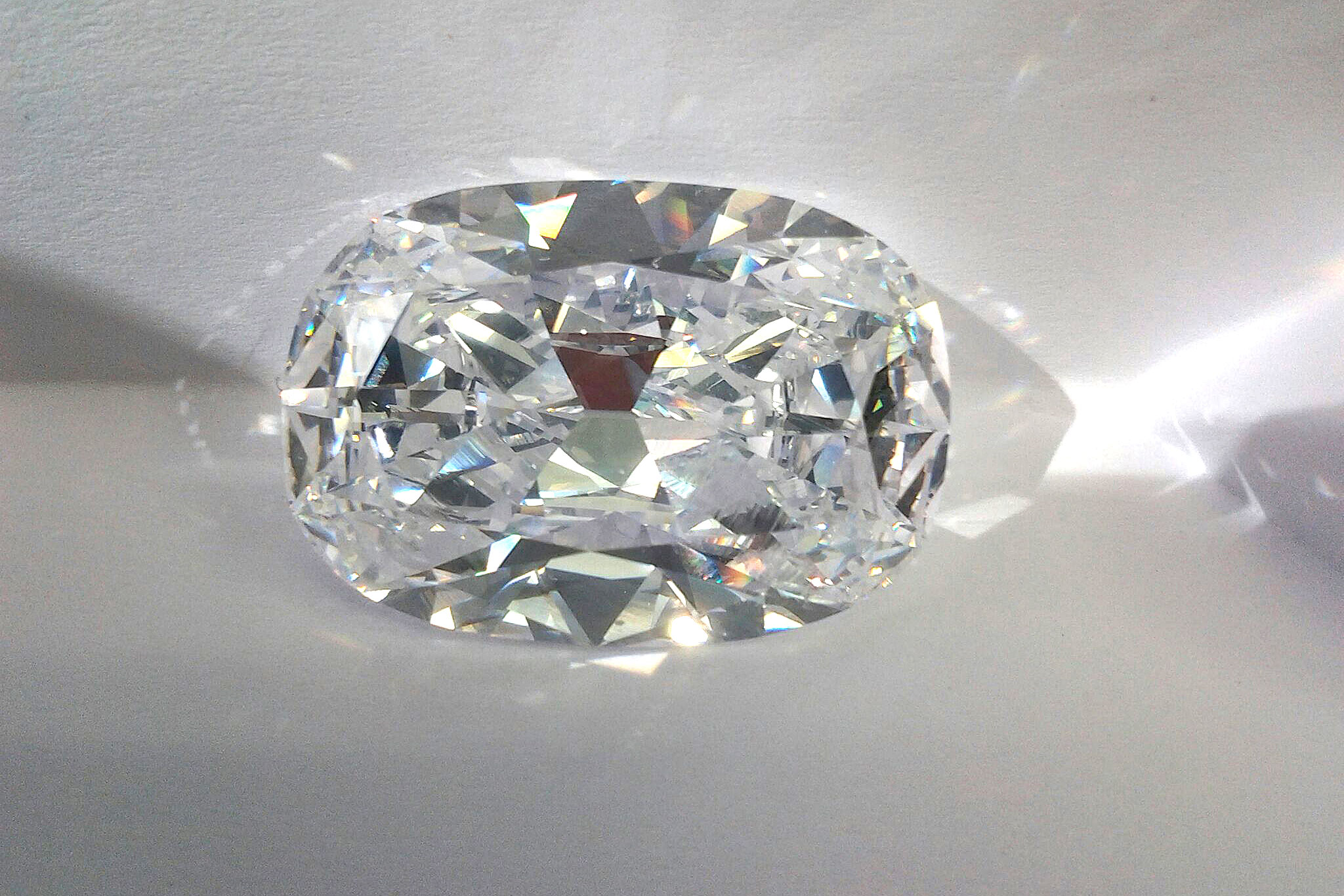 Diamond mining began there in 1903; by 1905 they had unearthed the largest ever diamond, weighing 3106 carats, from which two famous stones were cut: the Great Star of Africa and the Lesser Star of Africa. Cullinan died in 1936 but his mine continued to bring forth the biggest and most famous diamonds we know today (you may recall, for example, Wallace Chan's recent masterwork, a necklace with a 104 carat D – colour Cullinan diamond).
Jeremy Morris acquired the unique diamond in its rough form in 2014, when it weighed 126,4 carats. Seeing the stone's raw potential, Jeremy had no doubt that it would lend itself perfectly to a cushion cut and sent it to a top diamond cutter in New York.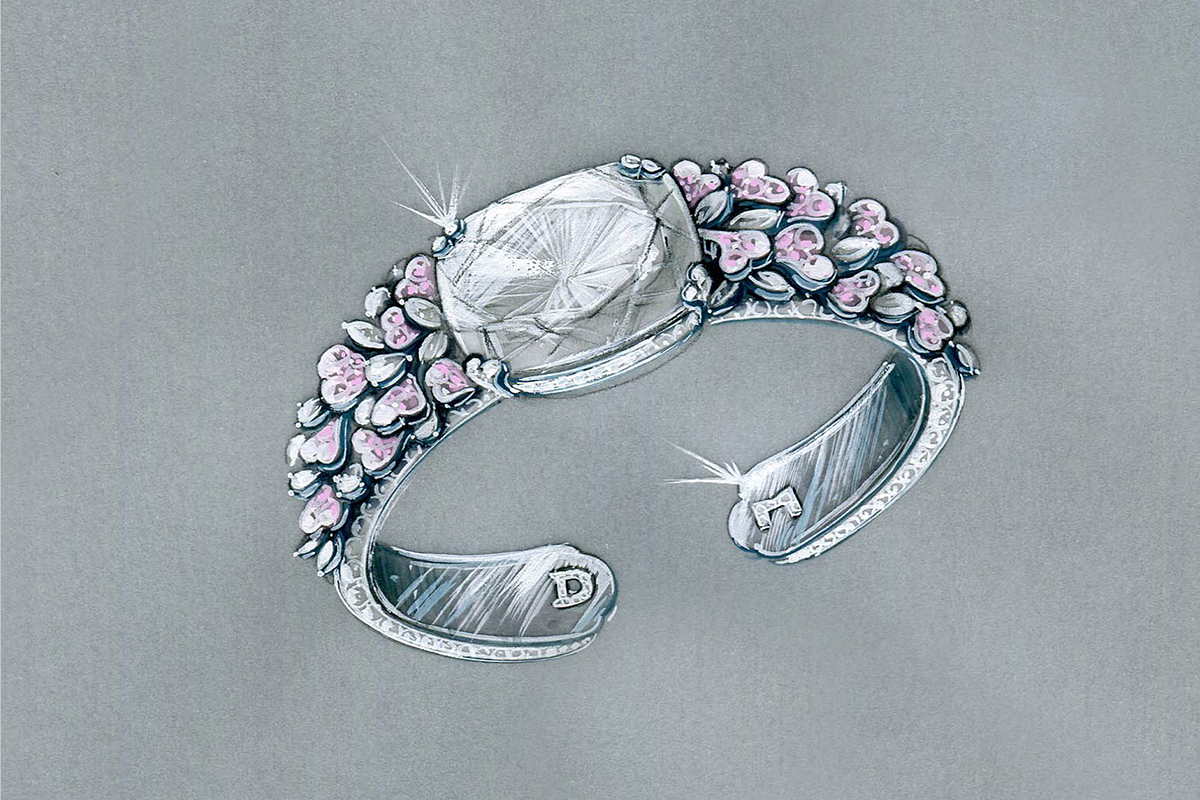 After eight months of painstaking work the majestic 59.89 carat diamond was finally finished; it was sent back to the flagship boutique in London's Bond Street, where work began on it again. Jeremy Morris spent hours finalising the design for a bracelet in which the incredible diamond would feature as the central element. The initial sketch alone took 300 hours, and another 100 hours were spent collecting perfect pink and white diamonds for the articulate petals, 10.62 carats in total.
Other diamonds of the same size and exhibiting similar characteristics to the Cullinan diamond found in this David Morris bracelet do exist, but they are extremely rare indeed. This delightful gem, which looks almost as if it were wrought from fire and glass, is the best decoration you could ask for in a piece of jewellery.