Solange Azagury-Partridge is an outstanding British designer whose jewellery is very different from everyone else's. She has a style, all her own, edgy, quirky and very appealing to celebrities and some members of the Royal Family. Very interested in Solange's creations, I met with the designer to talk about some of her iconic collections, her time at Boucheron and what jewellery means to her.
K.P.: Have you always known that you would be a jewellery designer? S.A.P.: Not really, but I always wanted to be creative, have some sort of creative outlet. I did not know how to channel my creativity for a long time. I did a language degree, but I should have done arts and drama.
K.P.: When did you come across fine jewellery for the first time? S.A.P.: After university I ended up working with creative people in an Arts Gallery [Gordon Watson Art Gallery] who sold 20th century vintage jewellery, and suddenly my eyes opened. This is when I developed my love affair with jewellery.
K.P.: Did you start doing your own drawings then? S.A.P: Yes, I designed my engagement ring and then carried on from there, piece by piece snowball.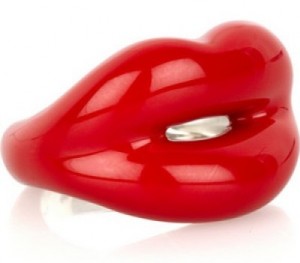 K.P.: Was it lack of choice that made you create your own engagement ring? S.A.P: I just never really had any jewellery before. It is the same for lots of people, they have not worn a real piece of jewellery before, and usually it is fashion jewellery. So I was thinking what I would want to wear every day, something hard wearing and not too dainty or girly. So I designed this ring for myself that I would love forever..
K.P.: And so you became a self-taught designer, is it right? S.A.P: Yes, I did not attend any course. Even though I have never made jewellery myself, I have seen it made. To my mind if you know what you want, if it is all about the look and aesthetic then you know what you are doing.
K.P.: Did you face many obstacles when you started? S.A.P: Yes, then and now there are still obstacles every single day. I am working on a collection right now which is a never-ending list of obstacles, but I have always done that to myself.
K.P.: Why would you say that? S.A.P.: When doing a collection I like to work with things that are not necessarily buy off the shelf. I always like to make things in my own way. For example, my "Platonic" collection was all about diamonds and I had to have every single diamond cut – triangular, flat sheets or diamond spheres. Therefore, everything had to be worked out.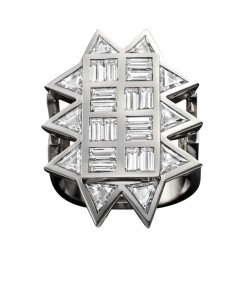 K.P.: Talking about different jewellery. When I see your designs the words that spring to my mind are "colourful", "joyful", "unpredictable". How would you describe your jewellery yourself? S.A.P: I agree with you. I do think that beauty and joy are paramount in life, as it can be very hard. I think that jewellery is such a luxury and so costly, it should bring you pleasure and joy. This is what I want to bring to my clients.
K.P.: I believe you are the only British designer whose works are displayed in the Museum of Decorative arts in Paris. This must be a great achievement for you. Please, talk me through about some other achievement of your which you are proud of? S.A.P: To be still standing firmly when the times have been tough. Also nomination for the design museum prize was a great honour as well as to be chosen to work for Boucheron.
K.P.: Could you please tell us about your time at Boucheron? S.A.P: When I started at Boucheron, I saw how things were, went through the archives and I gathered my own impression of what Boucheron was. I expressed my feeling of the brand in the designs that I did. But the main thing I wanted to express was the fact that Boucheron was a High Jewellery house. This is why in my first collection I just used the 4 main stones: diamonds, emeralds, rubies and sapphires. By the way, the history of the house on Place Vendome is very interesting. There used to be a mad woman who lived in the house, Countess de Castillian. All the stories that I found interesting I woven into my designs.
K.P.: Is there a collection you enjoyed creating the most? S.A.P: I suppose my first one – the Dangerous beauty, it was the most exciting. It was like having a baby, it took us 9 months from creation to gestation.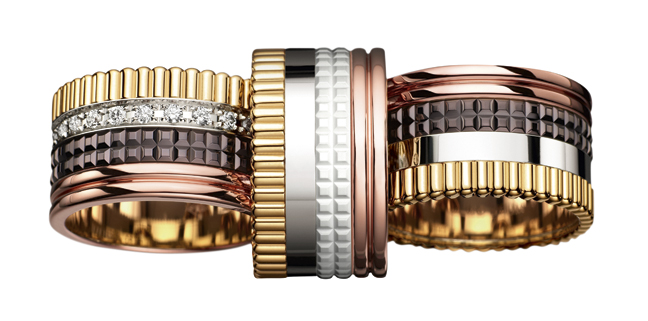 K.P.: It was you who designed the Quatre ring for Boucheron, wasn't it?
S.A.P: Yes, I did design it before the other variations that you can now find here. I don't know why I did Quatre for Boucheron, I took it from me and gave it to them and they make about 40% of their turnover with that ring.
K.P.: Would you say that you have learnt a lot from working at Boucheron?
S.A.P: Yes, I would say that, it gave me more courage and confidence in myself when I left, I felt much stronger.
K.P.: Have you ever thought about becoming a jeweller yourself?
S.A.P: I am too impatient; sometimes I cannot even be bothered to draw. I like working with my hands, but I like to see an immediate effect.
K.P.: There are many gemstones in your collections. Is there any that you particularly like yourself?
S.A.P: Yes, I love emeralds the most and rubies. They are such intense extraordinary colours, aren't they?
K.P.: And when you prepare the design, do you match a stone to a design or vice versa?
S.A.P: Yes, generally I do the design first, which is not the traditional way of doing it. Lots of times a stone is so intrinsically valuable that you have to design around the stone. It depends…I design jewellery rather than structures for gemstones.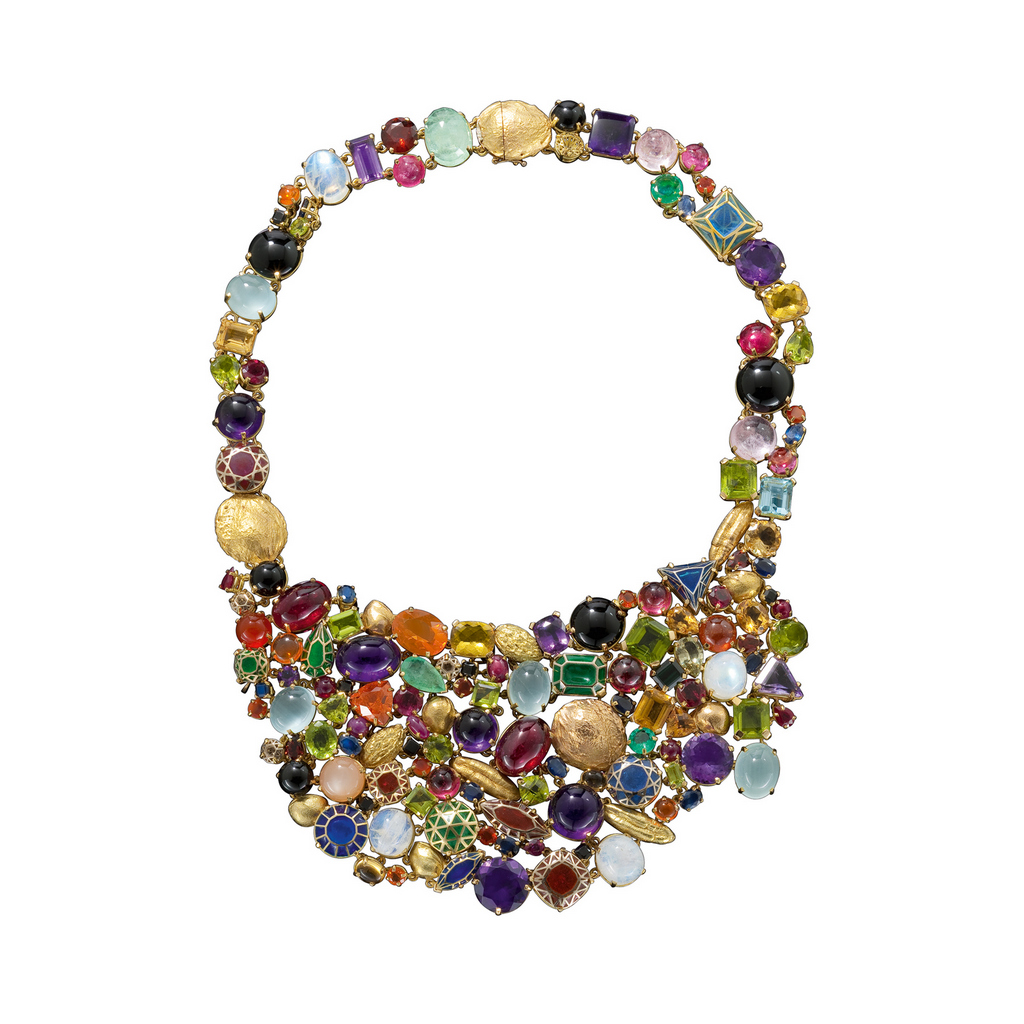 K.P.: Many of your jewellery pieces have geometrical design…why?
S.A.P: I do not know really, I did not have any maths background. Platonic was about maths, but I actually failed my maths. It is about the imagery of maths, which is very beautiful. If you look at the structures and shapes, this is what appeals to me. The natural shape of the diamond, the crystal: this is one of the Plutonic solids. That's why suddenly I had an idea to do a whole collection about diamonds.
K.P.: There is lots of personality in your jewellery I must say. How was the "Stones" collection born?
S.A.P: Stones was about exploring the beauty of stones in every way: real stones, fake stones, fruit stones. And then I wanted to do the enamel story. It started off with a desire to design a collection an old-fashioned way. So we got the stones and then we designed.
K.P.: I am particularly attracted to your lips collection. What does it symbolize for you?
S.A.P: You know when I was much younger I always drew eyes and lips and kissed the piece of paper before sending a letter. It is figurative and my favourite artists are figurative art, I love faces. The eyes are a window to the soul and the lips express sensuality. Two parts of a person, two different aspects of somebody: a soul and physicality.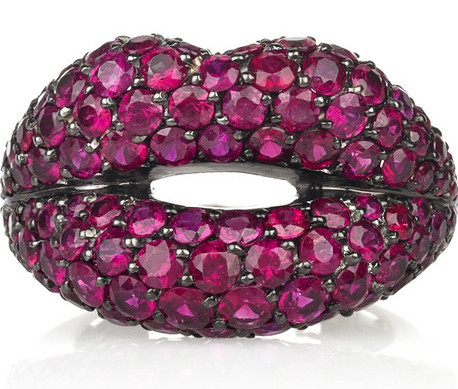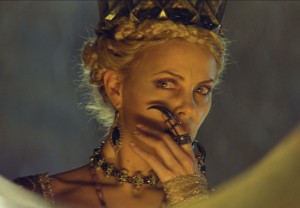 K.P.: From what I have noticed, rings dominate your collections. Is it your favourite piece of jewellery? S.A.P: Yes, I think it is something you can enjoy the most, you can see it and your hands are always there.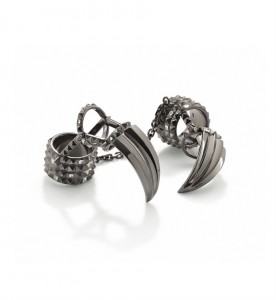 K.P.: You did the design for the Snow White and the Huntsman, how did you managed to express the essence of the evil queen so precisely? S.A.P: The costume designer briefed me and she said that she wanted it to be evil, look like armour. The evil queen kills little birds and eats their hearts. So I just had to imagine the position her hand was in, how she would do it. The spikes and the chain are quite evil.
K.P.: What influences your designs? S.A.P: It is all about the craftsmanship of jewellery. There are so many different ways and techniques of making jewellery. Sometimes the way to make jewellery inspires me to make the whole collection, and sometimes just one piece. I prefer the things that do not exist anymore, I like to explore.
K.P.: All your jewellery pieces are of a limited edition… S.A.P: That's the point of jewellery, it should not be massed produced. It is like a waste of those beautiful intrinsic materials. It should not be repetitive, everything should be painstaking and loving and created by hand in a way, by someone who is concentrating and then it is something than lasts forever, that you can hand over to your loved ones.