The more jewellery designers I talk to, the more I realise that, strange as it may seem, the most original work always comes from the ones who are self-taught. My instincts told me at once that Stanislav Drokin was one of these designers and they were proven right when he told me his story. Stanislav began his working life aged 15 at a radio electronics factory, where he began mastering two separate professions: engraver and metal worker. With his natural passion for drawing, he was a natural at the art of jewellery and began honing his existing skills by creating prototypes for several jewellery firms. As he had no formal schooling in the field, he mastered its subtleties and technical processes during the course of his work. What it did allow the young artist to do was work with his hands, giving him both creative freedom and the chance to learn about the various stages of the design and jewellery-making process first hand.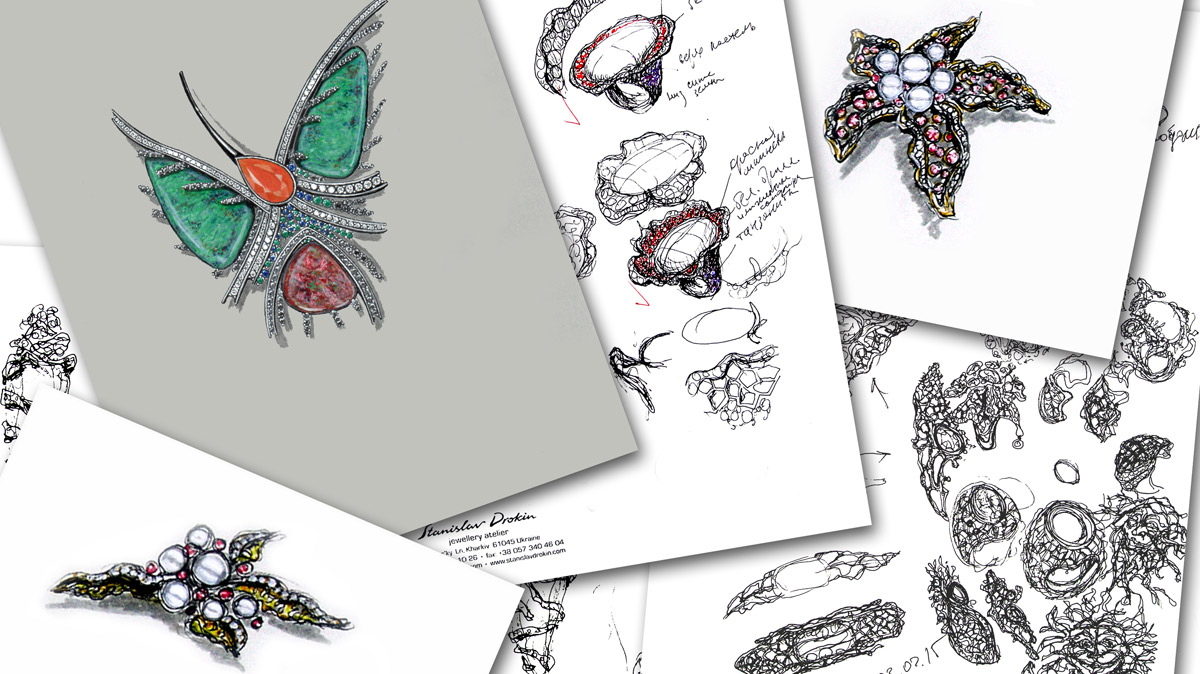 Interestingly, Stanislav started out making jewellery of a completely different genre to what he designs now, closer to classical jewellery. His work in this early period attracted plenty of attention and gained him significant recognition within the industry, eventually allowing him to open his own atelier in 1994.
Stanislav felt that his education was not yet complete, he was eager to study the profession in more detail, so this is what he set out to do, undertaking courses in Ukraine, Poland, Germany and graduating in gemmology as well as becoming an expert in cultural values. He then went on to complete a Masters at Kharkiv Academy of Art and Design and become a member of the Ukrainian Designers Association and the International Designers Association.
In 1999, while he was studying in Idar-Oberstein, Germany, Stanislav had a fateful encounter with a famous master of jewellery art and design, Andre Enskat, when he did not pass up the opportunity to ask Enskat what he thought of his jewellery. This was the reply: "Jewellery is an ancient art which has been a subject of fascination for hundreds of years. You need to find your feet in your own time, establish your own path and find your voice, through constant experimentation and by being making sure always to create something new."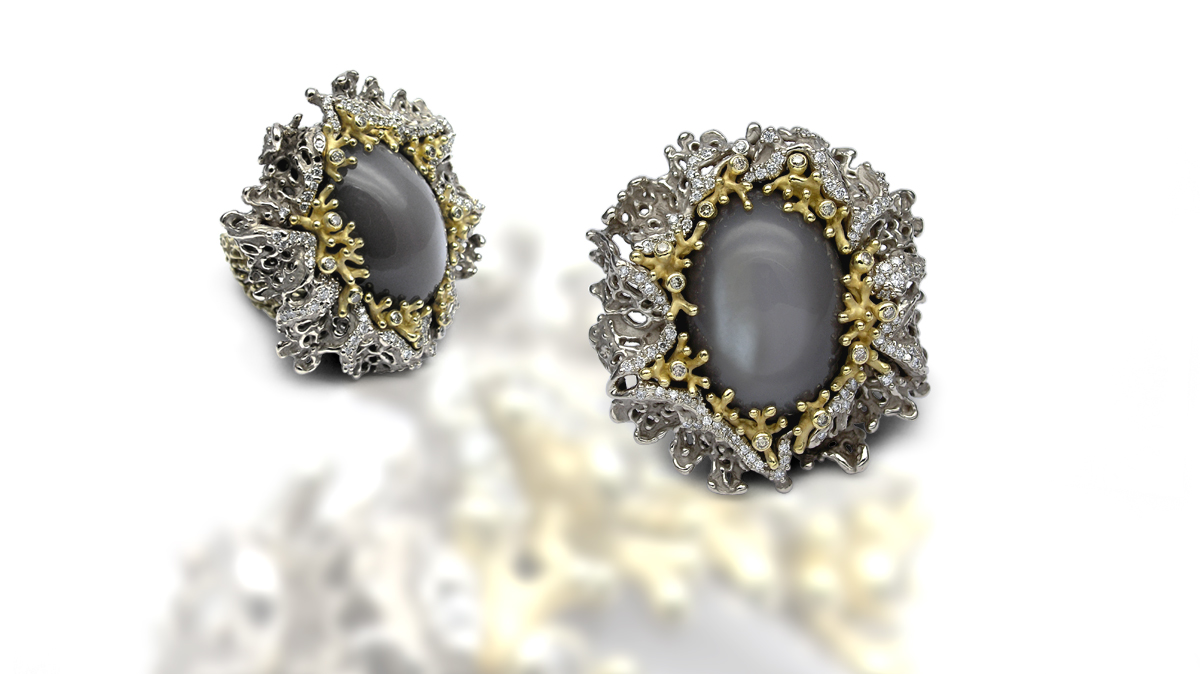 Stanislav took these words to heart and returned to Ukraine, where he began establishing his own style, playing around with new methods of working with stones and different techniques. His efforts yielded triumphant results, with victories in competitions in Ukraine and Russia, and then in 2014 in three international contests. The first of these was the Luster Award at the International Pearl Design Competition in the US; then came the Crystal Star in the Emerging US Artists category at the Centurion 2014 Emerging Designer Competition; and finally the Gold Medal for his Frog ring at the Solidscape 2014 Baselworld Design Competition. Before Drokin, no Ukrainian had ever won an award at any of these competitions.
What does Stanislav Drokin have to say about his art today? "I split it down the middle into two different things: Art and Design. Art is the search for form, textures and emotions; in other words, the process through which the jewellery is crafted into different shapes and forms before being wrought out of metal and completed by hand. Design, on the other hand, is the fashions, trends and modern techniques. The design process for a piece of jewellery can use all sorts of modern techniques, such as manual work under a microscope, meaning it can require a number of months to complete."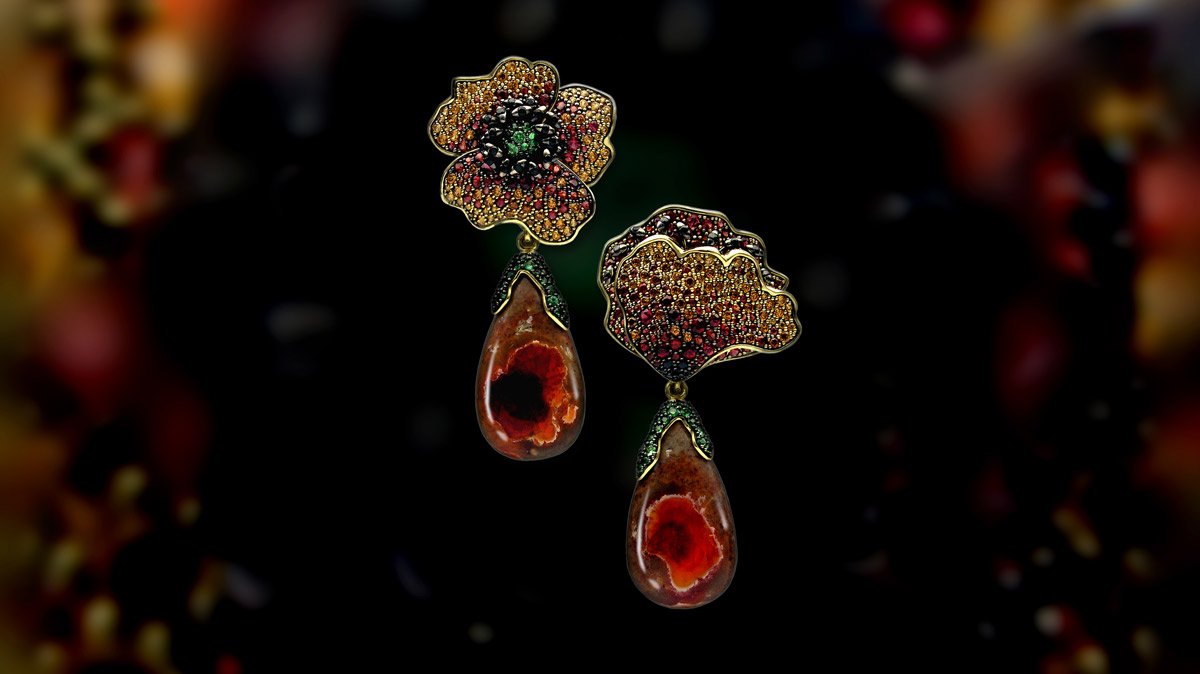 It is clear that a striking visual aesthetic and atypical form combined with superb quality such as this can only be achieved through this type of meticulous work.
Colourful gemstones in combination, shapes and material textures play a key role in Drokin's jewellery. He will often spend a great deal of time searching for the right colour or shape of stone, once he has found this, the process of turning the idea into the finished article is a lengthy one. The work process starts with an idea, shaped by his emotions and feelings, and only then does he begin to come up with the design as a means of bringing the concept to life. For this he will use any number of techniques to ensure the best means of achieving his desired result.
"The most important thing for me is to translate my emotions, my creative concept, as accurately as possible, without compromising it in any way. For each new artistic decision I make, I look to nature and to my own internal world, I analyse the universal experience and its trends, and the result will be a completely unique piece of jewellery," explains Stanislav. Drokin's work is sometimes released as limited edition, but this is rarely the case.