Every company tries make its mark in its own way by, say, presenting the most expensive diamond watch at the event, as Graff and Jacob & Co have done previously, or showing off the largest emerald, as American jewellery company Bayco did in 2013.
This year an entirely different kind of jewel will be listed among "the best of the best" at Baselworld. It does not feature a large precious stone or an array of diamonds; instead it is likely to stand out due to its utterly original creative concept and the way it was realised. In this article I'm going to take you behind the scenes of the lengthy creative process that the Italian designer Alessio Boschi went through to create his brainchild: the bejewelled Pine Set, debuting at Baselworld. The final piece is not technically ready yet, but you will be able to see it in a few weeks. So, in order to whet your appetite, I am going to tell you what makes it so special…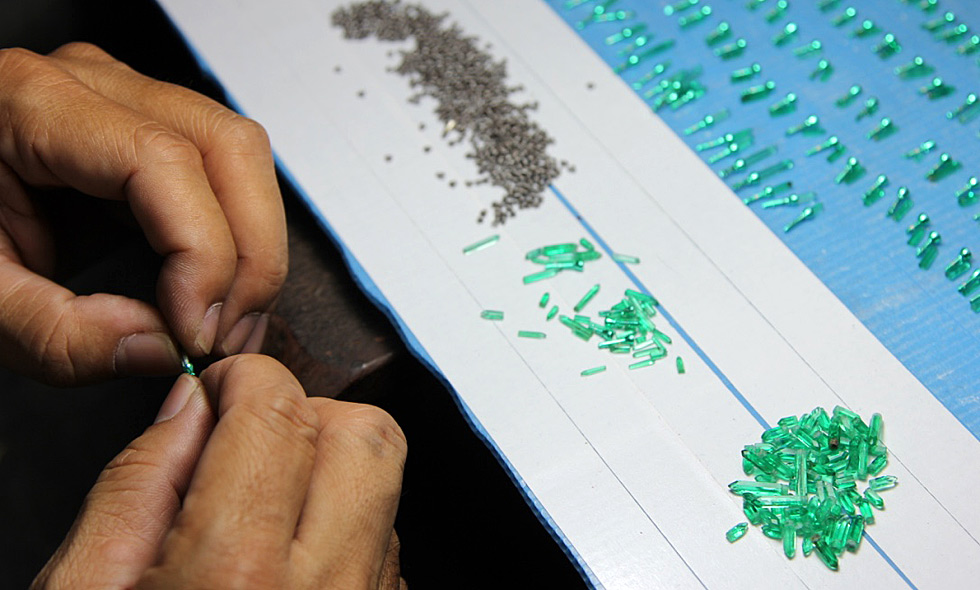 "I came up with the idea to create this set over a year ago when I saw a clutch of beautiful Panjshir emeralds, which hail from the valley between Afghanistan and Pakistan and boast amazing colour as well as incredible crystal. They are also much more solid than Colombian emeralds; the mineral is very hard and comes in long, tube-like strips, so the risk of breakage is minimal," Alessio explains.
The designer saw this unusually shaped stones and immediately thought of the needles on a pine tree, and was seized by the urge to turn this idea, outlandish as it seemed, into a reality. Before Alessio, no-one had actually used emeralds in the way he was planning to – but that wasn't going to stop him! The first challenge that the jewellery designer faced was collecting a sufficient number of long emerald crystals. "I wanted to use the emeralds in their natural form, although I removed the surface imperfections first by slightly polishing them. Then I added briolette to one end to create the look of a leaf needle."
But there was a bigger obstacle: the oblong stones needed to be fixed in such a way that they retained mobility. "I did not want to simply fix emeralds to the branch-shaped necklace because this could easily cause the stones to break. So for every few hundreds emeralds we made a special miniature cup with a spring that held it fixed to the branch. This helped create a natural trembling effect of the jewelled pine needles," says Alessio of his ingenious solution. But how could he paint each silver cup green in order to create a look that matched the emeralds? Well, it seems that for Alessio nothing is impossible, and he found a workshop that was able to coat metal with a special compound that coloured the surface.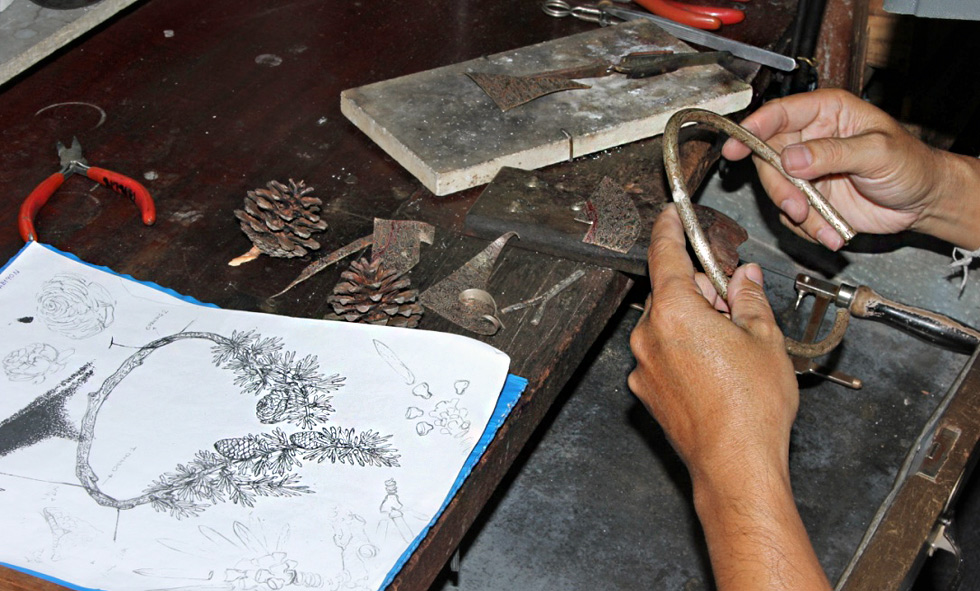 "Then came the third challenge – how to make the base of the necklace resemble the real tree branch. Recently, when I was teaching at the school of design in Bangkok, I met some amazing creative people, both students and jewellery professionals. One of them specialised in the mokume-gane technique, a Japanese metalworking procedure which produces a mixed-metal laminate with distinctive layered patterns. It was just perfect for creating my concept! The easiest way to create veins through mokume while keeping the precious feel of fine jewellery was to combine 14k rose gold, 18k yellow gold, 18k white gold and silver. It took three months of experimenting to derive the alloy for each of the layers, 19 in total, in order to create the contrast of colours." However, recreating the spruce trunk by drawing the veins on metal was not enough for Alessio, he also wanted to add textured finish. To achieve this, a special acidic solution that dissolves silver was used, creating the desired effect.
"The next challenge was the pinecones. It would have taken too long to find the right brown diamonds, citrines or spessartites because of the size and rounded shape I needed, so I went to the man who specializes in making doublets for Stephen Webster jewellery and asked him to compose a kind of lattice of small spessartites, fixing them together with the special UV jewellery glue that is used for doublets. When this was complete, each segment surrounding the stone was cut to resemble pinecone according to my design. And that was it, we had our pines!" says Alessio cheerfully.
You might think that everything was now in place and the creative idea was complete. You'd be wrong! During the development process Alessio used his vivid imagination to its full potential and decided to add a tech touch to the necklace, finding a way to insert miniature bulbs into the pine cones, which can be switched on and off when you please. Intrigued? Then you'll have to make your way down to Baselworld, Stand A53 – Hall 2.2., between 17-24 March, to see the unusual necklace for yourself!