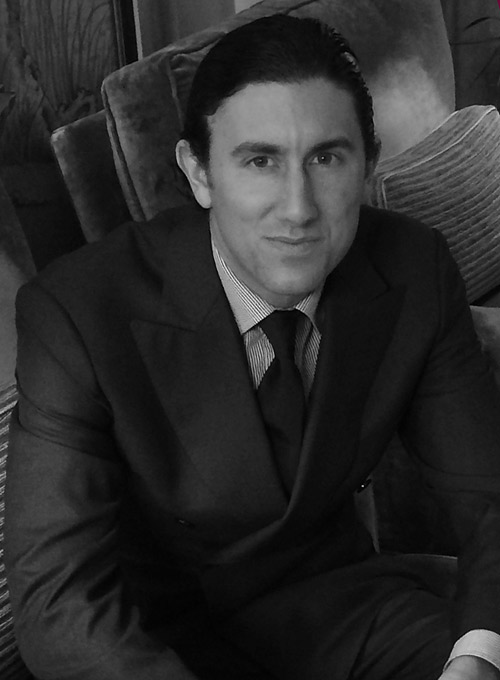 When you work in the jewellery industry, day in and day out, you come across your fair share of designers and brands. So when a naturally gifted artist appears in amongst them, it isn't difficult to distinguish him or her from "just another jeweller".
It was out of simple curiosity that I accepted an invitation from Thomas de Montegriffo to look at his first jewellery collection. But within the first few minutes of our meeting, I realised it was precisely that curiosity, that female weakness for precious stones that meant I had discovered something new and exciting: pieces, made by Thomas, of a kind I have never seen before.
Bright gemstone cabochons, like sweets melting in the sun, preside over the sparkling diamond surfaces of his rings. Through the dazzling gleam of the diamonds, I kept trying to make out the gold underneath but it, as if hiding under a gemstone canvas, only appears on the shanks which are skilfully fashioned with decorative elements. Some of the rings are adorned with miniature diamond beads that look like morning dew drops sitting around the edges.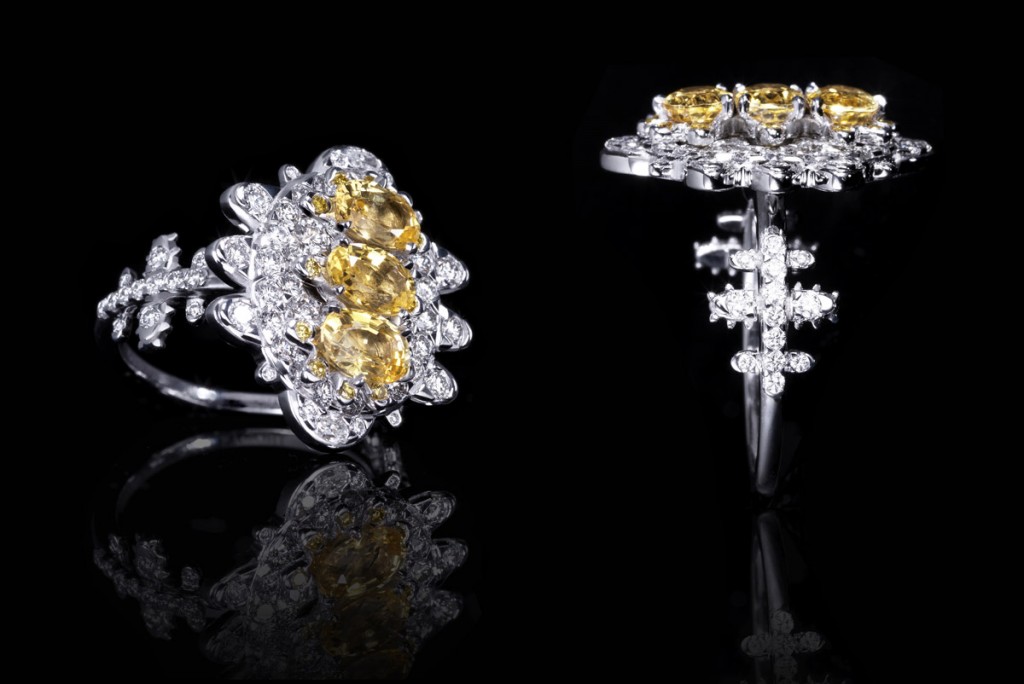 SUN ring with 74 round brilliant diamonds F colour totalling 1.14ct, 12 yellow diamonds 0.07ct and 3 Ceylon sapphires 2 cts in total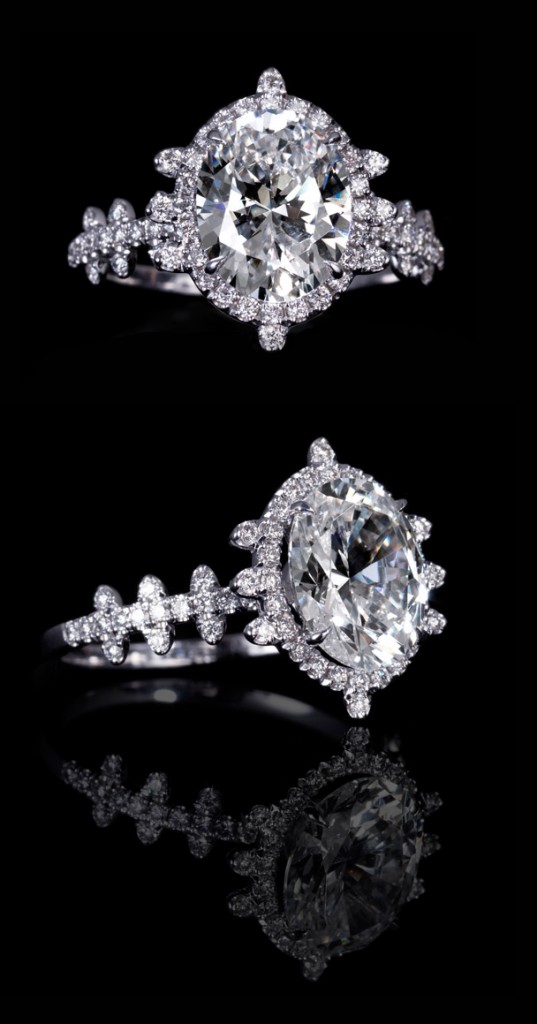 Number 4 out 20 one of a kind engagement rings to be produced each year. The number is engraved on the inside of the ring
By contrast with faceted stones, cabochons and beads have a slightly muted sparkle to them, something that Thomas de Montegriffo has deftly used to his advantage. He has constructed a design based on two notions: one is the contrast between gloss and matt, the other is that unusual quality characteristic of pavé stone settings which he has modified into a star setting.
Thomas remembers holding in his hand for the first time a ring with a star setting and not being able to understand how the setter could have achieved that effect of a continuous, solid diamond canvas without a glimpse of gold from underneath. To Thomas, this was some kind of magic!
"We set the stone in almost invisible settings. You can see how we have developed it by looking at the Fleur de Opium and the Grand Orchid (see below). It took us about six months to improve that technique."
Holding up the Fleur de Opium, Thomas said: "This is a Sandwana emerald of almost gem quality. This kind of emerald is even rarer than a Columbian one. Initially, I tried using a Trapiche emerald of a collector's quality. It took me three months to find that stone and that's how the design for this ring originated. Sadly it did not look luxurious enough." It turns out de Montegriffo is a serious perfectionist.
These words were, in fact, something of an answer to a question I hadn't yet asked: did Thomas intend to make a piece to match this or his other rings? "If we are to design any matching items, I am not sure how long it would take me to find the right stones. It is very likely that by the time I'd have found them, the ring will have been sold".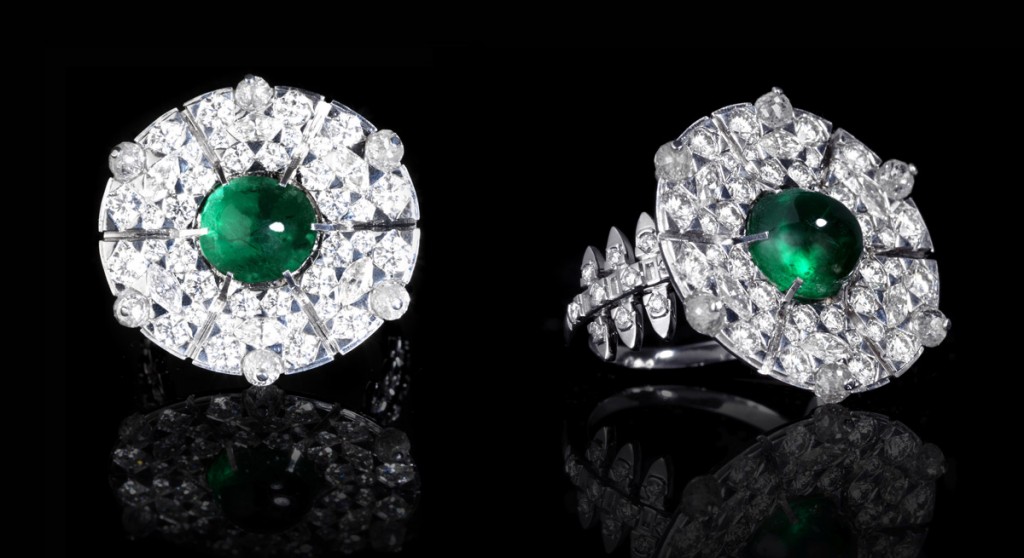 Fleur de L'Opium – 3ct Fine Sandawana emerald, 6 diamonds beads 0.80ct, 56 round brilliants 1.46ct E-colour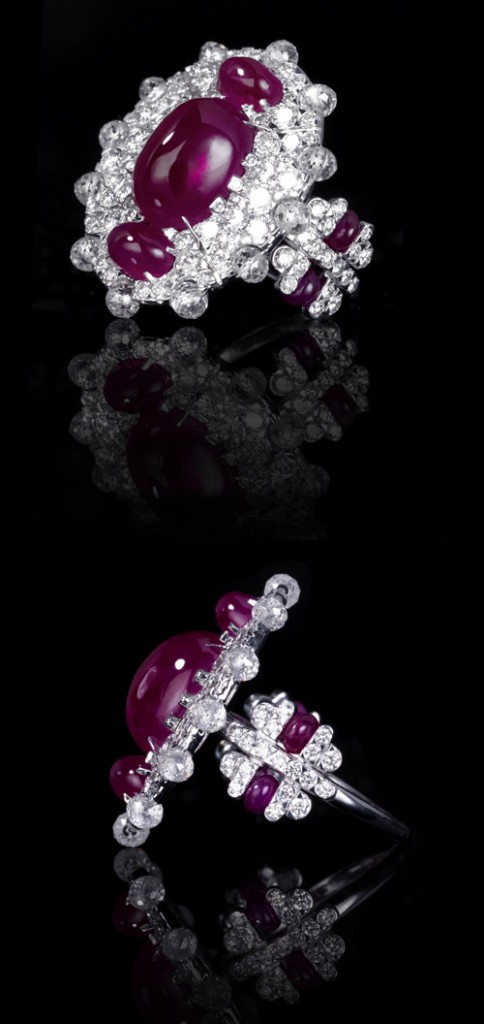 Grande Orchid ring with 100 round diamonds totalling 2cts, 2 Burmese ruby cabochons – 1.90 cts, 1 fine Mozambique Ruby cabochon 6 cts, 4 Burmese ruby beads 1.09 ct , 12 diamond beads 2.35ct
In order to ensure that his clients get precisely what they ask for, Thomas never rushes a design. He prefers to spend as much time as is necessary to produce exactly what they want, but in his own style.
As I carefully inspected one ring after another to understand that style, I suddenly started to make associations with the elegance and splendour of the Byzantine era. As it turned out, my instincts were not mistaken.
Photos are courtesy of Thomas de Montegriffo
var OB_platformType=3; var OB_PlugInVer='8.0.0.0_Regular';