Precious metal etching is possibly the oldest jewellery technique in existence. To engrave, etch or create patterns in gold or any jewellery material is simplistic in its essence, but when done artfully, it can create a mesmerising effect.
One of the most iconic jewellers who has explored the art of engraving to the full is Buccellati. Their signature gold etching techniques include rigato, telato, segrinato, ornato, modellato: all of which are different forms of creating texture or illustrations on white and yellow gold, as well as silver.
Buccellati pieces are engraved to look and feel like silk, damask, tulle, lace, or linen. Engraved gold is also the signature of another Italian jewellery designer: Marco Bicego. The feather thin stripes that create a special shimmering effect are achieved with the traditional 'bulino': an ancient tool devised for the art of hand carving which gives gold and precious metals a fine, brushed texture.
Evidence of filigree jewellery featuring silver and gold wires known as 'telkari' has been discovered from as early as 3000 BC in Mesopotamia. The type of technique means that fine gold or silver is moulded into thin wires and rolled into spirals, then pressed into place in jewellery or luxury ornaments to decorate them in a variety of ways.
One of the brands that truly made filigree jewellery their own is Eleuterio. Based in Portugal, they create intricate gold pieces that bear the heritage of generations of skilled workmanship in the art of creating their 'crochet gold'. The art of filigree dates as far back as the dawn of civilisation: traces of pieces have been found from pre-Roman times in the area of northern Portugal around Povoa de Lanhoso.
The engraving of gemstones - known as Intaglio - was a luxury art form as far back as 5000 BC, and the origin of the engraved signet stone can be traced right back to ancient Mesopotamia. During the Neo-classical revival of the 18th century, connoisseurs collected engraved gems from the ancient periods, as well as commissioned copies from the most skilled engravers of the time.
There are very few masters of the craft of intaglio left who are able to create extremely detailed carved gems, therefore latterly, jewellery featuring intaglios is rare. Russian jeweller Yaroslav Argentov celebrates the art of intaglio with classically glamorous gemstone jewellery, and adheres to the tradition of engraving portraits within sizeable beryls, citrines and topaz. The table of these stones is purposely large, so as to provide a better view of the engraved image through the jewel.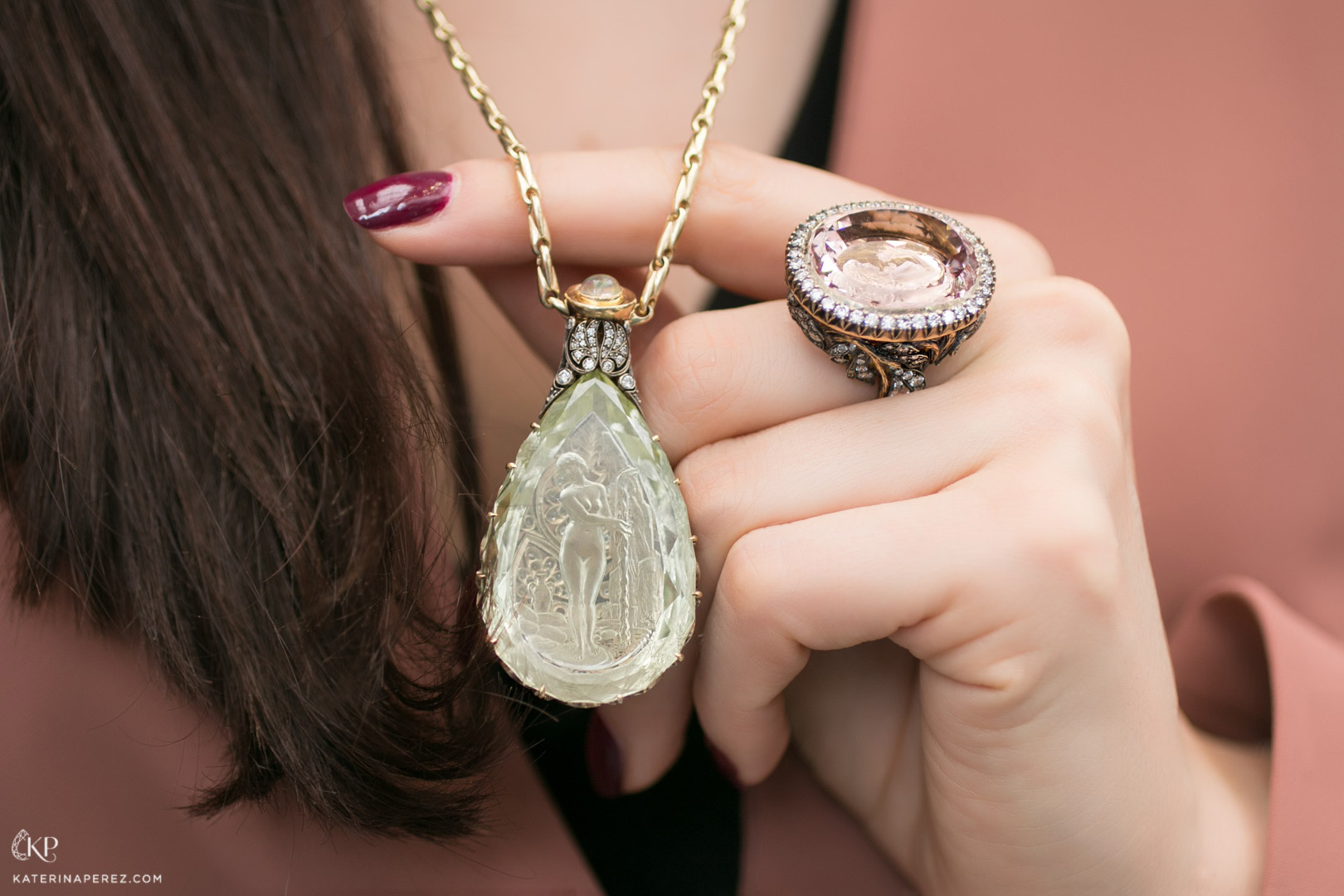 Conversely, the technique used to create cameo is a method of carving an object – such as an engraved gemstone or shell - creating a raised positive relief image (in contrast with the intaglio technique, which produces a negative image.) Amedeo Scognamiglio provides a contemporary approach to the ancient art of cameo making, through alternative materials and unexpected, often daring designs; you are as likely to see skulls and animals as you are a woman's profile portrait. His work continues an artistic manufacturing tradition dating back to the early 1800s in his hometown of Torre del Greco.
These jewellery techniques have survived as a testament to intricate and time-consuming craftsmanship as well as tradition that inspire modern jewellers and heritage companies alike. Those who create pieces using ancient techniques are respecting and learning from artists who passed down their knowledge and human experience through jewellery making.