Hands up, who looks forward to the Bulgari High Jewellery Collection launch each summer? We would have to agree that it is one of the highlights of our editorial calendar, but maybe not for the reasons you might think. We're rarely shocked or surprised by what Bulgari presents. In recent years, it has been so consistently and confidently on-brand that we know its creations will always excel. They are the voluptuous 1950s Hollywood goddess of the High Jewellery universe, typically set with eye-popping gemstone cabochons, beads and faceted gems in tutti frutti shades. But we look forward to the launch because of its escapism… pieces land just as the weather is beginning to turn from cold to warm, and so its richly hued necklaces are transportive to European beaches and cocktails in the sun.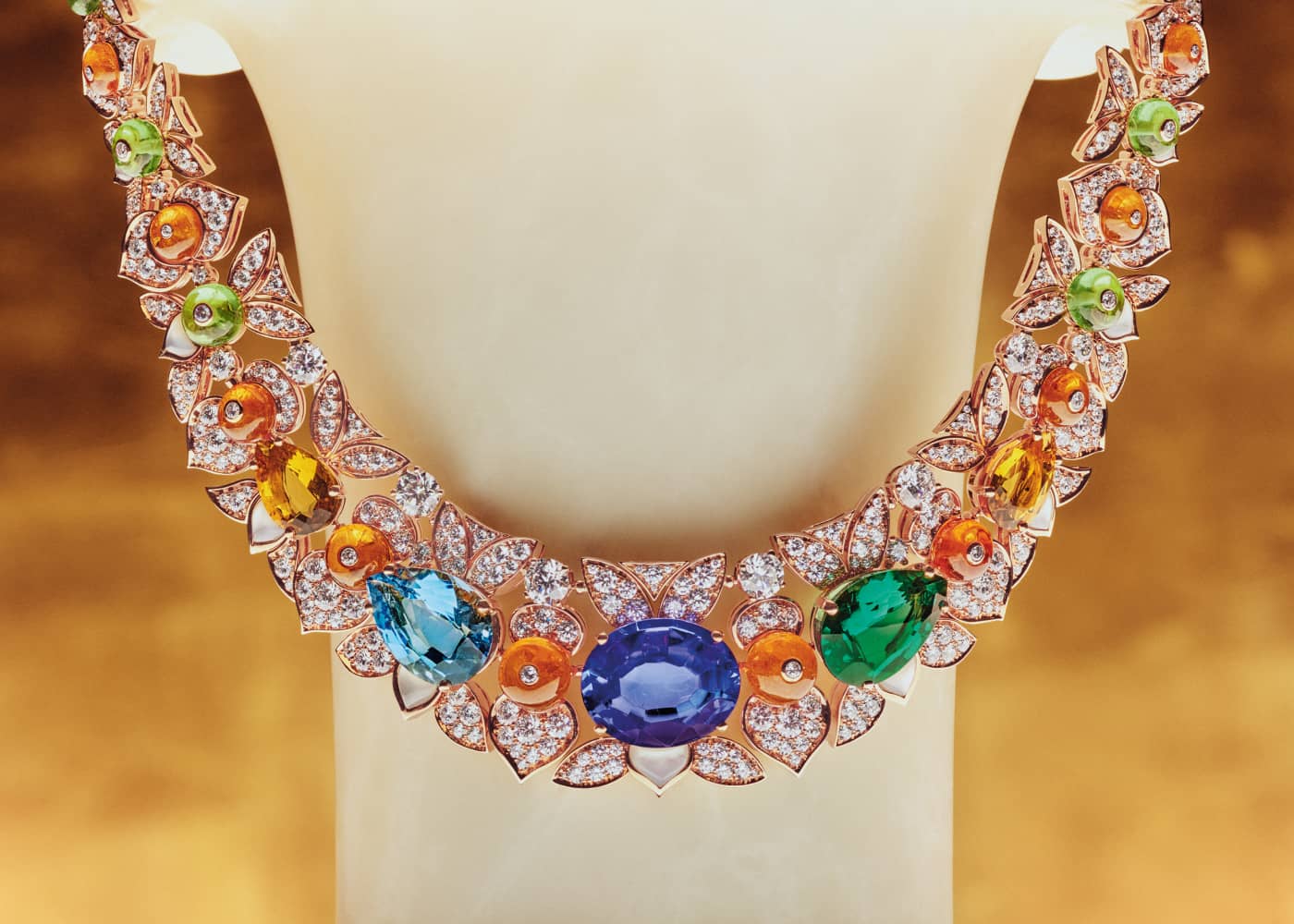 You can imagine our delight, then, when Bulgari announced its latest collection was to be called Mediterranea. What better way to be catapulted to Mediterranean shores?! The brand was influenced by its own roots in Rome, Byzantine culture in Venice, and the influence of the Silk Road on transporting art and culture across the world. As a result, the collection serves as a pathway or map, leading high jewellery aficionados from Rome to Venice while incorporating "audacious creativity," which is a fitting phrase for the pieces on offer. According to the brand: "Cross-pollination, eclecticism, and syncretism become the keywords of a line-up that is a captivating blend of Mediterranean inspirations connecting Eastern and Western cultures, Byzantine and Roman vibes, as well as references to the spices of North Africa and Southern Italian Baroque sumptuousness."
The Mediterranea collection is divided into three universes, each of them referring to a specific constellation of symbols, atmospheres, and inspirations. Firstly, there's Southern Radiance, an ode to southern Italy's architecture, lush gardens, and sunny coastlines. The Mediterranean Muse torchon-style necklace is set with coloured gemstones in a range of blue tones, complemented with diamonds and platinum. It has a central 15.13-carat cushion sapphire, surrounded by ocean waves of aquamarines and sapphire beads. Next, there's the Southern Sapphire platinum necklace, inspired by Southern Italy's Apulia region, with a lace-like layout of diamonds, sapphires and a 66.88-carat Ceylon sapphire cabochon at its heart. This piece required 1,650 hours of workmanship to complete.
"For me, being in the Mediterranean region is an awakening of all senses and a real inspirational experience. The architecture, the nature, the people, I am eyeing beauty everywhere. It is an inspiring melting pot where many different cultures and societies have mingled and enriched each other over centuries. Our hospitality and open-mindedness are rooted in this history," Lucia Silvestri, Creative Director, Bulgari Jewellery.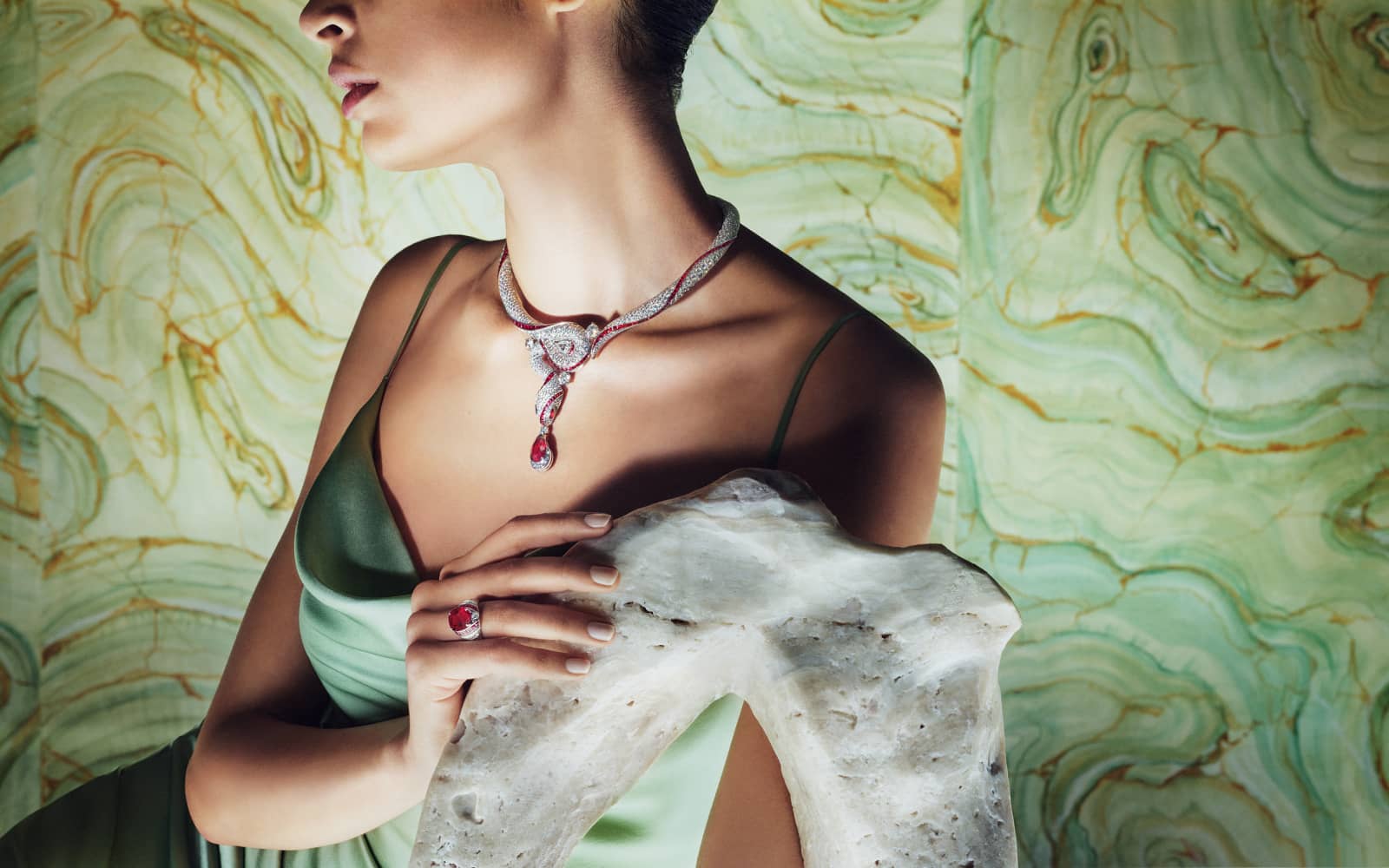 In the Roman Splendor chapter, we find pieces that reflect the "Eternal City's most emblematic monuments". The Roman Esedra sautoir boasts a 68.88-carat emerald set in a hexagonal pendant. It was directly inspired by an archival Bulgari design dating to the 1970s and is set with amethysts, emeralds, and turquoises, all in yellow gold. The Muse of Rome necklace is also rich with gems, this time a 218.53-carat emerald, which challenged Lucia Silvestri to develop a "unique design balancing with airy lightness the weight of the gemstone and at the same time exalting its extraordinary appeal". She accompanied this piece with an additional emerald and South Sea pearl sautoir, allowing the detachable emerald pendant to be worn in multiple ways. Elsewhere in this set, the Acanthus Emerald necklace includes seven emeralds – all with equal colour and transparency totalling 33.59 carats – cut into drops and set among 60 buff-top emeralds, mounted with 68 step-cut and 58 brilliant-cut and pavé-set diamonds.
The final set, called East Meets West, seeks to translate the mosaic of influences from across the ancient Silk Road into a series of fantastical jewels. Let's start with the Oriental Fantasy necklace, inspired by the "sinuous warm dunes of deserts" and set with nine Mandarin garnets of more than 90 carats, paired with citrines to evoke a Northern African spice market. The use of mother of pearl and black onyx in a scalloped pattern is said to reference henna tattoos but also provides the perfect colour contrast for those extraordinary deep orange garnets. The Oriental Buds necklace in pink gold captures attention with a 13.34-carat antique cushion-cut emerald from Colombia, surrounded by Byzantine-inspired patterns of diamonds, pink tourmalines, sapphire and emerald beads. These motifs have an Indian Mughal-like quality, which is perhaps why they required 2,300 hours of craftsmanship!
The Tribute to Venice is more classical but no less dramatic, with a 15.38-carat fancy yellow diamond drop as the focal point of a colourless and yellow diamond necklace. Alternating motifs of baguette- and round brilliant-cut diamonds create subtle visual contrast, as do openwork settings that make solitaires appear as if they are floating in mid-air.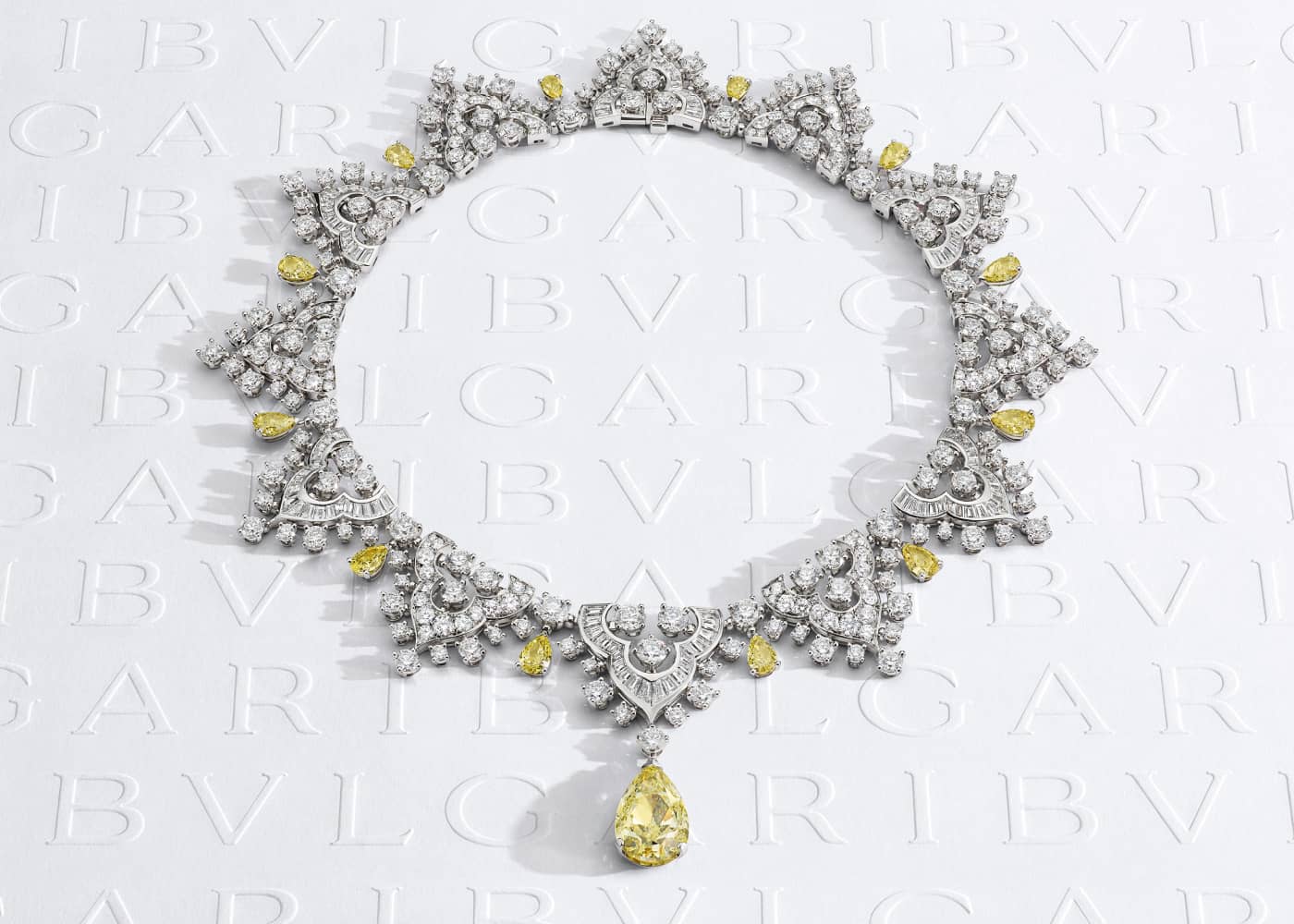 Last but certainly not least, there are a series of Serpenti creations in the Mediterranea High Jewellery Collection in honour of the snake's 75th anniversary in Bulgari collections. The Mediterranean Sapphire Serpenti necklace is the star of the show, with nine sapphires from Sri Lanka totalling 40.81 carats, platinum and diamond scales, and a dramatic tassel pendant with 80 oval-shaped sapphires for 116 carats. Other designs include irregular-shaped emerald drops, cushion-shaped sapphires, yellow diamonds and pear-shaped ruby drops, which Bulgari has released in the form of sketches.
As with most Bulgari High Jewellery collections, we have received images and sketches of pieces as yet unnamed. If the jewels mentioned above are the hero creations, then the rest are further layers of beauty that are tantalisingly mysterious. The Mediterranea collection is a vibrant cacophony of jewels that is unashamedly Bulgari in every way. This confidence is what makes its creations so impossible to resist.