We are sure you agree that giving a piece of jewellery is a great way to express your warm feelings towards another person. However, with a behemoth number of brands and options at our fingertips, finding the right piece can be quite a daunting task. Keeping their personality in mind is key when choosing a piece that they will enjoy wearing. To make things a little easier for you, I have paired each personality type with its perfect jewellery brand match. Take a look!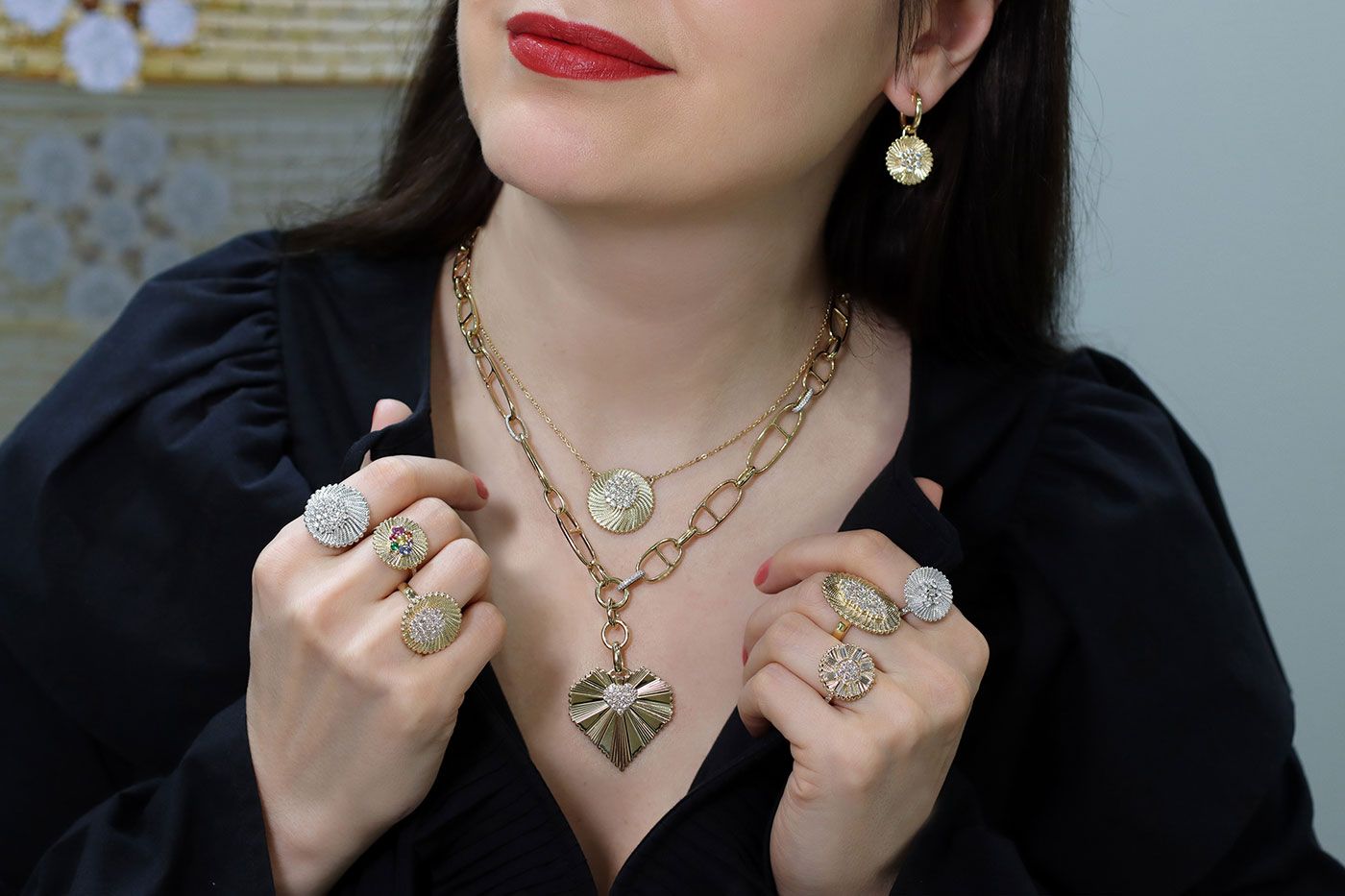 For The Playful Spirit - Zeemou Zeng
For the ever-cheery and joyful person in your life, I highly recommend a piece by Chinese jewellery designer Zeemou Zeng. Each of his collections is surprisingly unique, filled with interesting shapes and a variety of materials and textures. The signature characteristic of Zeng's jewels is the element of movement which is incorporated into his designs to create his special form of magic. For example, the Melody collection surprises wearers through sound, as when each piece is held to the ear a unique chime distinctive to its material can be heard. The all-seeing Eye Collection spins to reveal eyes made of different stones like green chalcedony, amethyst, pearls. Such designs are a fresh take on this good luck charm, don't you think? Finally, the Heart collection juxtaposes pavé diamonds with polished gold or mother of pearl, hiding an element of surprise – if you push on the heart from each end, it will fold into a drop! Zeemou Zeng's jewellery will appeal to all those who experience the world with childlike wonder.
For The Hollywood Glamour Puss - Orlov
For the Hollywood fan in your life, the one who lives and breathes the sparkle of Tinsel Town, Monegasque High Jewellery brand Orlov has a plethora of pieces to choose from. Jennifer Lopez, Cardi B. and Kim Kardashian are just a few A-Listers who have recently been seen sporting an Orlov jewel from their iconic Croco Dream collection. The brand is founded by Angela and Christian Orlov who create sought-after pieces that are both design and stone-lead. Now, let me take your attention back to the Croco Dream collection, which is the brand's best-selling collection. It reinterprets the texture and shape of crocodile skin and spikes through a contemporary aesthetic of diamonds and gold. It's also the brand's first-ever collection created with everyday wear in mind, meaning that your fashion-forward loved ones can combine the pieces from this collection with pretty much anything in their wardrobe.
For The Spiritual Soul - AWKN1
AWKN1 is where fine jewellery meets spirituality. Founder Anne-Marie Le Flanche created the brand based on Shakyamuni Buddha's principles of enlightenment or liberation. Wondering what AWKN1 stands for? The brand's name is an abbreviation for 'The Awakened One'. Le Flanche's pieces aim to purify and enhance the mental state of the wearer through expertly crafted luxury jewellery pieces. My favourite collections are Wisdom Graffiti which consists of thought-provoking medallions hiding a secret message on the back and Whispering Truth, which 'evokes the caring, gentle and guiding voice within, revealing the true nature of reality'. AWKN1 is the perfect brand to purchase for the interconnected and spiritual individuals in your life as the pieces honour the natural world and the mystery of existence with an eye toward enlightenment.
For The High Jewellery Aficionado - Bucherer Fine Jewelry
Swiss luxury jewellery brand Bucherer Fine Jewellery is considered one of the masters of the art of jewellery-making. They just opened their first high jewellery store in Frankfurt, Germany which you can read about in one of my previous articles. Bucherer Fine Jewellery pieces belong in the jewellery safes of those who are discerning, educated in high jewellery and who understand the craftsmanship and artistry behind each piece. The brand's latest high jewellery collection is an ode to the strong women who built the Maison - Louise Bucherer and her daughter-in-law Wilhelmina, known as Mina. These women were fundamental to the development of the Bucherer Fine Jewellery Ateliers and the success of the brand globally which was a pioneering role for women at the time. The historical significance of Bucherer Fine Jewellery in the world of jewellery is what makes it the perfect brand to gift the high jewellery lover in your life. My personal favourite? Their aquamarine earrings which feature almost 17 carats of Santa Maria aquamarines alongside sapphires and emeralds.
For The Classically Chic - Ronald Abram
For the timelessly elegant woman in your life, the Audrey Hepburn and Grace Kelly persona, look no further than the jewellery brand Ronald Abram. Classic, opulent and tastefully eye-catching, their pieces are famous for featuring the most exquisite coloured gems like a 48.77-ct D-FL emerald cut diamond ring or a 52.88-ct cushion cut Burmese sapphire and diamond necklace. At the helm of the brand is JJ Abram, the son of founder Ronald Abram who is gifted with both entrepreneurial and creative skills, so he is involved in every piece his team of craftsmen creates. What gives this brand its uniquely classic approach is that it is a family business at heart. Over time, Ronald Abram client relationships have become family friendships, ones that have continued over the decades across multiple generations. Nowadays, repeat customers of the Hong-Kong based company are renowned collectors and educated gem admirers, maybe you will be one of them?
For The Larger Than Life - Isabelle Langlois
When you see a piece of jewellery made by Isabelle Langlois, the words bold, vibrant and colourful immediately come to mind. Jewels designed by this French artist are bursting with colour, with a nod to the opulence of the Charlemagne empire. Langlois herself comes from gemstone royalty. Her family hails from Jura Mountains, a French region famous for gemstone-cutting expertise since the 18th century. Variety is the key to her designs, as Langlois plays with over 70,000 gemstones to fashion her dramatic creations. Her cocktail rings are especially iconic as they always come in a beautiful shape with an important coloured stone at their heart. Any piece designed by this talented female designer is the perfect accessory to give someone bursting with personality.
The above are just a few of the top-tier designers the world of fine and high jewellery has to offer. While those who love jewellery are truly spoiled for choice when it comes to covetable pieces this holiday season, the brands mentioned have certainly provided an enticing place to start.