The location of a fine jewellery boutique is an important consideration for any jeweller. Unfortunately for Isabelle Langlois, she was recently forced to leave rue de la Paix in Paris - the address her maison had called home since 2010 and start the arduous task of searching for a new location. If you share my spirit of optimism, you will hold dear the notion that we all land on our feet and that, sometimes, change can lead to exciting new beginnings. This was certainly the case for Isabelle Langlois.
As a descendant of a long line of lapidarists and gemstone dealers, Isabelle Langlois was fated to enter the world of jewellery and even more so to specialise in rainbow-hued minerals. She trained for many years in high jewellery workshops supplying the biggest houses of the Place Vendôme before striking out on her own in 1992 and starting the first chapter in her own, eponymous jewellery story. Today, her signature style is the tonal mixing of gems, creating canvases that are transportive to autumnal woodlands, tropical paradises and even the swirling planets of the cosmos. Her kaleidoscopic pavé arrangements often take the form of floral motifs, such as petals, lotus flowers and butterflies, although it is her use of large, faceted bonbons of topazes, citrines, amethysts, garnets, moonstones and chalcedonies that satisfy my personal fine jewellery tastes!
"My jewels are joyful with coloured stones and are designed to be decorative, yet easy to wear. The clearest examples of our specificity are the Emotion or Pointilliste collections," Langlois explains. "Emotion, because I want to conjure the same emotion with my rings as one might feel when looking at a bouquet of flowers. Pointillist because I love the extraordinarily artistic way of using all colours to evoke a feeling."
Returning to the issue at hand… the new Isabelle Langlois boutique. Although the choice was not her own, Langlois took to the challenge of finding a new space with vigour. Many premises struck her fancy, although they were taken by existing tenants who couldn't be tempted to move. Anyone with experience in Parisian real estate can no doubt imagine the trials and tribulations of trying to find the perfect location! Langlois says: "Change is always an occasion for renewal. I was sad to leave my garden, but I had no idea when I signed the contract that there was a cellar underneath [the new boutique], which I now call my castle!"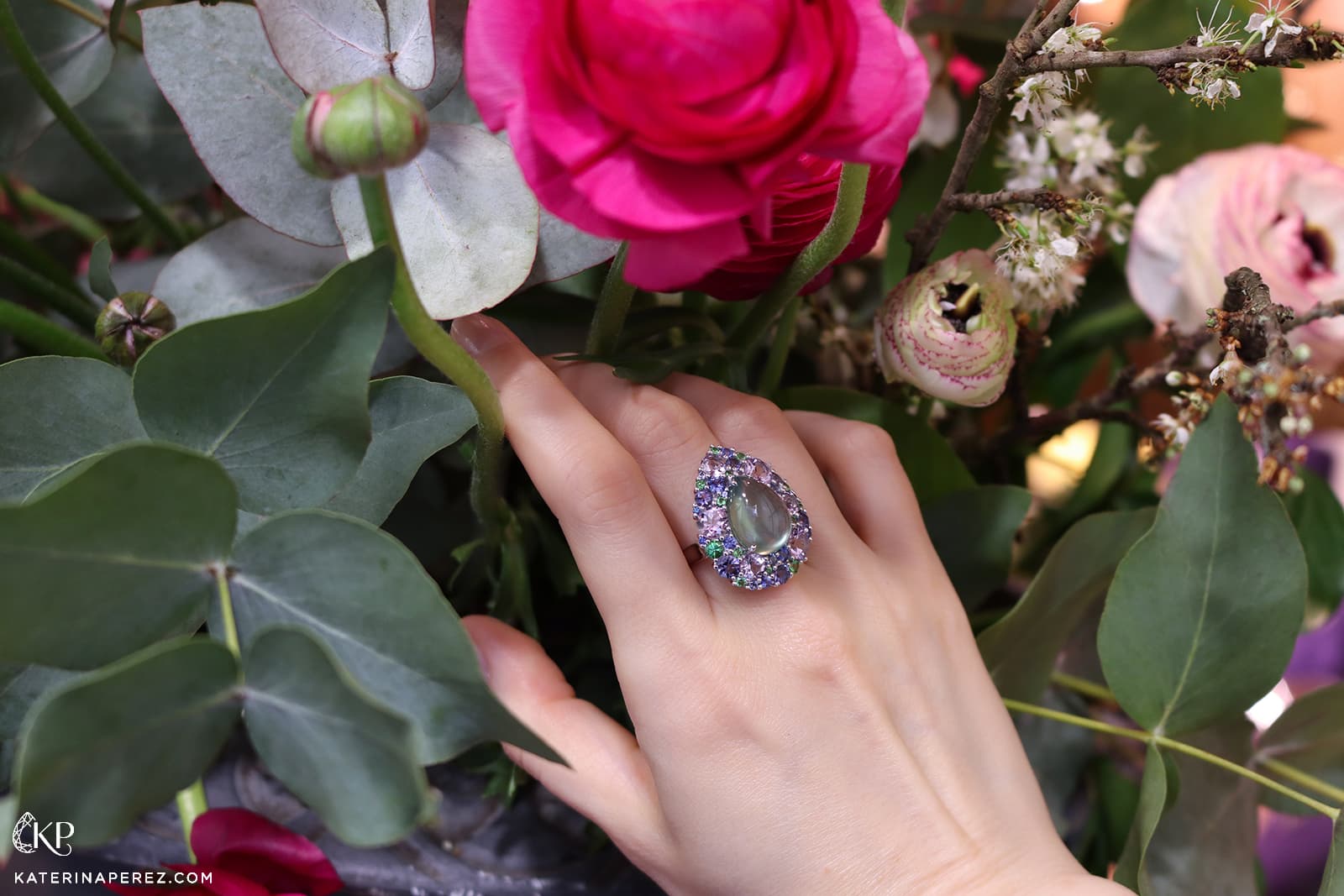 The maison's new boutique at 29 Danielle Casanova Street is on the cusp of Place Vendôme and is housed in a building that dates to the early 18th century. Arranged across three levels, the store is not simply a space for displaying beautiful jewellery but has also become a passion project for Langlois, who is determined to "regain the soul of the building" and "give it the look of a winter garden enchanted with flowers and gems". Open to the outside thanks to a large window, the space is flooded with natural light that serves as the perfect companion to the brand's jewellery. It features original stonework, a cast-iron spiral staircase, old oak floors and beautiful wooden furniture that subtly highlight the maison's French heritage.
Visitors will also notice the brand's signature purple colour and how it weaves throughout the new boutique. "Purple is a colour that matches and enhances every other colour, even red," Langlois explains. "Purple is a very spiritual colour, the colour of bishops, the colour of funerals… but it is not sad, simply the symbol of going into another life."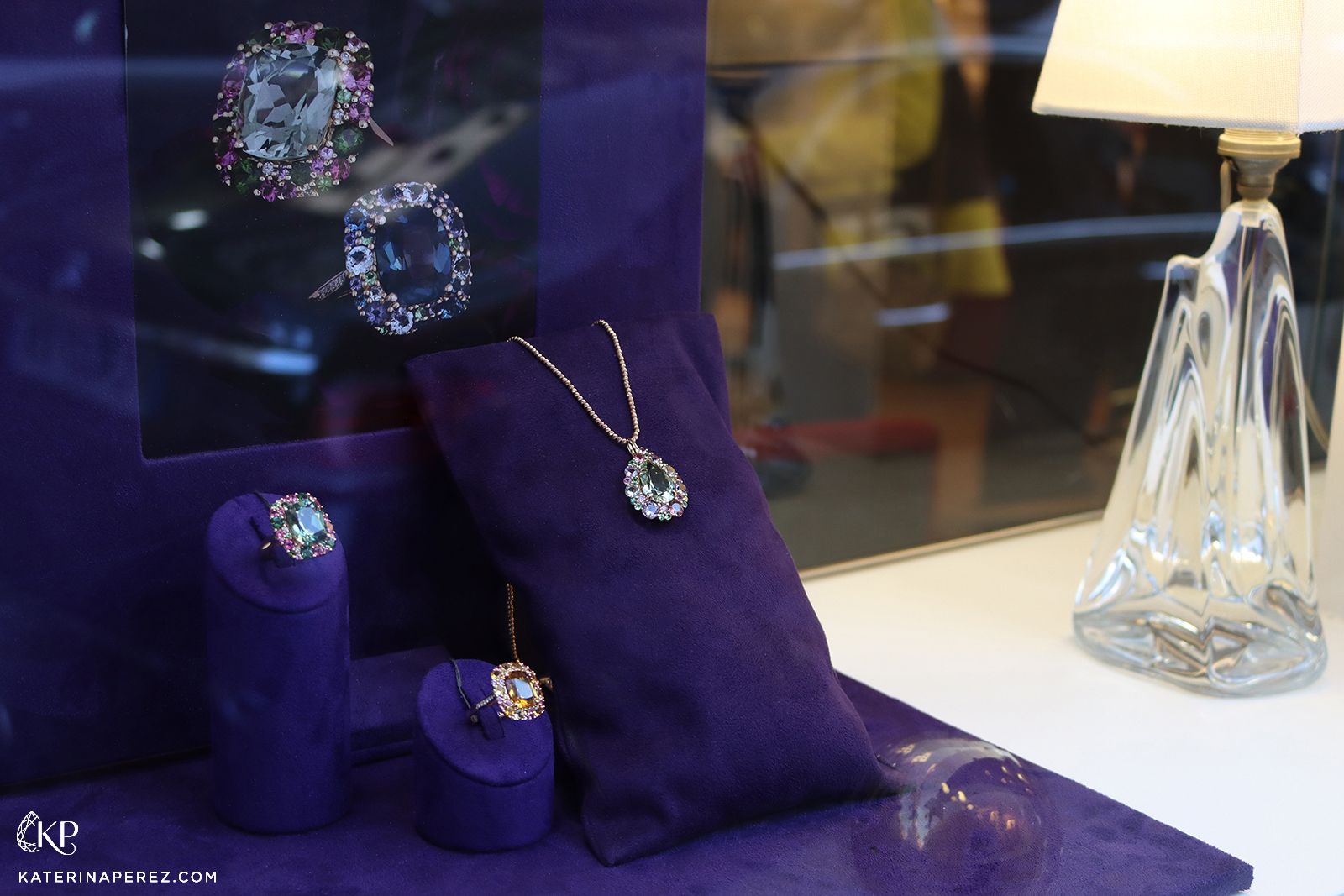 Overall, there's a feeling of warmth and friendliness in the new space – a place where history and modernity meet, where "women of character" are welcomed, and the spirit of joie de vivre is celebrated. Within this environment, Langlois can continue to meet her clients in person, something which is important to her jewellery-making journey. She explains: "I am a curious cat and very interested in human beings. Sometimes I forget about the business… the personal contact is more interesting as you hardly share personal feelings in a Zoom meeting!"
I hope if you are visiting Paris soon you can visit the 'castle' of Isabelle Langlois and discover this new world she has created for herself, both out of necessity but also out of a passion for jewellery, for France, for gemstones and for the lifelong love of gems that links her parents, her grandparents and the generations before them.