To trace the roots of the Dior Print High Jewellery collection, we really need to revisit some of Victoire de Castellane's milestones for the brand. There was Dior Dior Dior in 2018, inspired by the lace used by Monsieur Dior in his original Haute Couture collections; the Tie & Dior collection of 2020 that looked at textile dying effects; and the most recent Galons Dior collection of January 2022, which considered the trimmings, swags and braids used by the maison's founder as couture adornments. The theme is taking elements of couture fashion and injecting them into jewellery that uses colour graphically and fantastically in equal measure. A recent example of this is the 2020 Dior et Moi collection with opals, multi-coloured gems, emeralds and turquoises.
Dior Print continues along these lines by imagining a technique in which fabric prints can be supplanted onto high jewels. A press release explains: "Liberty prints, checks, stripes, and tie-dye are among the ultra-precious motifs in the Dior Print high jewellery collection, comprising 137 joyful, virtuoso pieces that seem to swirl like an haute couture gown." It's the diversity of these print inspirations that gives the collection its frenetic feel as we jump from ribbons of blue, green and colourless gems to floral ear cuffs, white diamond cocktail rings and elegant diamond-set bows (another signature of the maison).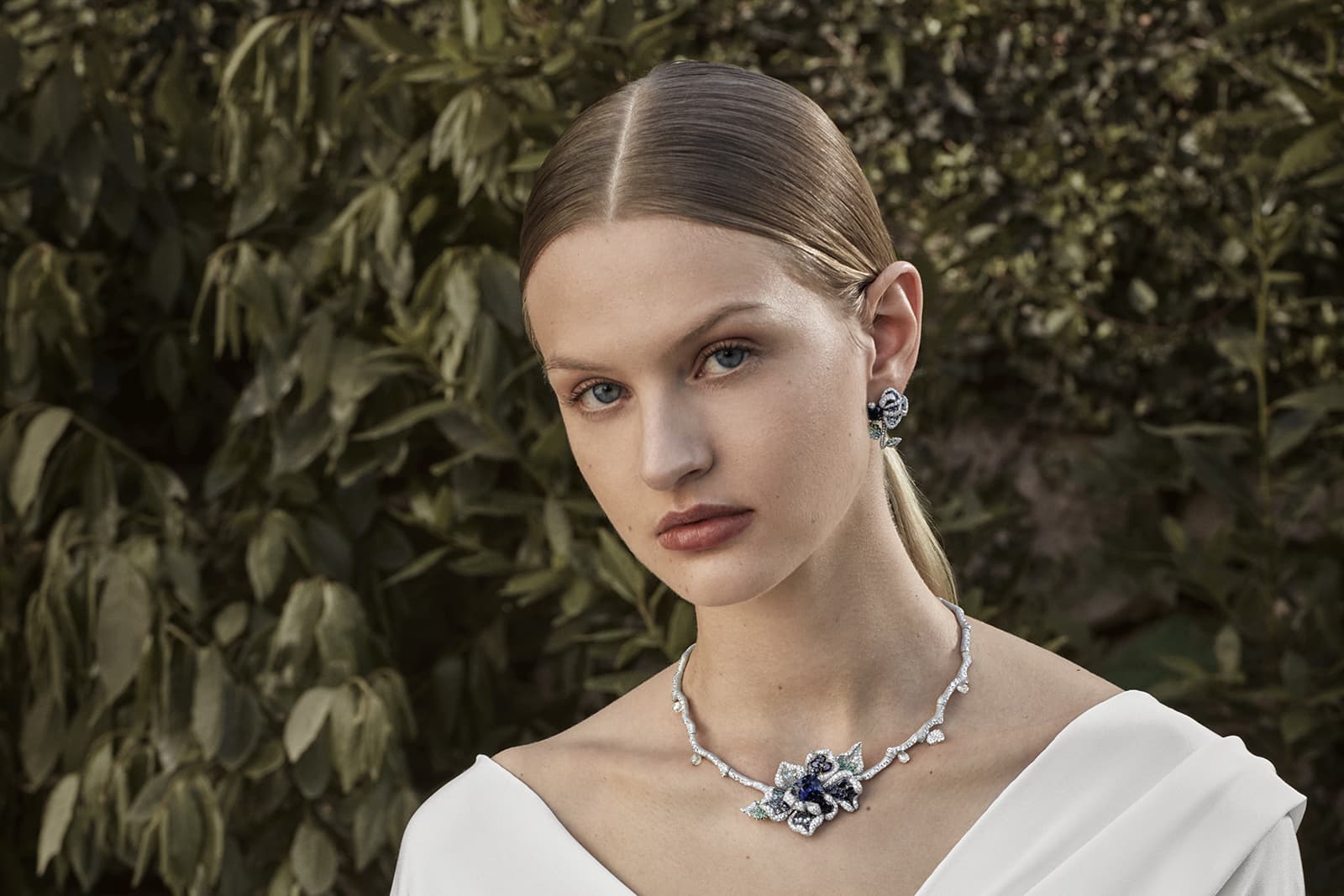 "The whimsical concept - transposing the motif of a two-dimensional fabric onto three-dimensional jewellery - gave rise to 35 "printed" parures adorned with checks and stripes, tie-dye colour gradations, geometric motifs and Liberty prints that mesmerise while their extreme fluidity caresses the skin like a silky breeze."
Within the collection we find rings, ear cuffs, brooches, chokers, plastrons and bracelets, each one "conceived like fabric in miniature". When worn, pieces are neither too demure nor too large, managing to find a middle ground that's flamboyant, voluminous and youthful. To create the sense of fabric fluttering in the breeze, we see 'hard' gemstones placed expertly to mimic flowing materials – shape, size and scale have all been considered to trick the eye. Elsewhere, though, the Vendome ring, necklace and bracelet are graphic and conceptual, like Lego bricks have been dropped and sprinkled with diamonds upon landing. According to Dior, we are looking at a "crazy tossing of stones," including some exceptional specimens like an 11.58 carat D flawless pear-shaped diamond, a 14.66 carat Burmese sapphire, and a 10.27 carat ruby from Mozambique.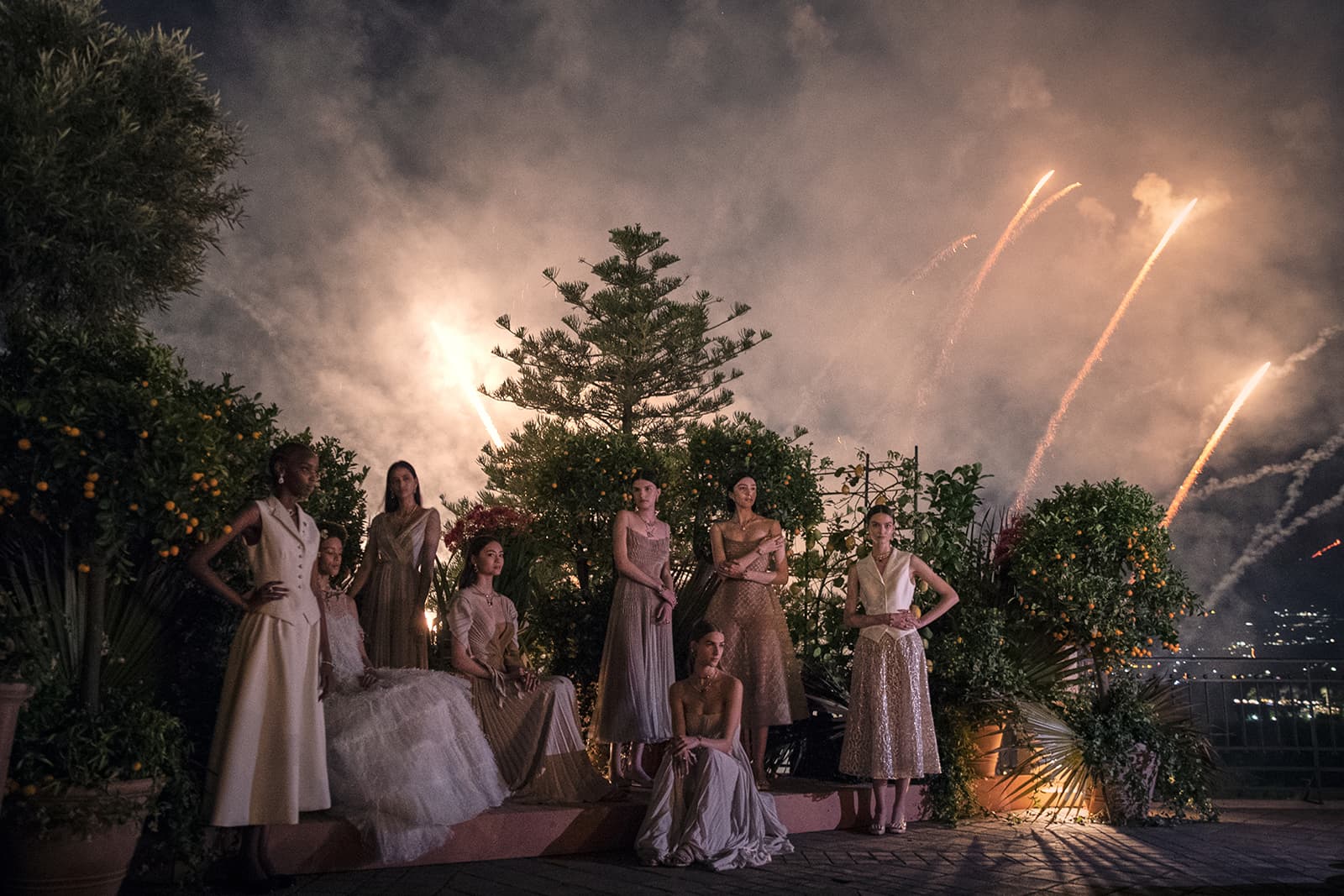 The 'masterpiece' of the collection is a mash-up of floral prints and stripes. The necklace features interlaced ribbons of gold in three colours with articulated links that borrow from watchmaking techniques. Other necklaces are set with an 11.92 carat Colombian emerald, a large pear-shaped Paraiba tourmaline and a striking opal cabochon. Elsewhere in the Dior Print universe, we can discover a fresh take on check motifs using grids of blue sapphires punctuated with round brilliant-cut diamonds and finished with large oval-shaped sapphire centre stones. The classically masculine check is reworked in notable creations, like a ribbon necklace adorned with a 12.07-carat Madagascar sapphire, a double ring set with a nearly six-carat Ceylon sapphire, or drop earrings whose edges appear sliced clean, as if snipped with scissors.
And let's not forget stripes, which are mingled with flowers in pink, violet and blue sapphires, white diamonds, and mauve amethysts on rings, necklaces, earrings and a secret watch. Significant gems abound, including an 8.02 carat lilac sapphire from Madagascar, as well as rubies, spinels and yellow diamonds that embellish white gold braiding. Among the jewels inspired by Liberty prints, we find two ribbon necklaces with a 10.05-carat cushion-cut D flawless white diamond and a 3.04-carat fancy vivid yellow diamond respectively.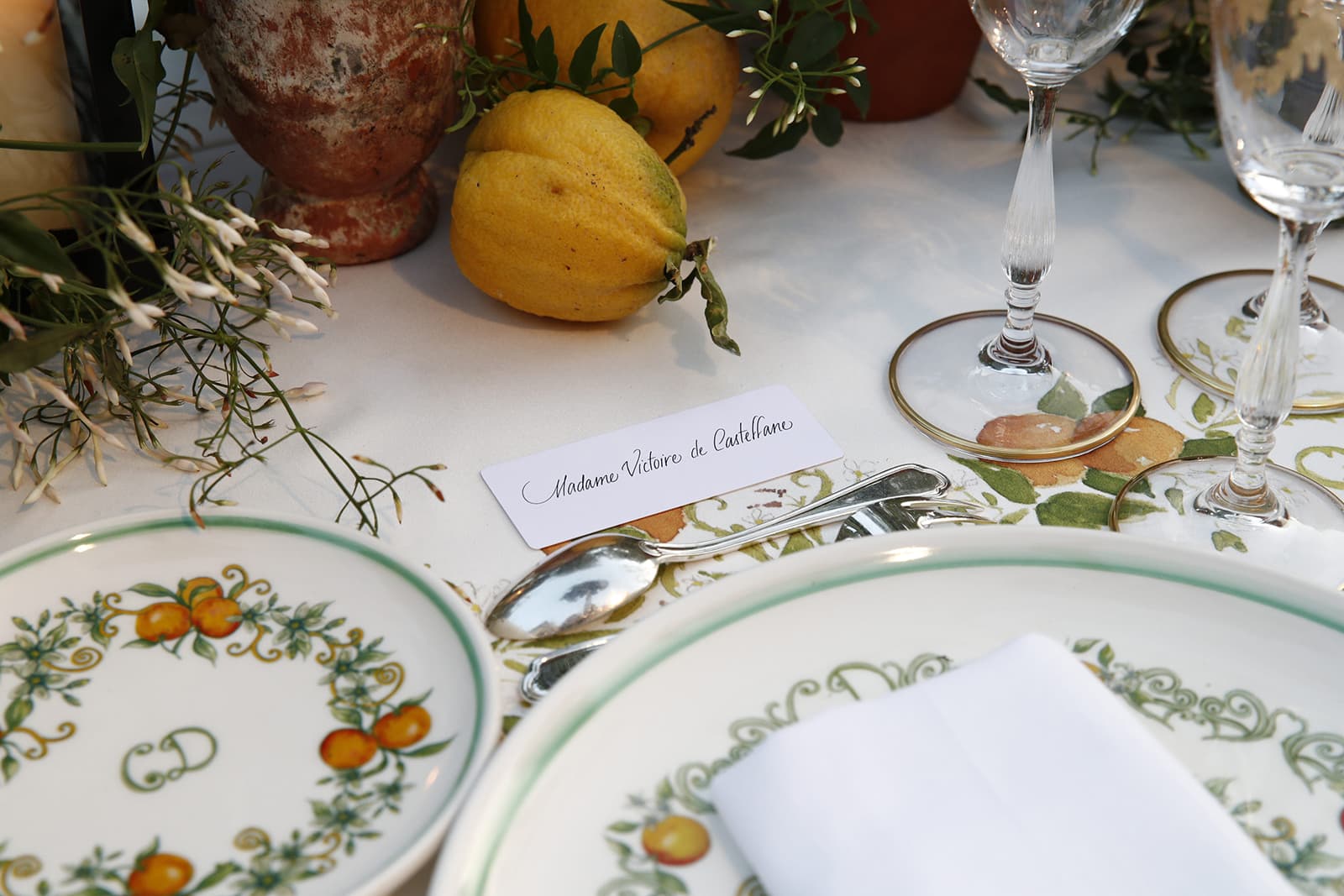 To celebrate the launch of the collection, Dior hosted a Dior Print catwalk event on June 4, 2022, at the Grand Hotel Timeo in Taormina, Italy. Pieces were combined with haute couture fashion by Maria Grazia Chiuri and an especially created make-up look by artist Peter Philips. Models were adorned and posed like living paintings of Grecian goddesses, surrounded by stone pedestals to pay tribute to the postures of Greek statues.
How does this relate to printed fabrics and graphic "crazy tossing of stones"? Who knows, but it speaks to the non-conformist spirit I mentioned earlier. High Jewellery is purposeful but it's also about finery, enjoyment, elegance and storytelling… why shouldn't Dior have its cake and eat it too?