This isn't the first time Sunita Nahata has impressed me in Las Vegas with her vibrant and effervescent palette of precious gems. In 2022, I wrote about seeing the brand at Wynn Las Vegas and exploring its Colombian emeralds, green tourmalines, kunzite and Paraiba tourmaline jewels. Now, I am here to give you an overview of the special pieces they launched at JCK 2023, including additions to its popular collections and their fabulously large carat weights!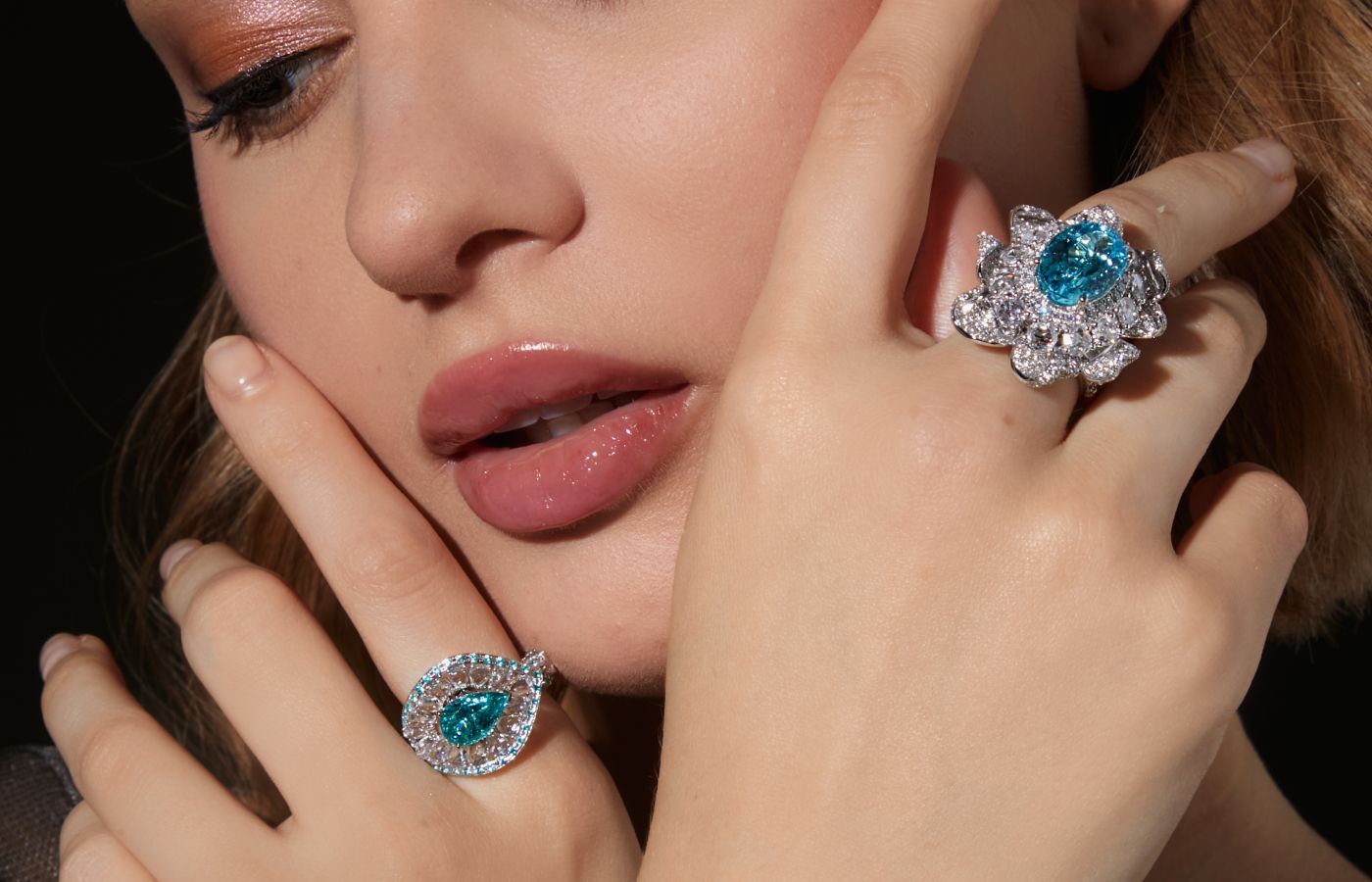 Sunita tells me: "We've seen all the different gemstones doing really well over the last year, and so I felt like creating louder and more vibrant pieces across a range of different colours. In particular, I wanted to showcase more interesting and unique colour combinations and explore a trend for mismatching colours." A fantastic example of this approach is the Glamorous Gemstones necklace, new for 2023, with juicy cushion-shaped citrine, rose quartz, amethyst, London blue topaz, morganite, sky blue topaz, peridot, marquise-shaped morganites, round rhodolite cabochons and round diamonds for a total of more than 100 carats. One does not often see so many colours in a single necklace, making this design stand out among so many other pieces launched this year. When I saw this Glamorous Gemstones creation, I immediately thought that Anna Wintour might appreciate it since she loves to combine different colours on her neck.
Elsewhere, Sunita has been experimenting with hardstone inlays to add contrast to cocktail rings and to "create a splash of colour around the centre stone". This is perfectly demonstrated in new additions to Glamorous Gemstones, unveiled at Luxury by JCK, such as a faceted 31.26-carat octagonal amethyst ring with garnets, diamonds and turquoise inlay in 18k rose gold. Also in this offering is a 29.56-carat octagonal honey quartz ring with tiger's eye inlay and a sensational 41.06-carat octagonal Swiss blue topaz cocktail ring with pink opal inlay set in 18k white gold. Personally, I felt that it was a bold move to mix these elements in one jewel to create a 'look at me' piece. Sunita has put together a statement design with strong contrasting colours and added a cherry on top – each centre stone is fancy cut. When you look at the cocktail rings from above, you instantly notice that something is different about them and feel compelled to look closer to appreciate the facets and the depth of the citrine, amethyst and topaz. Sunita later shared with me that Glamorous Gemstones was one of the brand's top-performing collections in Las Vegas, especially thanks to this contrasting injection of inlaid minerals.
Next, we must turn to one of my favourite novelties – the Cherry Blossom Kunzite necklace, which is the complete opposite of the mixed colours jewels since it mainly features pink stones. This piece is special for many reasons, not least of which is the sheer size of the gemstones included: 84.34 carats of kunzites, 2.30 carats of pink tourmalines, 2.45 carats of diamonds, and a further 13.96 carats of pink opal, sprinkled with micro-set, lilac-hued amethysts for another carat of colourful splendour. The design itself is sweet and feminine, with rectangular diamond-wrapped pinky-lilac kunzites punctuated with butterflies and set in warm 18k rose gold. What's important for Sunita Nahata, however, is the composition, which involves setting each spodumene within a precision-cut pink opal frame using a specialist CNC machine. "We have been experimenting and bringing in modern technology to change the conventional thought of how gemstones should be cut," she tells me. "Such technology allows designers like me to really disrupt how people perceive gemstones, and now I am able to incorporate so many more unique and different shapes and cuts into my pieces."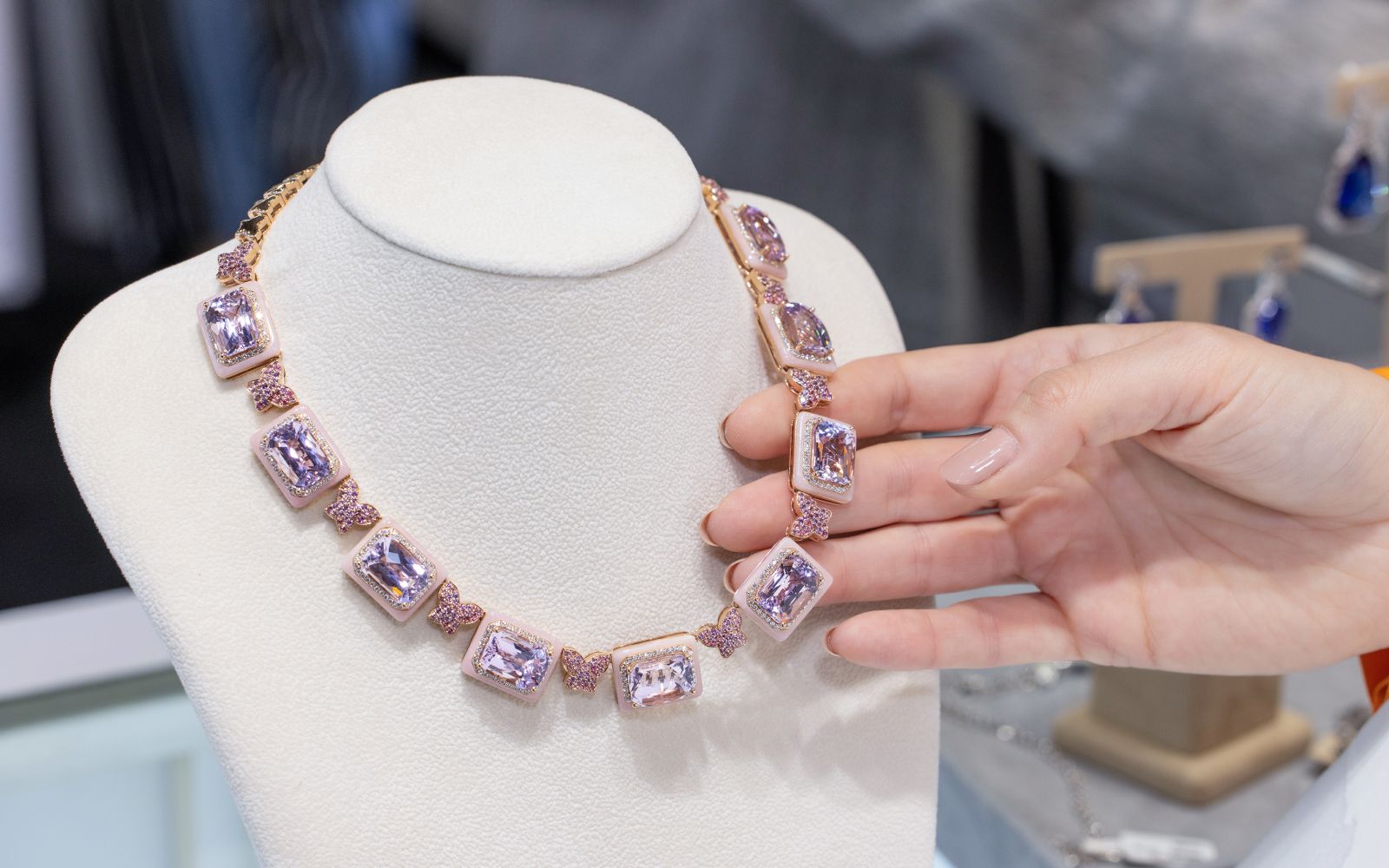 Following the theme of unconventionally faceted gems, I must share earrings and rings with fancy-cut and shaped tanzanites with you. These velvety stones are set in Art Deco-inspired creations, paired with trapezoid-, round-, and baguette-cut diamonds that are both channel-, micro- and prong-set. One pair of earrings feature two tanzanites totalling 15.93 carats, coupled with diamonds inlaid into mother-of-pearl. This creates a subtle contrast between the matte pearl finish and the sparkle of diamonds, both enhancing the centre stones.
Another design variation comprises a blueberry burst of tanzanite, measuring 8.90 carats in the ring and 19.83 carats of deep blue gems in the matching earrings, both with a soft, feminine take on the shield shape. This Art Deco design is more streamlined and conventional, featuring just the diamonds framing the centre stones. But do not be fooled; behind this minimalism lies a lot of precise calculations when it comes to cutting baguette diamonds. And if you're the hard-to-please type, there is a pair of true statement earrings that feature tanzanites with a combined weight of 41.53 carats!
Even with all this originality of fancy-cut gems to attract the eye, I couldn't walk away from Sunita Nahata's booth in Las Vegas before admiring the third edition of her popular Blue Planet series that features statement blue aquamarines. This evolving suite of jewels was first introduced at Couture in 2019 and has become an identifying signature of the brand. Nahata explains that aquamarines have performed well for her in recent years, so it is only right to keep delighting clients with fresh designs. "We are also finding a lot of higher-grade material and gems in the market," she explains. "They are so well cut that I just can't stop using them!"
As you've probably gathered from the collection name, Blue Planet is an ode to the world's oceans. Within this line, there's the Blue Lagoon collection, including a trio of new designs – a ring, necklace, and matching earrings – each with Santa Maria aquamarines. I feel that it is important to say a few words about the significance of these blue beryls. They come from Brazil and display one of the oldest and most expensive colour variations of this gems. Santa Maria aquamarines have one of the deepest blue tones, which is natural and not treated, and the deeper the colour, the more valuable the gem is.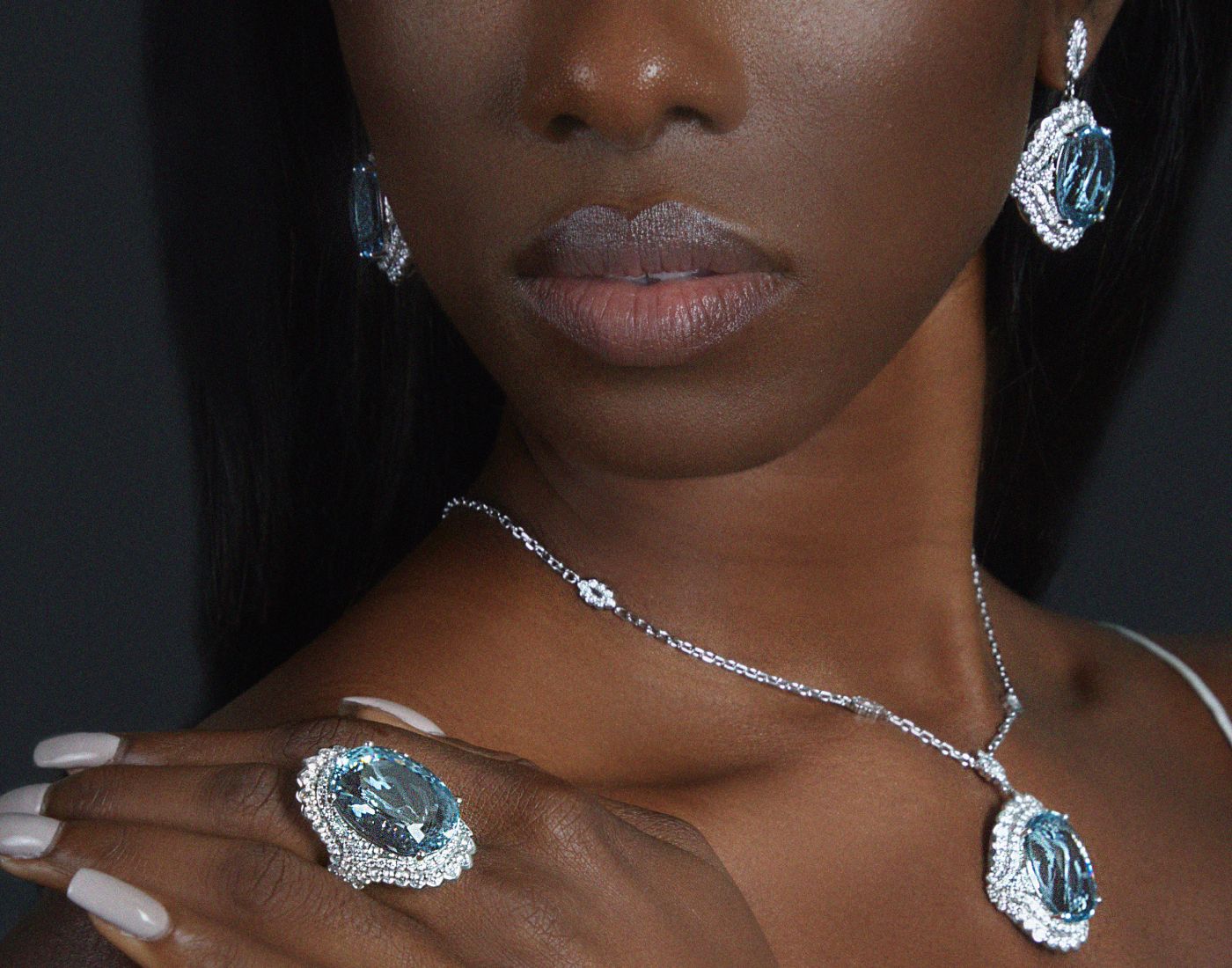 Now you can better appreciate the quality of the aquamarines that Sunita chose for her Blue Lagoon collection, let's look at the pieces! Staying true to her style, she used some large gemstones demanding attention, including a 25.39-carat aquamarine in the ring, 37.86 carats in both earrings and a 22.32-carat sea-blue treasure in the necklace, all set in 18k white gold. And, speaking of the setting, all three designs have a subtle vintage inspiration, like they've been rescued from the ocean's depths as part of a cache of lost gems. I especially like the pendant necklace and its diamond-set station chain, which mirrors the shape of the central pendant and creates an antique-inspired repeating motif.
Looking to the future, Sunita is focusing her attention on "exotic and rare gems, like Colombian emeralds, Burmese rubies or Brazilian Paraiba tourmalines" for her high jewellery collections. She explains: "I only begin my design or creative process once I have the gems with me, as I really need to study them to see how I can best elevate each in line with current trends." These precious pieces may be out of reach for now, but I will be first in the queue to view them when they launch at Luxury Las Vegas in 2024. I hope to see you there.