Is there anyone who doesn't find the promise of 150 unique artworks by Wallace Chan on display in one place to be a thoroughly tempting prospect? There is so much to see in this exhibition – one of the largest cut black diamonds in the world, brilliantly resilient Wallace Chan Porcelain, patented jade techniques, colossal gemstones, and intricately carved minerals – all with that futuristic and fantastical spirit that sets Wallace Chan apart from his art jewellery peers. In fact, I am reliably informed that Wallace Chan loves Marvel films like Doctor Strange and Ant-Man, in addition to Avatar and superheroes, so perhaps this is where some of his jewels start conceptually!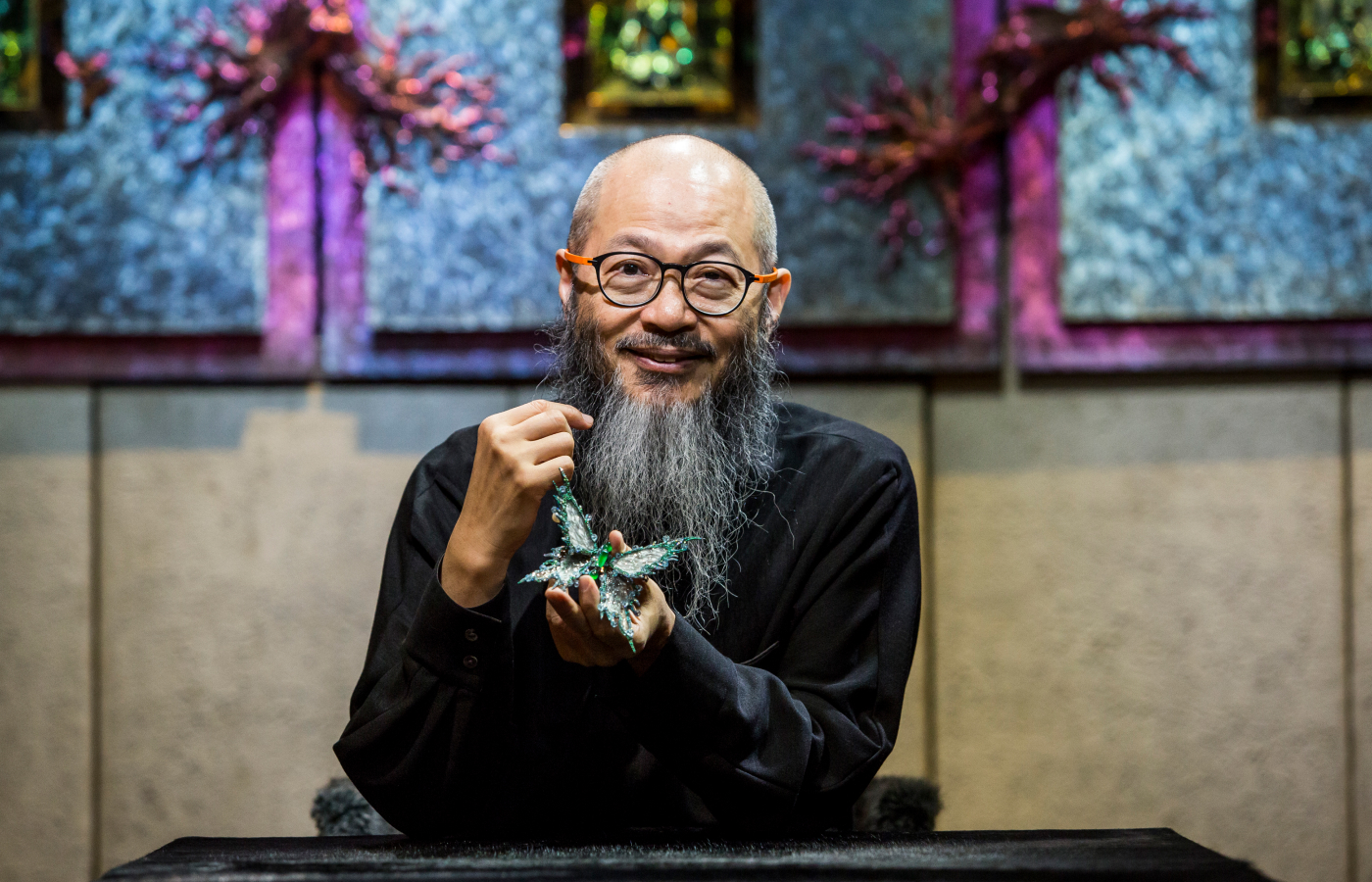 Some months ago, I was invited to dive deeper into his 50-year career, ask my questions, and try on some of the remarkable feats on display in London. I was immediately drawn to the spaceship-like Variations on Light ring, with an oval-shaped 1.05-carat pink diamond, a contrasting yellow diamond, white diamonds, aquamarine, tsavorite garnets, and jadeite crafted in titanium. Chan explained that he engraved a tunnel through the aquamarine and drilled channels from the inside out to create hollow, carved recesses for the diamonds to sit perfectly in place. His focus is very much on the balance of colour, lightness, transparency and opaqueness. For example, we spoke about colours "communicating" with each other and how he set diamonds aside in this particular piece in favour of deep green jadeite, which is "not 100% transparent to give it more meaning".
One thing essential to understand about Wallace Chan's works is that they are meticulously considered. Every detail is put under his deeply philosophical microscope. In the Variations on Light right, he admits that a small area would be "very easy to polish", but instead, he opted to carve swirling water patterns into the band to symbolise eternity, humility, power, wisdom and grace. I was struck by how he said the piece was "still feeling, still breathing" in our conversation, like it is fully alive in his mind.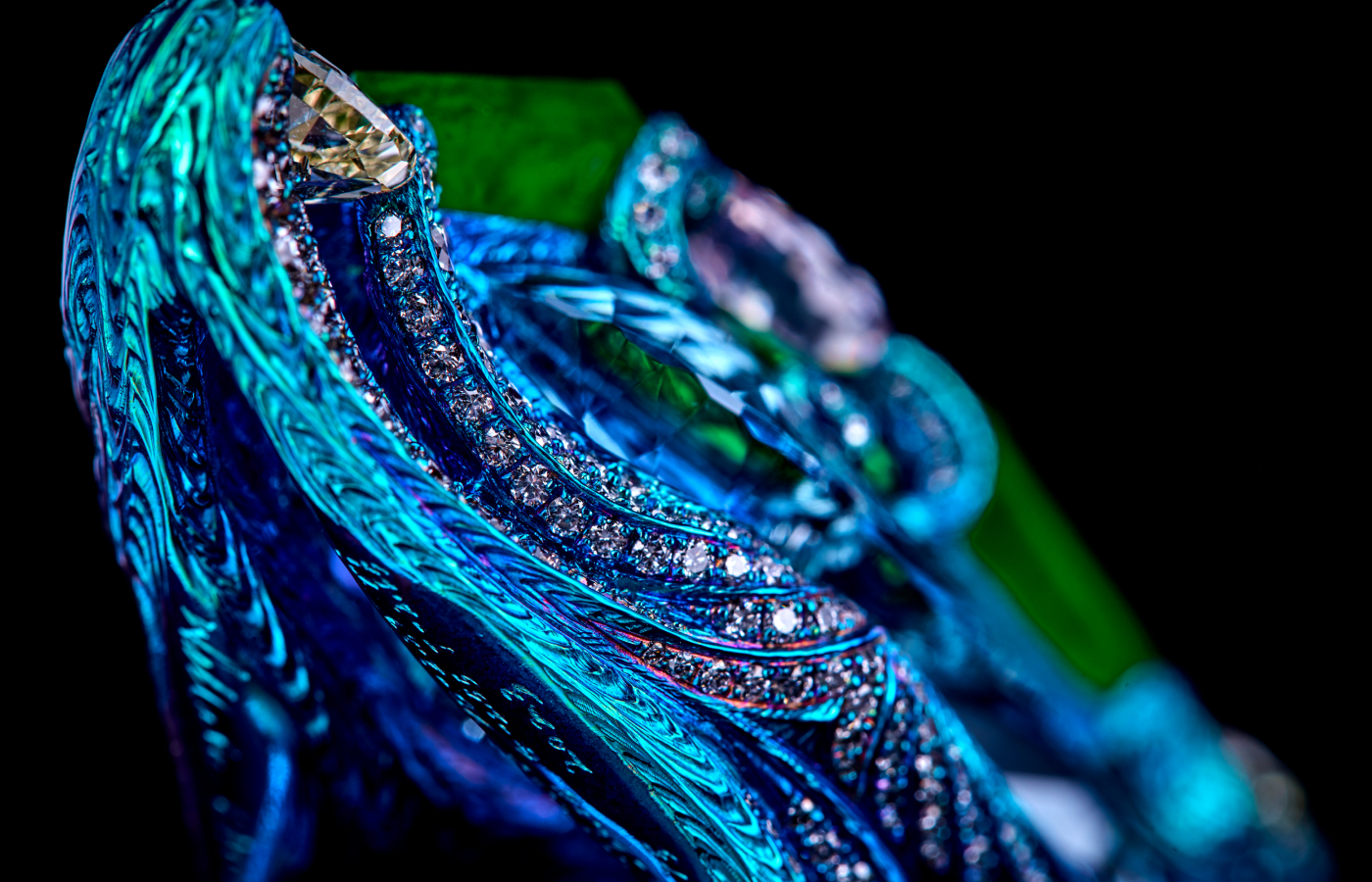 Next, we spoke about the Quatrain ring, a sensational 12.28-carat tsavorite garnet surrounded by pearls, yellow diamonds, colourless diamonds, and further tsavorites, topped with Wallace Chan Porcelain in titanium. The piece is poetic and rhythmic, according to Chan, who has used four shapely 'claws' of Wallace Chan Porcelain to hold the central forest-green mineral in place. Remember, all this holding-in-place is happening from above, so beneath, it appears like materials are floating in space and suspended in time. "There are so many different techniques to come together," Chan explains in his calm, humble way like there's nothing to it! I asked how long the piece took to create, and he explained: "For me, I never calculate the time because if I calculate how long [it takes] to finish, that means I will calculate the cost, I will calculate who will buy this and how much people will pay… so I never calculate." He adds: "If I calculate, it means I calculate my life, my ability. Without it, I become stronger."
Next, we move on to The Joy of Life – a soaring butterfly-shaped brooch with pink sapphire, multi-coloured sapphires, tsavorite garnet, yellow diamonds, pearl and titanium. Wallace Chan is known for his butterfly jewels, representing magic, beauty, metamorphosis and alchemy. According to a description of this piece: "The butterfly's metamorphosis bears witness to the power of life, inspiring humanity to break free from their own chains and embrace the inherent marvels that abound. The butterfly, like an ethereal apparition, soars with her jewelled wings, akin to a whispering breeze—light and graceful." What's especially notable about this piece is the back. "For 100 years, people have used clasps. I wanted to create a clasp," Chan explained as he challenged me to open the fastening and listen for a tell-tale clicking sound. Should you ever find this piece in your hands, I recommend looking or the tiny seed pearls as they hold the secret!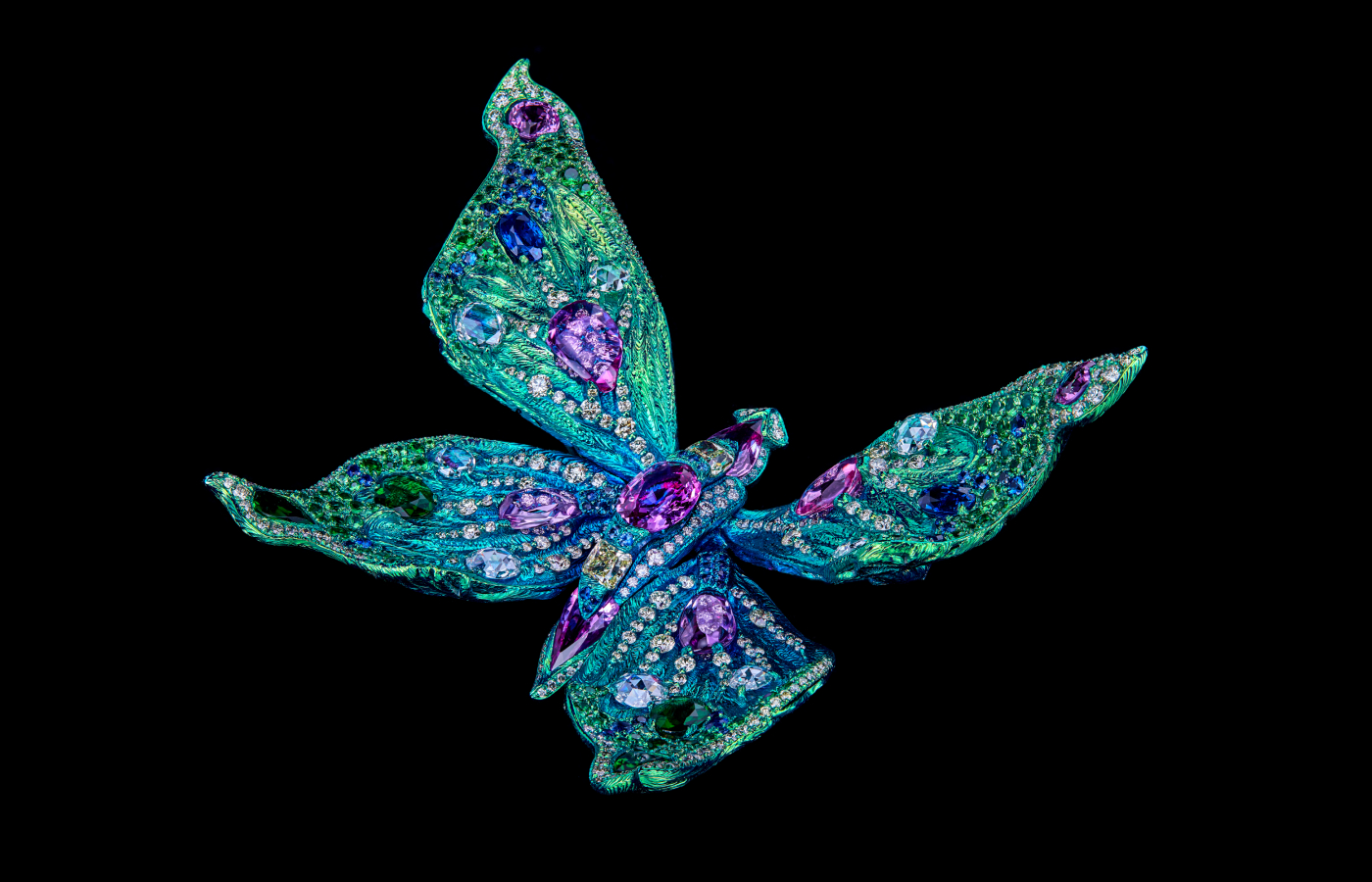 Titanium plays a starring role in Wallace Chan's creations, and he has been on a journey of discovery and experimentation to ensure he can master this notoriously tricksy material. "I bought one piece of solid titanium, and I started to use my traditional techniques to cut it, but at the same time, I was learning how to solve problems," Chan says of an early piece depicting an elephant that he felt compelled to produce in titanium to capture the juxtaposition of weight and lightness. He continues: "Now, [when] I want to create the elephant again, I already know the secret. I already know the technique. When you have a problem that is very difficult, when you solve it, you become free, light."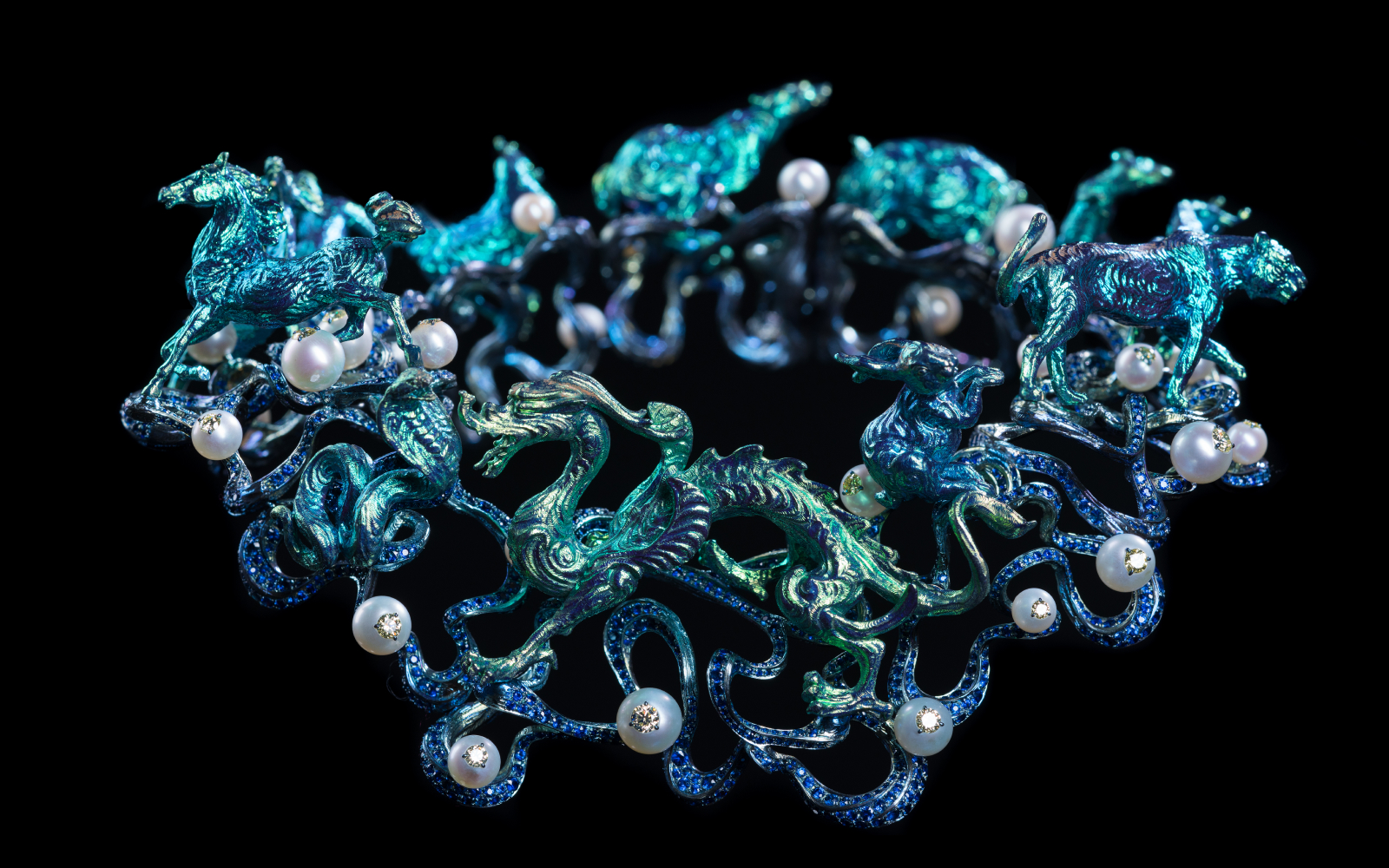 This idea of weightlessness is key in The Beauty of Greatness brooch, one of my favourite creations, featuring an elephant that appears to be featherlight on boulders of coloured stones, including green tourmaline, rubellite, aquamarine, tanzanite, yellow sapphire, pearl, obsidian, and fancy-coloured diamonds. The mammal's body is carved from a block of titanium, while its tusk is crafted in Wallace Chan Porcelain. I love the way Chan describes the elephant as standing on a "foundation of gems as precious knowledge," reminding the wearer that minerals are ancient, natural formations that link us to the vast history of the earth.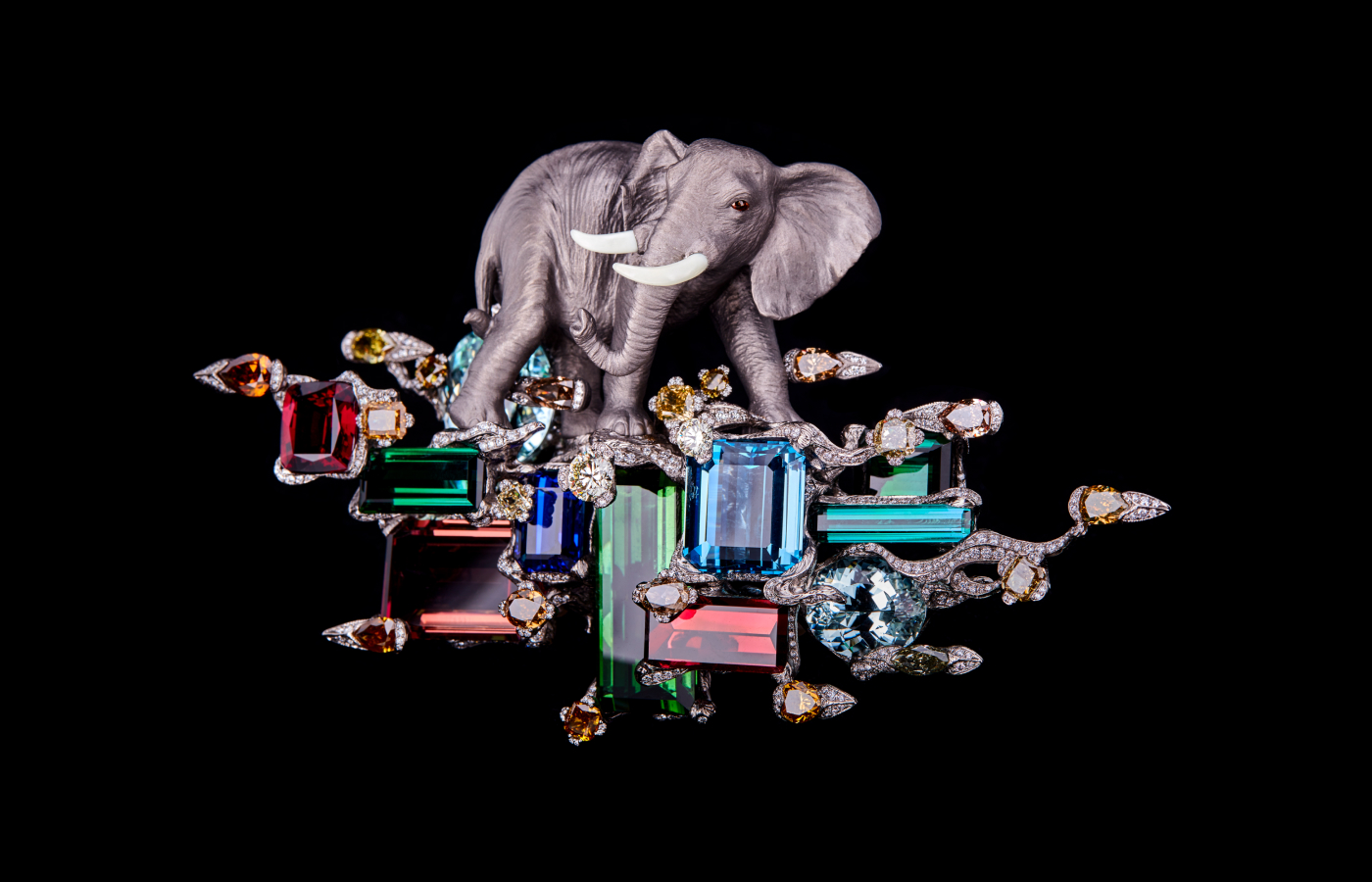 Speaking of history, this is partly why the name 'The Wheel of Time' was chosen for the Christie's exhibition. It summarises the materials Chan uses, the techniques he has spent five decades cultivating, and the precious time it takes to bring each brooch, shoulder jewel, necklace and ring to life. According to his team: "For Wallace Chan, jewellery is more than adornment – it is a storyteller, a carrier of heritage, a reflection of the times and a way of realising his dreams. Gemstones are his language, and through them, he translates the messages of our universe."
During our conversation, we spoke briefly about his inherent and instinctual spiritualism, including the art of meditation, opening one's heart, and the "power you can get from the sun". He told me: "You always have to satisfy your heart. It is difficult, your mind wants to do something better, or your mind wants to figure out how [something] works. In Chinese meditation, the important thing is how to satisfy your heart, your mind, and your conscience together."
"A deeply philosophical man, Wallace infuses his jewels with Oriental spiritualism. This is the motif which he spends his entire creative life interpreting and reinterpreting, experimenting with endless combinations of gemstones, mediums, styles, aesthetics, and executed in his world-renowned techniques," François Curiel, Chairman, Christie's Europe.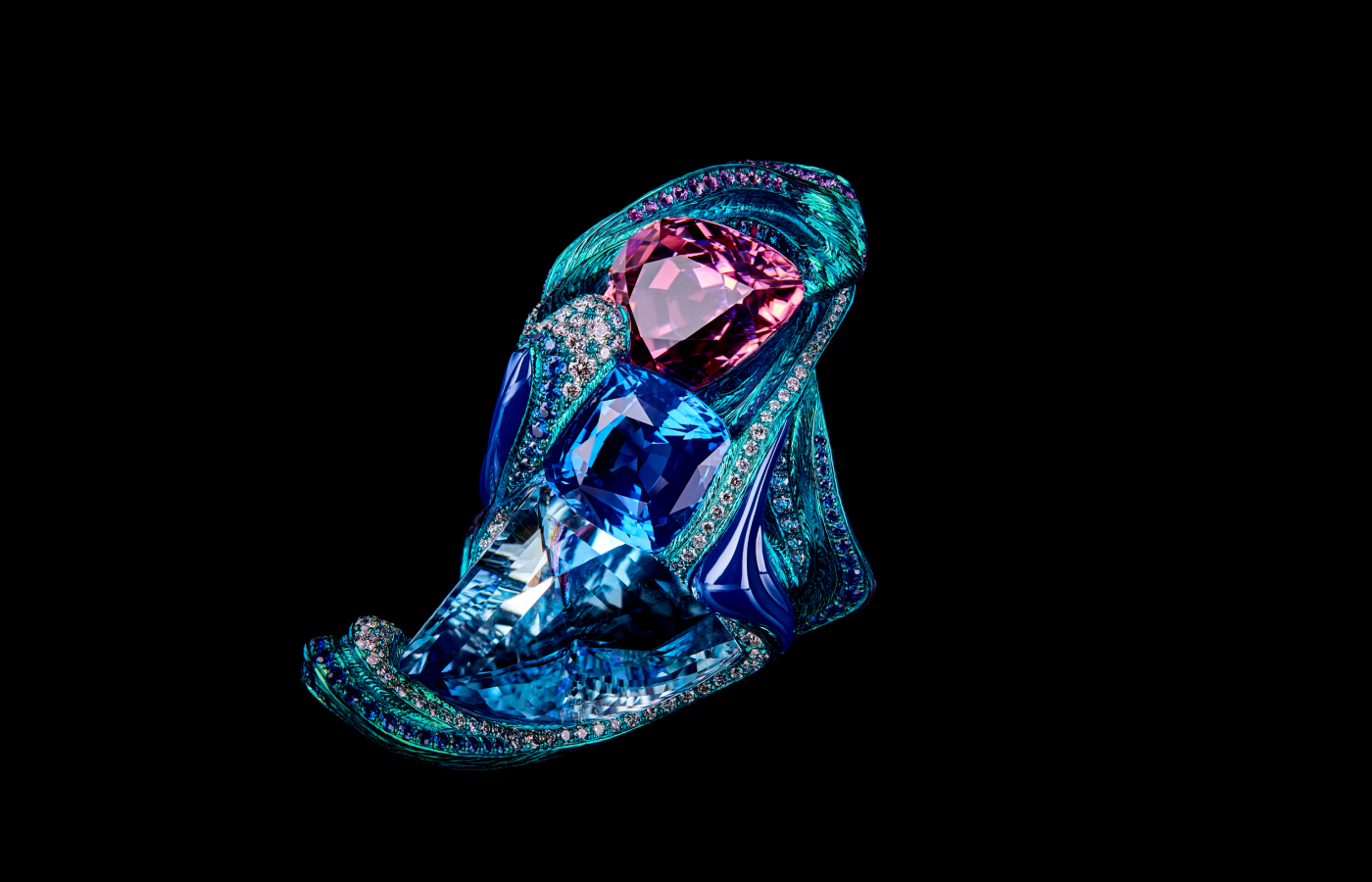 Finally, you may be wondering about the 'largest cut black diamond' I mentioned earlier in this article. This remarkable midnight-hued carbon lattice, weighing 312.24-carats, is at the heart of the Legend of the Color Black shoulder brooch and sculpture. It is perfectly counter-weighted by a similarly-shaped crystal, injected with sapphires and diamonds, which hangs below it – the result of countless hours of experimentation to find the centre of gravity and ideal balance. The rest of the piece is fashioned from Wallace Chan porcelain, titanium tendrils, silver-grey diamonds, and black agates, all shaped to conjure an image of neurons firing with electrical signals in the brain.
If you are travelling to London in September, I recommend visiting this exhibition to see these spirited high jewels for yourself. There's far more to see that I have space to describe in detail here, so a visit is the only way to truly appreciate the breadth of Chan's work. I hope you find the experience as inspiring as I did.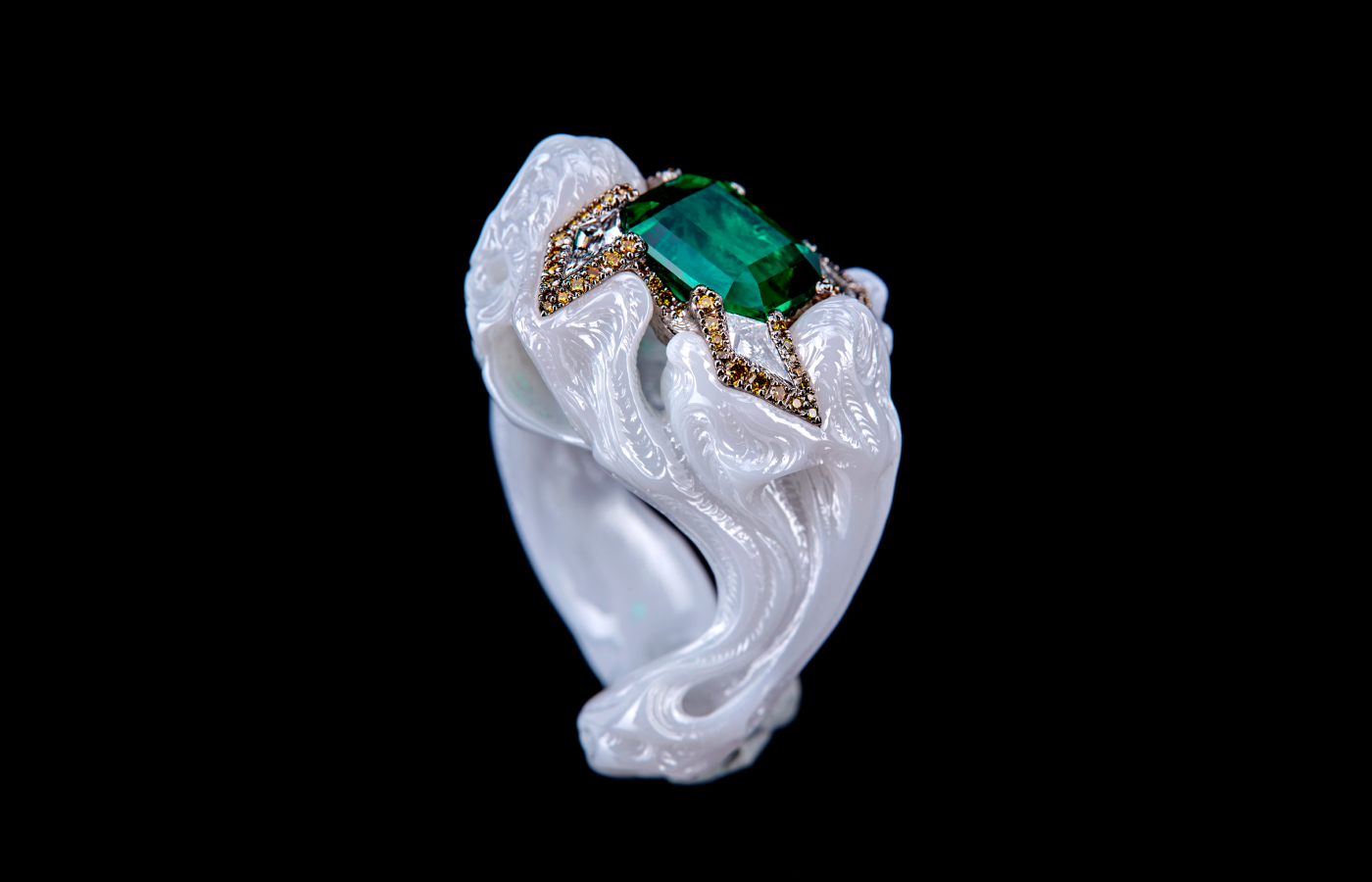 Wallace Chan: The Wheel of Time exhibition is free to attend from September 4-10, 2023, at Christie's King Street headquarters in London. More information can be found here.