Featuring approximately 70 pieces, the exhibition will showcase bold cocktail rings, cuff bracelets, chunky necklaces, brooches and sculptural earrings by renown jewellers such as Cartier, Van Cleef & Arpels, Verdura, Pierre Sterle, Andrew Grima, Mauboussin and Angela Cummings. To recreate the atmosphere of the featured period, A La Vieille Russie teamed up with Katy Kane who is a dealer in antique and couture clothing specialising in 20th century American and European fashion and accessories, and together they will collaborate in displaying jewels and clothing typical of the featured period.
The selected pieces are mostly made out of gold, and are occasionally embellished with precious gemstones popular between 1940s and 1980s': emeralds, rubies, aquamarines, yellow sapphires, lapis lazuli, amethysts and citrines. The A La Vieille Russie selection of jewels displays the ingenuity of post-war aesthetics and showcases modernist and retro forms. The exhibition focuses on the foresight of jewellery designers over four decades, timelessness of their creations and their adaptability to modern fashion. All featured jewellers played with shapes and volumes which are still desirable in the present day. I spoke with Peter Schaffer, Director of A La Vieille Russie, about the criteria for jewellery that made the cut for the upcoming exhibition and how such event represents the principles of A La Vieille Russie as an antique and vintage jewellery seller.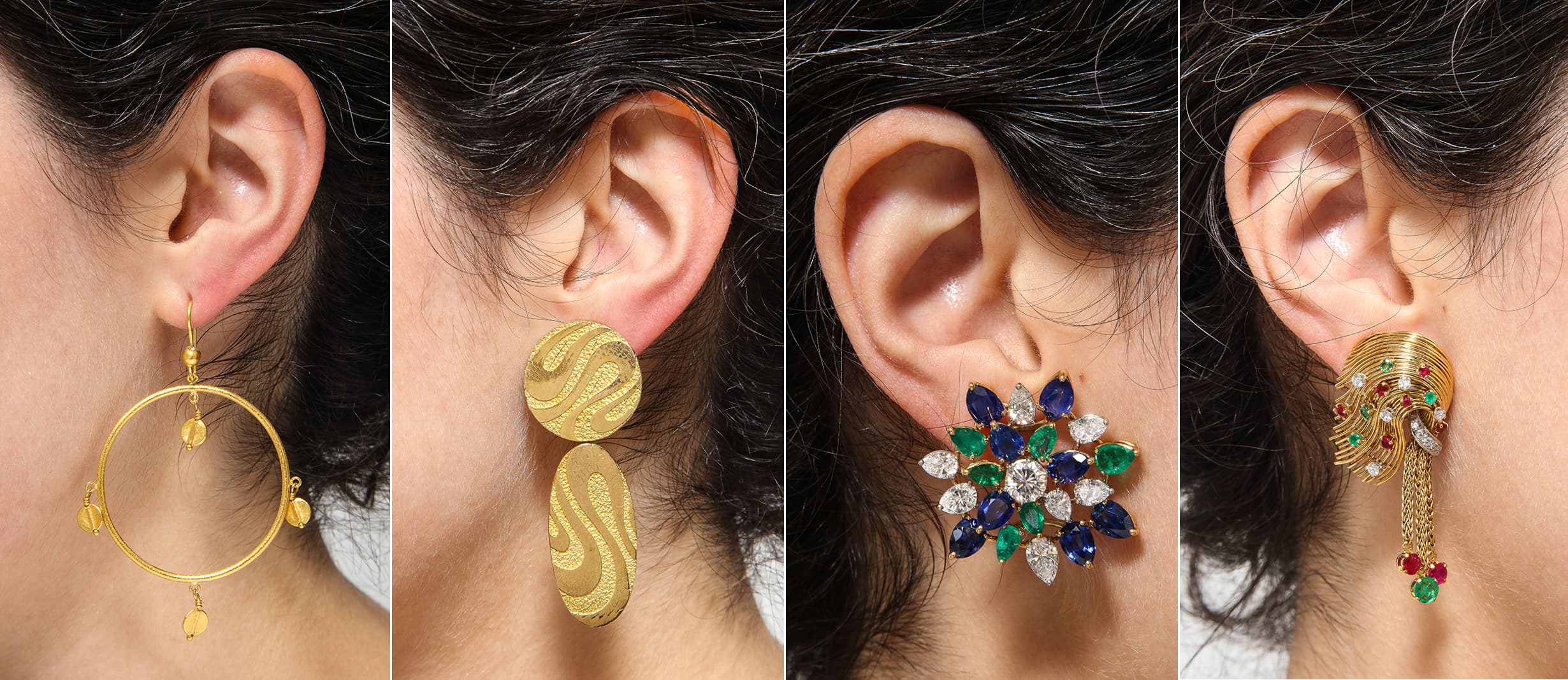 Katerina Perez: In the upcoming 'Deceptively Modern Jewelry: 1940s to 1980s' exhibition, A La Vieille Russie is showcasing the timelessness of pre-emptively modern designs in vintage jewellery. What elements and materials have constituted inclusion in this showcase?

Peter Schaffer: When we looked at this era, it was really apparent that the most exceptional pieces from those times were made of gold. This precious metal was in very short supply for jewellery design during, and for a while after, WWII and its use was 'exciting and new' when it became plentiful again. Today, the demand for gold pieces is strong again as it fits so perfectly into today's lifestyle. In addition to gold, also of significant interest in the 40's – 80's was the fantastic use of coloured gemstones; lapis, coral, citrine, peridot, and aquamarine, as well as coloured enamels to add cheer to what had been previously a more subdued period.
KP: Why did you feel that working with Katy Kane Vintage & Couture was important for contextualising this presentation?

PS: We are most pleased to be working with Katy Kane, as she really has an incredible eye for finding the best examples of vintage couture and fashion from this period - such as pieces from the famous fashion houses of Halston, Yves Saint Laurent and Balmain. Her collections really give you insight into what women of great style wore. We find that clients are always interested in 'how was this worn' and having her join us will help answer that question. Together we bring this all to life.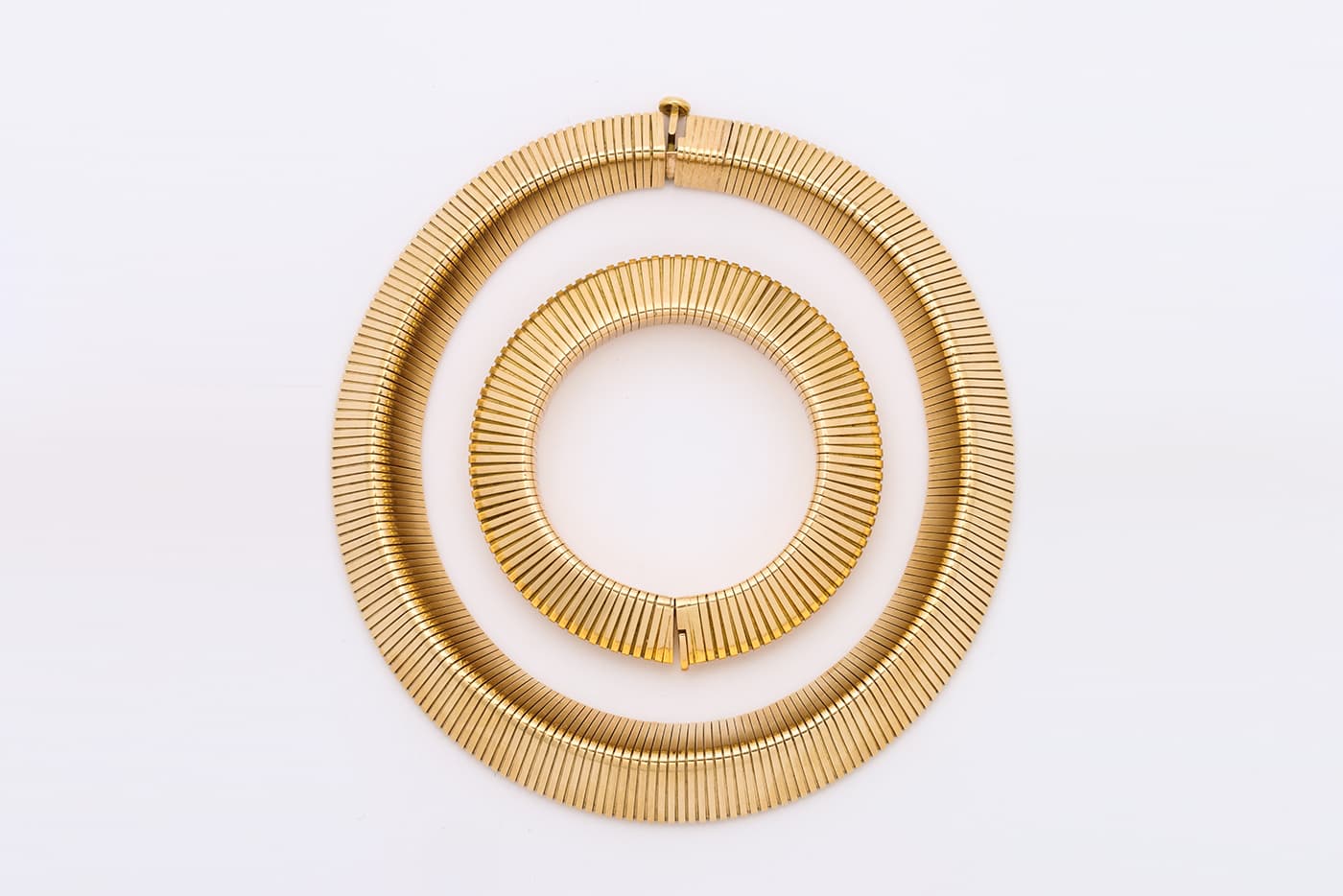 KP: How does this exhibit represent the principles of A La Vieille Russie as an antique and vintage jewellery seller?

PS: The principles of A La Vieille Russie always remain constant regardless of what we are presenting. We always seek the unusual, we are widely known and stand behind our company motto or credo 'where the unusual is usual'. However, the bottom line is first and foremost, always quality. We have always been highly selective in what we have chosen, always mindful of the unusual and the quality.