When Anup Bohra first experimented with enamel in 2001, no one in India was employing either plique-à-jour, champlevé or basse taille in contemporary art forms. Without any idea of how he could create a colourful substance from pulverised glass which solidifies when heated to a high temperature, Anup had to spend a few years perfecting application of his technique. He soon got the hang of it, replicating jewellery pictured in books, but very quickly began to innovate to concentrate on his own original thoughts and styles, intricately designed jewels that one could marvel at for hours on end it seems.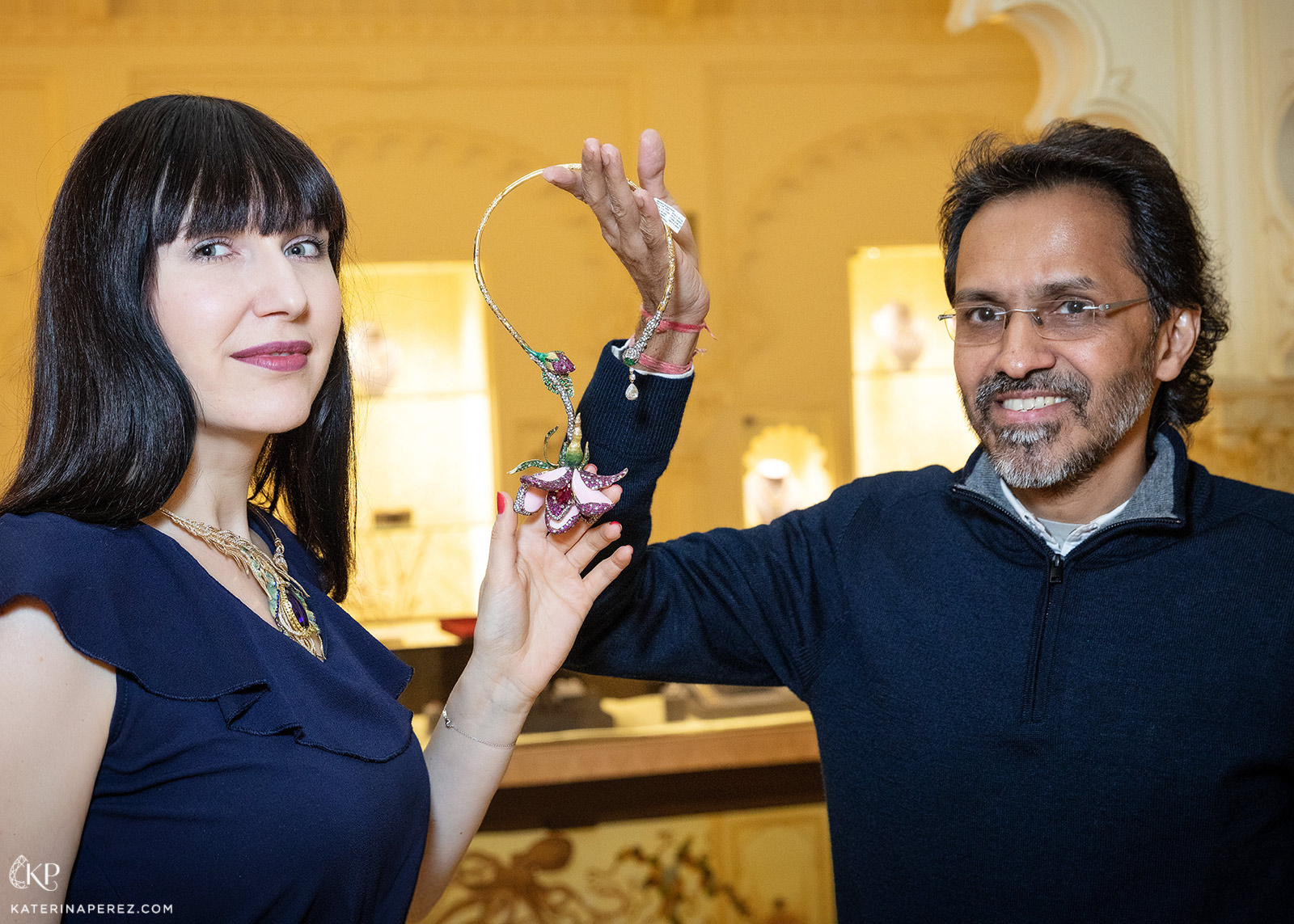 "The art of enamelling came to me with time and has helped to satisfy my desire to be original, to be a visionary and display my creativity. In the past there have only been about 6-7 enamel colours available on the market which were used in traditional Indian Jewellery as solid hues in flat engraved geometric shapes from Islamic tradition interwoven with patterns displaying acanthus, birds, flowers and animal forms of Hindu aesthetics. Step by step, I began to master plique-à-jour, champlevé and basse-taille in contemporary forms of Jewellery, creating my own colour palette. Now I can create 300 different colour shades of enamel," Anup explains.
Each collection, from 'Mesmerising Peacock' to 'Celebrating Gaudi', 'The Charm of Eight Arms', 'The Fifth Element', 'Sixth Sense', 'Alibaba & Forty Thieves', has its own story. Anup has no interest in simply creating beautiful jewellery. For him, jewellery art is story-telling, a way of narrating the images that form in his imagination after he has read a book or made an observation about the world surrounding him. "The peacock is the national bird of India and I was the first person to produce a line of not just a few, but 80 peacock designs under Masterstrokes. Now there are only 4 of these jewels left," Anup says of his first collection.
Now the jeweller is working on a line inspired by Alibaba and the Forty Thieves and plans to produce forty unique pieces. "I portray Alibaba through the centre stone, and the thieves are the remaining gems, either diamonds or coloured stones. In the first jewel there is one Alibaba who is searching for one thief, in the second one – one Alibaba and two thieves, and so on. The number of thieves continues to increase with each jewel. This concept allowed me to turn a story which we all know well into a jewellery collection. That is how I create my jewellery – works of art, through storytelling."
During our meeting, Anup informs that he has had no formal design training, he graduated with a qualification in gemmology from GIA. "I personally think that painters, architects or fashion and textile designers are far better jewellery designers than design graduates themselves as they are not directly related to the industry, have a bigger canvas and thus tend to think big. It is the same in my case and so all my stories are very different," the brand's founder tells me.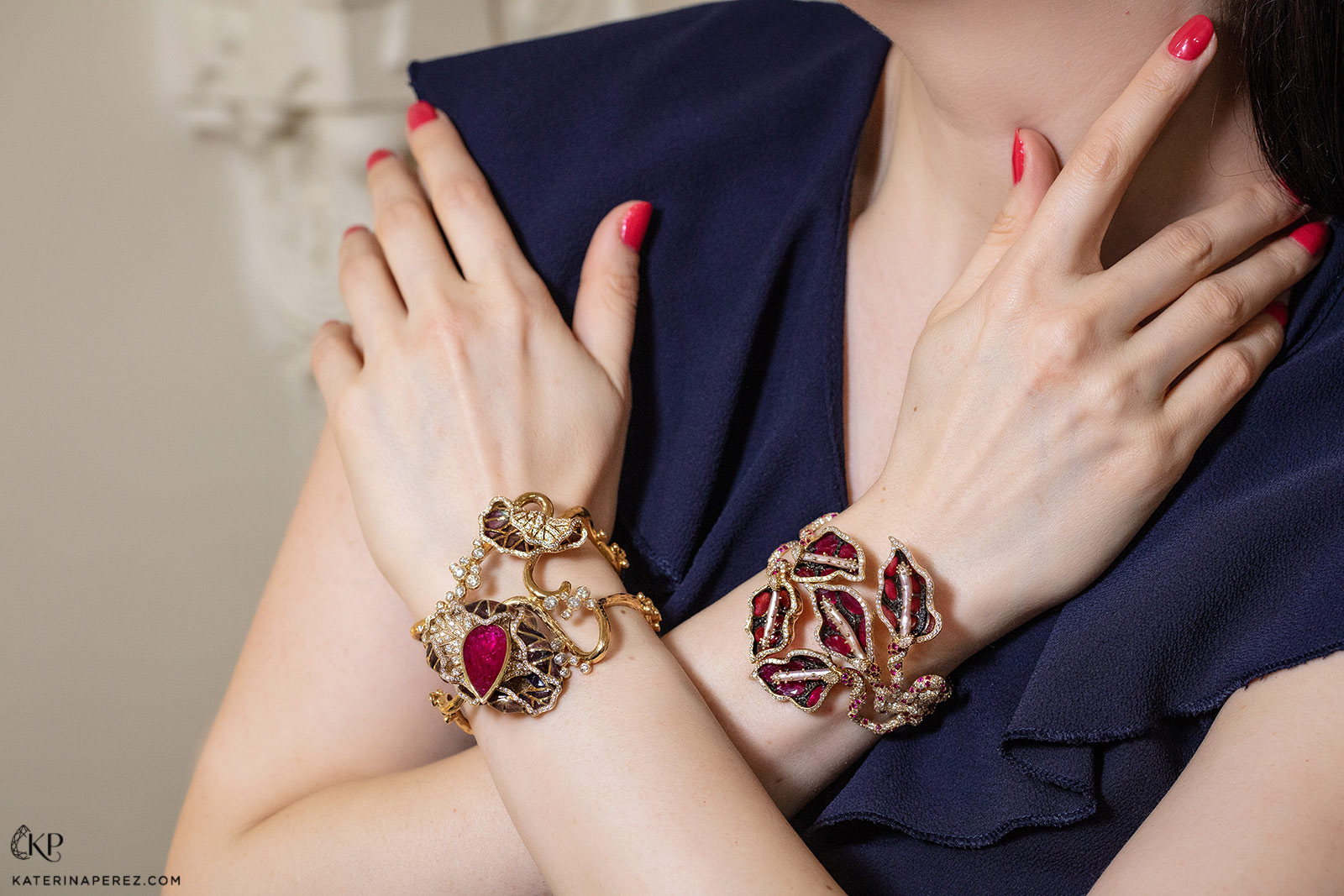 Anup currently manages a team of five jewellery painters who specialise in sketching jewellery designs and thirty-five skilled jewellery craftsmen. He acts as the catalyst of the entire development and creation process. With every new concept, he begins by discussing it with his wife Smriti, a textile designer by qualification and also the co-founder of Masterstrokes, who - according to Anup - has exquisite taste, her understanding of colours is par excellence, and tries to achieve perfection in whatever she does. "I have to be very careful of what I do as I carry the weight of my forefathers' reputation and want to continue my family's legacy," says Anup who represents the eighth generation of Bohra jewellers and runs his family brand Jewels Emporium.
I clearly remember at the end of our discussion talking about the bright colour palette of Masterstrokes jewellery. This is how Anup explained his decision to use all the colours of the rainbow: "All of my creations are collectors' pieces, but I do not just stick to investment-grade gemstones. I look for minerals that suit the story and the design best. Colours are my passion and my weakness, Women are my strength. Every woman is unparalleled, one-half woman and one-half dream… I create 99% of my masterpieces for them."