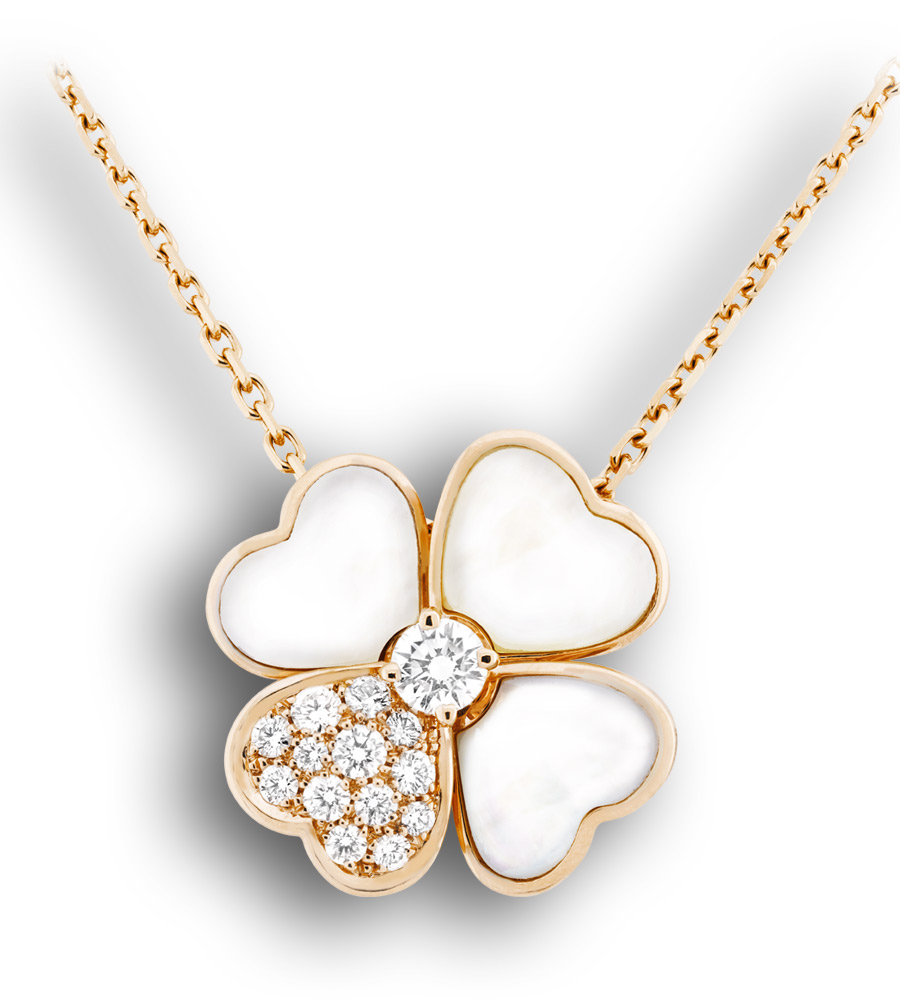 Nature is always one of the main sources of inspiration for Van Cleef & Arpels. In the worlds of flora and fauna that surrounds us, there is so much beauty and harmony that, on observing them, the master jewellers at Van Cleef & Arpels can't resist their desire to immortalise everything they witness.
Inspired by the blossoming buds of spring, they have interlaced a jewellery collection with the world of harmony that smoothly links it to the maison's other jewellery lines (such as Perlée or Frivole).
The Cosmos collection appeared at the beginning of the 2000s. In Greek, the name means "world of harmony". Pieces that make up the collection resemble quivering four-leaf clovers and are thus associated with the Alhambra collection. If you take a closer look at them, you can see that the heart-shaped leaves are in fact large flower petals at the base of which glitters a 1/4 carat diamond.
Stud earrings, three varieties of rings (large, medium and two-finger rings), and also a pendant which you can modify and wear as a broach all complement the already existing models encrusted with diamonds. At first, they appear to make up a capsule set and until now have been shadowed by the popular Alhambra collection. But it's likely that this situation will change after the new varieties of Cosmos start to appear in boutiques across the globe from the beginning of May.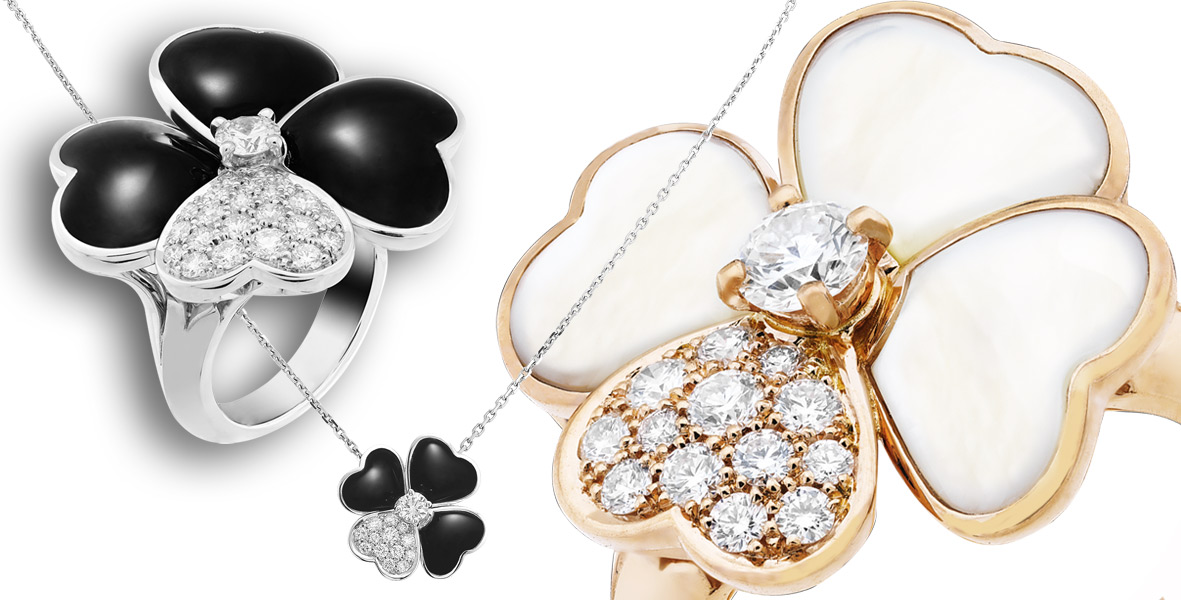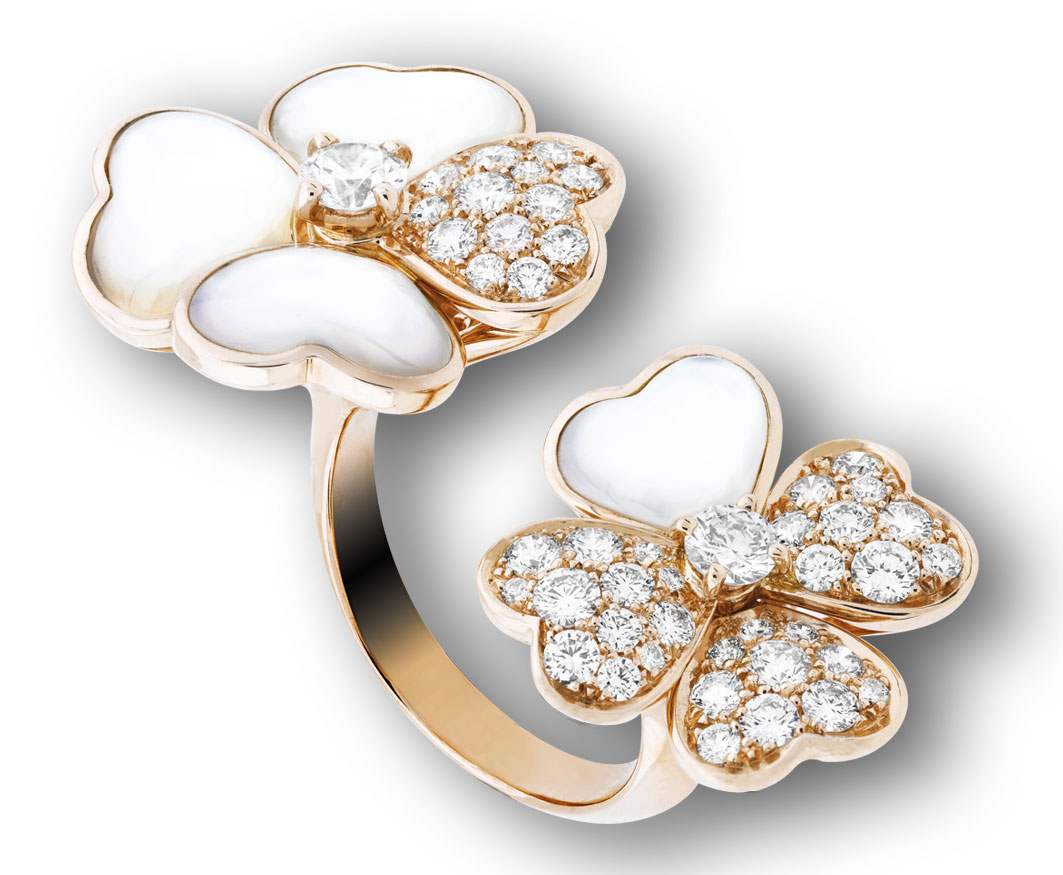 As jewellery designers prepare their new pieces in time for the summer, Van Cleef & Arpels has chosen a conservative monochrome palette for its new releases. Could this be put down to the recent increasing penchant for 1920s fashion trends? Or is it just that black onyx and white pearl as so readily combined with all clothes and styles that they are an ideal gift for any woman?
Whatever the reason, mother of pearl has always been one of the brand's favourites. Its enchanting, milky sheen has a feminine quality and, together with the rose gold, the flowers of Cosmos look all the more graceful. Pearl's alter ego is black Brazilian onyx which, on a frame of white gold, looks even more dramatic and glorious with its pitch black colour and glistening reflective surface.
Thanks to the harmonious union of contrasting materials, two completely new collections have been created, every piece of which is full of life and smacks of Van Cleef and Arpels' favoured sources of inspiration: nature and happiness.