One of the most innovative fine jewellery brands in terms of both the design and materials which they utilise are Hemmerle. The unexpected is always to be expected with the prestigious Munich-based jeweller; as is evidenced in their creation of earrings using silver and white gold, and featuring ancient Egyptian faiences representing the gods Osiris and Re, dating from the 4th century BC Ptolemaic period. These are truly the intersection between historical artefacts and fine jewellery, as suited to being exhibited in a museum as they are within a fine jewellery collection.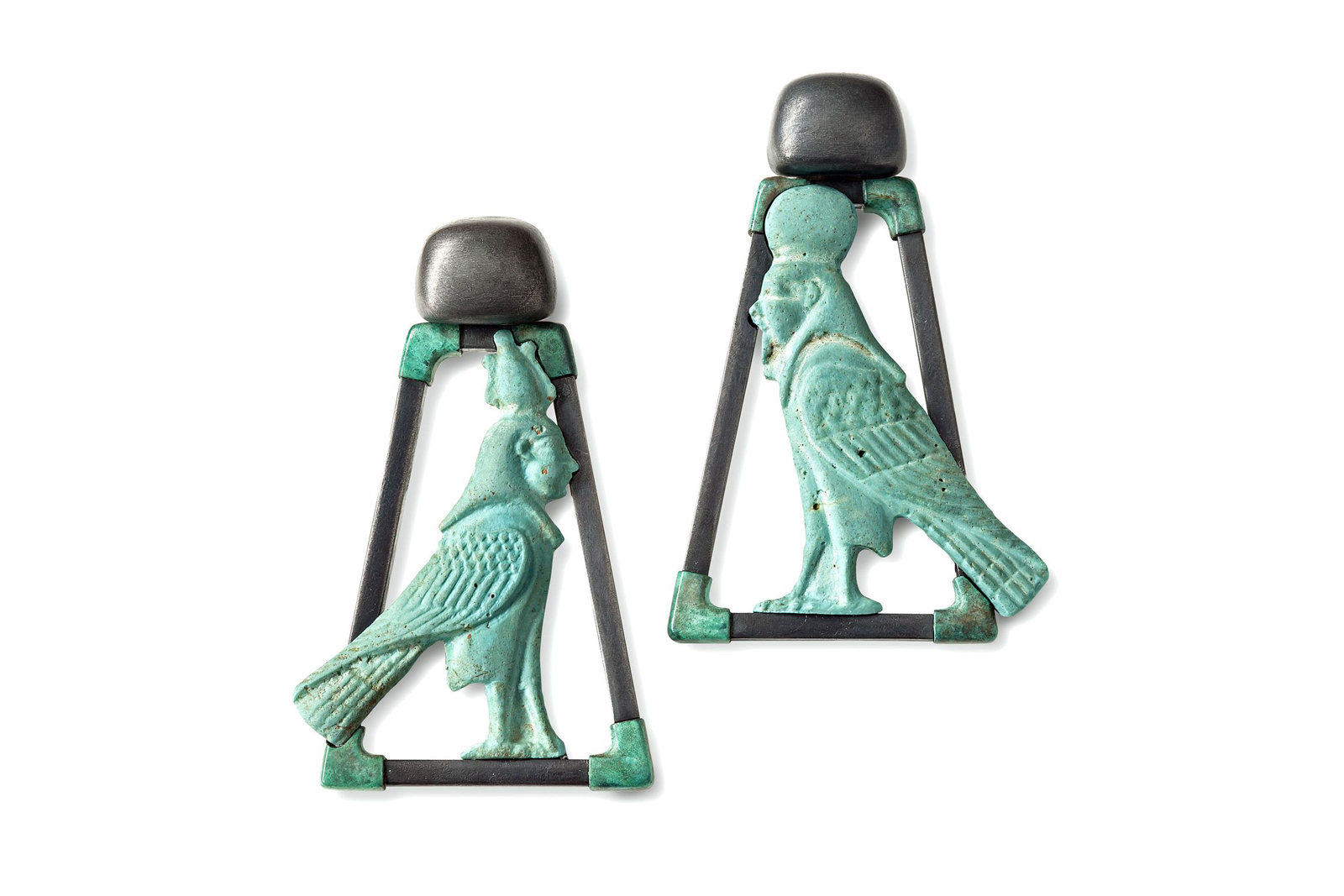 Maison Auclert feature a number of exciting and unusual articles of the ancient world, varying from an Anatolian black limestone stamp seal circa 4000 B.C., to a Moghul art pendant of 19th century, adapting the setting and design technique known as 'mounted objects'. Craftsmen of the neo-classical Renaissance would take engraved stones, lacquers or porcelains, and create new mountings around them, thus repurposing the pieces for the wear in a practical and fashionable way. From their workshop in Paris, Maison Auclert create each piece of jewellery by hand, meaning that not only is each piece one of a kind, but also finely crafted by skilled artisans.
Benedetta Dubini of her eponymous brand employs ancient coins, glass embossings and cameos within her jewellery to create rings, earrings and pendants with a modern aesthetic. Dubini's 'Empires' collection takes inspiration from the most infamous characters of Roman and Greek history, including two of the Greats; Alexander and Constantine. Antique bronze and silver coins surrounded by gold and reverse set coloured gemstones have been given a new lease of life in unique pieces of fine jewellery.
Santi Choudhary and his son Krishna Choudhary of Royal Gems and Arts in India collect rare jewels as well as precious antiques from the Mughal era of Indian jewellery - just as their family have for centuries. The story of the Choudhary family is being continued by the tenth generation of jewellers, creating jewellery which often incorporates precious pieces from nobles wishing to sell off their assets during the fall of the Mughal empire. The family possesses a collection of jewels dating from as early as the 17th century, and now Krishna celebrates some of these precious antique gems to design striking and modern jewels which carry the legacy of the past.
Alessio Boschi was inspired to create Italian micromosaic jewellery when exploring the tradition of the Grand tour. It was a common endeavour of gentlemen of means - known as 'Dandies' - to travel around central European countries enjoying culture and art during the late 18th and early 19th century. These tourists chose bespoke micromosaic images of Roman monuments as their souvenirs of the city. Alessio was influenced by a selection of these exquisite Roman 19th century creations, and so he employed the skills of his favourite master craftsman Roberto Grieco to produce a one of a kind jewelled belt buckle in micromosaic form, depicting Rome's famous 'Mouth of Truth' for his 'Dandy' collection.
Jewellery by modern masters which features antique components are wearable collectibles. These unique pieces create conversation with others who are intrigued by their unusual design of combining the old and the new. Just like diamonds and gemstones, the history and stories behind these artefacts and jewellery techniques makes them precious in their own right.