Either delving in the past to retrieve historical practises, scouring the world for foreign expertise or simply mastering modern science, when superlative craftsmanship is combined with ravishing design, this ultimately makes for desirable watches. Prepare to be spellbound with our selection of some of the best examples unveiled at Basel 2016. We will start with craftsmanship in the service of figurative and pictorial sceneries, where miniature wonderlands adorn dials.
As flying is concerned, let's gain height and this time reach celestial spheres thanks to DeLaneau's one-of-a-kind Guardian Angel watch. Possibly the most beguiling example displaying the Swiss maker's core signature, the art of Grand Feu enamelling, the pattern for the dial was inspired by a quote from French philosopher, Jacques Maritain: '(…) whispered into our ear by our guardian angel'. And it was then up to the DeLaneau artisan enamellist to mirror those poetic words into a visual narrative. With virtuosic expertise, she was able to depict in detail the enchanting sight of a cherub picking up stars against a sky rich with cerulean blue tones, atop a tourbillon mechanical movement, by using both miniature painting with flux enamel, and paillonné enamel (a 19th century method that involves the application of layers of translucent coloured enamel over very fine sheets of silver or gold). In addition, the semi-circle central picture is framed with baguette-cut diamonds in such a way that the diamonds radiate out of the angelic apparition like holy rays. Sigh…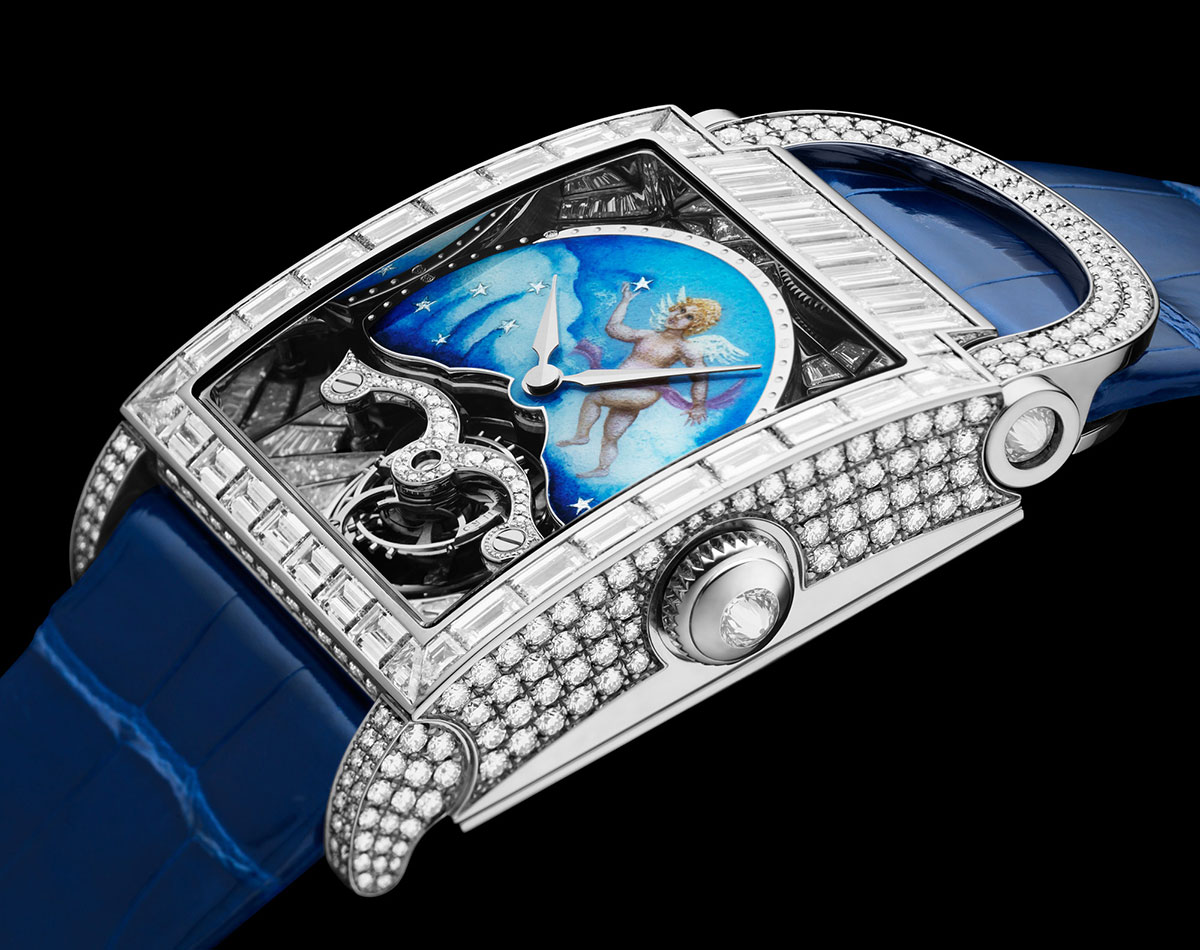 The power of flowers is truly universal; a fact that did not slip from Swiss watchmaker Jaquet Droz's grasp with their Petite Heure Minute Thousand Year Lights, a feat of refinement. The in-house Atelier d'Art opted for an ancestral Korean technique to create the delightful floral scenery of the dial. Inspired by the 'Najeon Chilgi' method – involving a comprehensive array of crafts, namely woodwork and metalwork – Jaquet Droz craftsmen have executed an intricate pattern in mother-of-pearl encrusted lacquer. It has a lively effect recalling a freshly picked bunch, with touches of pink, red and yellow punctuating the silver foliage (mother-of-pearl intaglio). Available in five versions, each limited to 28 pieces, in red or white gold cases, set with or without diamonds, each is a sight to behold.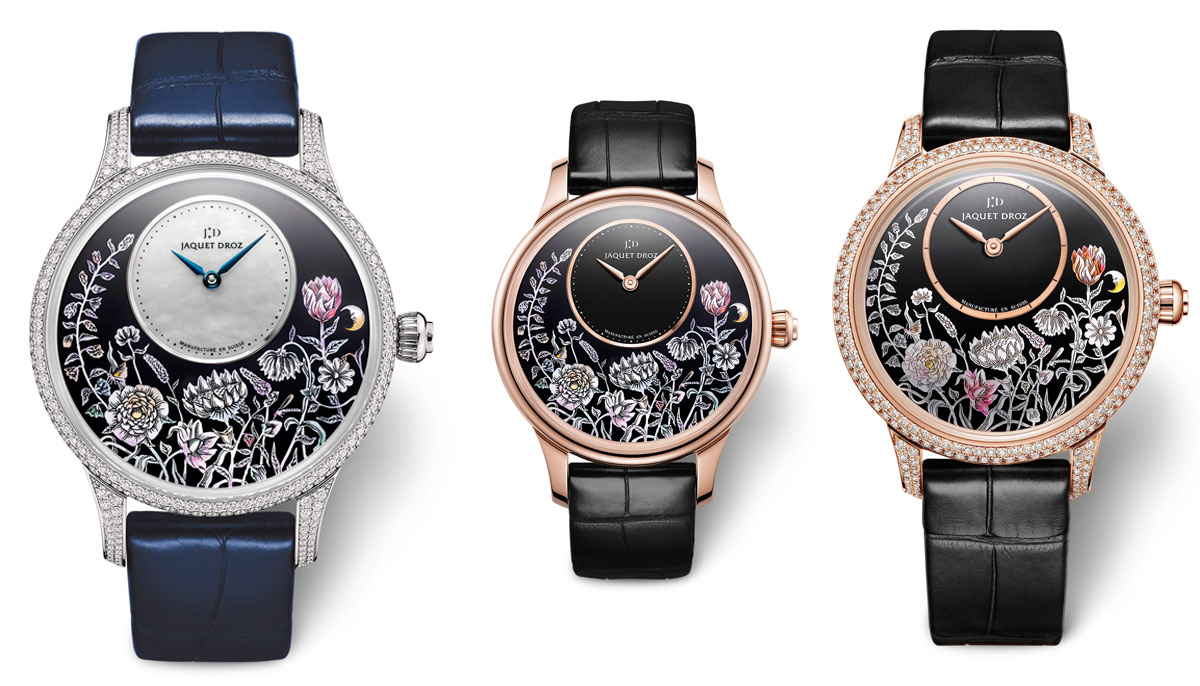 In terms of coloristic prowess paired with astral themes, the Kaen "Flame" watch by Voutilainen is a winner. The inception of the watch has associated the best of both lacquer tradition and haute horlogerie, via a collaboration between Unryuan, one of Japan's greatest studios, and Kari Voutilainen's Swiss ateliers. Lacquer and Raden patterns have been a highly coveted and revered craft in Japan since the Edo period. Here Kinpun (gold dust), Jyunkin-itakane (gold leaf), Yakou-gai (shell of great green turban) and Awabi-gai (shell of New Zealand black foot abalone, 'Paua') are the core ingredients used to create the tableau. A true result of patience, it took more than thousand hours to complete the dial and bridges. Although an emblem for as much for 'east meets west' than 'past meets present' craftsmanship, the dial is also a token for 'good versus evil', as it depicts 'Hojyu', a sacred ball-shaped gem said to ward off evil spirits and to fulfil wishes. Here the ball is vermilion-lacquered with gold, and a flame – auspicious energy – emanates from it and reaches out into the wide-open universe.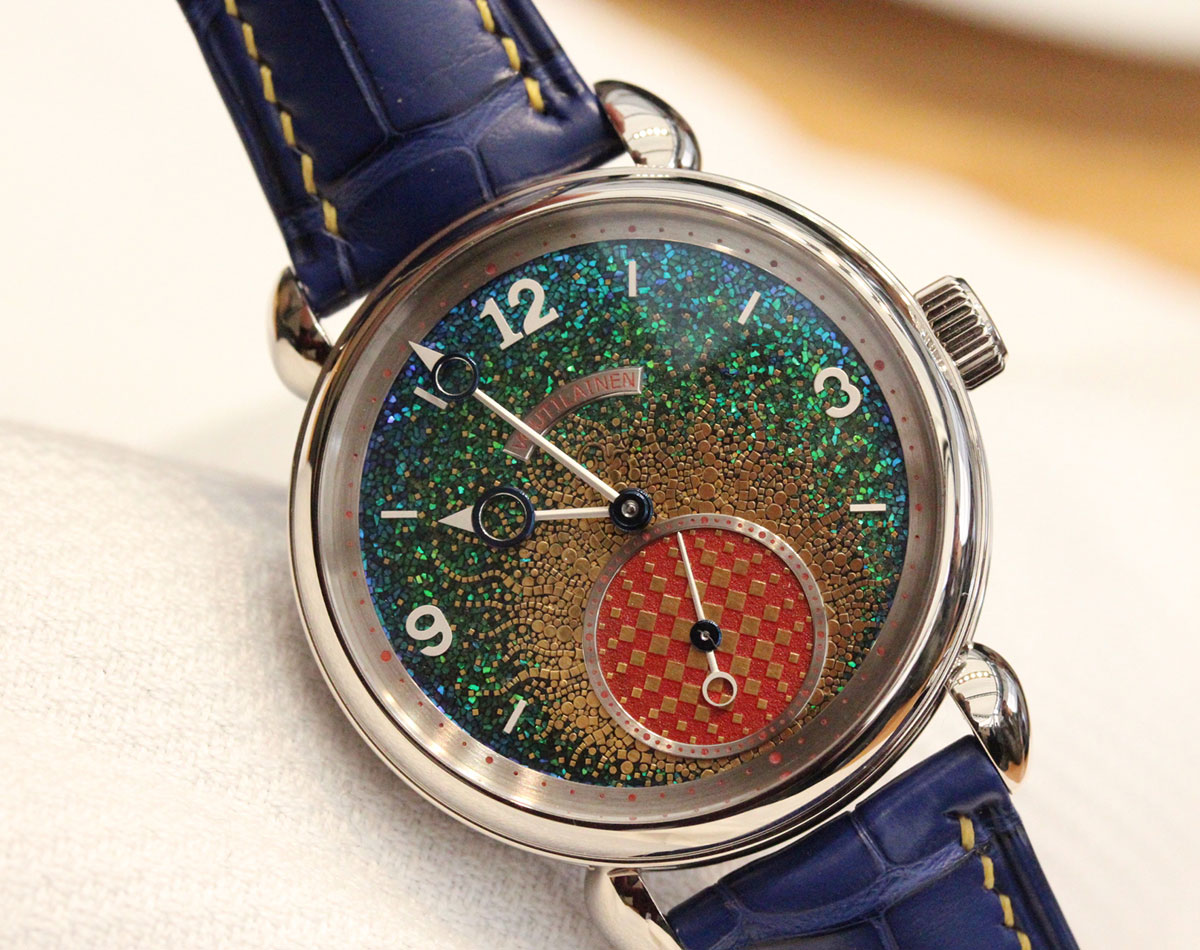 In the same manner of floral and fauna inspired patterns, the Chanel Mademoiselle Privé series of five watches did not have to go too far to source its inspiration for the dials. If you have ever visited Coco Chanel's apartment, 31 rue Cambon Paris, you would have certainly admired the tall Coromandel screens – Chinese wooden folding screens coated in dark lacquer, and then carved before being painted with gold or colours – presiding over Miss Chanel's richly textured living room. They inspired each of Mademoiselle Privé dials that feature a one-of-a-kind, oriental 'bird & flower' still life.
In order to achieve the same outcome with gemstones or gold, the Chanel Métiers d'Art workshops resorted to two techniques. First one, the glyptic technique, is a method of carving semi-precious gems both in intaglio and relief to ensure the realisation of minute details and layers. It can be traced back to antique Egypt and was first used by Chanel in 2014. Maison's craftsmen have replicated life-like bird and flower miniatures onto black onyx by using a large choice of gemstones worthy of a painter's palette: coral, chrysoprase, turquoise, carnelian, pearl, opal, jade, mother-of-pearl, jasper, malachite, lapis lazuli and others. The second technique of sculptured gold was used for a complementary series of 5 watched, where the precious gold was shaped, engraved and oxidised to provide a real and natural appearance to the motifs. For its 2016 edition, a new complexity has been introduced: with the trembling effect, birds seem to fly with each movement of the wrist.