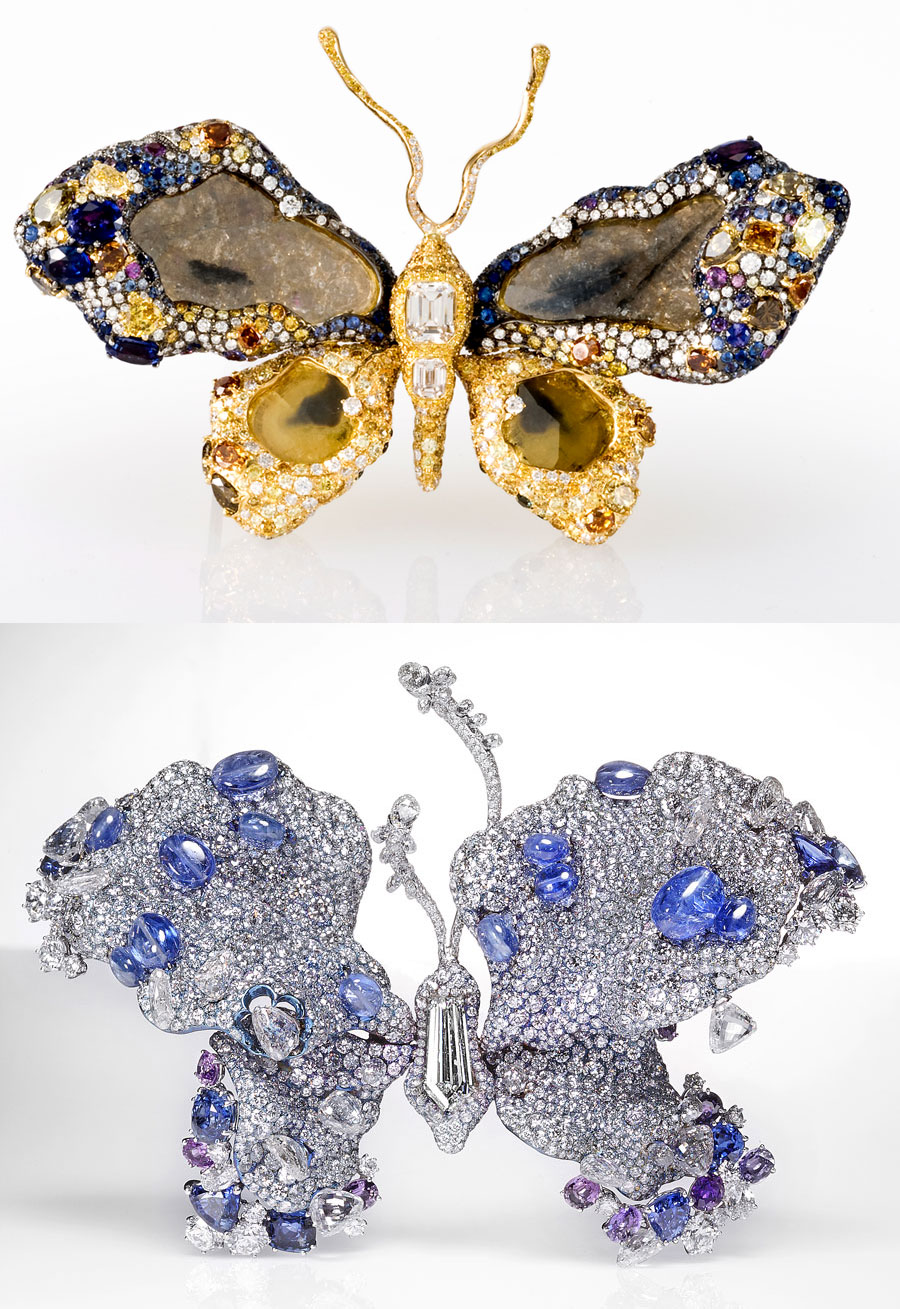 Two remarkable butterflies by Cindy Chao: 2009 Royal Butterfly above the 2012 Transcendence Butterfly
The brand new and uniquely exquisite "Ballerina Butterfly" brooch has just been released by Cindy Chao, her first collaborative piece of work. The collaborator is Chao's dear friend – celebrity fashion icon and star of Sex and the City Sarah Jessica Parker.
Actress, entrepreneur and philanthropist Sarah Jessica Parker met the contemporary designer Cindy Chao during Chao's 2011 Masterpiece Exhibition in Beijing.  Their friendship and mutual respect led to discussions of a potential collaboration on designing a unique jewellery piece for charity. And they could not have designed a be more perfect piece than a butterfly for the Black Label Masterpiece Butterfly jewels. Chao has been creating these masterpieces on an annual basis since 2008.
This year marks the tenth anniversary of CINDY CHAO The Art Jewel and to honour this important date the Taiwanese jewellery artist brings out an outstanding piece of art the "Ballerina Butterfly". It was completed with heart and soul over the course of two years, during which Parker and Chao held several design meetings, reviewed sketches, wax models and gemstones together.
The "Ballerina Butterfly" was preceded by the 2009 "Royal Butterfly" that was famously inducted into the Smithsonian Institute National Museum of Natural History in Washington D.C. and the 2012 "Transcendence Butterfly" that was sold for five times its estimated value at Christie's in Geneva.
Controversially, large diamonds are not the centrepiece of the "Ballerina Butterfly" brooch which is estimated to be sold by Sotheby's Hong Kong for US$750,000-$950,000 at the Magnificent Jewels and Jadeite Sale this October. Instead these sizeable stones only complement the design, a daring decision by both the jeweller and A-list celebrity.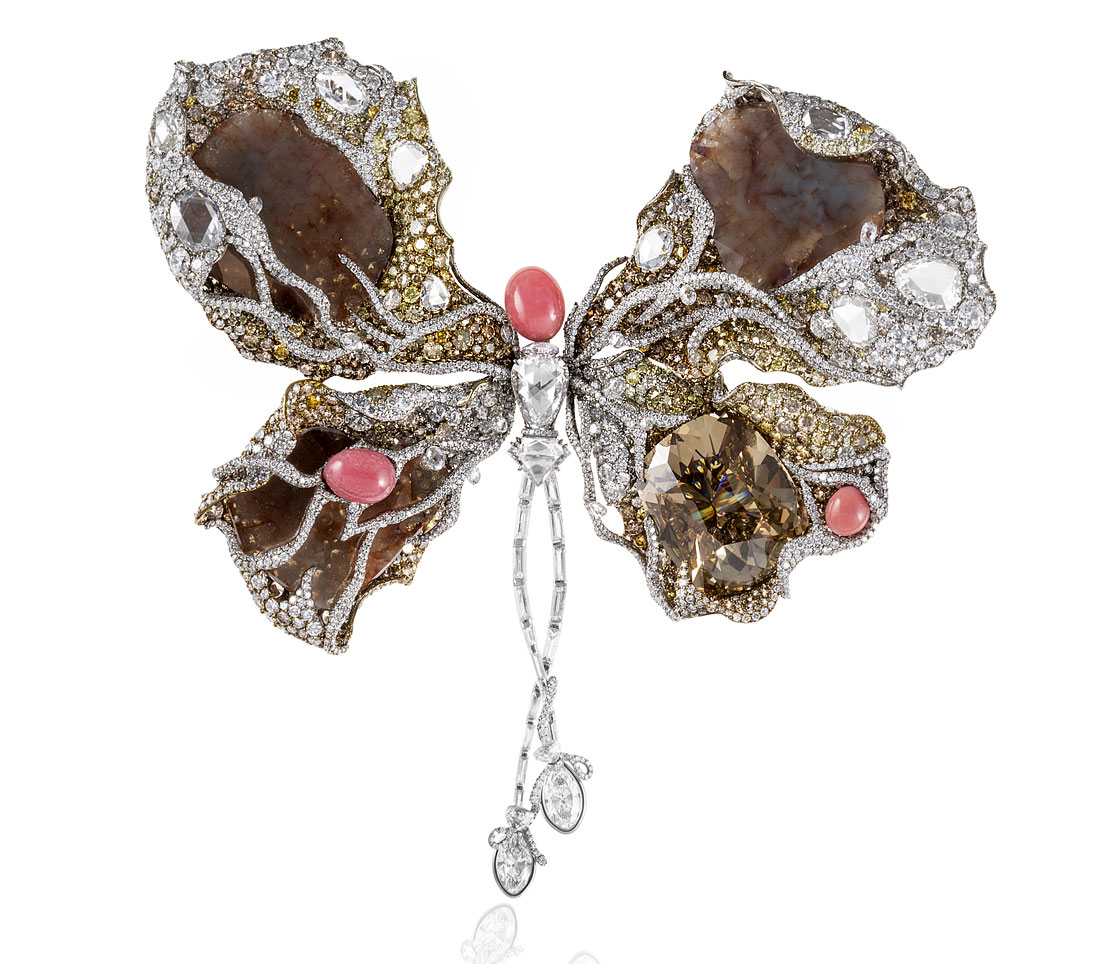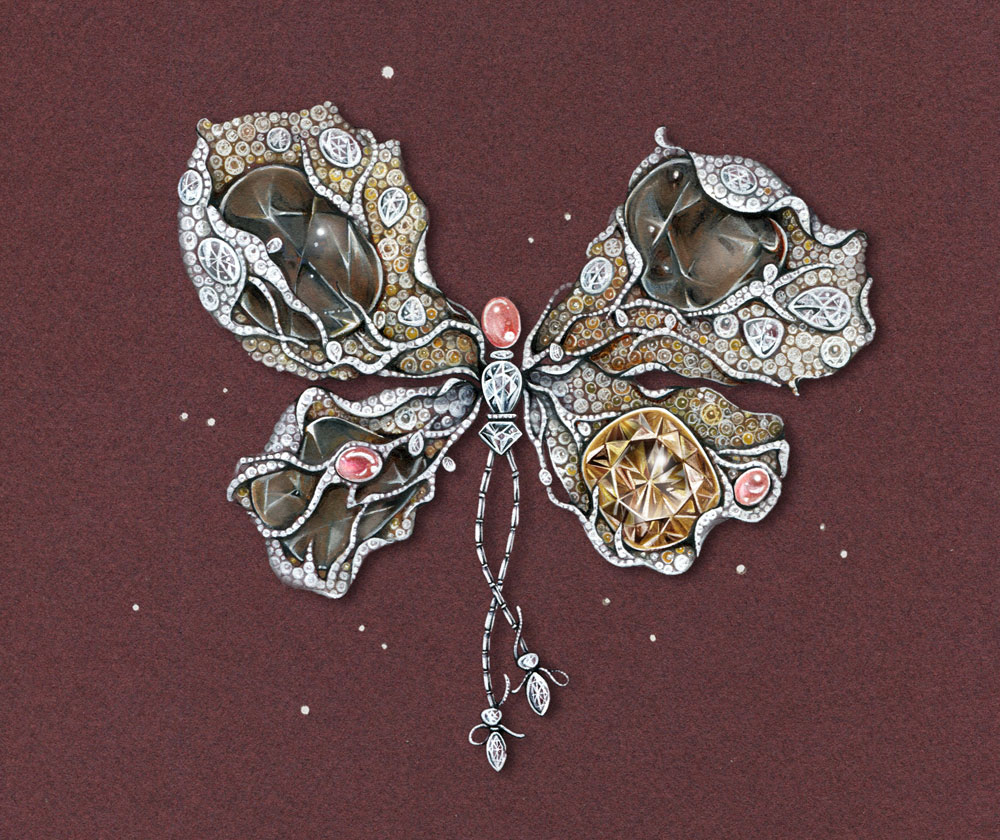 Features of this exclusive brooch include an 18 carat gold and titanium body, 1 cushion-cut fancy brown diamond (26.27 carats), 3 conch pearl pieces (10.76 carats), 3 brown rough diamond slices (47.71 carats) and 4,698 diamonds of various colours weighing a total of 98.08 carats. The brooch can be worn either right-side up or upside-down to create two silhouettes of exceptional splendour.
Whilst it remains to be seen which figure the bidding will close on come October, it has been decided that the total net proceeds of the auction will benefit the New York City Ballet, where Sarah Jessica Parker is a member of Board of Directors.
I had a pleasure of seeing the brooch during Paris Haute Couture week in July. After it was meant to be showcased around Asia before going to New York, where Chao and Parker will serve as Co-Chairs of the New York City Ballet's Fall Gala on September 23, 2014. The brooch will return to Hong Kong in October, prior to the auction. KP