Natural coloured diamonds are much rarer than their common white cousins. For every 100,000 diamonds, only one pink diamond is extracted. The rocks that contain large diamonds of several carats are found even less often. They know this well enough at David Morris so for such a special event as the Biennale des Antiquaires the Morris family prepared something exceptional: a wonderful collection of gemstones with pink diamonds.
David Morris is a family business that was started by an eponymous talented young 20 year old who worked in a small workshop in London's "jewellery quarter" Hatton Garden. One of the three professionals who mentored him suggested they start their own business, something David was all too willing to do. They opened a workshop on Greville Street and began to make pieces for both jewellery brands and private clients. "We had a lot of work coming in, but I was doing most of it, so in the end I started my own workshop," said David in an interview with Malcolm Cossons. "Suzette and I had just got married and my new father-in-law guaranteed a loan of £200. That was the birth of David Morris."
Today the business is run by David's son Jeremy Morris. Under his direction, a woman's pink diamond jewellery collection was created that includes flower shaped earrings with a centre made of pink emerald cut diamonds, a pair of cluster earrings and a ring set made with pink and violet pear and marquis cut diamonds as well as a ring with a 8.06 carat pink diamond pictured here.
To understand the importance of David Morris' collection, I want to share some useful information about pink diamonds with you.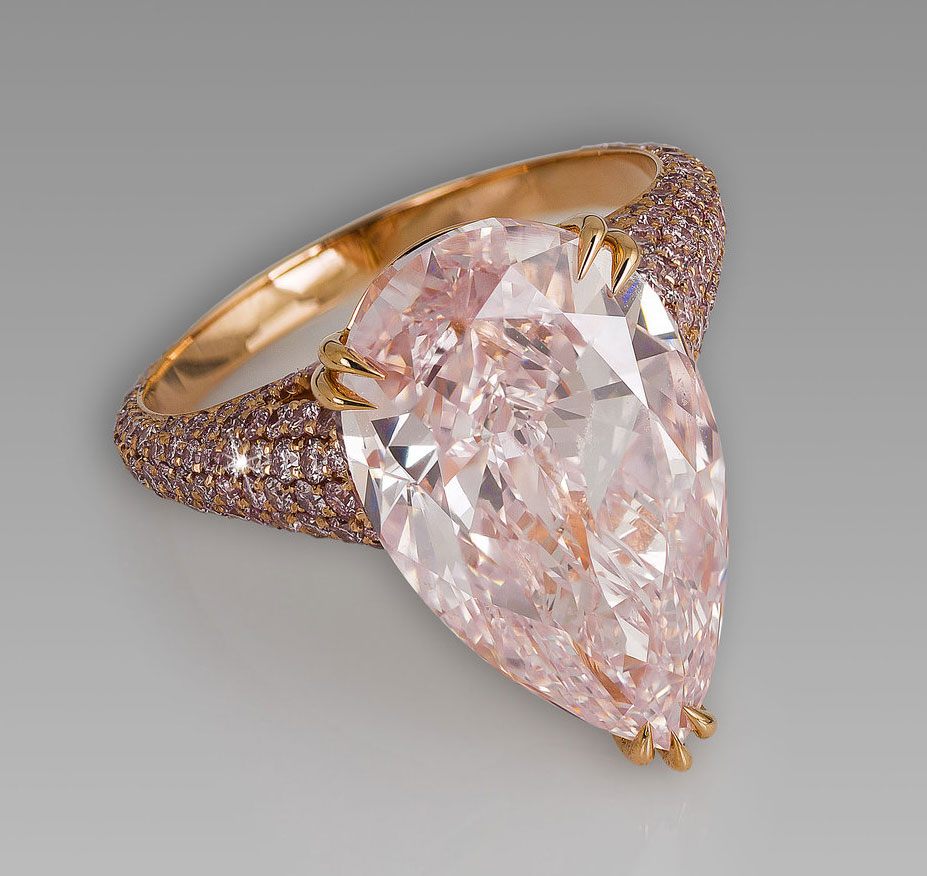 These stones are so unique that the majority of the market rules that usually apply to white diamonds don't apply to pink ones. For example, whilst white diamonds increase in value the greater their transparency, the market value of coloured diamonds, such as pink ones, is influenced by the intensity of their colour. The most expensive are those that have a very deep pink colour or those with more of a violet tint (which is why it's crucial to visit David Morris' stand at the Biennale to admire the ring with the violet stone!). Of great importance, as far as coloured diamonds are concerned, is also the consistency (as well as the intensity) of the colour. Bear in mind that over the last 25 years the price of pink diamonds has increased by 100!
To understand all the different varieties of pink diamonds, it's enough to know that gemmologists divide pink diamonds into four basic colour categories: PP – Purple Pink, P – Pink, BP – Brownish Pink and PC – Pink Champagne. There are also 5 levels of colour intensity: Very Intense, Intense, Strong, Medium and Medium Light.
So where do they find these gems? The very first pink diamond in recorded history was found in India. To this day India's mines are considered the unrivalled cradle of immaculate pink diamonds. For a very long time, the pink diamond was considered the rarest of the coloured diamonds. However, the status quo was completely transformed after the "Argyle" mine was opened in north western Australia, now the world's foremost producer of pink diamonds. Because this is a source that is being depleted so quickly, it is estimated that the mine will close as soon as 2018. At the moment, a insignificant percentage of pink diamonds are mined in Africa and Brazil.
The world's largest pink diamond is the pale pink "Darya-e-Noor" diamond, which means the sea, river or ocean of light. It weighs 186 carats. Despite the fact that David Morris' diamonds are more modest in size, the their colour and clarity together with the elegant designs will help their fortunate owners create an effective look. KP