Davide Maule is both a designer and a goldsmith which is his great advantage when it comes to turning his imaginative ideas into tangible jewellery art. He conjures designs and embodies them in one-of-a-kind precious pieces featuring statement gemstones in fascinating structural settings. After 15 years of working as a goldsmith for brands like Bulgari, and honing his craft in jewellery making, Davide decided to explore his individual artistic vision and create his own brand, with his personal, highly distinguishable style.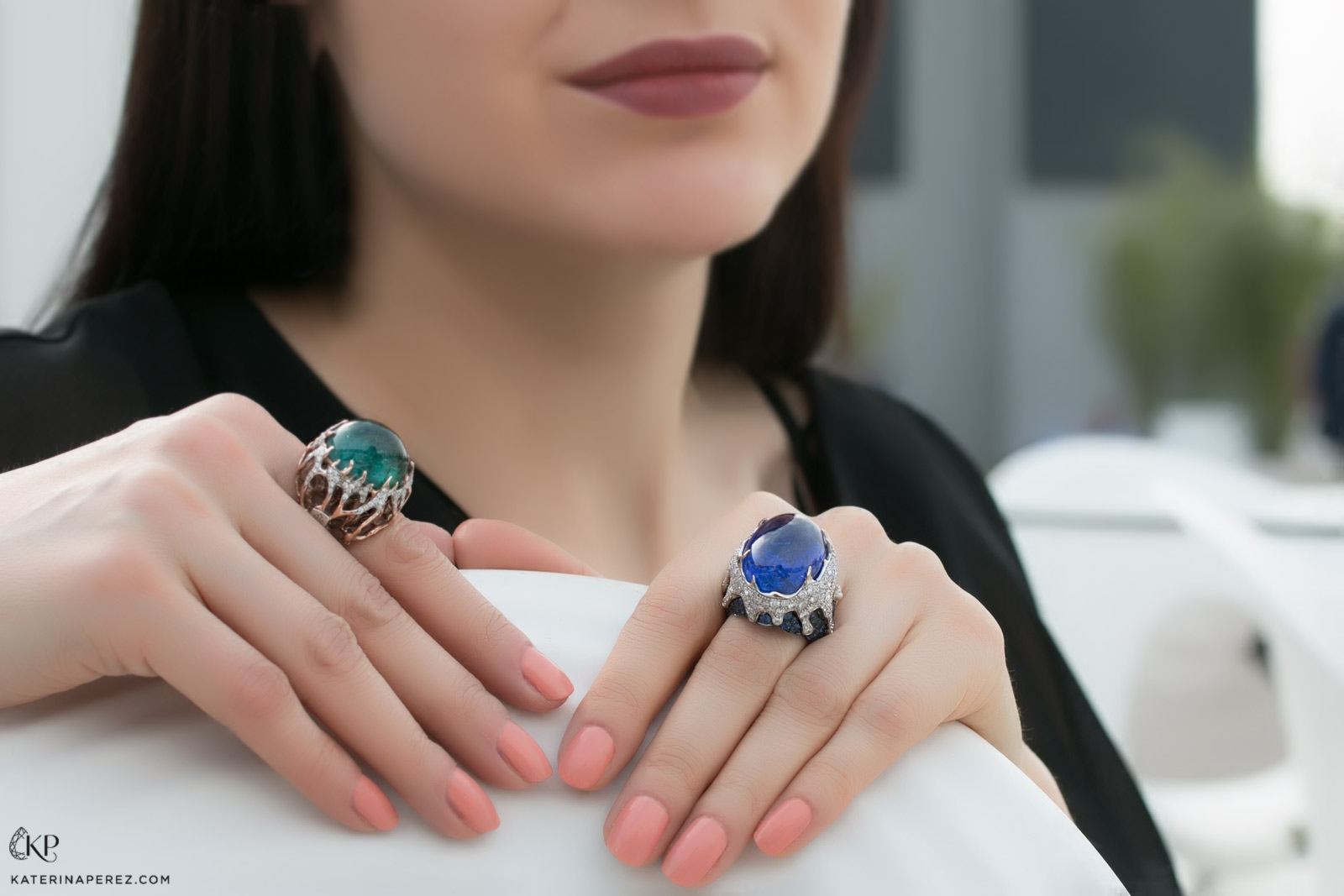 "I started making jewellery under my own name 4 years ago (in 2013), always experimenting with materials. Each piece has a story which I have dreamed up, sometimes it begins from a special stone, sometimes from my imagination. As you see, my creations are realised in a very textural way, nature is always present in them. I don't like the conventional 'perfect' gold surface, this is why organic elements and textures are always present," says Davide.
As a jeweller, his fascination with large, intriguing gemstones in fantastical colours and forms means his creations are impactful. Davide does not shy away from making 20 cts sapphires, 18 cts morganites and 30 cts quartz stones the focal point of his designs. And if a ring starts looking too heavy or not perfectly comfortable to wear, Davide turns it into a pendant or a brooch in the process.
"I adore unique cuts and faceting, and special stones - such as lemon quartz and green tourmaline. Each piece of jewellery is totally different, with irregular forms and interesting twists on conventional pieces. However, the DNA of my craftsmanship in the gold work making all different pieces be unified by my signature style," says Davide regarding his take on jewellery design.
A true artisan is not just inspired by art, or by nature and his surroundings, but by the very material which he chooses to create with. When a jeweller loves, and understands the materials he handles, you can read their jewellery like the words of a novel or notes in a songbook. In case of Davide "if a gemstones speaks to me when I look at it, then I create a piece. I do not differentiate between precious and semi-precious stones, I love gems for their colour, not the value."
More often than not, Maule finds himself creating commanding cocktail rings, since "everyone can see them, everyone can admire and enjoy them, especially the wearer. This is not the case with earrings and pendants, though it is a joy to craft them." Cocktail rings are certainly the most appreciated jewels of the Italian designer, meaning that he happily continues to create these as foremost priority - although some gemstones are simply too gargantuan to be rings.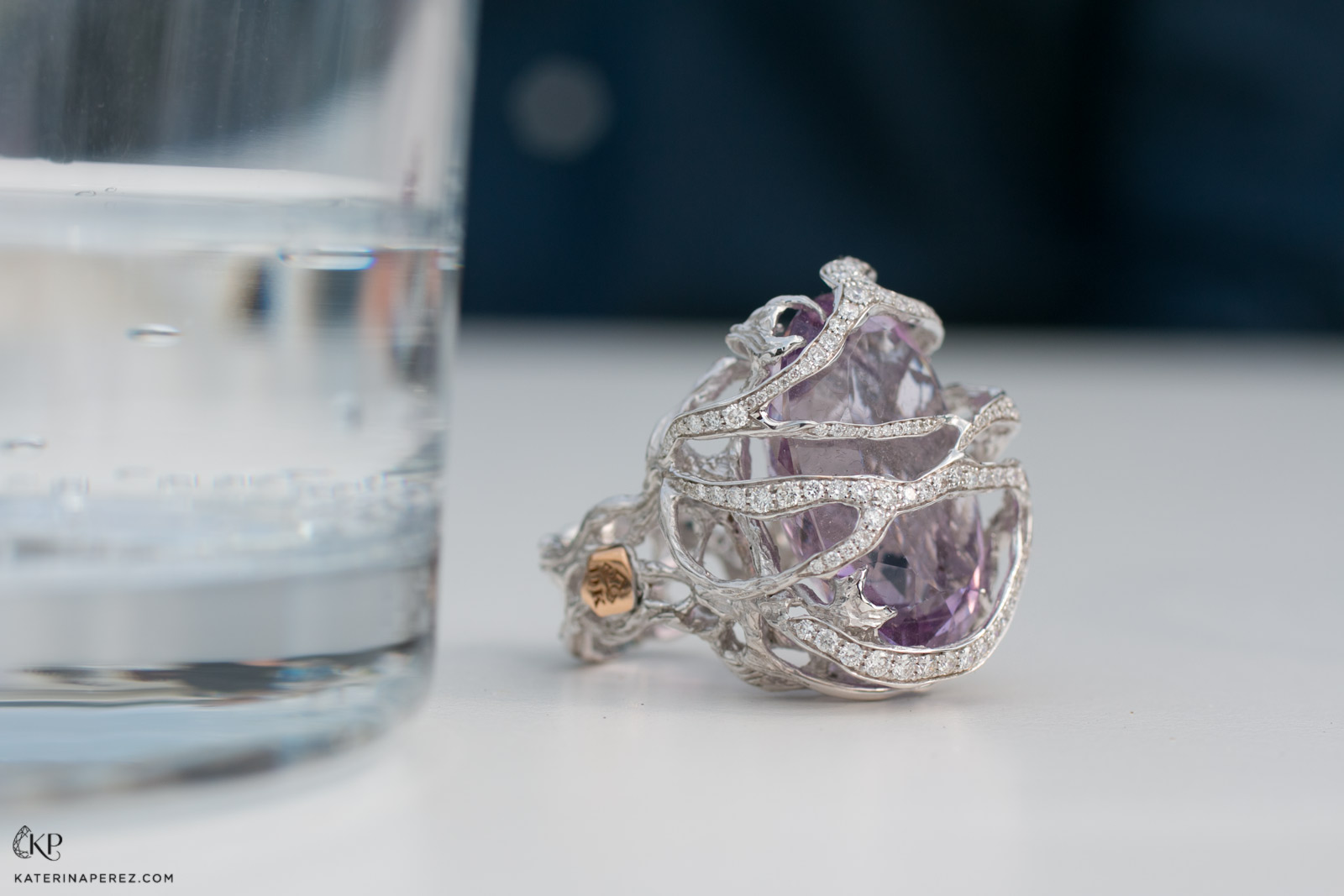 David Maule doesn't just covet precious stones and metals, but pearls too. You can find a variety of pieces from his collection adorned with baroque pearls, as these too are intriguing for a jewellery designer who is obsessed with nature and unique forms.
The fact that it's impossible to find an identical pair of baroque beads is part of the appeal for Davide. He asserts that in nature two of a kind may be incredibly similar, but are never exactly the same, and thus even more beautiful. The same goes for his jewels - that two are never the same - making the jeweller himself excited at the prospect of what creation he and his imagination will produce next.