People who are as dynamic and full of life as Doris is are a rare find in the jewellery industry. During the hour that we spent together, she animatedly spoke to me about her career, her work with a team of colleagues creating jewellery designs, as well as various cooperative projects with artists and even gourmet chocolatiers, aimed at exciting all the five human senses.
Alongside the jewellery and gems in the window displays of Doris Hangartner's salon, it was impossible not to notice the original abstract paintings which had each been paired with a precious stone.
"This artwork was created together with Lisa Sharpe whom I met through a mutual friend, and it was her idea to pair up paintings and gemstones. Her art has a spiritual aspect; she wants to elevate the energy of a room or space, and for me this is what gemstones do to a person, so from there we created 'Gem Art Fusion'. The interaction between the artworks and the gemstones is so interesting, as some stones work alone, but within some designs they can begin 'communicating' with one another and working together, reacting to one another," describes Doris as she talks about the Paraiba tourmalines, Mandarin garnets and myriad of coloured stones that complement the canvas and positively enhance their mood and character.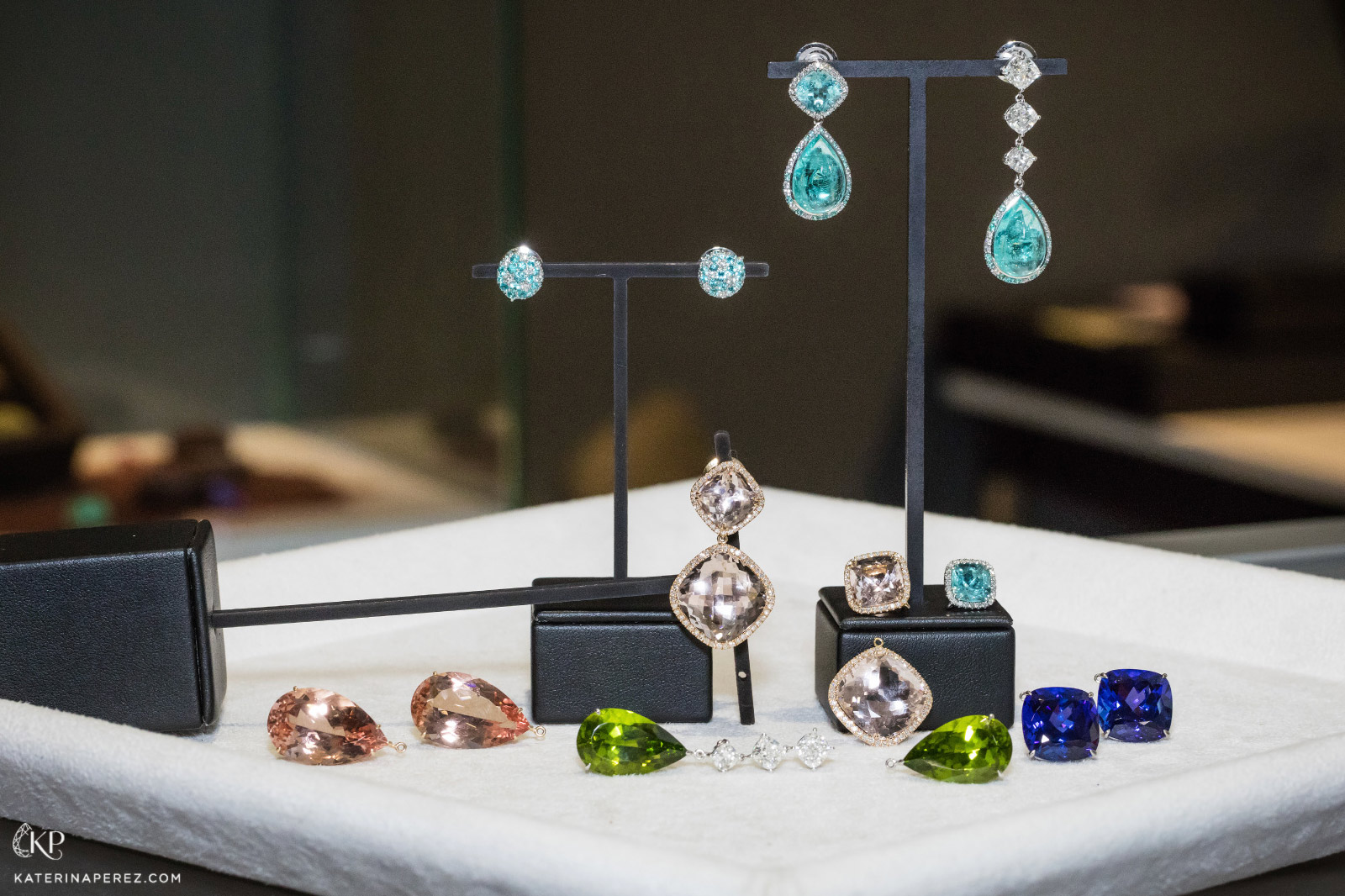 The Swiss designer is gifted with having an intuition for pairing her stones with clients – akin to a sixth sense – she selects gems which either become part of her collection, or will be waiting in the wings for the right buyer. "Take this morganite for example: it's not just because of its gentle pink colour that I often think of this gemstone as being feminine. The distinct colour in morganite brings out the glow in a woman. This particular gem is cooler in tone, so to me it has a 'New Yorker' woman feel - beautiful but with an edge, a sharpness," explains Doris. She then indicates to a stunning pear cut tanzanite and says: "Whereas this is your stone", and I immediately feel a deep connection to this gem which is unexplainable, but simultaneously undeniable.
While it could be said that Doris Hangartner's jewellery is laconic, it's also dramatic. Design flourishes are kept to a minimum in order to showcase the full potential of the large gemstones and accentuate their beauty, although the large size of the stones means they couldn't go unnoticed. "I like to think of our jewellery as a great relationship: the woman is in the centre, the gorgeous stone, she is the feature, with all of the power, and the man is the setting holding her, supporting her, helping her to be steady and the best that she can be," the designer elaborates.
Incidentally, it seems Doris doesn't create all her jewellery herself. She works closely with Karen McGlashan, her creative director whose designs are more complex in their composition than Doris' own. These women collaborate to develop and evolve their entirely contradictory ideas: Karen loves unusual shapes and simple lines, while Doris produces more traditional miniature details and floral motifs. And so, it's this confluence of incongruities that makes Doris Hangartner's jewellery so desirable and intriguing.
So how did the Swiss designer start her career? "I studied at the GIA in 1991 and then worked in various companies, but really only started buying stones in 2013. However, aside from my career in this field, I have studied many other - more spiritual - practices. I believe this is how I trained my intuition, and this has carried through into my work with fine jewellery and gemstones."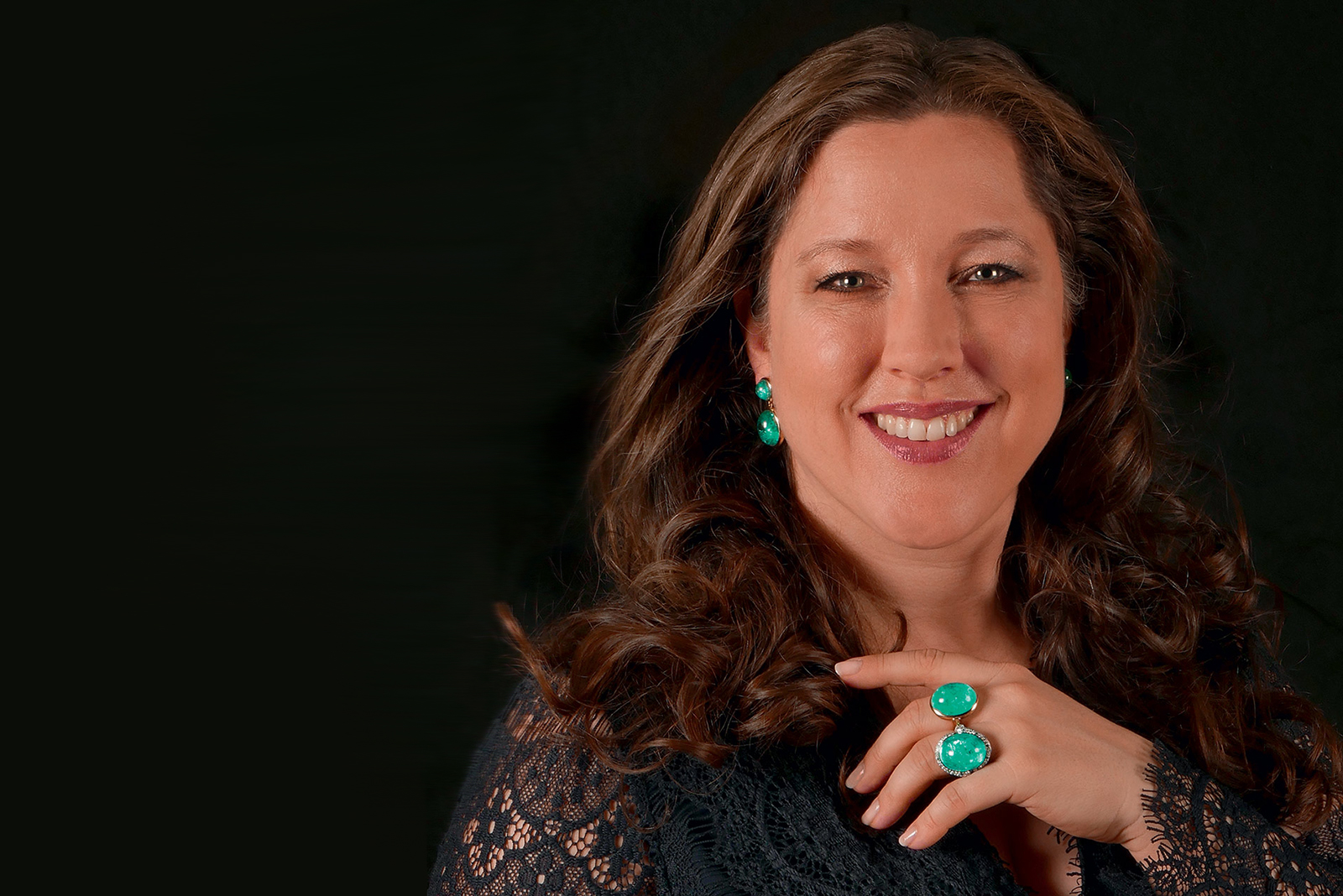 If you're searching for a gemstone and a jewellery designer with character, then you know you'll find the value you're looking for at Doris Hangartner, and she'll be your companion for life.