I managed to become personally acquainted with Dreamboule, Ben and his enthralling cocktail rings at the Baselworld exhibition in March, where the brand's founder made the public début for his enchanting collection. The salon very much resembled a cabinet of curiosities, with each window displaying a ring with its own microcosmic world encapsulated in a transparent sapphire glass dome. Ben Crocco himself refers to his conceptual creations as "a world within a world".
"My designs are inspired by my wife Katerina and 3 children along with everything that surrounds us. Actually, the idea to create the 'signature' Dreamboule ring style came to me when I was admiring my children playing with boule de neige one Christmas. The snowball caught the magic of the flashes of light and then thousands of reflections transmitted across the room. I wanted to translate this magic into jewellery but felt it would be too simplistic to re-create children's stories that everyone is familiar with in my work. So instead, I decided to showcase my own visions of fairy tales, and let them be open to interpretation by others. My wife, Katerina, will be the first to wear one of my inspirations," explained Ben during our conversation.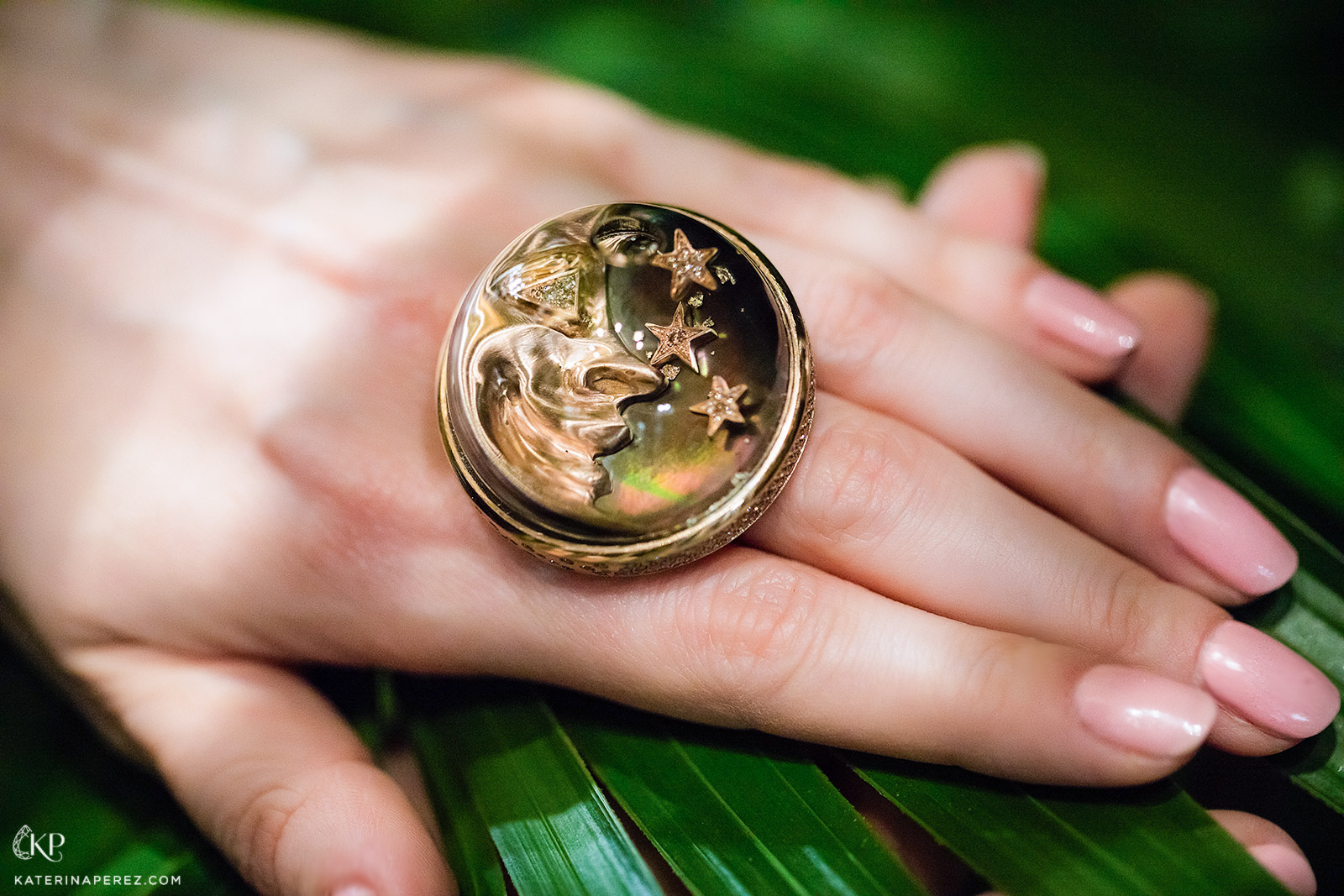 The tale within each piece unfolds on a disc of faceted sapphires, rubies, emeralds, jade or on flat mother of pearl or volcanic stone, each 25 or 30 millimetres in diameter. This design feature is then covered with scratch-resistant sapphire crystal dome with an anti-reflective surface, similar to a fine Swiss timepiece. The 3mm thickness of the dome reliably protects the story beneath; where the animals, flowers, insects, celestial bodies and a host of characters composed of gold and gemstones parade.
The sapphire crystal dome or cabochon contains a special fluid created by Ben, which he refers to as the "dream solution". It serves to ensure that the bejewelled world beneath the dome is preserved for many years to come, while the flakes of 24 carat gold floating in the "dream solution" sweep across the design, shifting and spinning with the movement of the ring.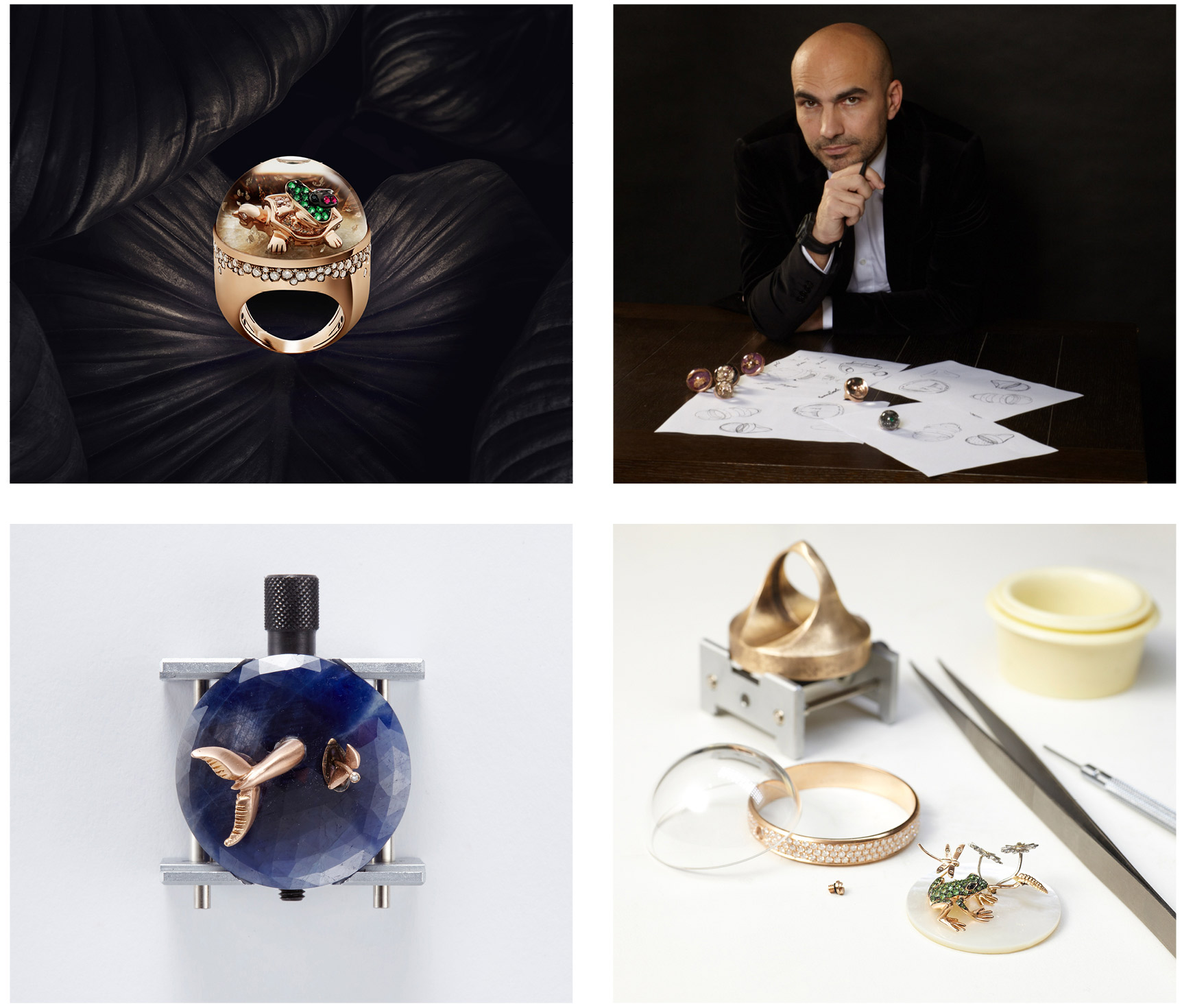 "It took us 4 years to develop the Dreamboule concept from start to finish, and 3 years to develop the desired shape," Ben informed me.
Creating a Dreamboule ring takes about 240 hours, with 30 hours alone being required to set the diamonds to the bezel. Yes - at the heart of the Superb Collection is an unexpected element – a bezel of a watch. Ben Crocco spent years working for the renowned watch brand Hublot, and therefore decided to incorporate such precision into the design of his rings.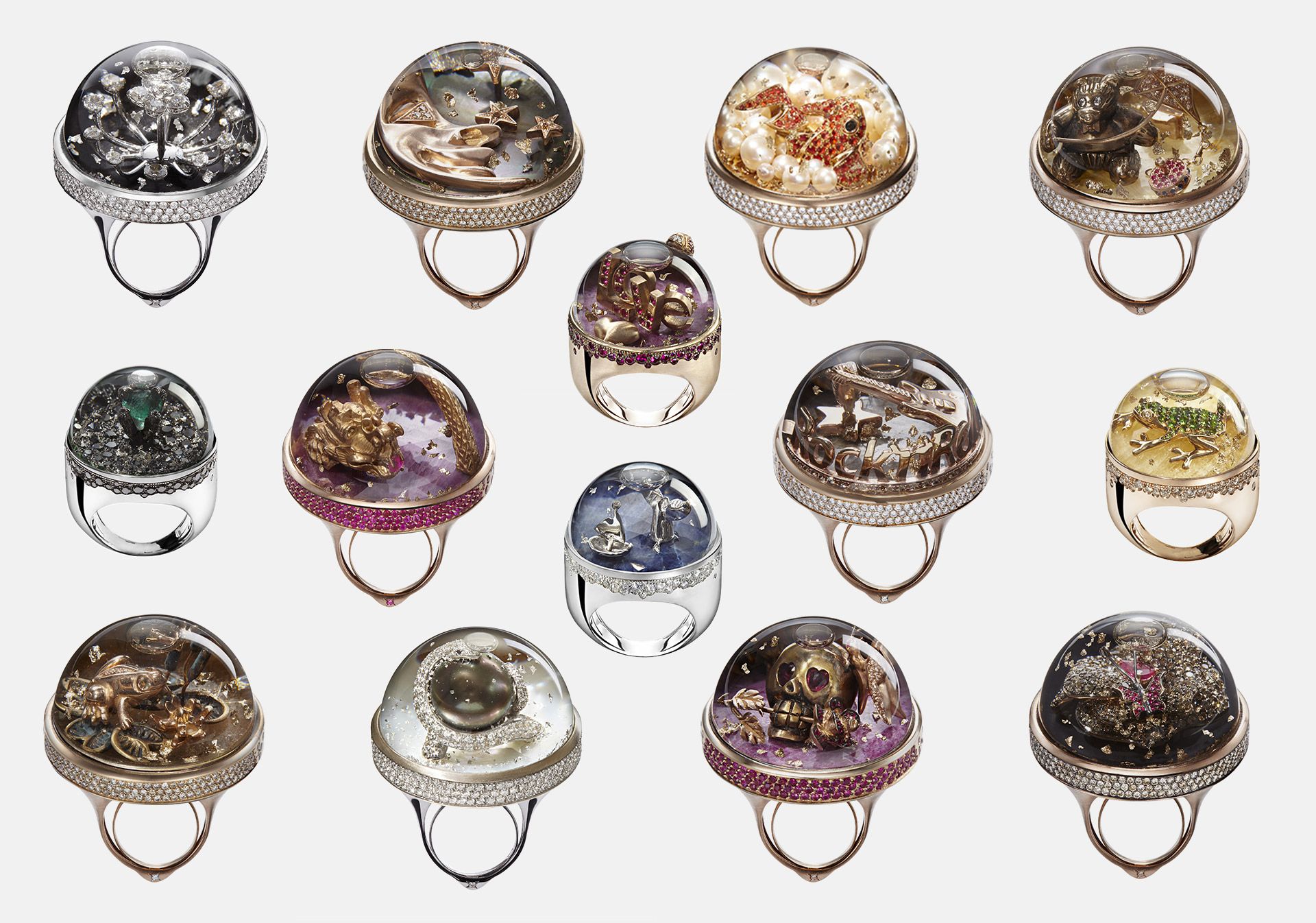 At Baselworld, I was fortunate to be able to view Dreamboule's novelties from every angle. What impressed me the most was the complex detailed design, owing to a variety of composite elements. A butterfly inlaid with rubies within a flower of diamonds, a golden moon with stars, a dragon, a teddy bear with a kite, as well as many other 'residents' and features of the microcosmic worlds have been crafted by the expert jewellers of Valenza. All the decorative components are gathered together at the Dreamboule Lab in Milan, where the master jewellers meld them together into a unified, single piece. And the result? Unique pieces of jewellery art are born.
There are currently 3 different versions of the Dreamboule ring, some of them are limited edition. With a thematic variety of designs available - from romantic 'Love' rings to those with a rock and roll edge, à la skull and rose – every taste is catered to.
Liquid 'Dream Solution', slow motion floating 24k flakes of gold, precious stones and a magical story – these are the 4 key elements behind the innovative approach to Dreamboule's design, and the ruler of this jewellery kingdom reflects his enchanted reign in his original approach to creating jewellery art rings.