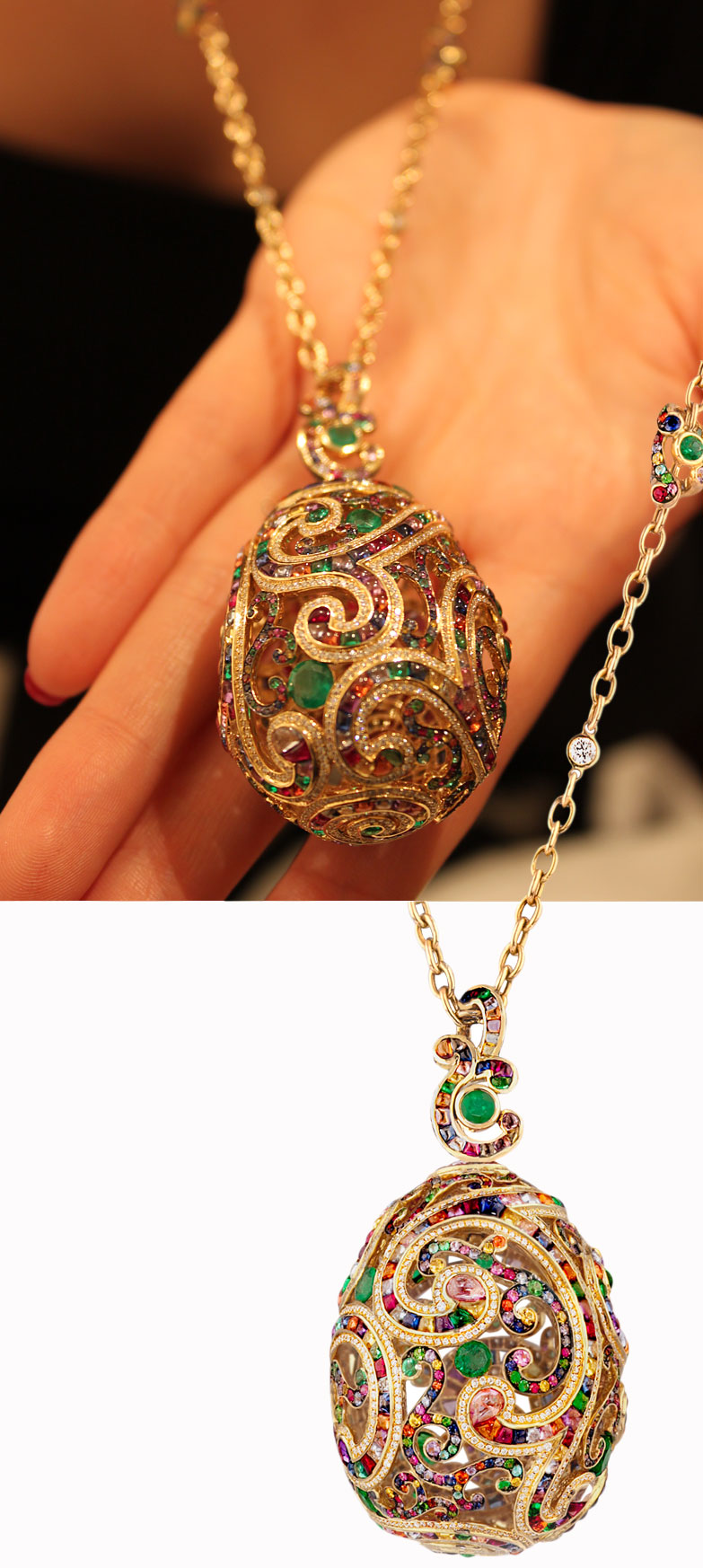 To decorate Easter gifts, Carl Fabergé normally returns to all things traditional: regal classicism, festive empiric styles and, of course, the magnificent Rococo. In honour of the latter, Fabergé's latest collection is entitled "Rococo".
According to Wikipedia, the Rococo style is typified by elegance, large decorative compositions, and a playful (but graceful) take on Baroque ornamentation. One of its key elements is the curl and cartel (ring) formation – the motif of a roll, often with ruptured edges. All the pieces in the collection, notably the "Rococo High Jewellery Pendant", embrace these characteristics.
Contemporary jewellers at the House of Fabergé constantly seek inspiration from the art and archives (including jewellery) left behind by Carl Fabergé. The style of the "Rococo" collection was noticeably influenced by the 1902 Kelch Rocaille Egg, commissioned by Alexander Kelch as a gift for his wife Barbara. I want to draw particular attention to the modern take on the Rococo egg – the "High Jewellery Pendant" in the photo below.
As you can see, the pendant is fashioned as a hollow egg shell, "woven" from gold spirals that scarcely touch. Each curl is dotted with diamonds – there is about a thousand of them – and coloured gemstones: magnificent emeralds; Mozambique rubies; yellow, orange, blue, pink and purple sapphires; tsavorites; aquamarines; tourmaline Paraiba; purple amethysts. Yellow gold and black rhodium complete the colour spectrum of the jewel. What a mesmerising kaleidoscope of colours!
Up close, you can see that the gemstones set between the fine diamond lines are not cut symmetrically. Every tiny gem was hand-faceted so that it could fit perfectly between the other unevenly shaped gems that follow the curved shape of the gold setting. The gemstones with slightly uneven shapes were fashioned as cabochons (with a flatter dome), creating a subtle contrast with the surrounding, perfectly faceted gems.
Fabergé artists and jewellers, past and present, famously dedicate considerable time and effort to the study of classical art forms and motifs. They constantly draw inspiration from this inexhaustible source. And yet Fabergé collections over the years nevertheless seem nothing short of original. Neither unimaginatively derivative nor passé, their work always boasts the creativity of consistently unique talents, both as jewellery and art, with an intellectual approach and a reverence for the traditional. I think you will agree that this is as true of Fabergé now as it ever has been. KP
var OB_platformType=3; var OB_PlugInVer='8.0.0.0_Regular';