Kandinsky Kollektion 'Complexite Simple' brooch in 18K white gold and platinum set with 187 brilliant cut diamonds and 53 emeralds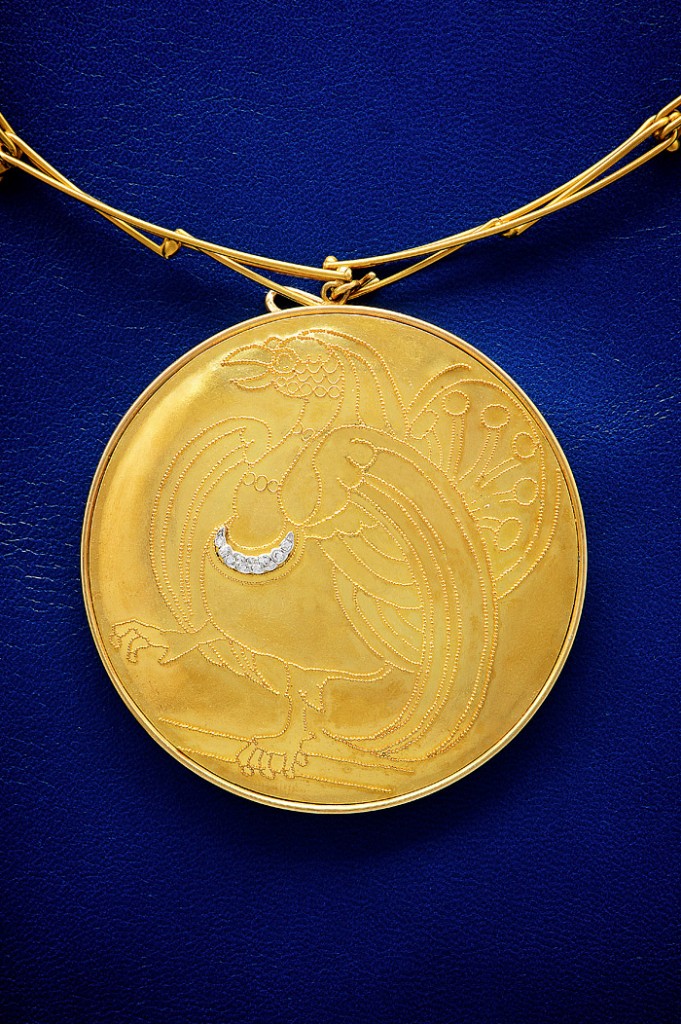 Kandinsky Kollektion 18k yellow gold and diamond 'griffin' pendant set with 11 brilliant cut diamonds
From 24th-28th September, the LAPADA antiquarian exhibition was held in London. Interior designs, works of art and, of course, beautiful jewellery creations from the past century were exhibited. Looking through this array of jewels, I spotted that the Lucas Rarities stand included something rather extraordinary: pieces made according to the sketches of Vassily Kandinsky which I would like to tell you about.
Kandinsky's work as a painter, graphic artist and one of the founding fathers of abstract art is something you are already familiar with, I am sure. In fact, although he started his artistic career rather late in life (at the age of 30), he succeeded in establishing himself as an exceptional artist of the early 20th century. Kandinsky did not limit himself to drawing: he found other ways to express himself using a variety of artistic disciplines, including jewellery.
In 1968, the director of the Lenbachaus art gallery (Städtische Galerie im Lenbachhaus) in Munich found drawings by Kandinsky in the archives donated by Gabriele Münter (a German artist and one of Kandinsky's wives) and Johannes Eichner. The sketches featured pieces of jewellery dreamt up by Kandinsky but it was not clear which metals and stones the artist would have imagined them being made of. What was important was that the designs reflected Kandinsky's style and distinctive individuality. Some of the designs looked light and airy, woven out of delicate geometric lines, whilst others included large medallions engraved with patterns. Despite the graphic, colourful depth of Kandinsky's work, his jewellery, it turns out, is simple and devoid of too much detail.
After seeing these sketches, Munich jewellers Max Pollinger and Cornelia Roëthel were inspired to turn Vassily Kandinsky's ideas into reality. In 1969, they set off for Paris to meet with Kandinsky's last wife Nina and convince her of their ability to do justice to the artist's wonderful creations. It was decided that a limited collection would be made consisting of 12 pieces and that 20 copies of each piece would be produced (although it was ultimately decided that there would be far fewer copies).
Kandinsky Kollektion 'Oval Mit Kreisen' gold pendant and chain set with a single brilliant cut diamond weighing approximately .30cts and 11 emeralds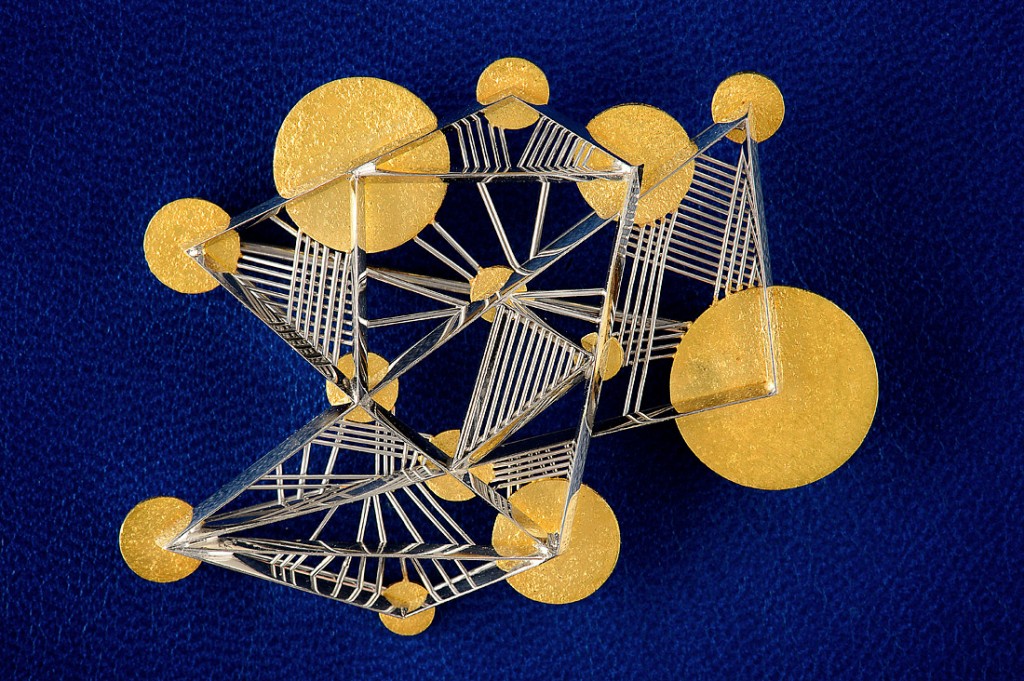 Kandinsky Kollektion Schweben brooch in yellow gold and platinum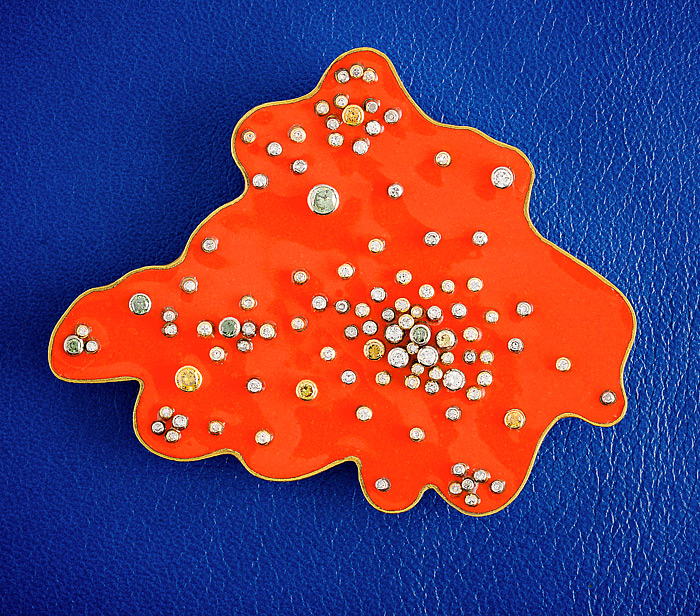 Kandinsky Kollektion 18k yellow gold brooch set with 104 white and coloured diamonds and red enamel
Cornelia and Max only created versions of those sketches that could be best associated with Kandinsky's work, that were representative of his artistic style, as well as those that could be realised from a technical point of view. Some of the original drawings were done in pencil, designs that would have looked perfect engraved in gold. However, Cornelia Roëthel decided to employ another, more difficult engraving technique that was used as long ago as during the times of Ancient Egypt: the painstaking method of outlining a drawing onto a flat sheet with miniscule gold balls soldered onto it as was done to create the "Grieff" and "Circles and Wavy Lines" pieces.
Aside from using diamonds to encrust gems, the Kandinsky Kollektion also includes emeralds because these were Nina Kandinskaya's favourite stones. As far as the complex designs are concerned, one of the most difficult and time-consuming pieces to make was the "Schweben" brooch. I was most struck by the bright red enamel "Umgebung" brooch.
I should add that I grew up surrounded by artistic masterpieces and at school I studied Kandinsky's art and the unconventional approach he took to his work. So now you should appreciate just how excited I felt to see that Lucas Rarities was exhibiting such a gorgeous example of a fusion between two of my top artistic passions. KP
Photos are courtesy of Lucas Rarities.