Traditional Indian jewellery is styled for weddings and often characterised by a large number of elaborate decorative elements than embellish it. These are obviously wonderful, but you're unlikely to come across a woman who would wear such extravagant jewellery every day. Milan Chokshi understands this perfectly and has decided to offer today's jewellery aficionados his own version of modern Mughal-inspired jewellery. He has removed some of the rather extreme grandiosity but kept the order and harmony, the distinctiveness and symmetry, the diversity of stones and materials. Combined, these elements make for the very best of Moksh's aesthetic, as well as technical, accomplishments, entirely equal in beauty to traditional ceremonial jewels.
Every motif in Moksh jewellery is justified and coherently woven into an overall pattern of symbolic shapes and forms. Historically, Indians view the absence of ornaments as shameful, shocking even; in their eyes, nothing looks attractive without some decoration. Milan dignifies his creations with subtle coloured drawings of different sizes and complexity, abstract winding motifs and steadier geometric compositions that follow the very best traditions of art deco. To distinguish discrete elements of his works, the designer uses several shades of gold, primarily yellow and white varieties accented with black precious metals.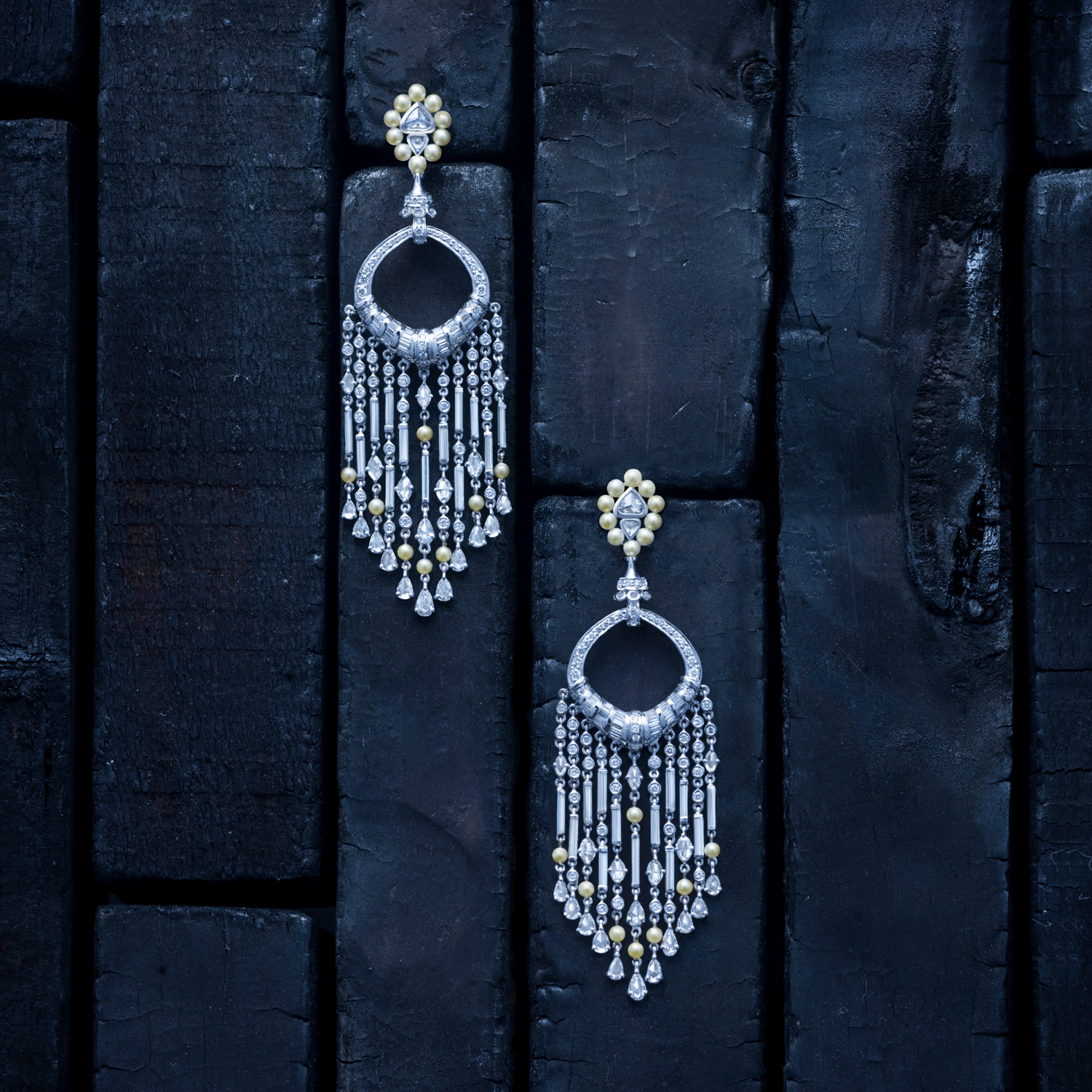 India is a country with rich sources of rubies and sapphires, as well as a wealth of emeralds and diamonds. Milan's family has been trading jewellery and precious stones for the past fifty years, so if anyone is going to manage as a jeweller and expert on the very best gemstones, then it's the Moksh's founder. That said, he decided as a young man to improve his knowledge and took a course in gemmology. Ultimately, Moksh has found its niche in other materials rather than the top four precious gems: Milan doesn't just use the best corundums and beryls to bring his designs to life – since 2006, he has developed a successful line of jewellery created using miniature Japanese keshi pearls titled TAANTVI which in Sanskrit means "weave", to jewellery made with this sea-borne material.
TAANTVI- the name is no accident: using miniature pearls, the craftsmen at Moksh weave jewellery that emulates snow-white veils which gently rest on your skin. The jeweller's Magic Carpet bracelets made with either Burmese sapphires or rubies and Arabesque patterns in gold were fashioned using the same technique.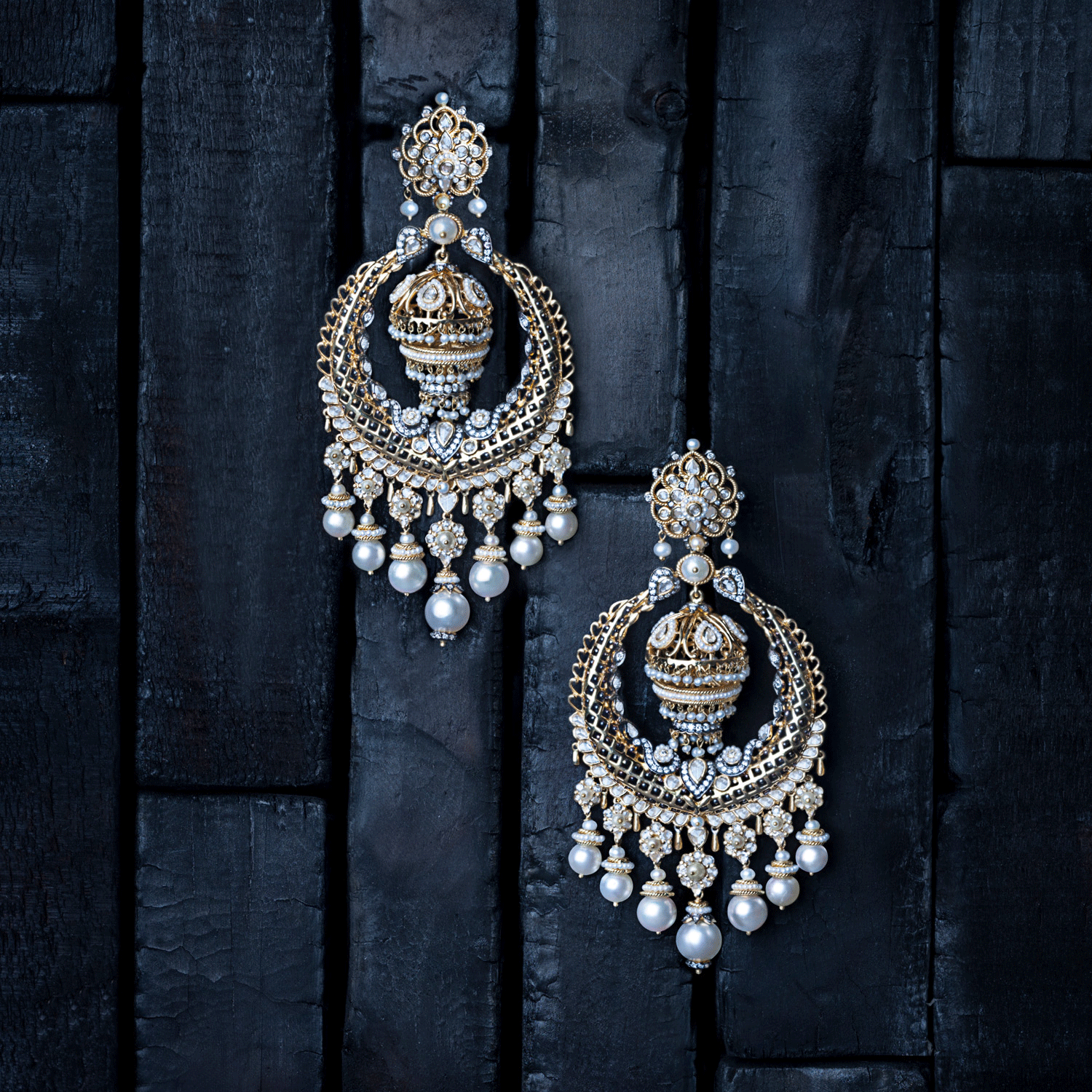 In fact, the craftsman at Moksh have become so adept at working with miniature keshi pearl beads that they can even use them to cover convex surfaces, on a bangle with Mughal embellishments for example, or to create a voluminous effect that is particularly pronounced on pendant earrings with round slits in the centre. More often than not, this type of pearl can be found on jewellery pieces that have tassels, particularly sautoirs. Indeed, due to the small size of the beads, pendants on long necklaces can perform an exotic dance with the wearer's every move. Moksh's work is inimitable and enchanting. It reflects the very soul of India's people, making it all the more enigmatic and enticing to the world's most sophisticated jewellery connoisseurs.
All this is evident in what Milan Chokshi says: "My vision is to create jewellery that is classic yet contemporary and upholds a timeless sense of exquisite beauty. Moksh's jewellery is not only a statement of individual style, but also a personal, tactile, intimate treasure."