A few months ago I was in Geneva and popped into to see a good acquaintance of mine, Filippo Gay. He's involved in the sale of rare coloured gems and is familiar with a number of designers of fine jewellery that I have yet to discover. One short phone call later and a meeting arranged for the next day with Nadia Morgenthaler.
Nadia lives and works in Geneva. She is far from being a newcomer to the jewellery business, however has only been creating jewellery under her own name since 2013. For over twenty years she preferred to remain behind the scenes at various jewellery houses and ateliers, including some very respected names in the industry. Nadia has been creating the design of high jewellery as well as managing its production, which allowed her to build a significant amount of wide-range knowledge. However, this was not what drew me to the jewellery artist, but rather her nonstandard approach to creating her own pieces.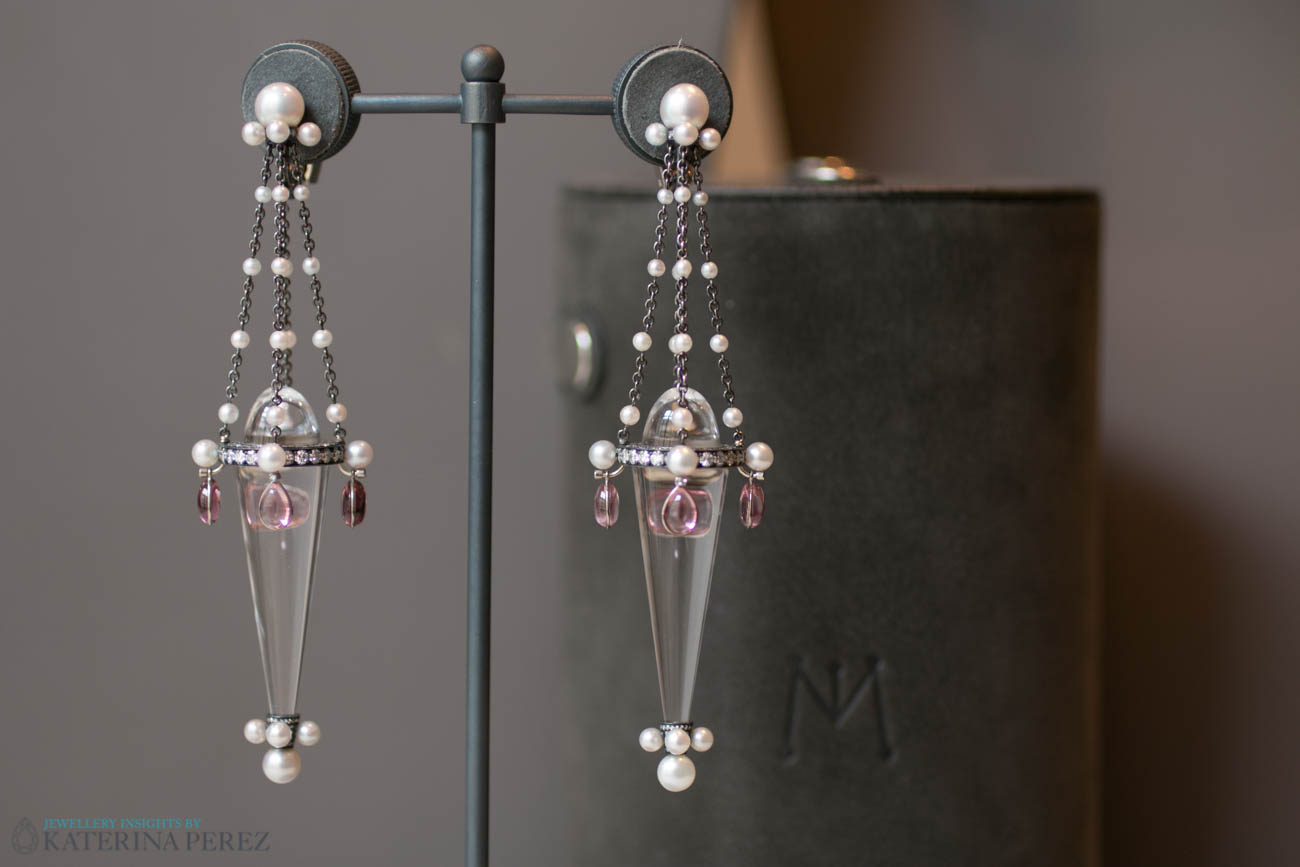 I feel like calling Nadia Morgenthaler not a designer but an "engineer" of jewellery. Her works seems quite simple in its execution, but this is only at first sight. If you look closely at the details you will be left wondering how on earth they were possible to achieve. Delicate pearls appear to hover above the surface of the rings and earrings, mountings of the precious stones are artfully veiled, the miniature components are designed with immense attention to detail and even each items' weight is calculated with mathematical precision. Despite the extravagant design and often impressive volume of the earring, rings and necklaces, they are comfortable to wear.
"I began to work in the workshop in 1989 and always dealt with complicated, very technical pieces. I know how to 'construct' jewellery and can easily imagine pieces in my head in addition to vast technical knowledge. It is always possible to find a solution of making something, I just need to find it," says Nadia.
I remembered one of the designer's phrase in particular from our chat: "gemstones in my pieces are not set but being 'held'". This is definitely true, if you turn your attention to the tourmalines, spinels, diamonds, rock crystal and pearls, that decorate the items, you will undoubtedly notice how they barely touch the metal as opposed to being set in it. In this way there is a visual lightness to the jewellery and they look equally attractive from whatever side you admire them from.
Another point which I noted to myself during my visit to the showroom of Nadia Morgenthaler is her love of playing with contrasts. She often combines matte black gold, white iridescent pearls and sparkling gemstones in the same piece of jewellery. However, she chooses gems in more muted shades which when combined with black and gold look noble: ""I love soft coloured stones, not too intense, I would say that it would be difficult for me to work with a beautiful dark blue sapphire. So when I look at gems I get instantly attracted to the ones with a little bit softer hue," says Nadia.
So how does the jewellery artist come up with her original designs? From where does she draw ideas for jewellery which so harmoniously combine elements of vintage style whilst looking rather modern at the same time? According to Nadia herself: "mostly from a small detail that I see around in nature, in the streets, on a building, everywhere really. If it speaks to me, my mind begins to imagine miniature constructions – jewellery. There is no fixed process, it is all about emotions. You 'feel' a stone, a pearl or a shape you have seen and you just transform it into a jewel".