The collection is based on the paillette jewellery motif, which was first introduced in the late 1930s and reached its peak in the 1940s and 1950s. This ornament gained its name because it resembles paillettes, a decorative feature so often found in Haute Couture collections. In the first half of the twentieth century, interpretations tended towards the patterns famously curled into rings, hanging down in strands and forming luxurious double necklaces, even going into the tassel like sparkling bouquets. Though it might appear that we have already seen this motif in all its possible variations, the imaginations of the designers at Van Cleef & Arpels know no bounds!
Diamonds, gold, pearl and gemstones are all combined in the new charming creations: voluminous necklaces, slightly asymmetrical bracelets, earrings which dance with every movement, rings with bold three-dimensional feature-points and large pendants. The collection consists of two sets of five items of jewellery, each characterised by incredibly harmonious combinations of materials. One set is made of pink gold and gently reflects light, emphasising the exquisite play of pearl with the rich, warm tone of carnelian – a symbol of life. Sparkling paillettes with diamonds in their centre are arranged in triple rows.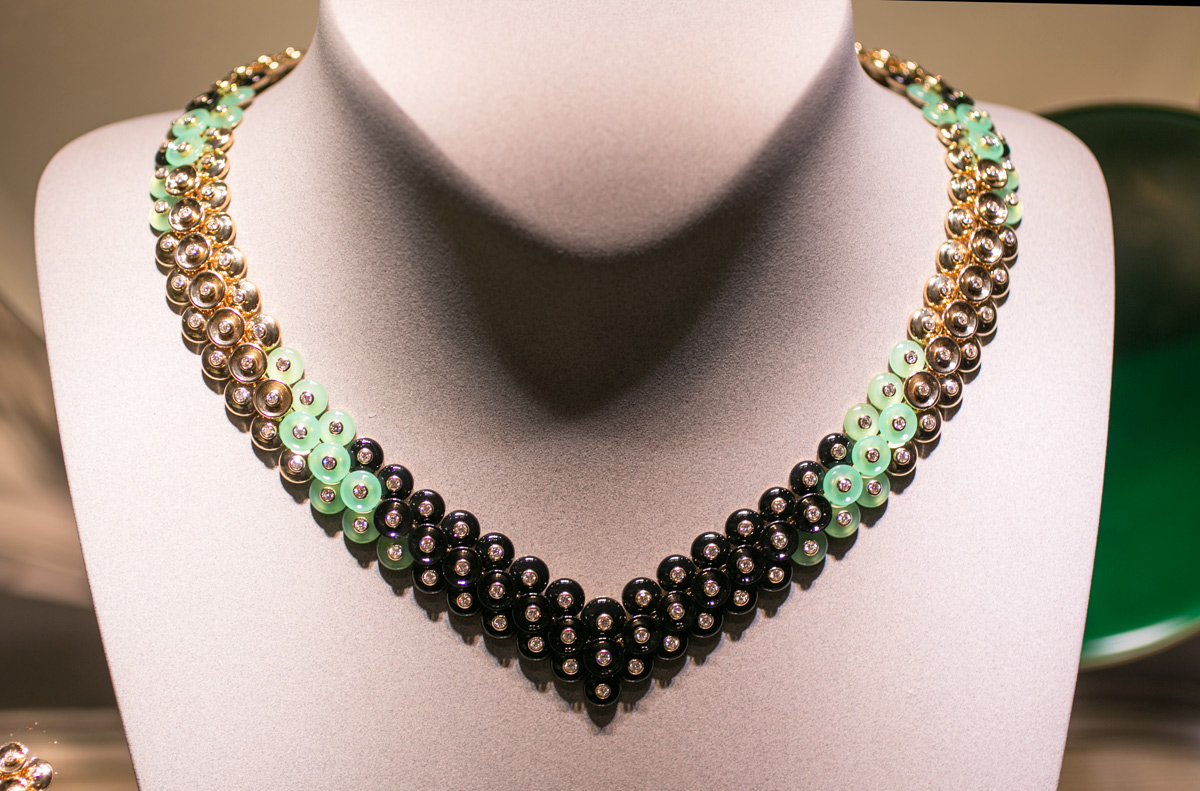 The second set, more contrasting, is made of yellow gold and compliments the tandem of black onyx and chrysoprase which, owing to its spring green colouring, breaths life into these works. Two of the pieces, a pendant that can be worn as a brooch and a ring are gracefully framed with articulate gold circular elements twinned with the geometrically clean lines.
For the full embodiment of a light and playful ornament in Bouton d'Or, the pieces needed to be shaped by hand and polished once their outlines had been achieved, but in the centre of each gold plate, pearl or gemstone a diamond is placed in bezel setting. To lend the jewellery flexibility and mobility, about a thousand paillettes were attached together with great precision.
No less attention was paid to the selection and combination of materials, because the brand's designers are paying special attention to the colour palette, ensuring it is uniform and bright, as well as radiant (as is the case with chrysoprase) and intense (as is the case with carnelian). The fulfilment of perfect harmony in the rounded elements of the pattern, which constitute the jewellery, have been carefully chosen on account of colour, transparency and iridescence, resulting in perfectly executed compositions.