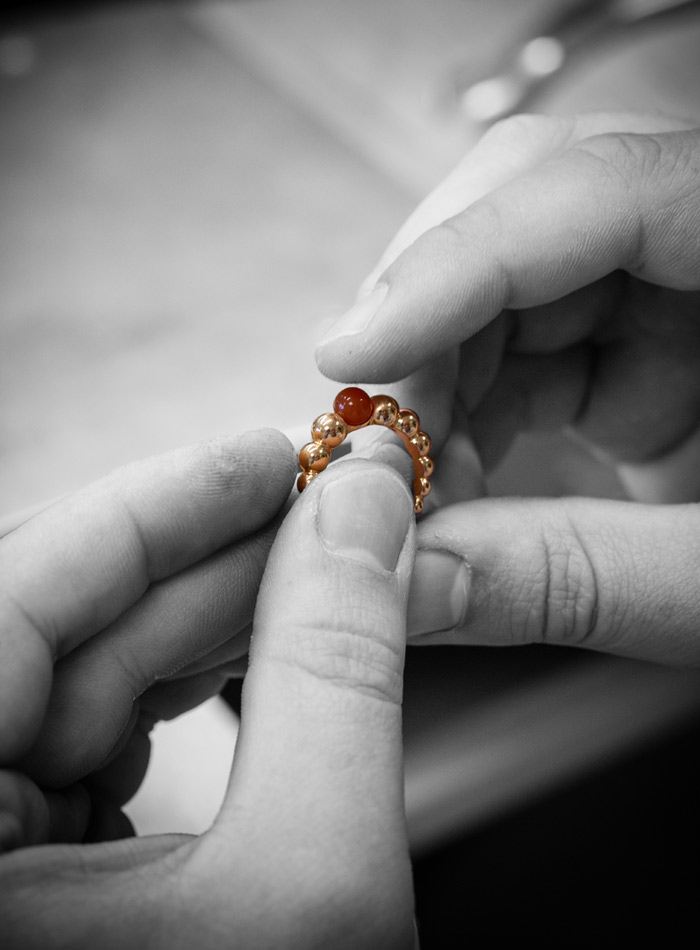 Perlée is a signature collection of Van Cleef&Arpels, one characterised by rows of gold beads that border the edges of the pieces. It first appeared in boutiques way back in 2008 and came in only white or pink gold. Last year the maison extended the Perlée line with pieces made of yellow gold and now the collection is following a logical path of development: Van Cleef&Arpels released pieces that also include beads made of semi-precious stones.
This collection, it seems, reflects the simple creative decisions of jewellers but when it actually comes to looking at how the jewels are made, it's not so simple. Each step in the Perlée creation process involves painstaking handiwork that demonstrates the level of the jewellers' skill. They are required to exercise the utmost care and precision when realising the pieces. In fact, there is a workman, whose sole job is to polish each bead and ensure it has the right sheen and necessary shape. That said, there isn't a single obstacle that could stop the craftsmen at Van Cleef&Arpels from making their wonderful jewellery.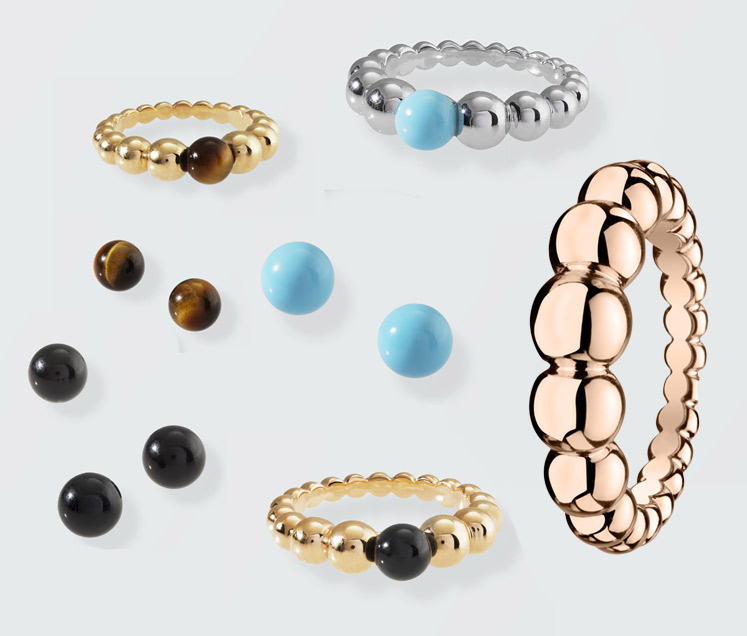 Perlee Couleurs rings in white and yellow gold with tiger's eyes, turquoise and onyx
To create the new pieces, five colourful semi-precious stones were chosen: green malachite, brick-red carnelian, delicately light blue turquoise, black onyx and brown tiger's eye. The matte surface of the first four gemstones creates an attractive contrast with the polished gold, while the bright gleam that flits across the surface of the tiger's eye brilliantly complements the splendid yellow tone of the gold. All the rings can be worn just as well together or separately, "diluting" the striking colours with simpler bits of gold depending on the wearer's personal preference. KP
Van Cleef&Arpels pieces made with beads appeared as early as the 1920s when there was an increasing penchant for Egyptian style jewellery. Jewellers used beads to frame particular stones or separate elements of a piece. At the time they were already using a special implement, not just their hands, to create this decorative effect. The instrument turned strips of gold into miniature round balls.
Since 1948 the maison's specialists have used this technique for the necklaces, earrings, bracelets and watches that comprise the Couscous collection whose creation was influenced by an Arpels family trip to Morocco.
In the 1960s the Twist collection appeared that gracefully fused gold beads, precious stones and corals. The bead theme has never ended since then, even with the arrival of the popular Alhambra collection that so elegantly represented clover petals.
var OB_platformType=3; var OB_PlugInVer='8.0.0.0_Regular';