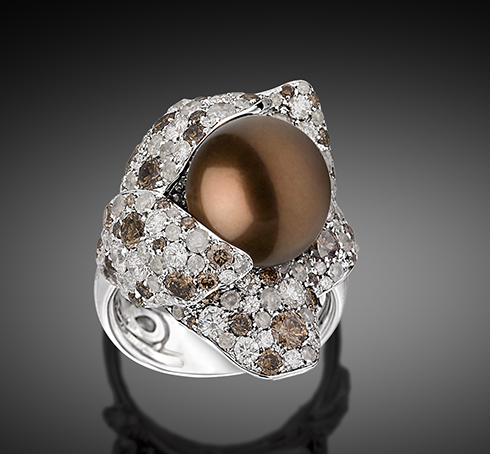 Carlo Palmiero is an Italian artist and contemporary jewellery designer who creates eye-catching collections from his workshop in Valenza. He releases them under the name of Palmiero Jewellery Design, nowadays one of the most sought after and well-known brands on the international art jewellery scene.
I usually write about pieces which have already been released and presented to the discerning judge that is the general public, but today I want to tell you about two new collections from Palmiero which you will not see until they are displayed at the VincenzaOro exhibition between the 5th and 9th September. These collections are called Captured Pearls and Warm Embrace.
The first thing that catches your eye when you look at these new pieces is the abundance of pearls. Palmiero's jewellery has always been fêted for its complex jewel studding techniques and its incredible gemstones, but the pearl has never really stood at the forefront of their designs. But it seems that, as trends go, this stone is looking to hit gold rush level in the autumn – winter 2015/16 season, and is likely to have a major influence even on the jewellery industry.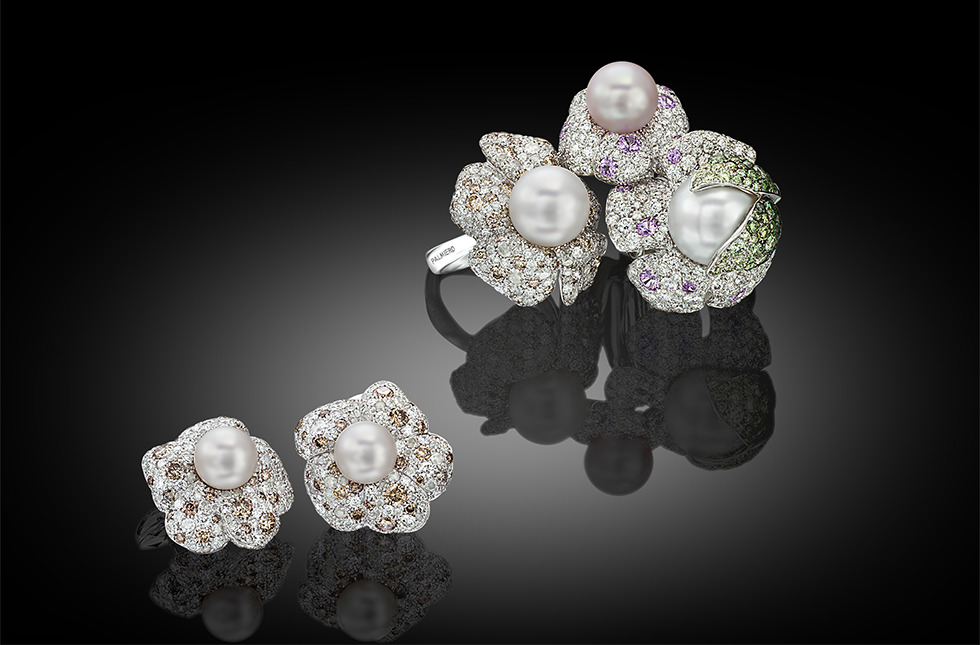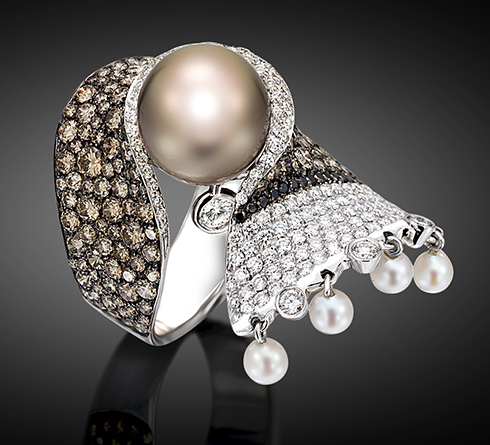 Captured Pearls is a continuation of the Captured Stones collection, switching its star from precious stones to the no less captivating pearl. It features earrings and ring shaped like flowers, with pearls of the very finest order and in an array of different shades nestled in their centres: Australian white pearls, grey Tahitian pearls and even chocolate pearls. From a bed of soft petals encrusted with sparkling diamonds, they beam their soft light and gently draw in the attention of any onlooker.
Carlo Palmiero's Warm Embrace takes the form of a scarf, that practical, functional accessory, synonymous with warmth and taking care of yourself. The jewellery scarf, studded with white, black and brown diamonds, sapphires and spinels, wraps softly around your finger and, in a playful touch, a cocktail feature has been added in the form of diamonds and miniature pearls on the end of the scarf which shake with the slightest movement.
"When we put on a scarf, we turn the attention to ourselves, succumb to the desire to embrace and wrap ourselves in the utmost comfort and pleasure, shielding ourselves from all unpleasant and negative emotions." That is how the representatives of Carlo Palmiero describe their heartfelt and lightly ironic collection. Could this little scarf be just what your need for your wardrobe?KP