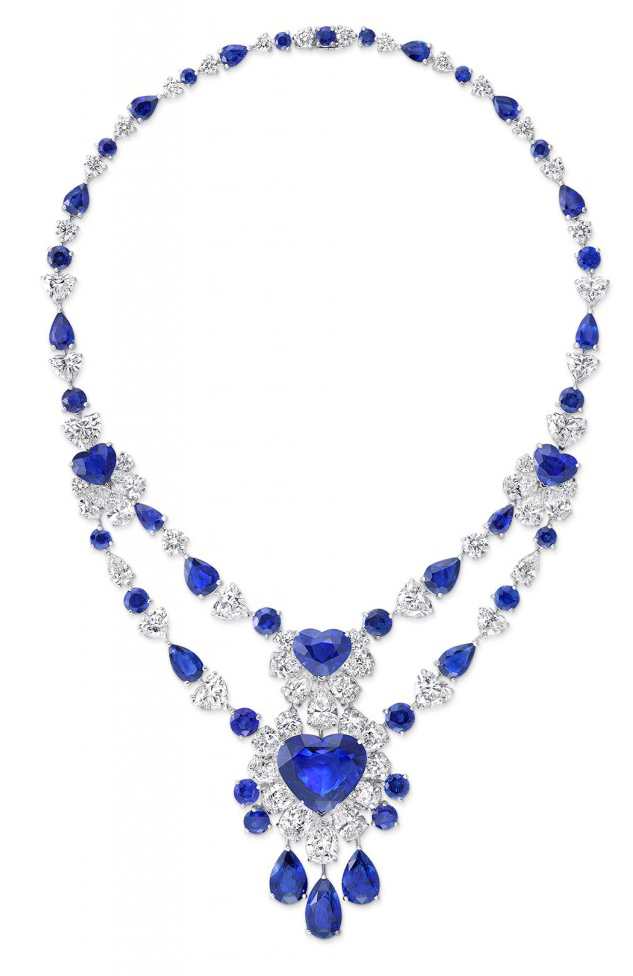 Graff Diamonds necklace with 27.30 cts heart-shaped sapphire and diamonds
Rulers from all the ages, from Cleopatra to Ivan the Terrible, from Alexander the Great to Mary Stuart, have tried to get the September stone: the precious sapphire, symbol of absolute power. The blue cornflower gem is often seen shining in crowns, sceptres, orbs and more commonly worn pieces of jewellery, indicating as it did in days of old that the owner bears the imprint of a heavenly glory.
To this day, the sapphire is the fourth most expensive and sought after gem, along with the diamond, ruby and emerald. Its deep blue hue fascinates for its depth and drive collectors into a frenzy, making them pay millions of dollars for rare pieces when they go to auction. However, the best sapphires can be found beyond the catalogues of Christie's and Sotheby's – very valuable and incredibly beautiful stones appear in the High Jewellery collections of famous brands.
More often than not, sapphires decorate cocktail or engagement rings, with the latter giving the opportunity for the wearer to admire the stone forever. However, larger stones weighing more than, for example, 30 carats, do not look spectacular when worn on a ring, for their impressive weight usually makes them shift to one side, whereas on necklaces adorning the neckline they attract everyone's attention with their alluring glow. Take me for my word: I have five luxury necklaces to prove it.
Let's start with American jewellery company Harry Winston. In spite of the fact that the brand is famous for its diamond jewels, Mr Winston was an expert in coloured gemstones too, which he regularly added to this collection. The jewellery company still keeps to the tradition in choosing for its pieces only the best of gemstones, and its diamond necklace with a Burmese sapphire is discernable proof of this. The stone is cushion cut, weighs 68.79 carats and is surrounded by 126 marquise, pear and brilliant-cut diamonds weighing in total at over 60 carats. Weighing just less than the Winston sapphire is the pear-shaped gem, which became a key decorate feature of the Red Carpet necklace from Chopard. The exquisite collar has 78 carats of pear-cut diamonds, 34.8 carats of round stones and is crowned by a 60-carat sapphire.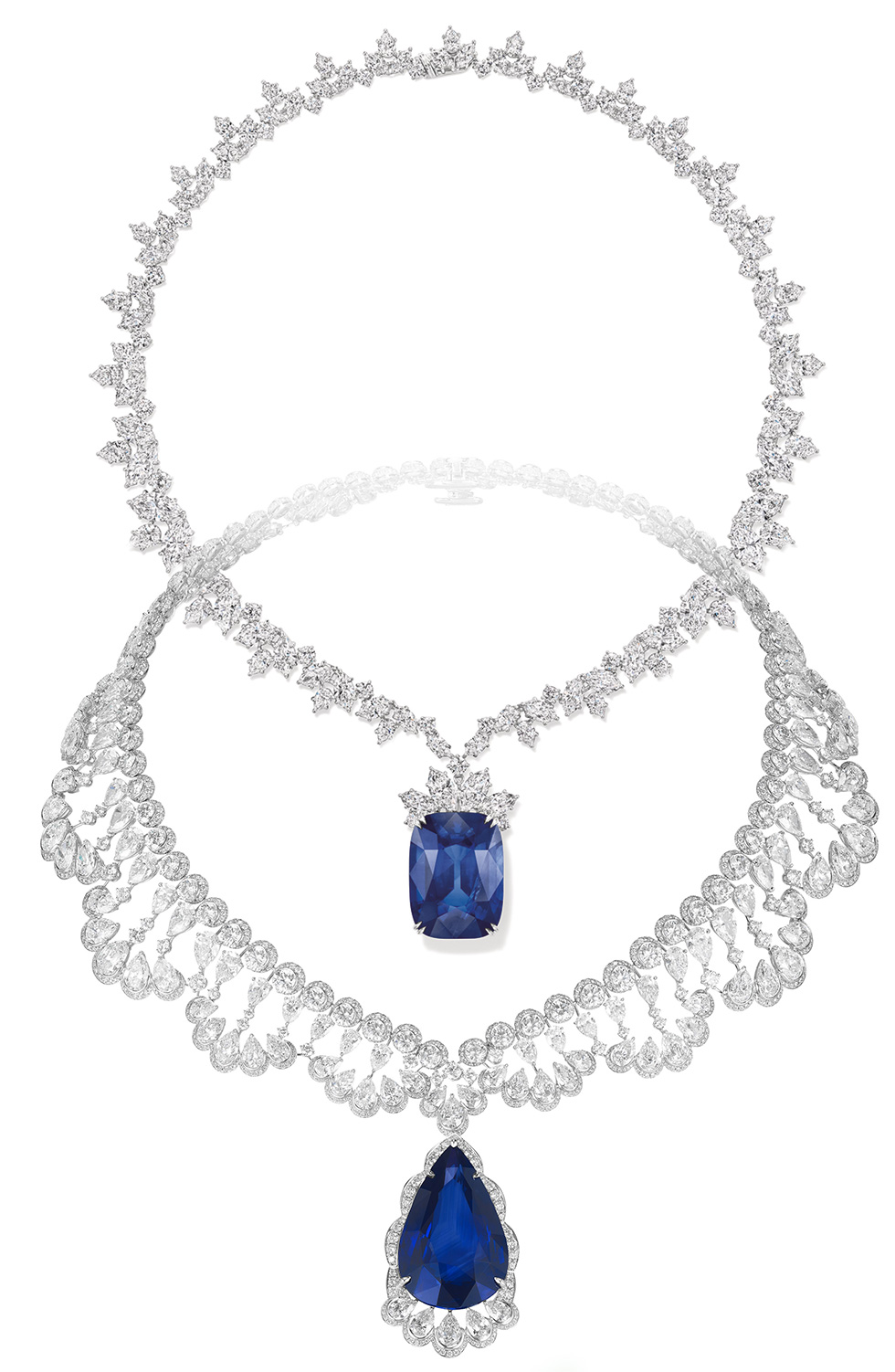 On top: Harry Winston necklace with 68.79 cts cushion-cut sapphire and diamonds. On bottom: Chopard necklace with a 60 cts pear-shaped sapphire and diamonds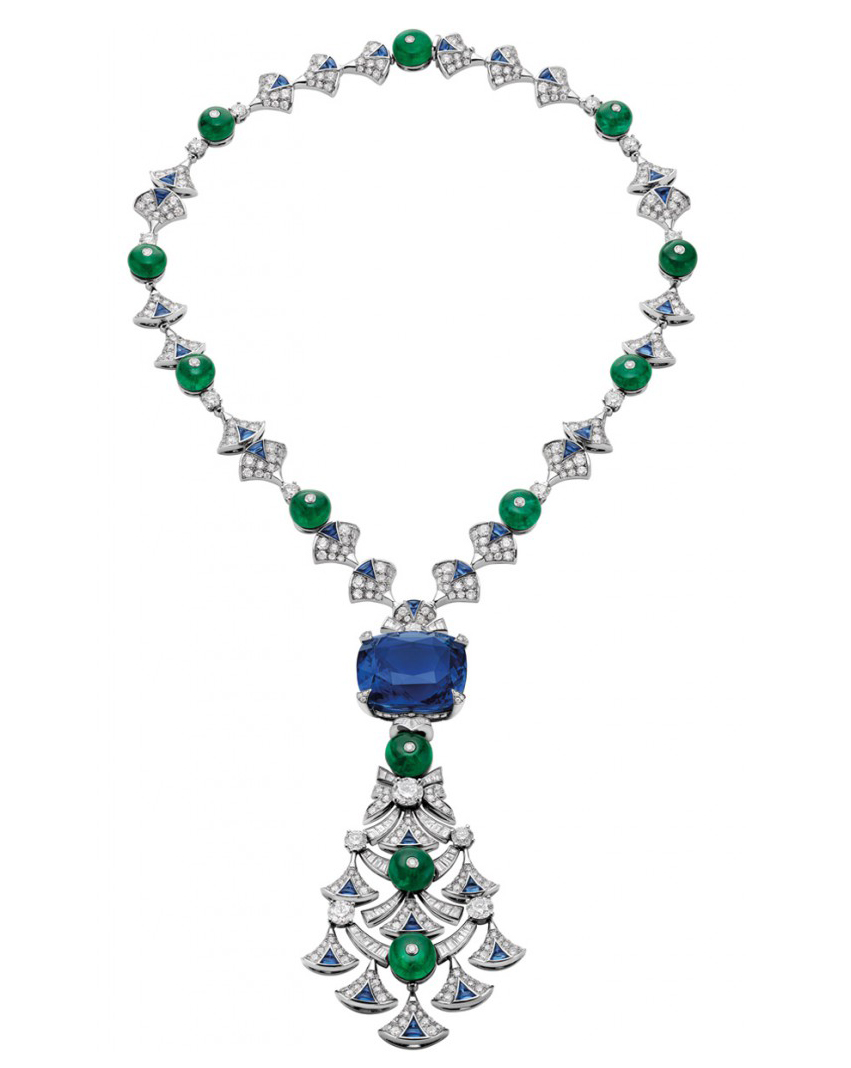 Italian Extravaganza necklace by Bvlgari featuring 45.15 cts sapphire
If you read my article about Kashmir sapphires, you already know that the country of origin influences the cost of the stone, especially if it is a sapphire of the highest quality. Stones from northern Burma (Mogok) are produced in rather limited quantities today, and this is one of the reasons for they still pip Kashmir sapphires to the post. If you have recently considered investing in jewellery, the latest collection of French House Chaumet, "La Nature de Chaumet", provides a hearty venture. The exquisite necklace Firmament Apollinien takes the form of a laurel branch adorned with a 34.36-carat oval sapphire, diamonds and a moonstone.
The source of the largest sapphires in the entire world is Sri Lanka, also known for the excellent quality of its stones and for the wide range of colours of the corundum produced there. One such stone was used in the Italian Extravaganza necklace by Italian brand Bvlugari, which became part of the latest High Jewellery collection Magnificent Inspirations. The Sri Lankan gem is a cushion cut that weighs 41.15 carats. The stone was joined by diamonds of various cuts as well as twelves emerald beads weighing a total of 40 carats.
A more "modest" Sri Lankan sapphire weighing 27.30 carats can be found in the stunning necklace of Graff Diamonds. Cut in the shape of a heart, the deep-blue stone is part of a jewelled composition made from 54.49 carats of diamonds and hundreds of carats of round, pear and heart-shapes sapphires.
Finally, a necklace worthy of lengthy discussion: a piece created by the masters at Boghossian. A fine necklace and earring set made using the house's signature techniques which is called the "Art of Inlay", and involves inlaying one stone into the other, forming a winning match from a glittering and opaque gem. The expert jewellers skillfully inlaid 62 carats of sapphires into soft blue turquoise and complimented the ensuing with 17 carats of diamonds.KP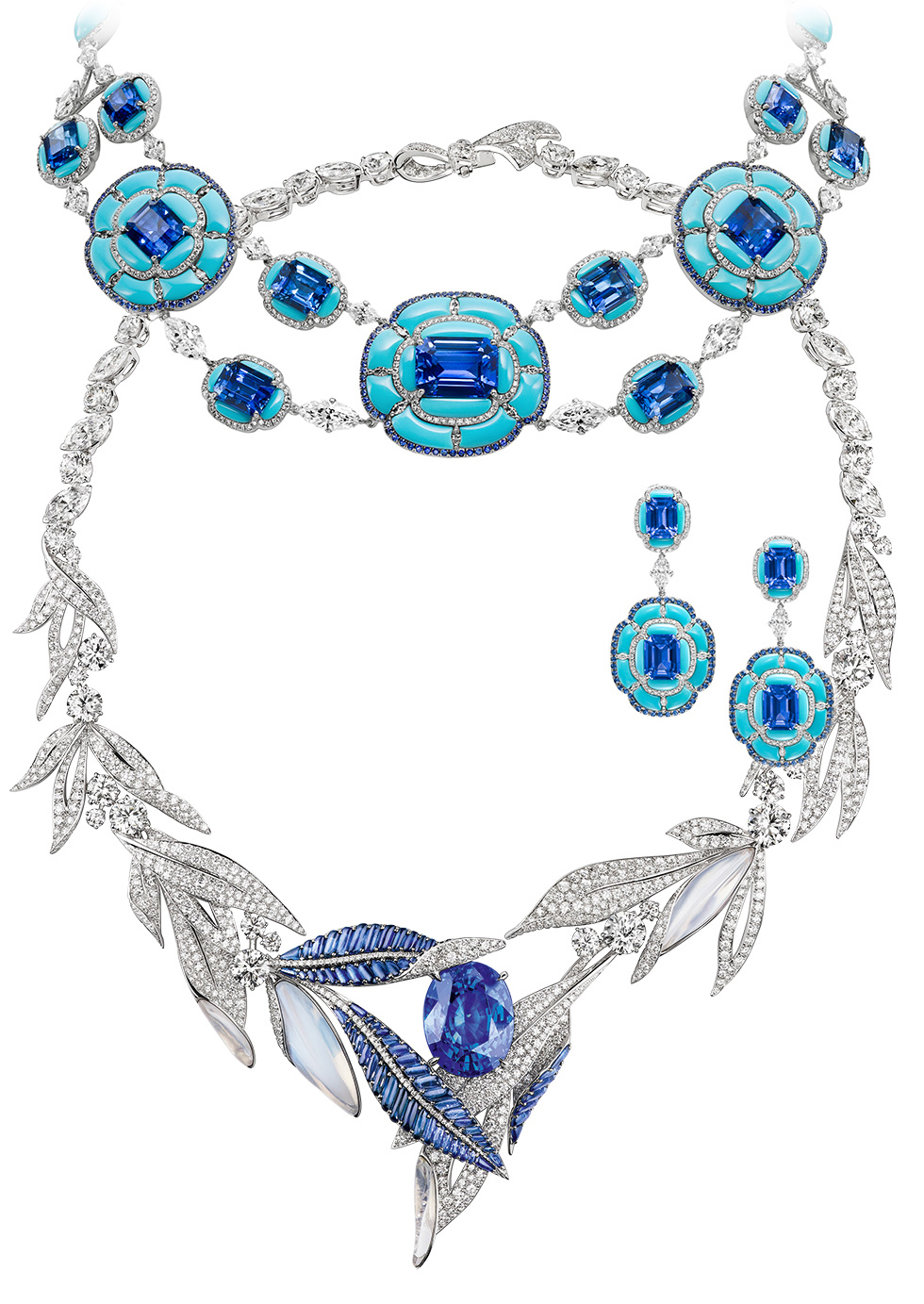 Boghossian necklace and earrings with sapphires and turquoise on the top and Chaumet necklace with an oval 36.34 cts sapphire on the bottom