Ajay had experience under his belt through three years of rigorous training and working with a reputed emerald manufacturing company. He exported high-quality gemstones based on custom orders to the United States, as well as a handful of countries in Europe. Anju, meanwhile, graduated from the GIA in Hong Kong, and found herself enchanted by jewellery design. So began their joint enterprise – both as a family and as professionals.
"In order to meet the requirements of the modern woman, I try to draw inspiration from my travels, incorporating different architectures, cultures and fashions. I find myself fascinated by all of them, and they inspire me to create unique jewellery. On top of this, I am constantly updating my practice – attending various jewellery exhibitions and seminars on design as well as forecasting trends. I endeavour to keep on top of the latest trends in both colour and fashion. I would call the aesthetics of my design 'modern with an Indian twist'. I love to combine the beauty and faceting of precious stones with Mughal motifs, creating jewellery that is luxurious, yet simple," Anju tells me.
Exquisite Fine Jewellery is a prime example of first generation jewellers who are exemplary in creativity and craftsmanship. In a sense, a move away from the ingrained knowledge passed from generation to generation can in fact be advantageous. The Jain family has no obligation to feel constrained by tradition. This allows them to tap into global trends as much as possible, weaving them organically into a timeless canvas.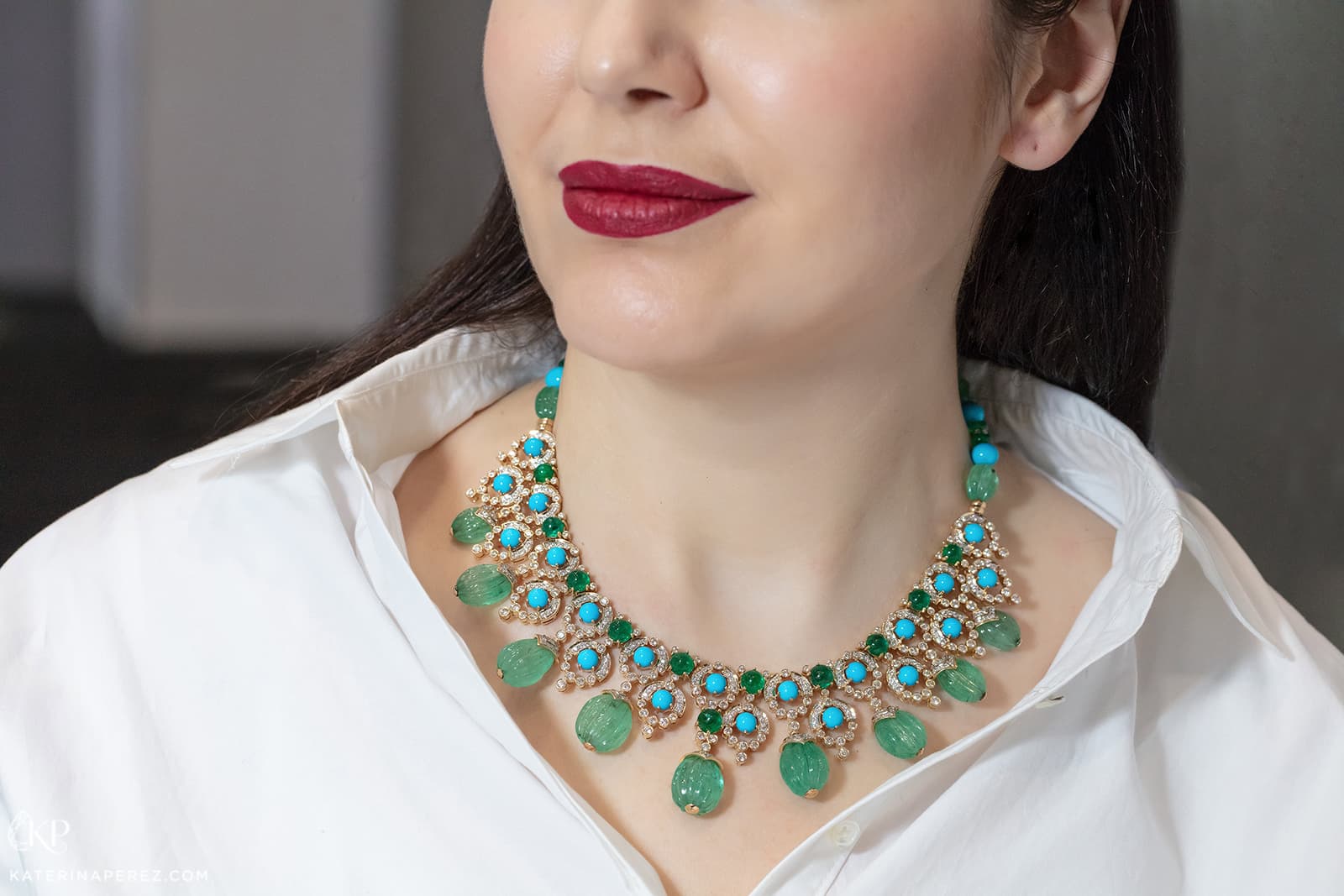 Working together, the duo was able to achieve such success in their business that the top brands in India – and indeed the world – couldn't help but take note. This was accomplished not only by spectacular design, but also by carefully selected precious gems: charming tanzanites, rubellites, emeralds, opals, various shades of quartz, pearls and many others. Some of these are ideally suited as a complementing stone for a rare gem that forms the centrepiece of the design. In other cases, where there are more unique specimens, these form the basis for the whole jewel. For example, an 85 carat rubellite cabochon was the starting point for creating a luxurious necklace that is a part of the 'Benazeer' collection of limited edition jewellery. Appropriately, the name means "incomparable".
"This collection features only high jewellery pieces, with bright, rich gemstones whose hues are juxtaposed with one another. In the necklace we used a rich pink rubellite in the centre, paired with two strands of tanzanite beads weighing 713 carats. Although the motifs resonate with Indian heritage, we believe that 'Benazeer' jewels have a universal appeal, and this particular necklace is a perfect fit for a modern queen,' Anju tells me.
As is evident, she seeks to create noteworthy jewellery by combining the most daring shades together. Even if the canvas of the design is based around pastel colours, Anju always makes sure to complement them with small accents of bright gems. Thus, she always adheres to her philosophy of design – to add colour to everyday life, and convey the rich influence of her native Indian culture, famous for its colourful special occasion and traditional noble attire.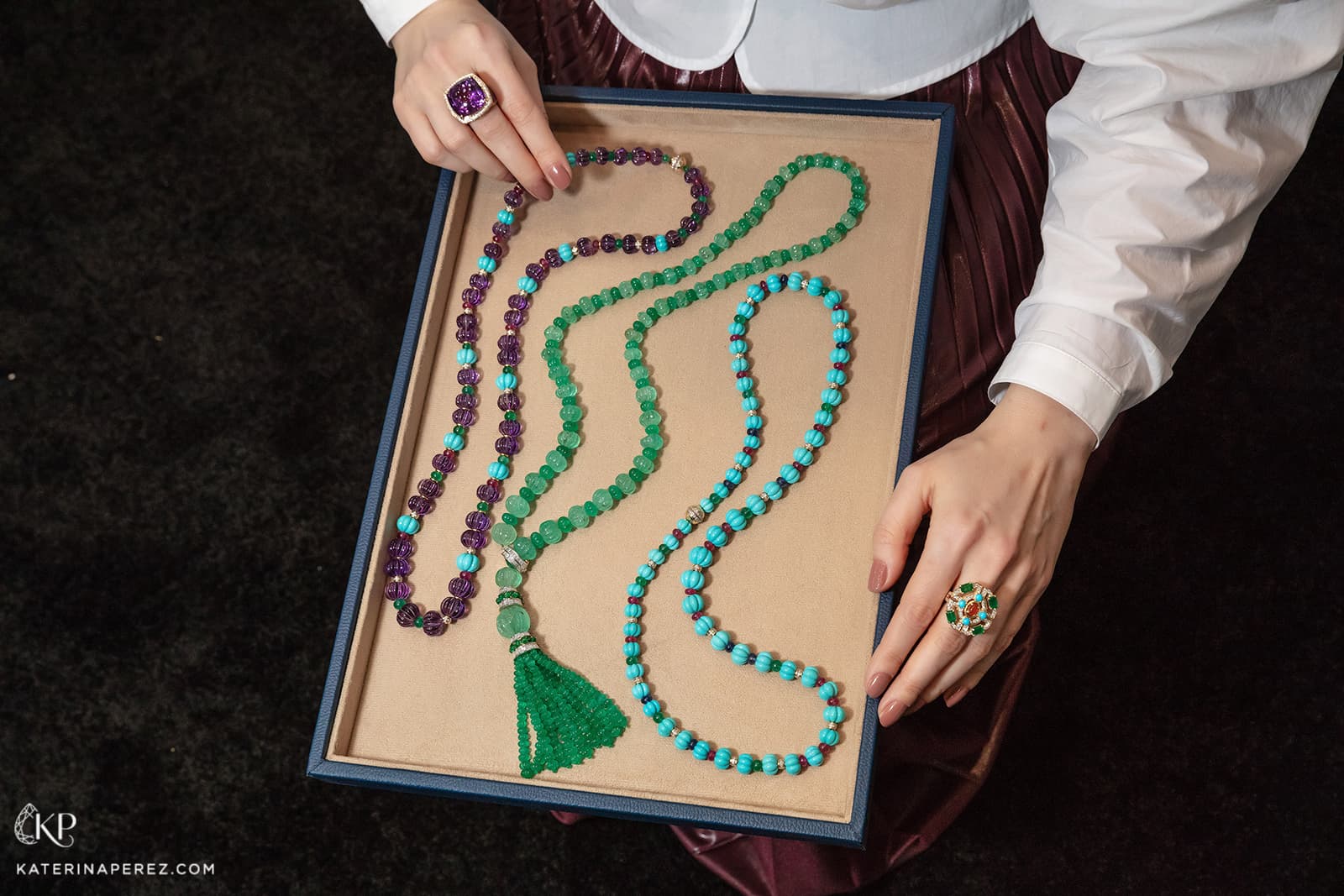 "Being born in Jaipur – the gemstone cutting centre of the world – I was always surrounded by the beauty of colourful costumes, lively festivals and fine craftsmanship. Every one of them is an explosion of colour. Rajasthan is a desert state – we use colour to break the monotony," Anju shares.
All of the above elements combined to make the 2006 debut collection of Exquisite Fine Jewellery: Cascade. This stunning line consists of 51 pieces, most of which were embellished with semi precious stones. The design was inspired by the fluid movements of water, and this collection consisted of pastel coloured gemstone chandelier earrings and ear pendants. I have deliberately looked back to this 13-year-old collection, because now in 2020, we have seen a striking increase in the popularity of semi precious stones. Although this trend is obvious to all, there were very few in 2007 who would have seen it coming.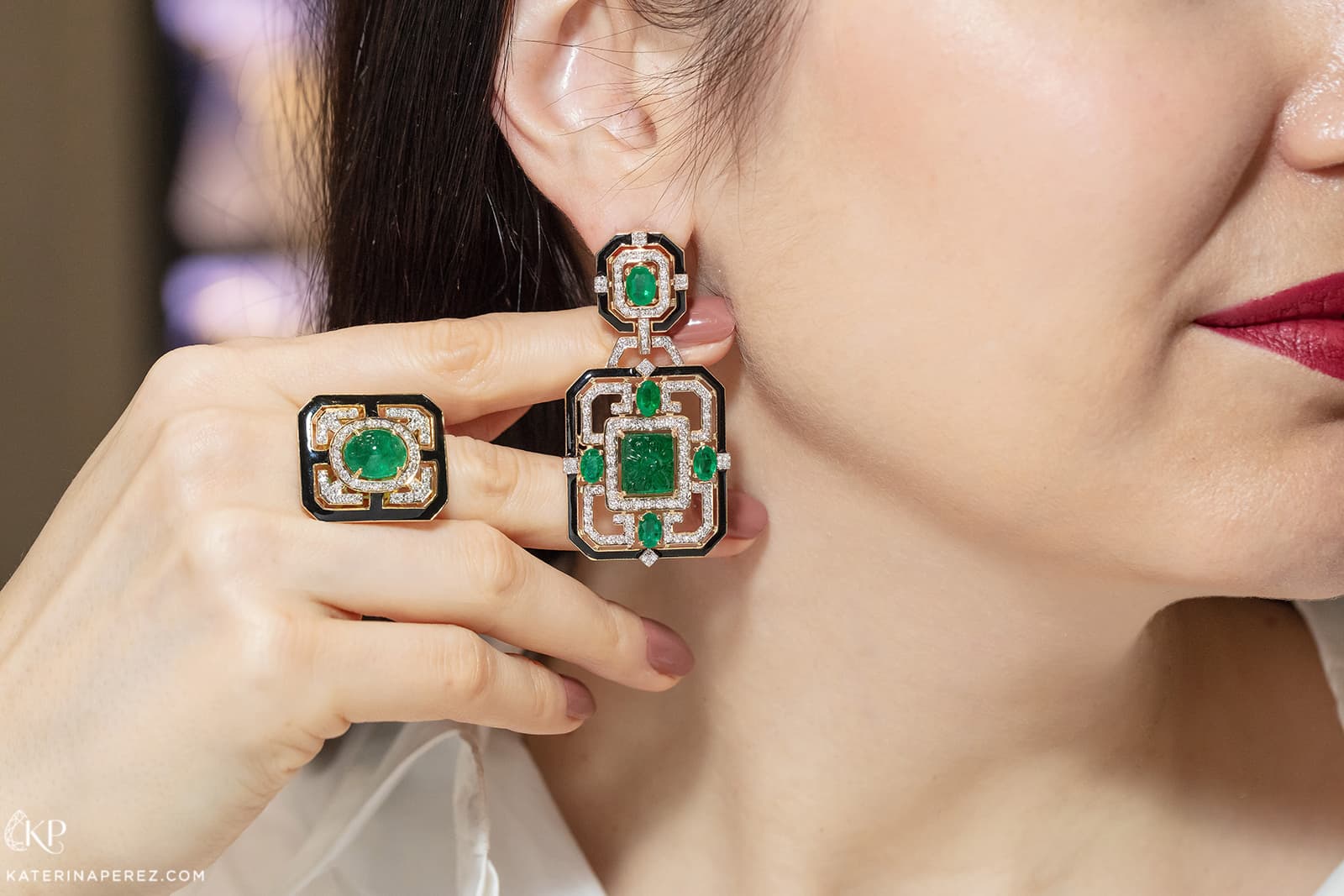 "Trends are definitely changing, and our customers are not against experimenting with a variety of materials, whether it be wood, leather or enamel," says Anju. I am sure that her desire to surprise the loyal fans of Exquisite Fine Jewellery will push the designer to create new, outlandish jewellery all over again.
Looking forward, the company is extremely excited to launch a new collection of high end, one of a kind fine jewellery pieces primarily catering to their Middle Eastern clientele, by the name of 'Nafees' in February 2021.