Hemmerle is recognised as one of the world leaders in the field of jewellery innovation. Inheriting his father's unusual approach to jewellery design, Christian alongside his wife Yasmin, has continued the family tradition of alternative jewellery art incorporating unlikely materials such as iron, pebbles and wood, which, when combined with gemstones and gold, are transformed into unique, valuable jewels and family heirlooms.
Having spent time on the boutique floor as well as behind the scenes in Hemmerle's atelier, I have been lucky enough to gain a unique insight into the fascinating nuances of the brand's jewellery design, which I am excited to share with you here. It is August in Munich. A beautiful sunny day. I am standing in front of the façade of a building on Maximilianstrasse practically unchanged in the last hundred years, adorned with a black sign with gold letters spelling out: 'Gebr. Hemmerle Juweliere'. I go inside – the décor of the boutique is perfectly in keeping with Christian's minimalist tastes, ensuring nothing distracts from the jewellery shimmering behind the glass windows. Two black columns tower in the centre of the room, preserved since the building was first constructed. They perfectly match the interior.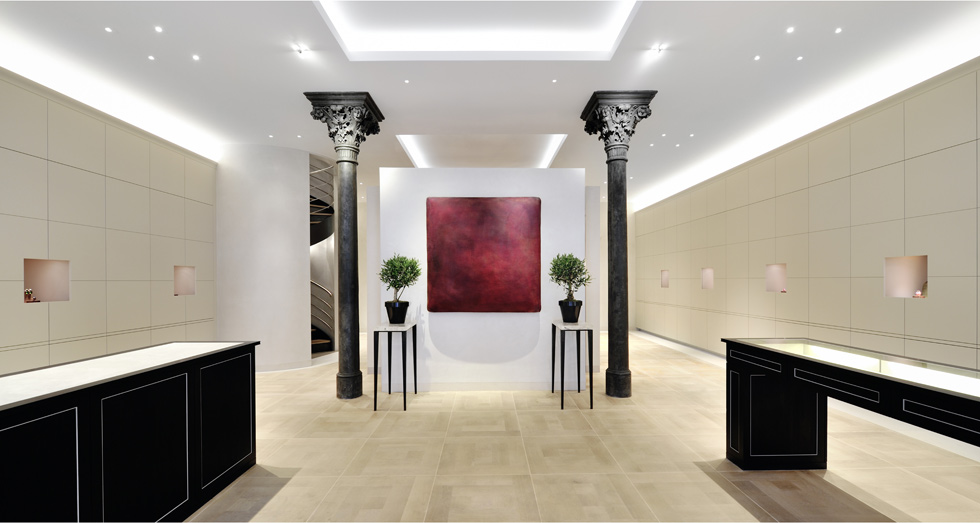 Christian and Yasmin come out to meet me, and so begins my journey into the world of Hemmerle. I immediately spot one of the brand's iconic pieces on Yasmin's wrist: the 'Harmony' bangle, on show in both London's V&A and Cooper Hewitt in New York. "This bracelet is like the second skin. Its concept was conceived by my father – in – law who initially created a gold band with two heat shaped diamonds on each tip. By lifting the stones one could slip the bracelet on the wrist, but the small mechanism could not be completely hidden. So then, as always, he started experimenting and came up with this very functional seamless mechanism which you see on the bangles nowadays."
Designed from copper and gold, it is surprisingly comfortable and light. Controlling the weight is a key part of the design process in all of Hemmerle's work. Thanks to careful weight distribution, the clip earrings Yasmin wears not only hang completely straight, they fix securely to the ear so that they do not fall out even during dancing. "You can't imagine the calculations behind every piece, but we know exactly how to distribute the weight. Some stones are heavier than others, so when it comes to Toi&Moi earrings not every pair has the same weight. At the same time both need to sit on the ear without tilting back or forward. This is why there is a lot of mathematics that goes into jewellery, and when I visit the atelier I often see craftsmen doing their calculations on little papers", says Yasmin.
Opening one window after another, Christian shows me a variety of Hemmerle pieces: a ring with a magnificent ruby in a raspberry red copper frame, a large bracelet featuring an 80 carat aquamarine and earrings with tourmalines with a similar but not identical reddish brown tint. The perfect cut of the stones and the right colour shading gives each piece its own atmosphere. "The material is what guides us," says Christian. "When you have a beautiful diamond, you can 'kill' it by creating too much entourage around it. The setting is meant to support the stone, not overpower it, why to detract from its beauty? If there is anything that Yasmin and I have learnt by being a part of Hemmerle, it is that nature has so much to offer, and we just need to let it lead us."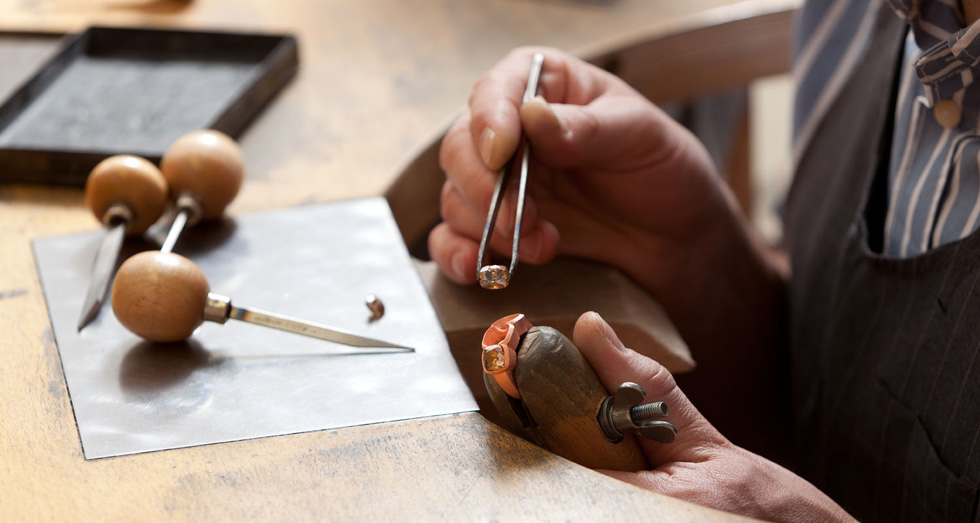 Once we have examined and discussed a dozen or so jewels, we get ready for the main event: the workshop. The building, where three floors have been turned into a vast studio for the jewellers, is a ten minute walk from the boutique. Christian and Yasmin frequently pay a visit to their craftsmen, of whom the company employs around seventeen, but they themselves operate out of an office above the boutique shop floor.
We head into the studio building and go straight up to the first floor, where Christian shows me the rooms where the magic happens. One quirk of this place is that there are no doors in the passages, a design choice which gives the jewellers a sense of space and allows them to communicate with each other more easily. One jeweller is hard at work setting gemstones, another is cutting out a decorative detail from metal. Suddenly a big lump of aluminium on the worktop catches my eye – the superlight metal is about to be transformed into a ring.
Christian shows me two pieces of beige material cut from the handles of two antique knives made from bone and my eyes widen in surprise when I hear that, if all goes to plan, this tool component is going to become a part of new set of earrings! Christian explains his unusual choice of material: "When we work with new materials a lot of things are trial and error because we never know the outcome. Each piece is new even for us and we don't necessarily know ok if it's going to work out or not. Although it's always a risk, we never get bored of experimenting as there are no limits and no boundaries."
Then, to impress me further, he removes from a safe a number of large, flat cases whose compartments contain an array of colourful gemstones and diamonds arranged according to colour and size. I have never seen a jeweller with such a wide range of diamond shades: six or seven different pinks ranging from pale to more intense, moving on to diamonds the colour of bronze, followed by champagne, cognac and a couple of yellow diamonds – and this is only the start of the collection.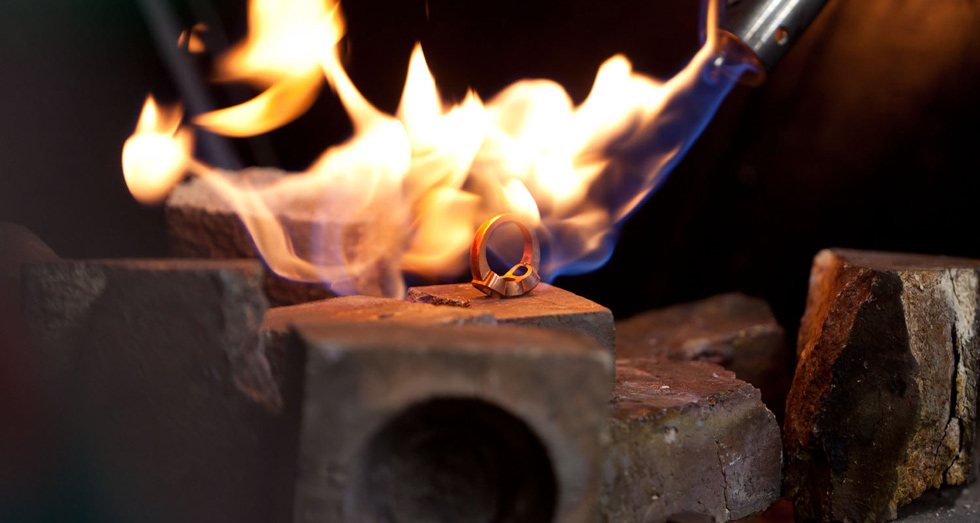 «We only buy between five and ten percent of gemstones that we get offered. The colour assortment you see here comes from a million of different lots which we buy and then re – sort ourselves by hand, dividing stones by hue and calibre", Christian tells me. Certainly, accumulating such a huge number of gems of such incredible colour palette must take years. When the time comes, these sparkling treasures are combined with metals and other stones to create a truly striking ensemble. In the words of Christian and Yasmin, they "didn't start using iron, aluminium and copper just for the sake of it. The idea behind it is to complement a gemstone with the right colour metal, give it the best home."
Once we have completed our tour around the two floors where the jewellers work, we go down into the basement, where there is equipment the likes of which I have never seen before. I am shown, for example, an oven for coating copper, aluminium and iron in different colours. Something that may sound very simple – covering metal with a layer of patina – is really a very subtle process: if you 'overcook' the metal it comes out looking nothing like the desired result. At Hemmerle they have their own particular way of ensuring precise timing, long ago established.
We then move into the next small room with a window – this is where different types of exotic wood are kept. Some specimens have been here for years and have endured a number of different conditions over the course of several seasons: heat, cold and high humidity. This quality test guarantees that they are suitable for use as an original jewellery material.
"It is rare that people are invited into our workshop, but when this does happen I take great pride in sharing the amount of work which goes into what we do here," says Christian. And he is absolutely right: without seeing with your own eyes all the steps that are taken to create one piece of jewellery, it is very hard to envisage the amount of skill, craftsmanship and verve that is required to create the jewellery that would proudly bear Hemmerle's name.