"It all started decades ago, when 10 jewellers came together for a private event," says Colin Shah, vice chairman of the GJEPC (Gem Jewellery Export Promotion Council), which established IIJS. At that time, Colin could not have imagined that what began as a small-scale exhibition would grow into a global event with 1300 participants, becoming the best place to showcase jewellery, gemstones and jewellery-making equipment in all of India.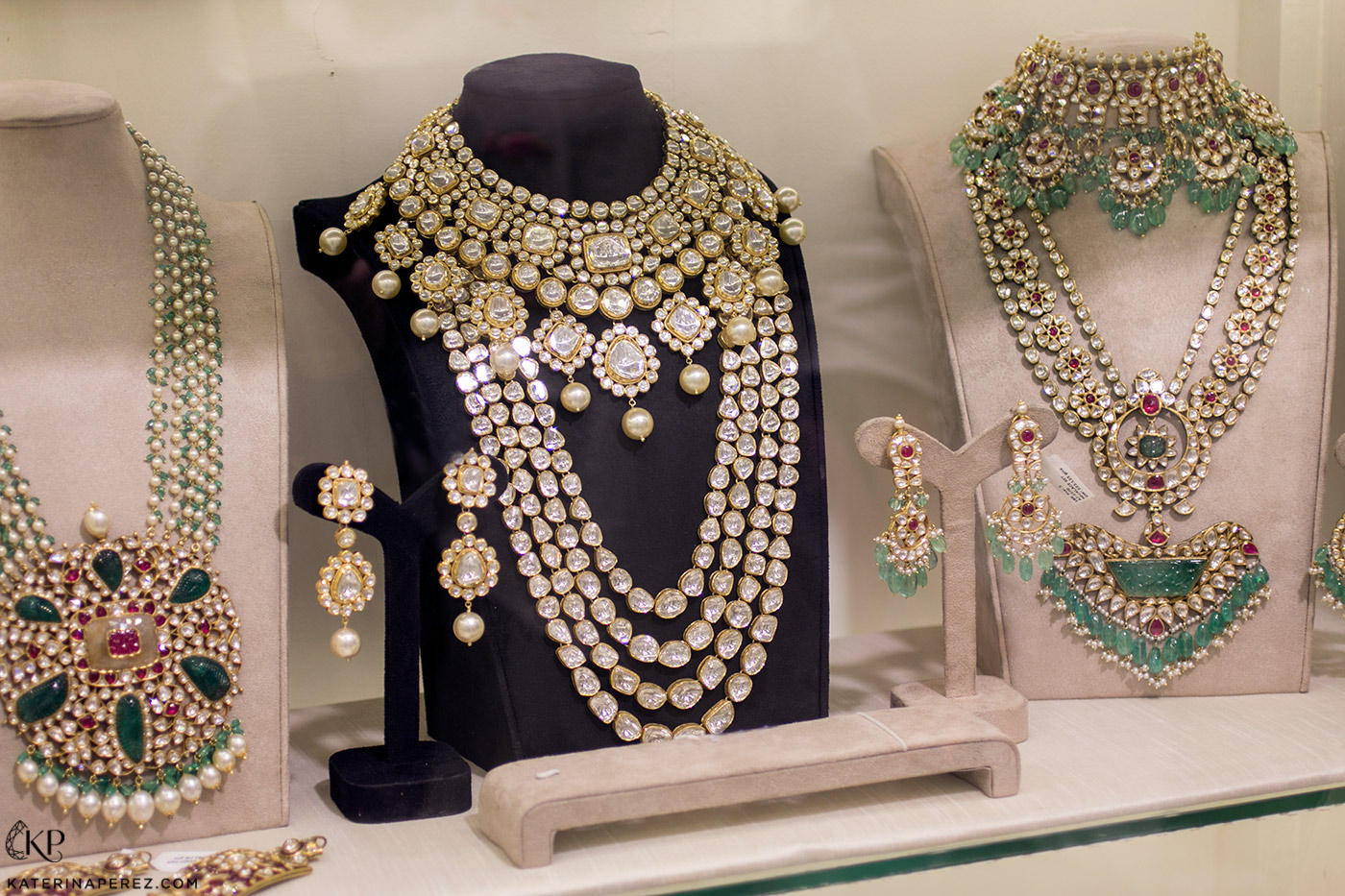 "When it comes to exports and jewellery promotion, the GJEPC has always initiated proactive steps which are seminal in nature," explains Sri Suresh Prabhu, Union Minister for Commerce, Industry and Civil Aviation. It is impossible not to agree with him, especially since this year there have been efforts to improve in both the organisation and the presentation of IIJS. When I visited on the 8th August, entry for the VIP day was by invitation only, and the jewellery on display could be enjoyed in a quiet, comfortable atmosphere. Though a testament to the popularity of the exhibit was that every other day the halls were packed full of people - after all - residents from over 800 cities travelled specifically to see the jewellery on display at the 5 day event.
This is the first time the organisers of IIJS have invited me to the event and, honestly speaking, I did not know what to expect. As it turned out, IIJS does not differ vastly from any European exhibition; except for its most distinguishing feature - the jewellery presented is exclusively by Indian companies. Many brought traditional parures and wedding jewellery to the exhibition, which is of course an integral facet of the Indian jewellery industry. However, I was also interested in familiarising myself with the jewellery art of the country as a whole, and at IIJS I found myself discovering a myriad of its fascinating varieties.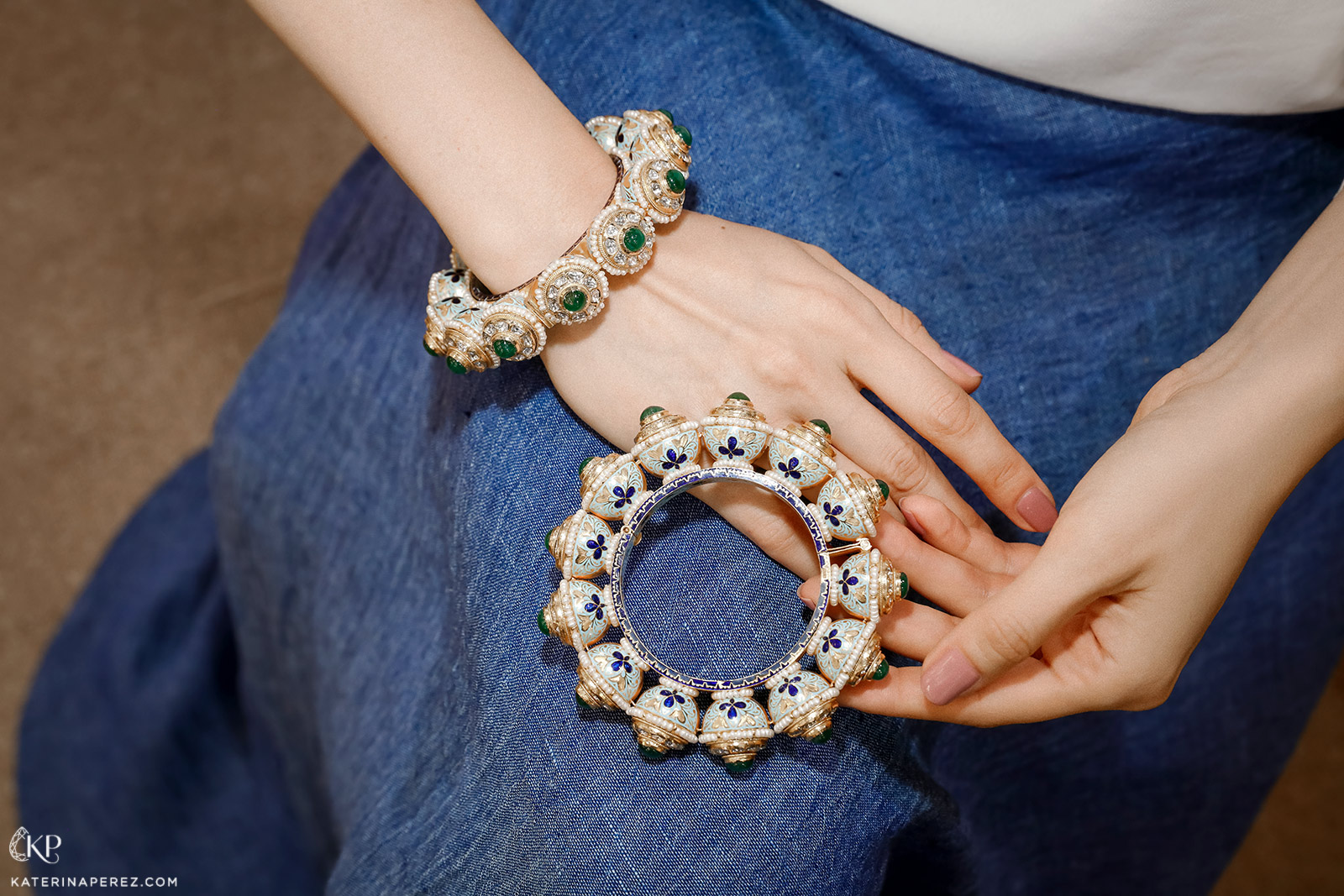 I discovered traditional wedding jewellery with polki diamonds and meenakari enamel at Ghatiwala Jewellers, Golecha's jewels, Umrao, Raniwala and Jewels of Jaipur. The latter brand presented a modern interpretation of traditional jewels; with more lightweight pieces, and more elaborate embellishment. The creations I stumbled across at Gem Plaza displayed a strong European design influence - focused on the foregrounding of the coloured gemstones and diamonds.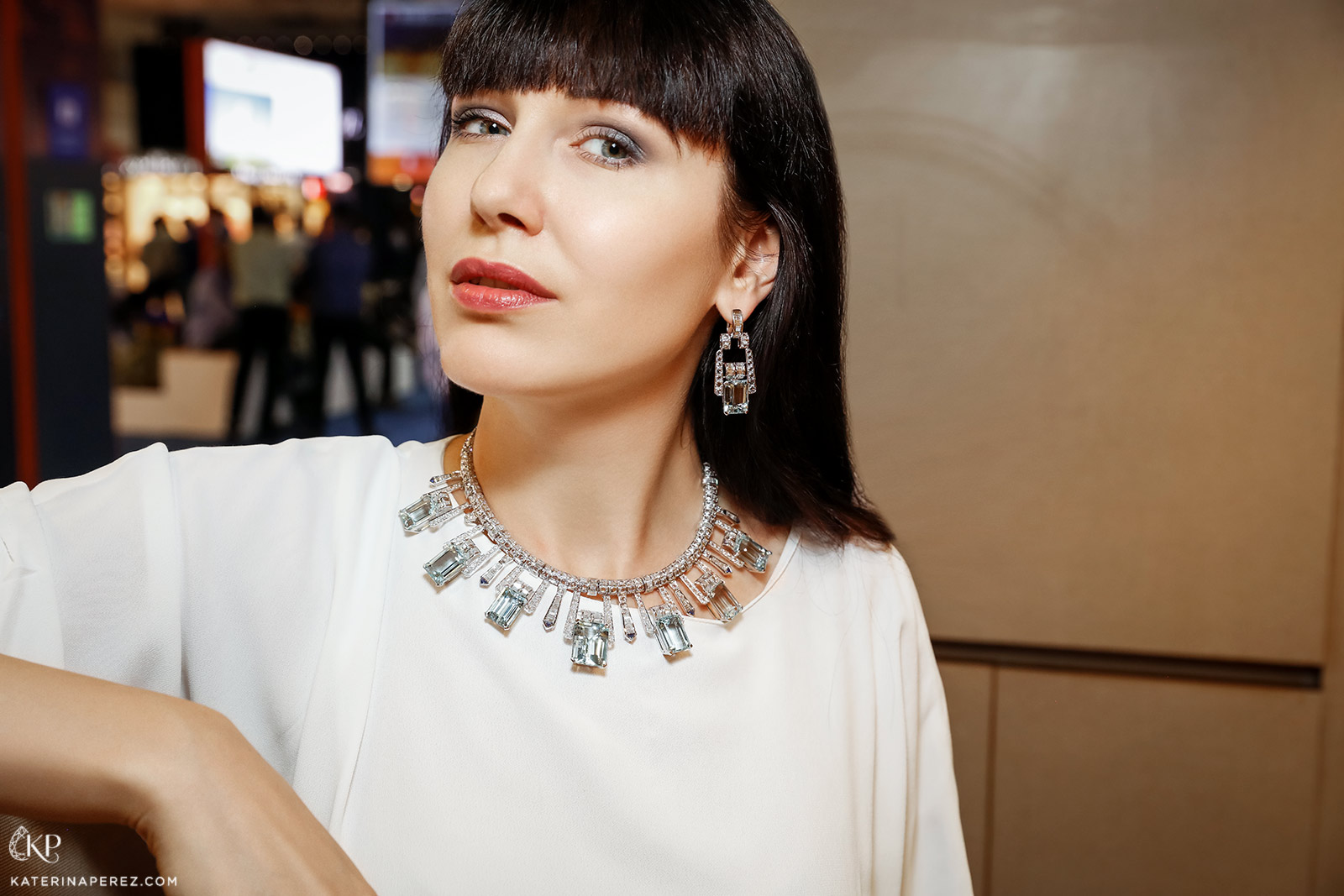 Kamyen presented its unique interpretations of timeless classics: luscious diamond necklaces, chokers with emeralds, and all sorts of varieties of classical cut stones set in a contemporary style. Exquisite Jewels' designs alluded to a similar concept, but unlike Kamyen, chose various shades of quartz, sapphires, opals and coral to decorate its jewellery. Angel Jewels focused on complex design in which the main appeal was the decorative elements, attracting all the attention and outshining the gemstones.
It's no secret that gold plays an essential role in Indian jewellery, and therefore many customers pay attention to the weight of the precious metal when purchasing. At IIJS I became acquainted with a multitude of brands for whom gold played the leading role in their designs - in the forefront on my memory are bracelets and chokers from Mamraj Mussadilal Jewellers from Hyderabad, made using the nakshi technique of sculpting gold. Every piece is created by hand over 4-5 months to mould the precious metal into the desired shape. PGP Joyeria presented jewelled gold collars which cover much of the neck and chest in an ornate pattern. In these pieces, the complex gold work spoke for itself, whilst the coloured gemstones and enamel decoration complemented – rather than dominated – the design.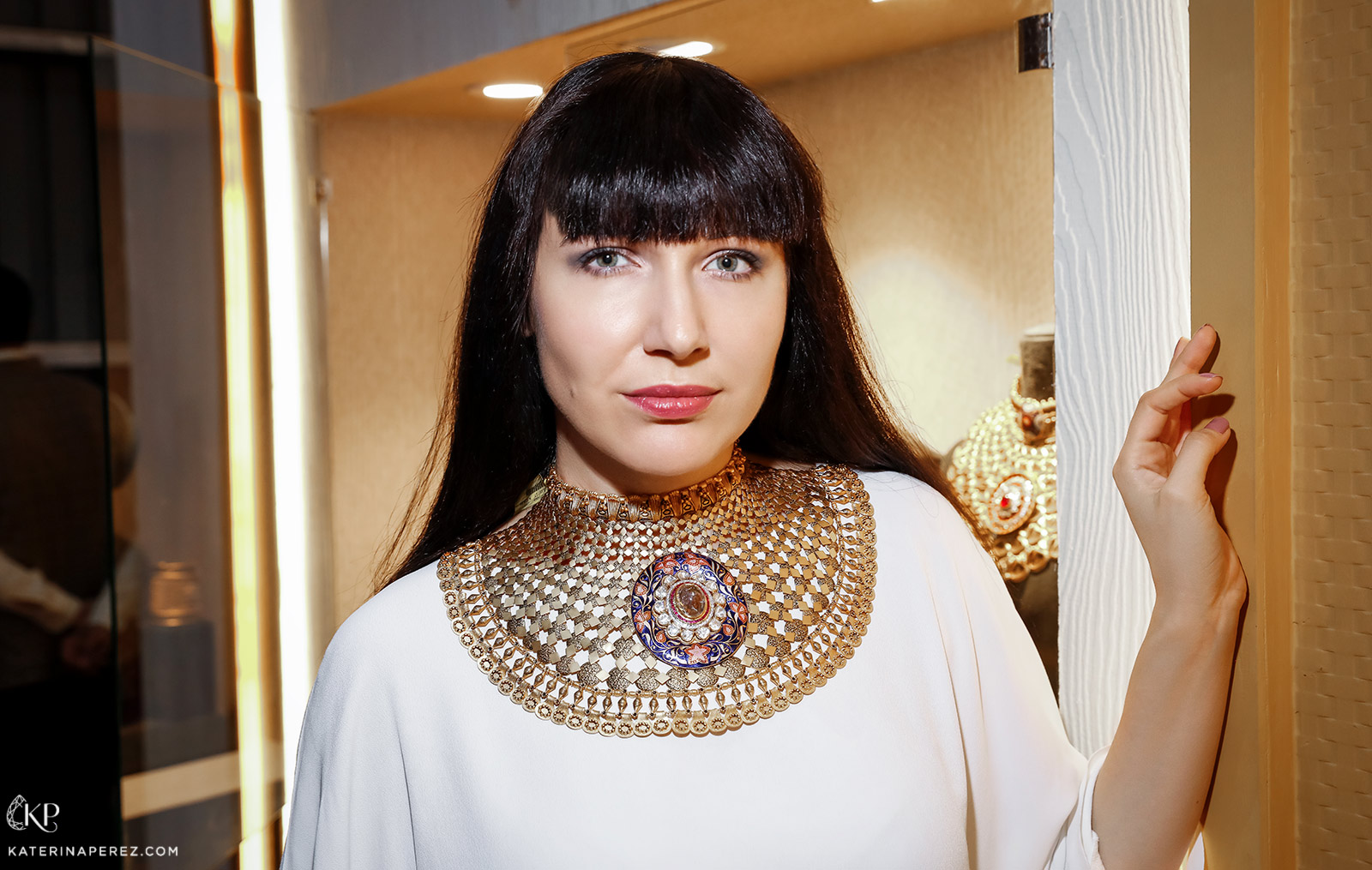 Needless to say, a multitude of participants did their best to stand out from the crowd and draw the visitors' attention to their display of unique creations. For example: many stopped at the RAJ Jewellers windows to admire a gold bustier decorated with flowers and enamel birds. Kulthiaa Jewels attracted people with its embodiment of the Taj Mahal – a luxurious necklace with mother-of-pearl, sapphires and diamonds, and Anand Shah surprised spectators with a new collection of gold jewellery incorporating large pendants made from glass.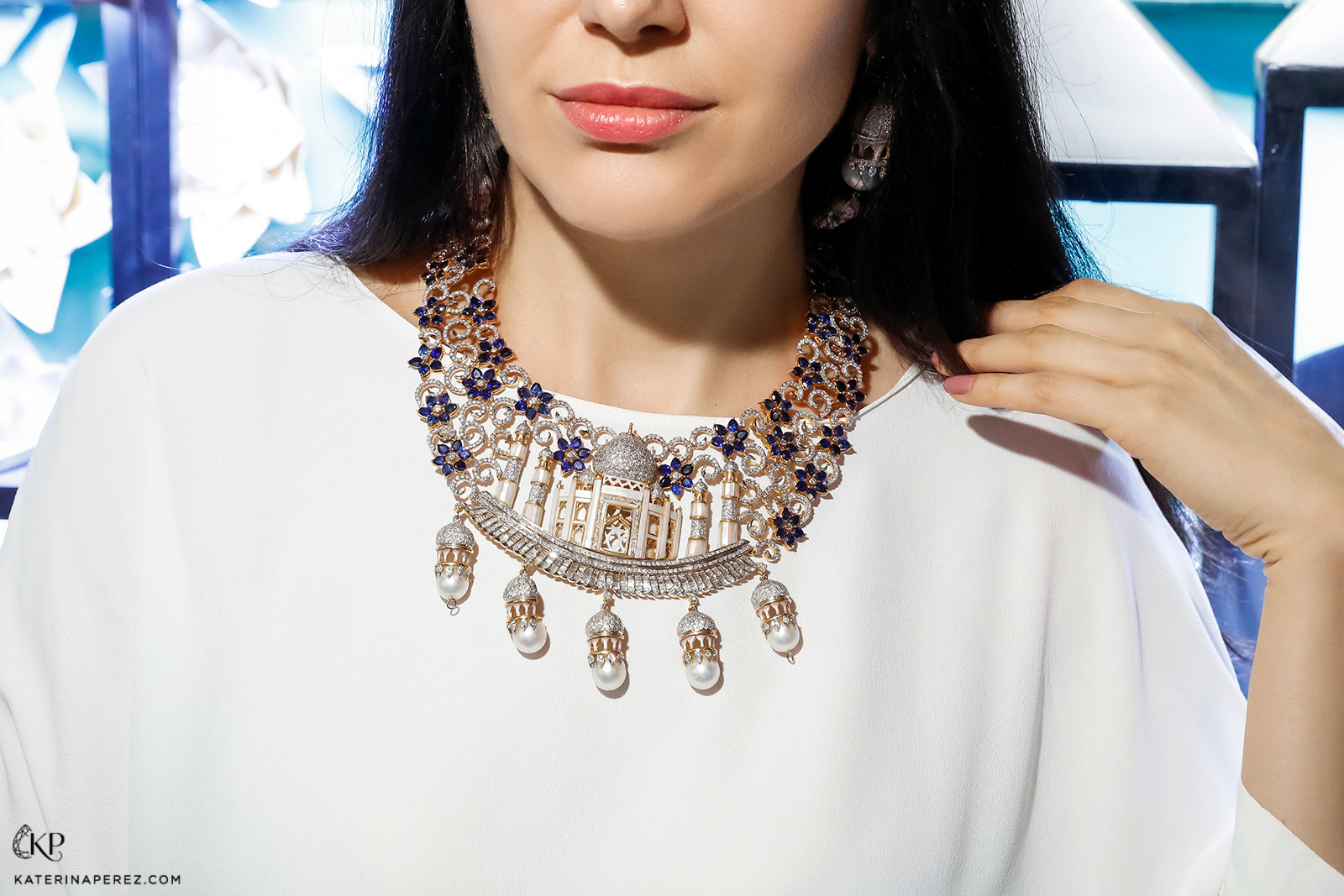 I had just two days to acquaint myself with the plethora of jewellers at IIJS and gather my impression of the exhibition, so I viewed the displays quickly, and lingered only at the most interesting and well curated presentations. Because IIJS is a trade show, participants might have the impression that the beautiful presentation of jewellery in vitrines is not of paramount importance, however I feel that those who have precious pieces in undecorated glass cases and employing poor lighting are essentially devaluing what they present. As they say, "dress for success!"
I hasten to mention another important aspect of IIJS, which is the educational seminars held for the exhibition's visitors. Everyone was able to listen to talks on a spectrum of topics related to the jewellery industry, such as: trading opportunities in different markets, creating jewellery from conception to manufacture, and the effective use of social networks for marketing and brand value. Next year, I will definitely be returning to IIJS in Mumbai, and I may even be holding a seminar on how to succeed in online marketing. Stay tuned!