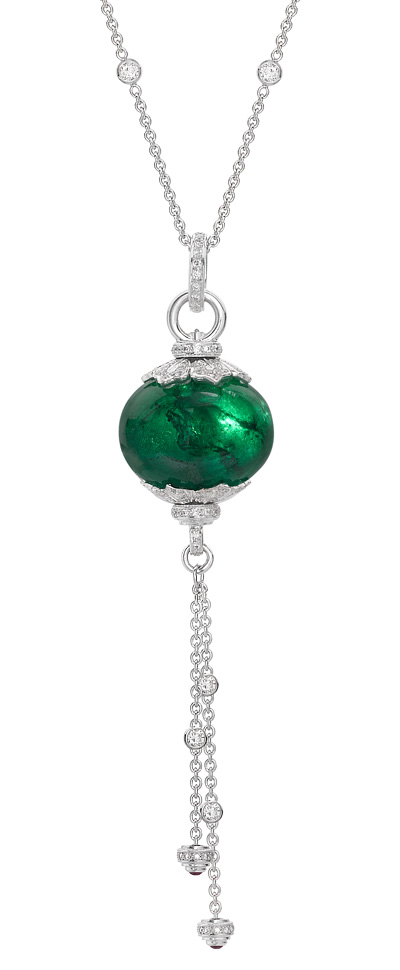 Shaun Leane, Fabergé, Alexandra Mor and many other designers have used magnificent Zambian emeralds, processed by Gemfields, to create unforgettable, single edition creations. They have all done this in their own way but all the pieces have one thing in common: a precious, rich green beryl.
Theo Fennell has also succumbed to the gorgeousness of this stone; only recently was a simple frame handmade at his Fulham Road workshops for a ring and a pendant with an emerald bead. Despite the minimalist design, Fennel wonderfully handled the task of displaying the internal workings of the stone and its beauty.
With the ring, he has drawn attention to the 38.70 carat beryl sphere. He has crowned it with a miniature 0.42 carat ruby cabochon and around the base are six white gold petals encrusted with diamonds. It's hardly a modest, everyday piece of jewellery; it could happily be worn on special occasions.
The ring is all the more effective when looked at together with the emerald pendant which looks like a ripe gooseberry. At 65.30 carats, the stone in the pendant is almost twice as big as the one in the ring. To make for a more harmonious composition, diamond and ruby tipped pendulum-like chains are fixed to its base.
Despite the fact that Columbian beryl is the paradigm of an emerald's beauty, their cousins, mined by the British company Gemfields in Zambia, are not far behind. What's more, Zambian stones contain fewer natural blemishes and their green colour not only spreads evenly across the whole stone, it also usually glows with an attractive blue tint.
Add to all that the fact that every Gemfields stone is extracted in environmentally friendly conditions and without any damage or loss caused to those who live near the mines. That's how the owner of a Fennell jewel can hold in his or her hand a symbol of the wonderful union between a talented designer and an exemplary mining company. KP
Photos courtesy of Theo Fennell