The Tie & DIOR jewellery collection comprises over 100 pieces and stylistically is an evolution of both the Gem Dior and Dior et Moi high jewellery collections, which combine abstract forms with clusters of stones that appear as colliding masses of colour. The colour palette was revisited and refreshed for this new collection in the tie-dye style most famously associated with the 1970s and 80s.
"I started thinking about the play of colour in tie-dye designs. The images that came to mind were mainly of large spots, spreading out like ink on blotting paper. It's also, of course, a game of movement, with bright, contrasting colours separated by colourless diamonds," explains Victoire.
If you haven't yet encountered the term, tie-dye is the name given to a fabric-dying technique that entered the global consciousness largely thanks to the hippie movement. In the early 1960s, the movement swept through the United States, spread by "flower children" who promoted a lifestyle freed from the straight jacket of societal norms. They sought to return to a sense of natural purity through their ethos of peace and love. This was, of course, reflected in their music, jewellery, fragrances and the patterning of their clothes. The rich colours and paints, inspired, in part, by African clothing, became a daring and, at times, shocking response to the greyness of everyday life.
Here, the tie-dye technique has been reimagined as high jewellery, but it first appeared on the runway in Dior's women's collection. The light-hearted yet bold compositions of colours are indicative of a new dimension to Victoire de Castellane's creativity, and the boundless craftsmanship of Dior's jewellery workshop.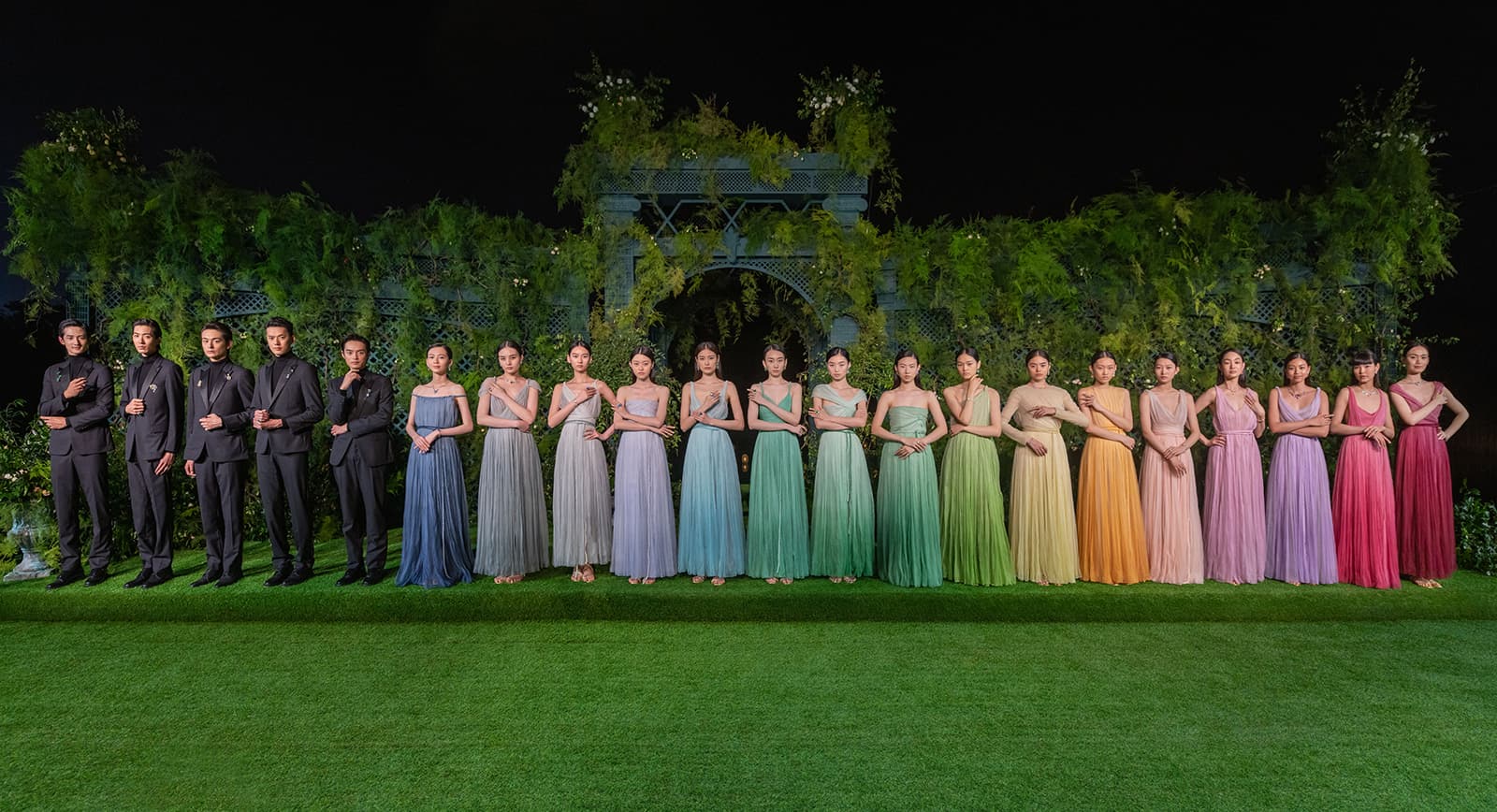 Once Victoire de Castellane had completed the Tie & DIOR gouache paintings, the team proceeded to the next stage in preparing the collection. Having created life-size prototypes of rings, bracelets and earrings, rather than using real precious stones and pearls, they embellished them with faux gemstones so that the craftspeople could accurately imagine how the precious creations would look once they had been brought to life.
"For the launch of the collection, I met with Maria Grazia [creative director of Dior] and showed her my designs," says Victoire. "I explained the theme of the collection to her and she prepared the dresses – at first not in multicolour but instead making use of a gradient of a single colour." At the presentation in Shanghai, models wore Maria Grazia Chiuri's colourful dresses, accessorised with these virtuoso jewellery pieces set with exceptional pear cut stones, alongside marquise and oval cuts gems in shades from pink to white, from green to grey, as well as pearls of various shades and sizes.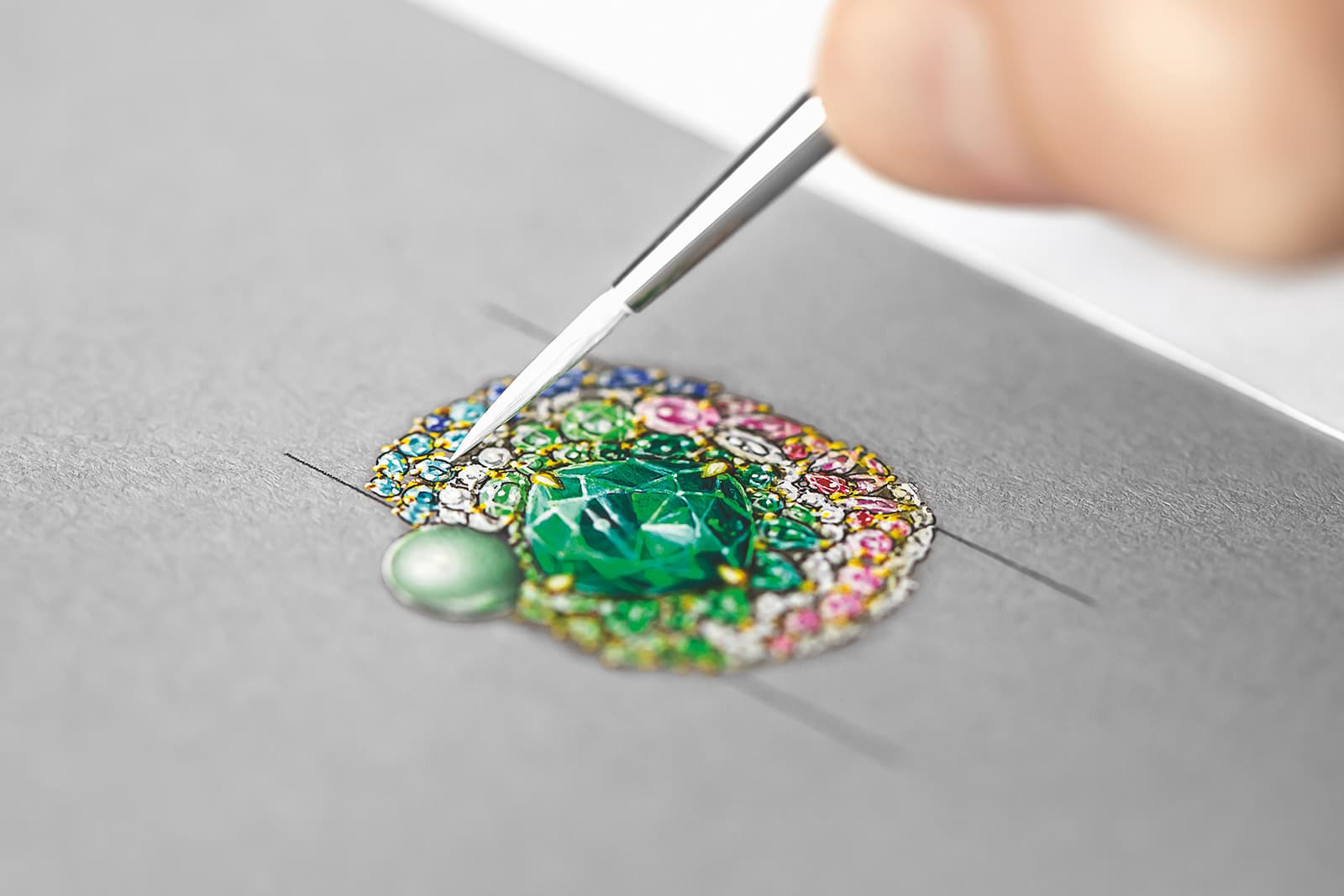 A quick aside – thanks to Victoire de Castellane, the pearls in Tie & DIOR are set in a rather surprising manner: off-centre, in ultra-modern designs including some wonderful asymmetric earrings. The mysterious shimmer of the perfectly smooth pearls enhances the colourful intensity and brilliance of rubies, sapphires, emeralds and grey spinels.
"I found a truly unique colour in Tahitian and Australian pearls, and I wanted to treat them accordingly. What I really like about them is that, all of a sudden, one sees a vast sphere amidst the more delicate stones," Victoire comments.
The Tie & DIOR collection continues Victoire de Castellane's exciting journey into the heart of style, colour and abstraction, which makes me wonder: what does she have in store next?