Within the mammoth 99 piece 'Gem Dior' collection which commemorated the 20th year of Victoire de Castellane's position as Creative Director of Dior Joaillerie, one watch hid underneath a kaleidoscope of gemstones. A cluster of emeralds can be moved to the side reveal a watch face, nestled amongst a plethora of gems: emeralds, sapphires, rubies, diamonds and even a large emerald cut tanzanite. True to the vision of the collection, this watch blends seamlessly in with the many colourful jewels which the doyenne of Dior dreamed up.
Another secret watch is found in Cartier's 'Magnitude' collection. Dedicated to gemstones that are rarely used in jewellery, yet they hold the world's memories and reveal the mystery of our planet. Called is the 'Sorelli', this unique timepiece is embellished with a statement rutilated quartz hiding the dial, while the art deco style bracelet is entirely covered in colourless diamonds set in white gold.
Buccellati are known for their dedication to complex, lace-like motifs and ornate embellishment, which became a part of their latest 'Bluebell' jewelled watch. The vivid blue and green guilloché enamel is the background for trefoil patterns paved with 897 diamonds totaling 11.35 carats. A complex exercise of mastery and creativity, this timelessly elegant watch represents Buccellati's gradual departure into colour.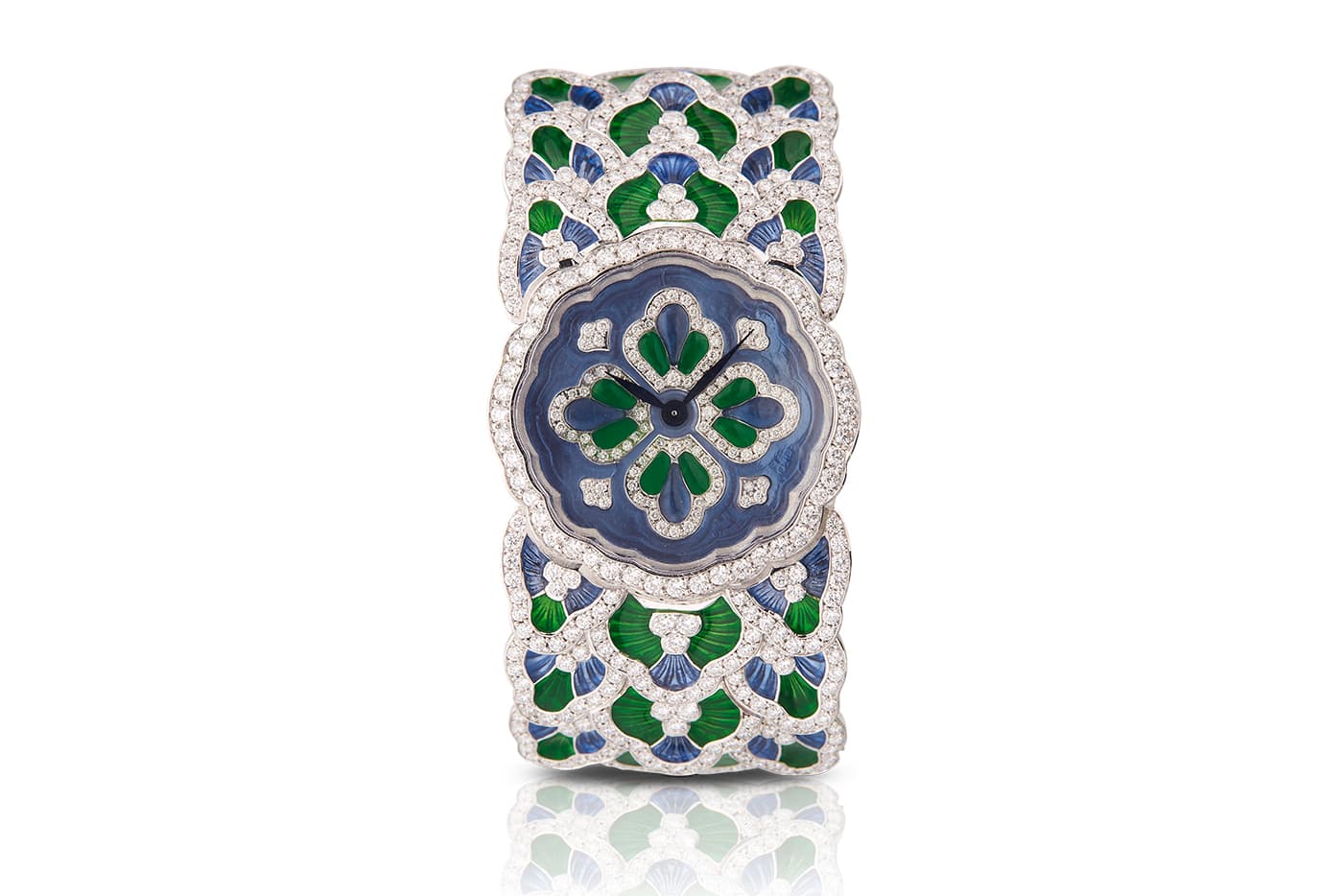 A classic looking watch design has become a part of Boucheron's 'Paris Vu Du 26' high jewellery collection. Called 'Montre Feuilles D'Acanthe', the tourbillon is crafted in white gold and embellished with a diamond - studded acanth motif weaving over the blue dial. The watch face is surrounded by further custom cut baguette diamonds that complete the luxurious watch. The naturalistic form, which the central motif takes, alludes to inspiration from acanth decoration seen on columns around Paris.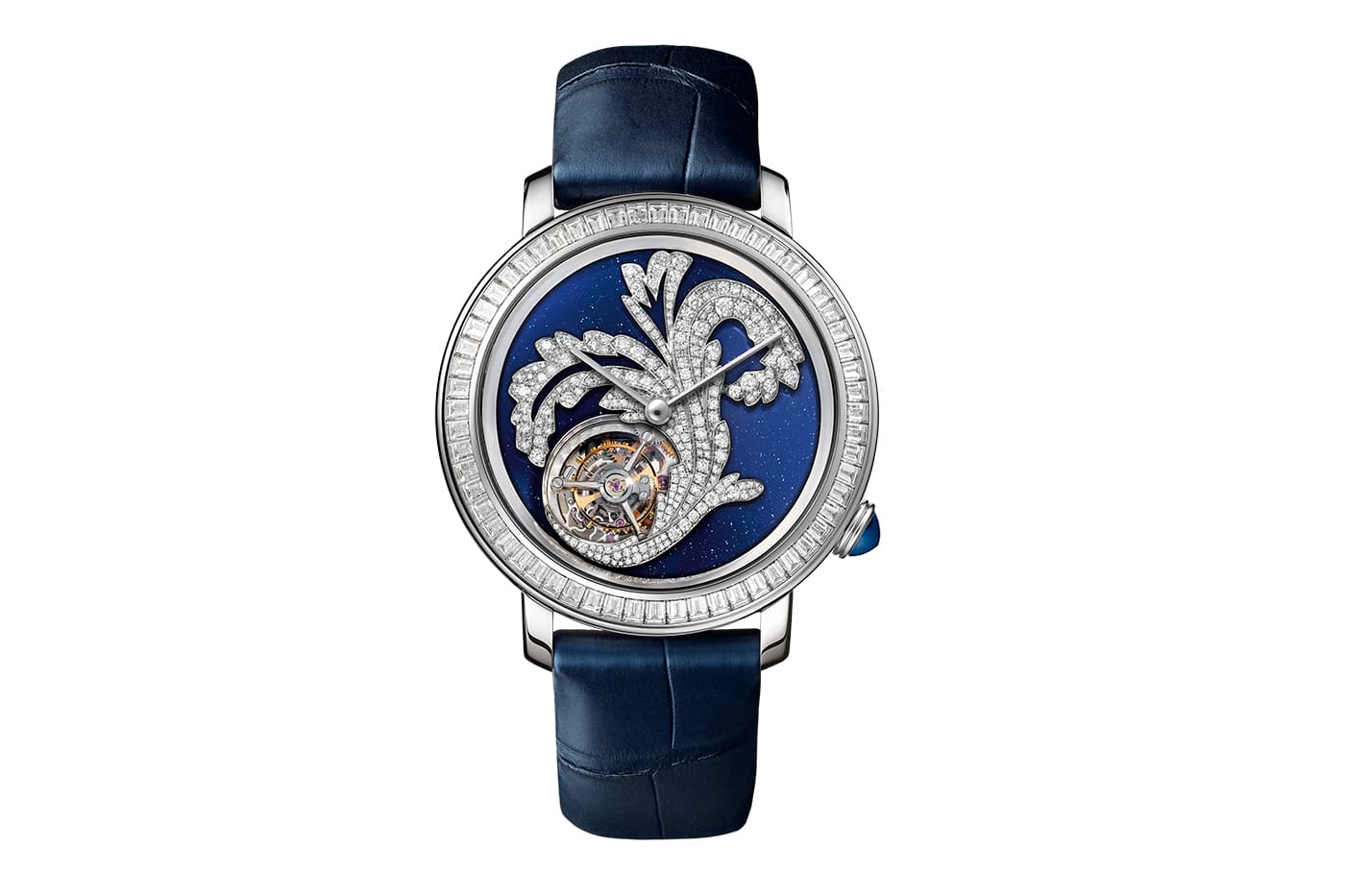 Chaumet's 'Les Ciels de Chaumet' collection is dedicated to the beauty of the sky in its many 'moods'. It is vibrant of precious materials and forms representing a feminine artistry which is always timeless, season after season and which this Maison is known for. There were five watches in the collection: two tourbillons 'Lueurs d'Orage' - one in a blue colourway and one in a pink one - and a line of three tourbillon 'Soleil de Minuit' in either a palette of red, blue or yellow enamel dials.
Piaget presented a few very different watches during Paris haute couture week as a part of their 'Golden Oasis' collection. Inspired by the mysterious curves of a breath-taking desert landscape, it captures the vivid light and intense hues from dusk till dawn. The jewelled timepieces showcase a variety of jewellery techniques and some of them incorporate signature design elements of Piaget such as fine engraving on gold bracelets and marquise cut gemstones.
These exceptional watches effectively showcase the pinnacle of fine jewellery watchmaking, while exhibiting the aesthetic signatures of each individual maison.