You might already think at this point that I am wrong defining this trend as new since sautoirs have been a part of high jewellery collections for years. However, the difference between the traditional long necklaces, often finished with a tassel, and the ones I am going to talk about in this article lies in the fact that they look more like long chains with very intricate links. Some of them are more traditional and look like links paved with diamonds, others are embellished with complex design motifs and showcase the intricacy of jewellery making. In any case the necklaces in this article look anything, but the conventional link chains finished with a pendant or sautoirs styled in the traditional 1920s look.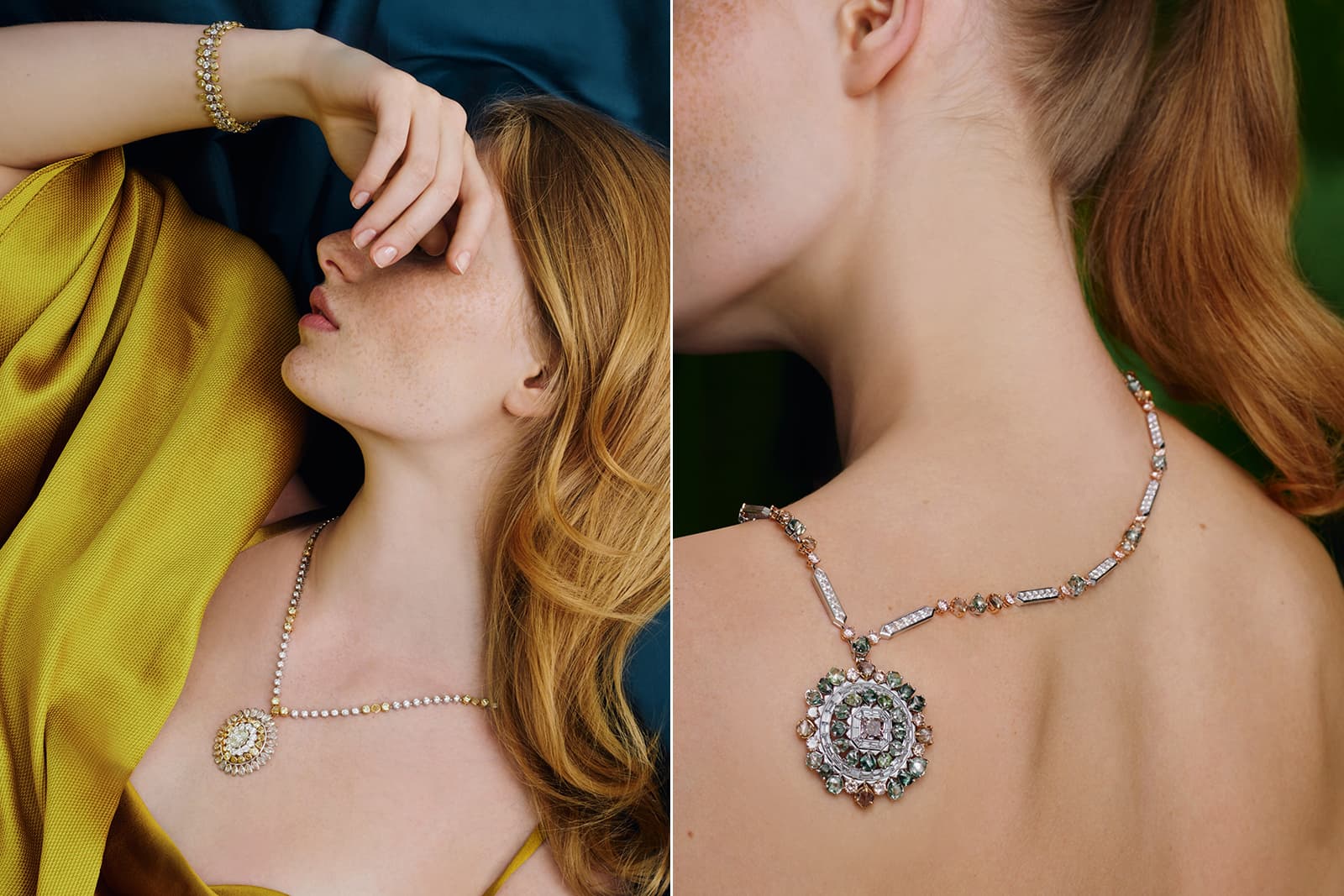 This summer De Beers introduced 'Portraits of Nature' high jewellery collection comprised of 5 diamond sets dedicated to 5 inhabitants of fauna world: 'Knysna Chamelon', 'Chapman's Zebra', 'Electric Cichlid', 'Monarch Butterfly' and 'Greater Flamingo'. It is fair to say that each of them was the perfect representation of the trend that this article is dedicated to. Fashioned as long necklaces, these jewels were finished with a round medallion with a different motif laid out in colourless and fancy colour diamonds. Incidentally, we have seen medallions in multiple De Beers collections in the past, so maybe it is fair to say that this has become the brand's signature design motif?
Piaget introduced a less intricate version of a long chain necklace as a part of the latest 'Golden Oasis' collection. The centre motif was shaped as blazing sun with rays of light in 18 karat engraved yellow gold radiating in all directions around the round brilliant diamond in the centre. Another minimalistic design comes courtesy of David Yurman in a form of a long chain with links that are entirely paved with miniature diamonds. The 'cherry on top' is the pendant with a cushion cut yellow sapphire that harmoniously finishes the piece.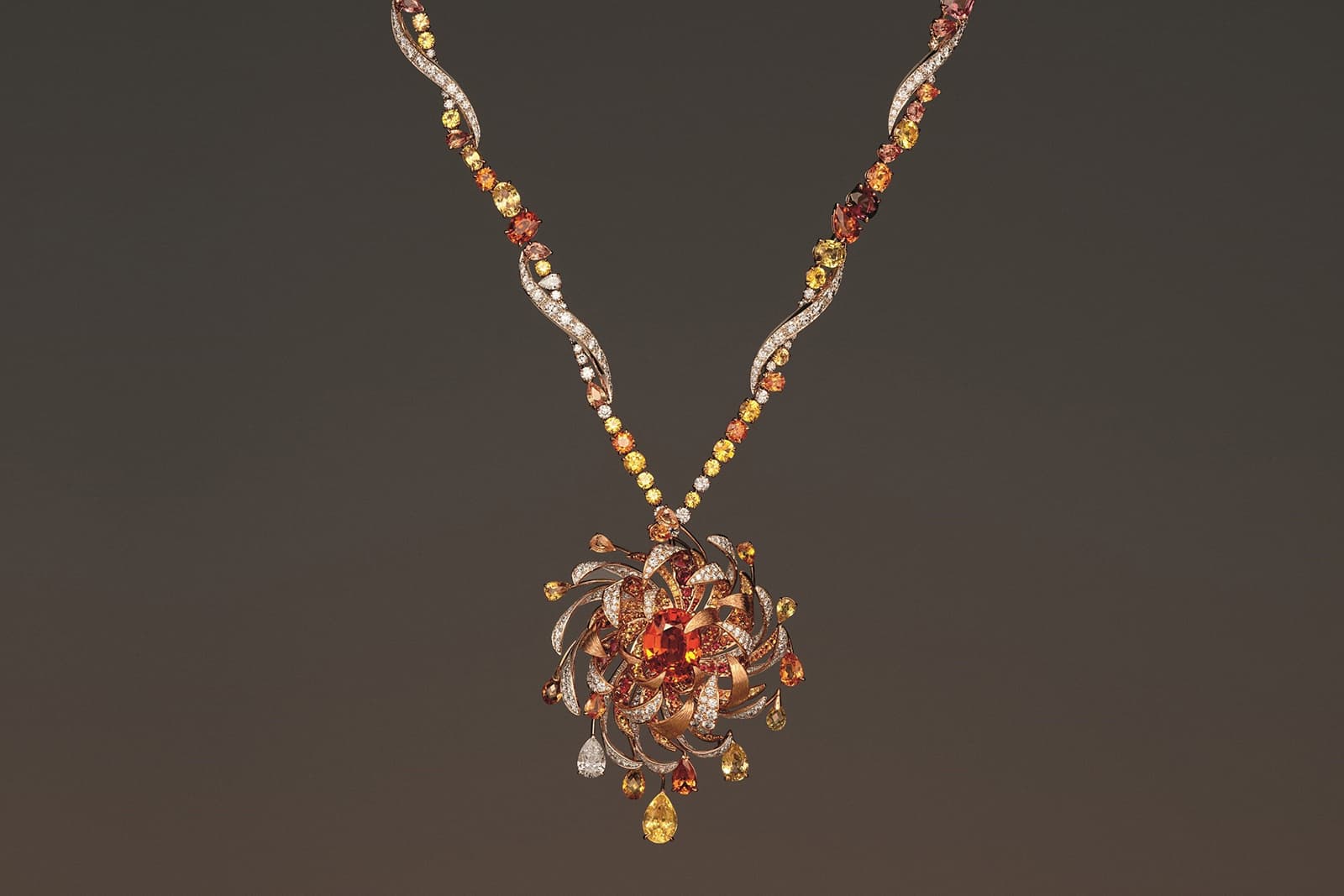 Chaumet also introduced the long pendant necklace within their 'Les Ciels de Chaumet' collection. It is embellished with yellow sapphires from Madagascar, Ceylon padparadscha sapphires, diamonds, yellow sapphires, spinels, Mandarin garnets and orange sapphires, all set in a rather complex design. The same intricacy is evident in the diamond sautoir by David Morris whose design features signature leaf motifs in rose cut diamonds alternating with round brilliant pink diamond. The floral motifs curve around the neck descending down to a G colour pear shaped diamond of 6.46 carats further complemented with more pink diamonds.
"Be the ultimate scene-stealer, this necklace will ensure all eyes are on you," says the caption on Bulgari's Instagram account next to the photo of a long necklace from the 'Cinemagia' high jewellery collection - and rightfully so. The design of this magnificent piece is built around an oval mandarin garnet that is set in the heart of a medallion embellished with amethysts, diamonds and turquoise.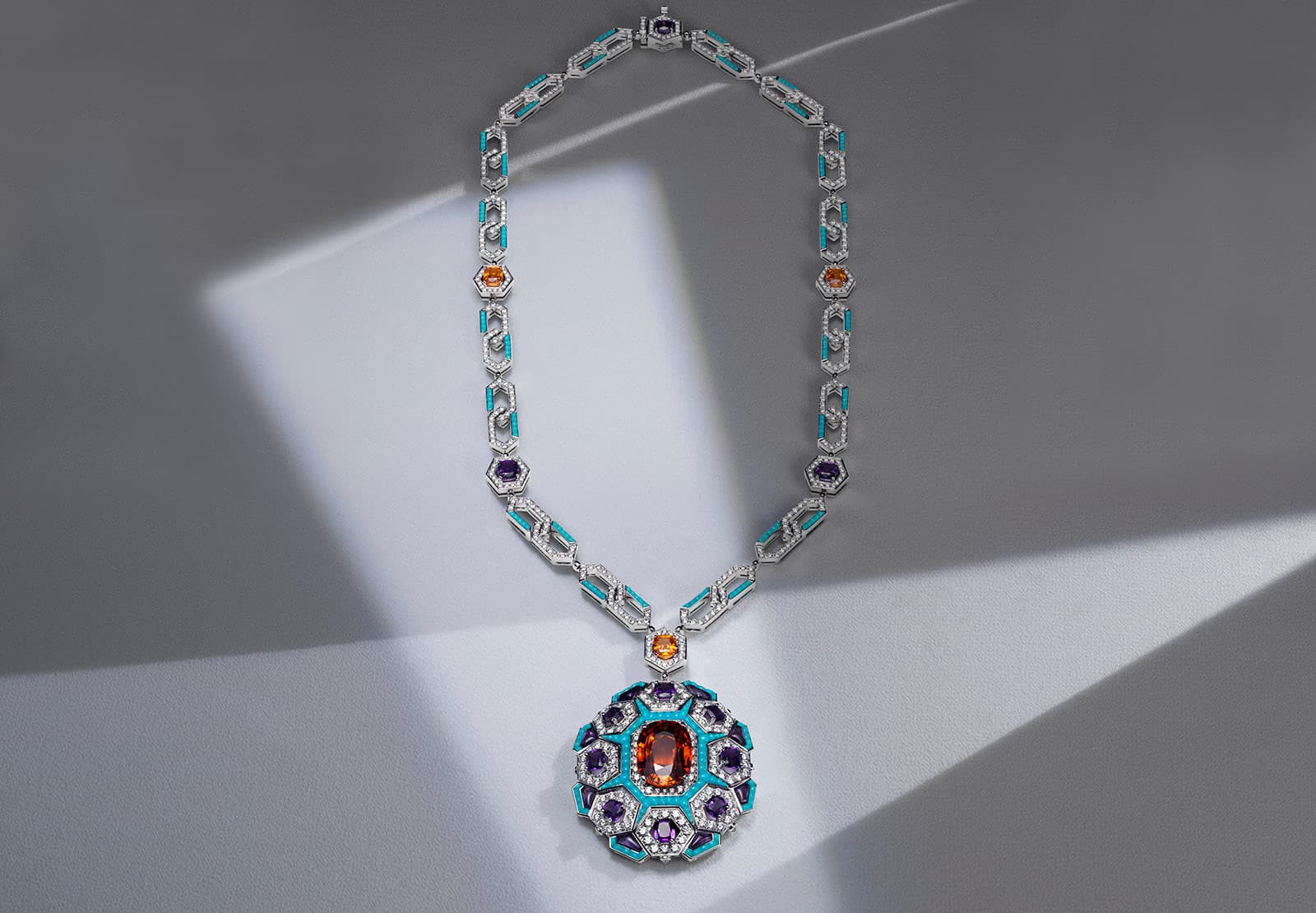 One long sautoir which defies expectations is the NUUN 'Thunderbolt' necklace from 'El Hada' collection. The design exhibits 60 step cut sapphires in multiple fancy colours totaling 60 carats and multicoloured hand-painted lacquer on 18 karat gold. It can be worn as a pendulous necklace, or wrapped around the neck multiple times to create different looks.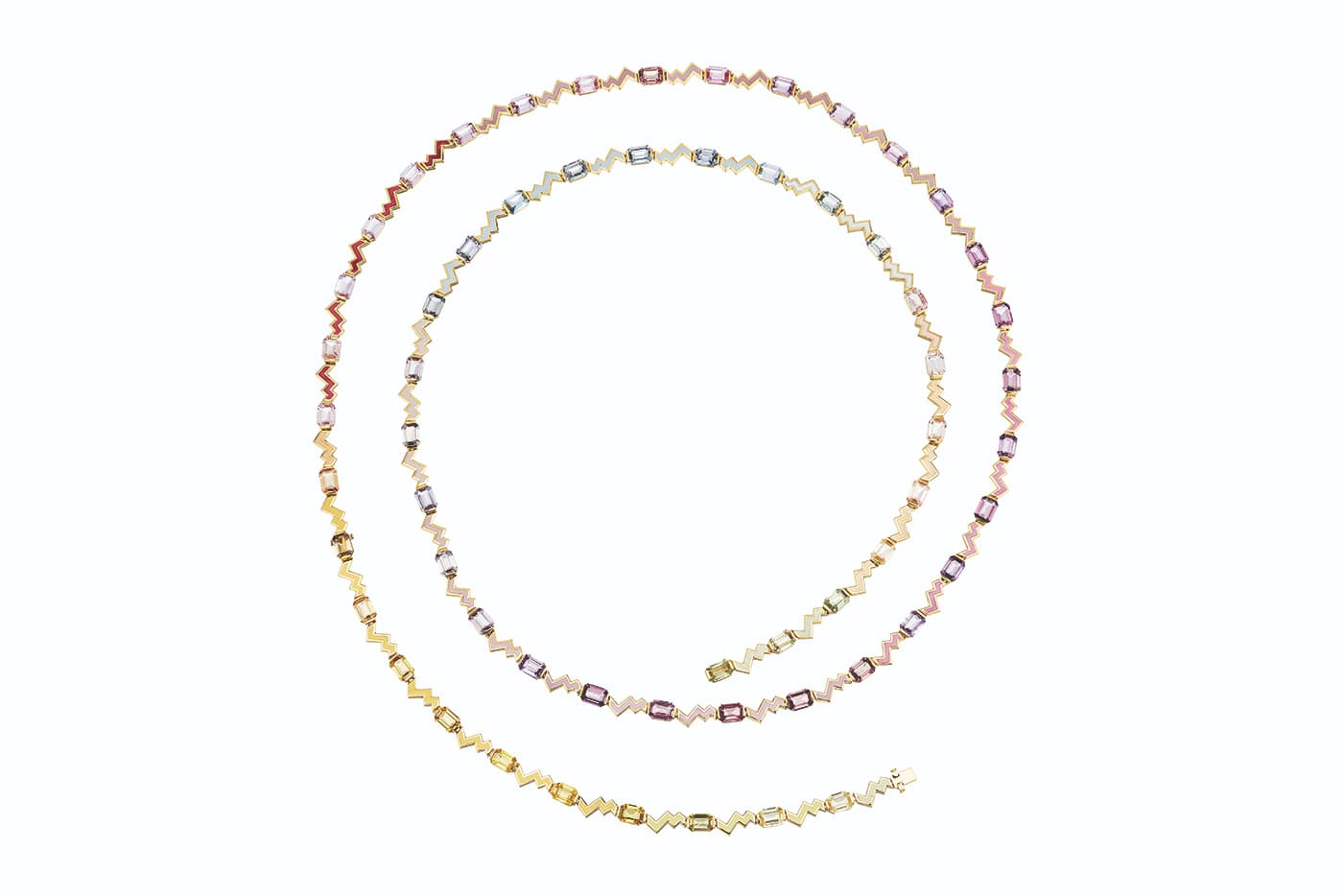 And the last but undoubtedly not least, I want to bring your attention to the transformable 'Verona' necklace from 'Romeo and Juliet' collection by Van Cleef&Arpels. With its graphic lines in sapphires and diamonds, it evokes the architecture of the eponymous city while the interlinked elements forming round and geometric shapes remind of the necklace style typical for the Renaissance.
This new way to wear necklaces takes fine jewellery into a whole new realm, where jewels can be the focal point of the entire torso and have the power to completely update the simplest of outfits into a current look worthy of the most fashionable event.