I can't think of a better way to draw a crowd at Paris Haute Couture Week than with impressively large gemstones. At the most recent seven-day extravaganza in January 2023, we were presented with several gems with bulging carat weights. Below, you'll find a list of the biggest, boldest and most beautiful gems worthy of your attention…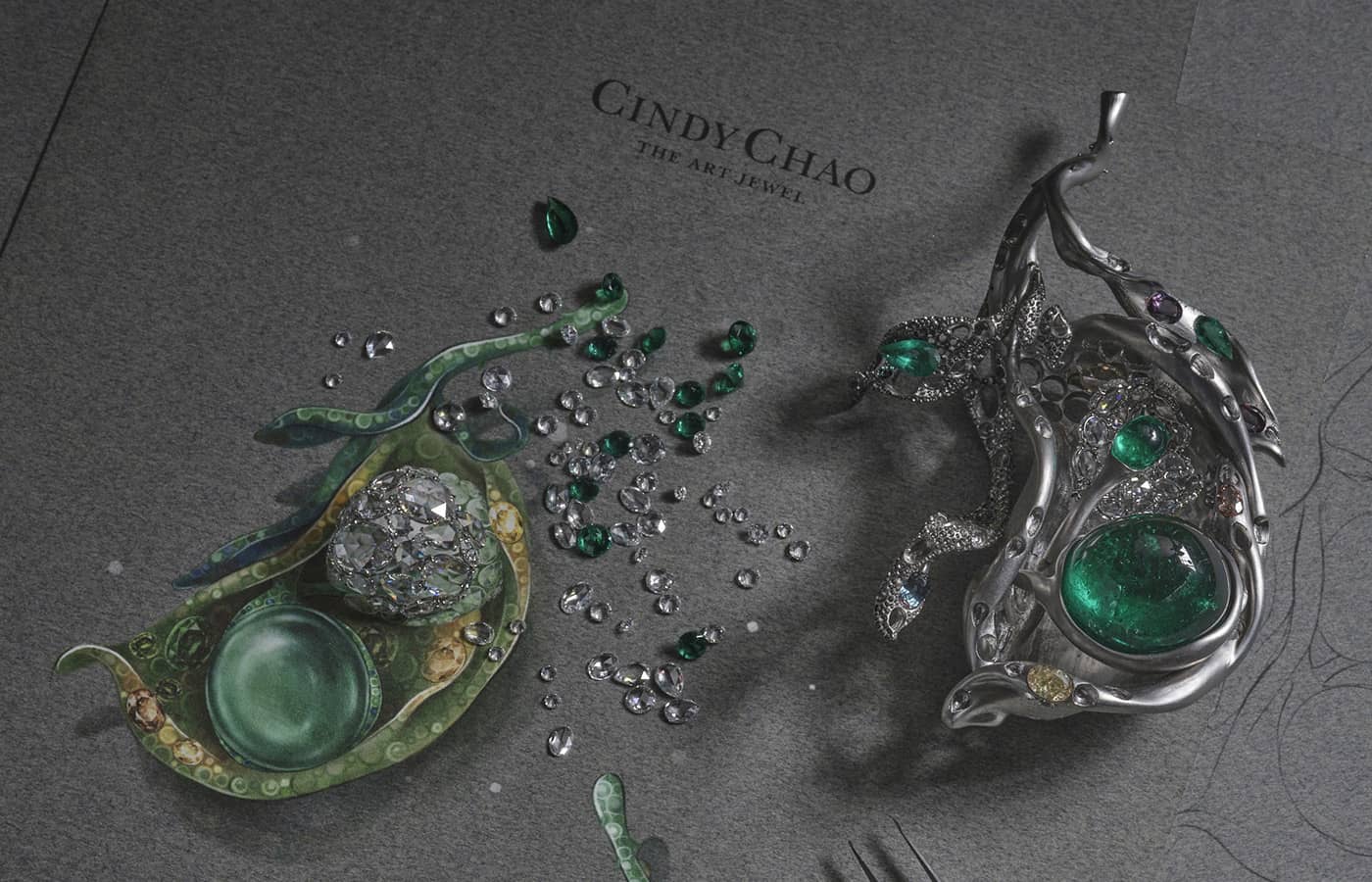 Buccellati Macri Color High Jewellery Collection
Milanese jeweller Buccellati's latest high jewellery collection Macri Color was filled with gobsmackingly large cabochon and faceted gemstones. In particular, Buccellati created three pieces with gems of impressive size: the Macri Color pendant necklace with a 10.91-carat faceted garnet set in 18k yellow gold, a pagoda-like oval cocktail ring with a 12.69-carat moonstone cabochon and a smattering of pavé diamonds and emeralds, and a cocktail ring with brushed white gold and a hefty 10.74-carat kunzite.
Chopard Exceptional Stones High Jewellery Collection
This Couture Week, Chopard invited us to use our imaginations by presenting a selection of loose gemstones that will be set in the next phase of its Exceptional Stones High Jewellery collection. The presentation began with a pair of vivid yellow, oval-cut Ceylon sapphires of 151.19 and 127.70 carats, respectively. Perfectly matched in colour and both of excellent clarity, these two stars are destined to become part of a high jewellery set, including a ring and a matching cuff. Next came a one-of-a-kind 26.70 carat 'Royal Blue' sapphire, which also hails from the gem-rich soils of Sri Lanka. This particular stone's destiny is yet to be determined.
Cindy Chao The Art Jewel Black Label Masterpieces
Master jeweller Cindy Chao did not disappoint! Her artistic interpretation of nature through gemstones was one of the great highlights of Couture week. New to the Black Label Masterpieces collection were a set of Spring Cardamom brooches inspired by freshly sprouted cardamon pods. These three-dimensional pieces each feature a spectacular 81-carat cabochon Colombian emerald, which are extremely rare in size and quality. These two protagonists are brought to even higher heights using yellow diamonds, brown diamonds, tsavorites, demantoids, colour-changing garnets, alexandrites and green sapphires.
David Morris Skylines High Jewellery Collection
Skylines around the world were the source of inspiration for David Morris's latest high jewellery collection. Apply named Skylines, the London jeweller chose a variety of colour-packed gems to reflect the various shades of light as the sun rises and sets across the globe. The Meteora earrings evoke a 70s-esque style, with large pinkish tourmalines set amongst geometric shapes of black onyx and diamond pavés. Each of these rose-tinted gems has an individual weight of over 30 carats, totalling a whopping 60.66 carats.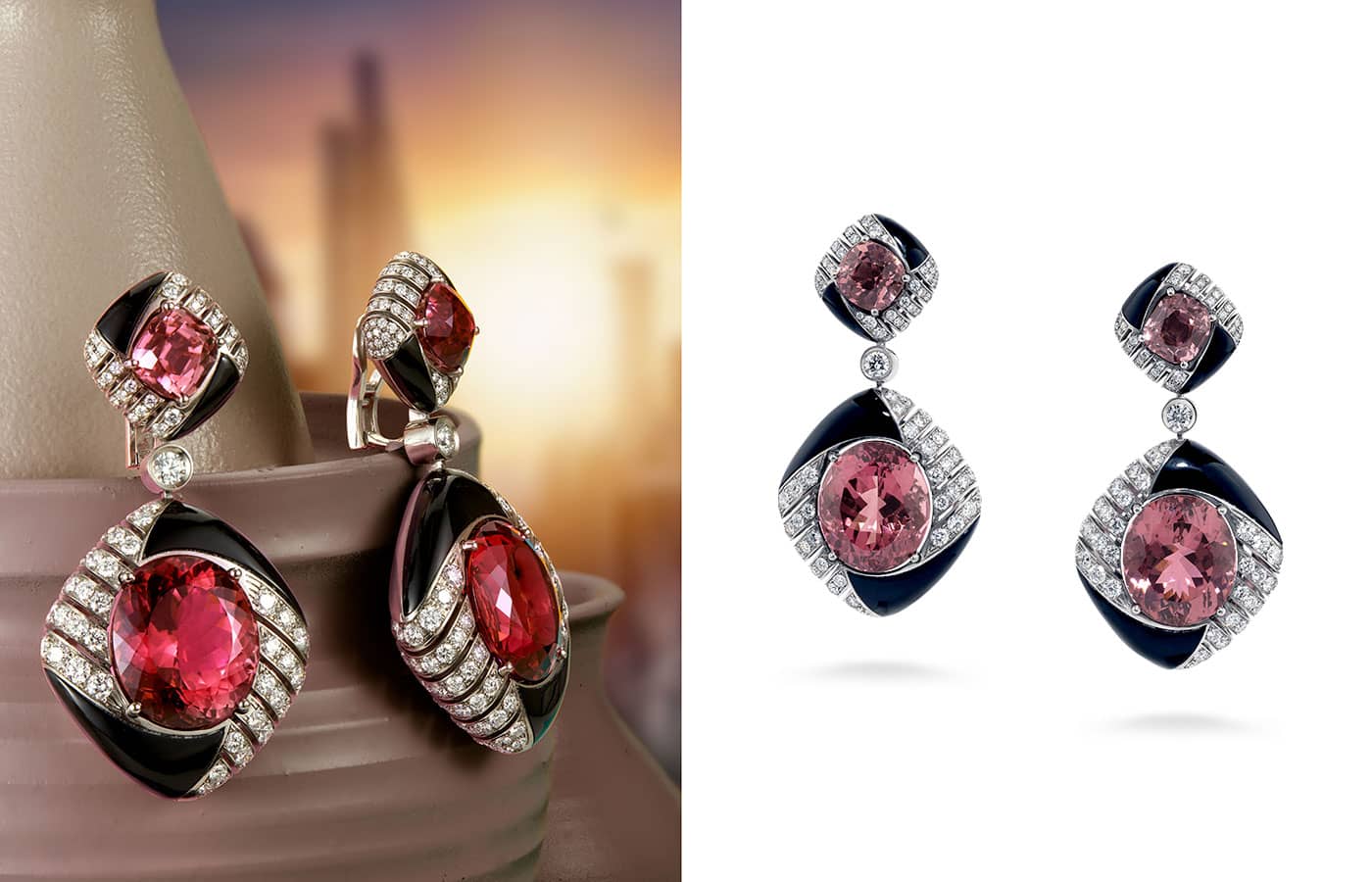 Gucci Hortus Deliciarum High Jewellery Collection – Part Three
Statement gems were the dish of the day at the launch of the third chapter in the Gucci Hortus Deliciarum High Jewellery collection. The new pieces were marked by traditional Gucci signatures such as audacious colours, pretty bows and regal lion heads. The arm candy on display featured some of the most jaw-dropping gems at Couture. One incredible light blue heart-shaped topaz weighing over 112 carats was set in a yellow-gold open-frame bracelet. An even larger 238-carat morganite was set into a dazzling diamond and yellow gold cuff. Two impressive heart-shaped tanzanites of over 10 carats were mounted on each side of the mammoth morganite. It is great to see such important stones set into arm wear, as traditionally, the more iconic stones have been featured in either high jewellery necklaces or rings.
Louis Vuitton Spirit High Jewellery Collection – Chapter II
This is Francesca Amfitheatrof's fourth high jewellery collection for the Maison. The Spirit High Jewellery collection recalls the life of brand founder Louis Vuitton through intricate pieces and larger-than-life gemstones. The Fantasy ring contains a 15.30-carat oval-cut yellow sapphire flanked by two LV monogram star-cut diamonds on either side. This piece is part of the Fantasy suite in which Amfitheatrof embodies her predecessor's creative genius to create a series of pieces in yellow gemstones and diamonds.
Lydia Courteille Love Story High Jewellery Collection
Lydia Courteille celebrates historical and mythical romances in her latest high jewellery collection, Love Story. The Jupiter and Ganymede ring tells the story of an important romance in the history of same-sex relations. The god Jupiter fell in love with Ganymede from Troy and transformed himself into an eagle to bring Ganymede back with him to Olympus so that they could be together. Featuring a wide array of ombré pink gems, the figure of Ganymede is represented as a 41.34-carat morganite held in the clutches of a bejewelled eagle. Another massive morganite is used to depict the love story of Leda, the wife of a Spartan king, and Zeus. The intaglio moganite in this piece weighs in at over 354 carats.
From mighty morganites to enormous emeralds, this Couture showed us big, bold, colourful gems to create some of the most extravagant and dazzling pieces yet. Let's hope July brings us just as many!