The two-storey boutique at 27 Burlington Arcade opened in March 2018 and is Azza Fahmy's first flagship retail store in the whole of Europe. Architect Meryem Ziyet of MStudio worked on the décor, creating a pleasing atmosphere in the soothing shades of beige, grey and bronze. These colours are perfectly combined with the gold and silver jewellery on offer, as well as gemstones that encrust them: diamonds, amethysts, smoky quartz, citrines, tourmalines, rubies, sapphires, and emeralds to name a few.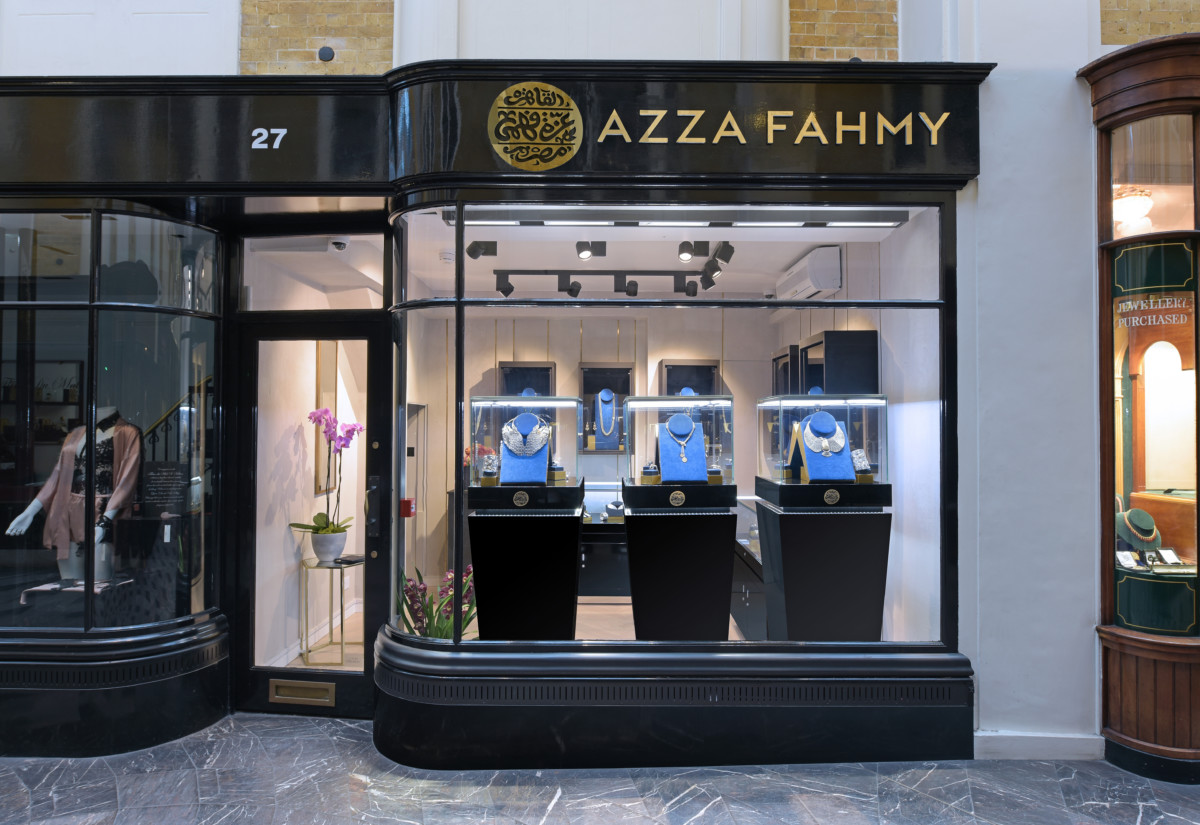 "We believe the façade is the envelope and when opened, it reveals an interior of richness, like a jewellery box," says Amina Ghali, daughter of the brand's founder and the Head of Design at Azza Fahmy.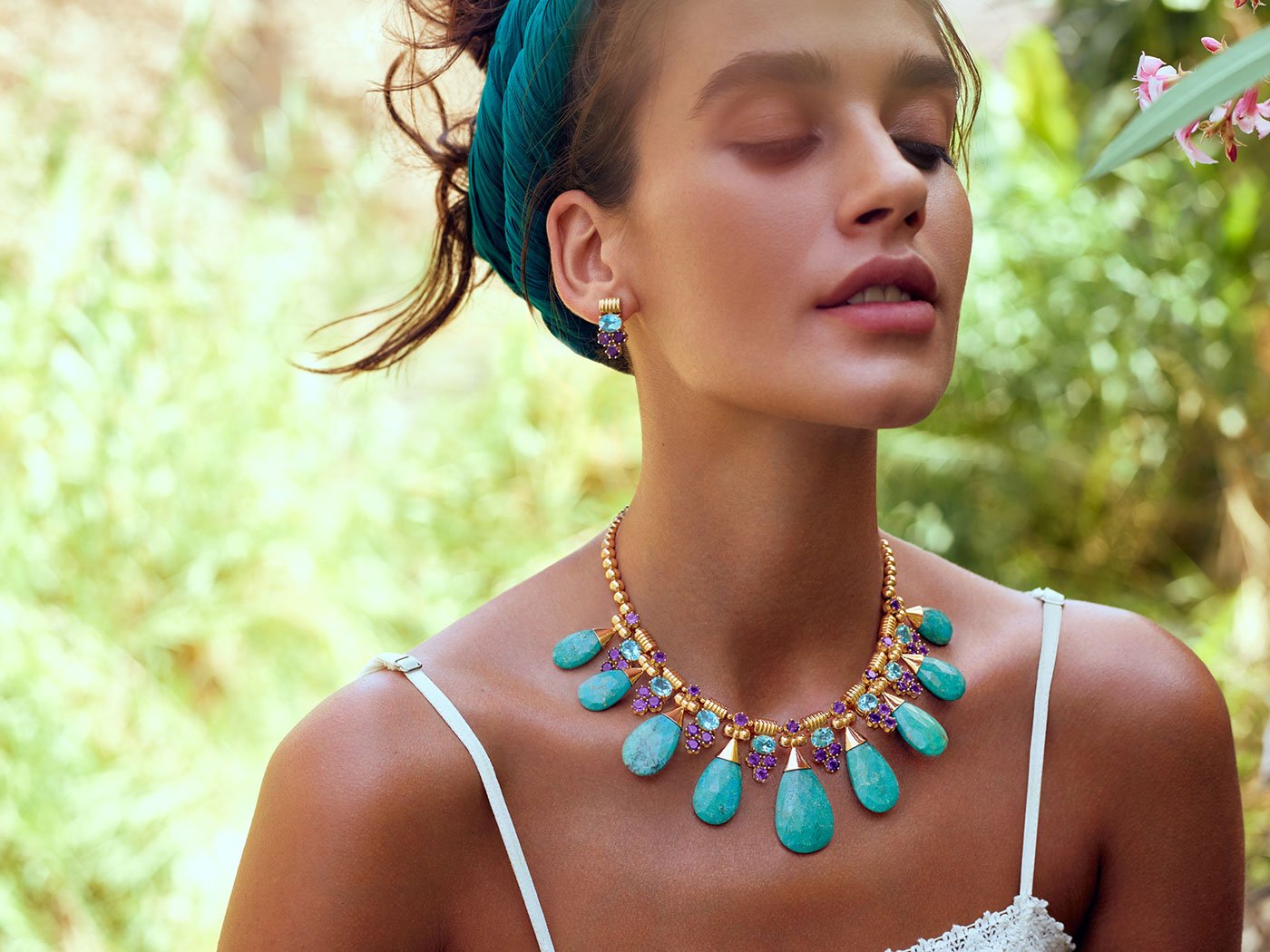 Upon entering the boutique, visitors will find themselves in a cosy salon, where permanent collections — Wonders of Nature, Talismans, The Gypsy — are presented, alongside the limited edition items. All the pieces bear the brand's motif and are the embodiment, in hand-crafted jewellery, of various cultures and genres of art from all the world. Unique jewels exhibit particularly complex designs, embodied in precious materials through the use of several Azza Fahmy signature techniques: the use of gold and silver in one piece, filigrée work, and metal engraving.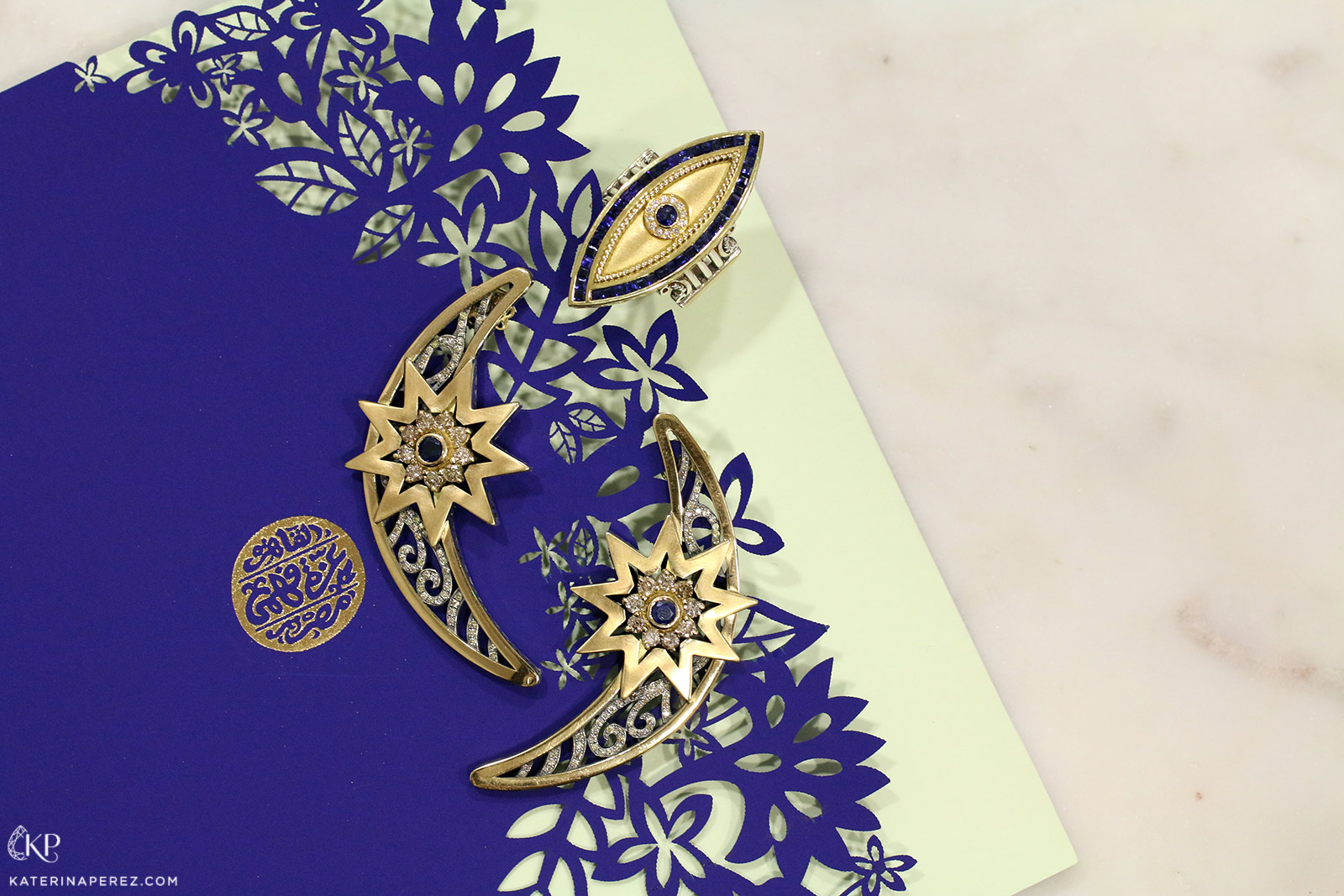 To the left of the boutique entrance, there is a staircase leading to a VIP showroom, where one can discuss bespoke orders, as well as try jewellery on in a more relaxed atmosphere. It's there that a tray with the latest pieces from The Gypsy collection was waiting for me. It turns out that Amina drew on inspiration from the cultures of several different countries while designing earrings, bracelets, rings, and necklaces. While trying them on I felt as though I had taken a magical journey through the deserts of Egypt, the plains of North Africa, India, South Asia and even along the terres of the Ottoman Empire.
The Gypsy collection is comprised of jewellery that is bold and statement. Among hero pieces you will find bracelets and necklaces with charms. Every woman has her own style, her unique idea of the perfect piece of jewellery and with this in mind Amina allowed herself complete artistic freedom when deciding on the design and style of the jewellery line. In The Gypsy, she decorated some pieces with flowers, and others with geometric patterns or arabesque. All the pieces are so different from each other, and yet so connected by a single creative idea that they can be easily mixed and matched. This approach to creating jewellery in the permanent collections has already established itself as Amina's design "signature".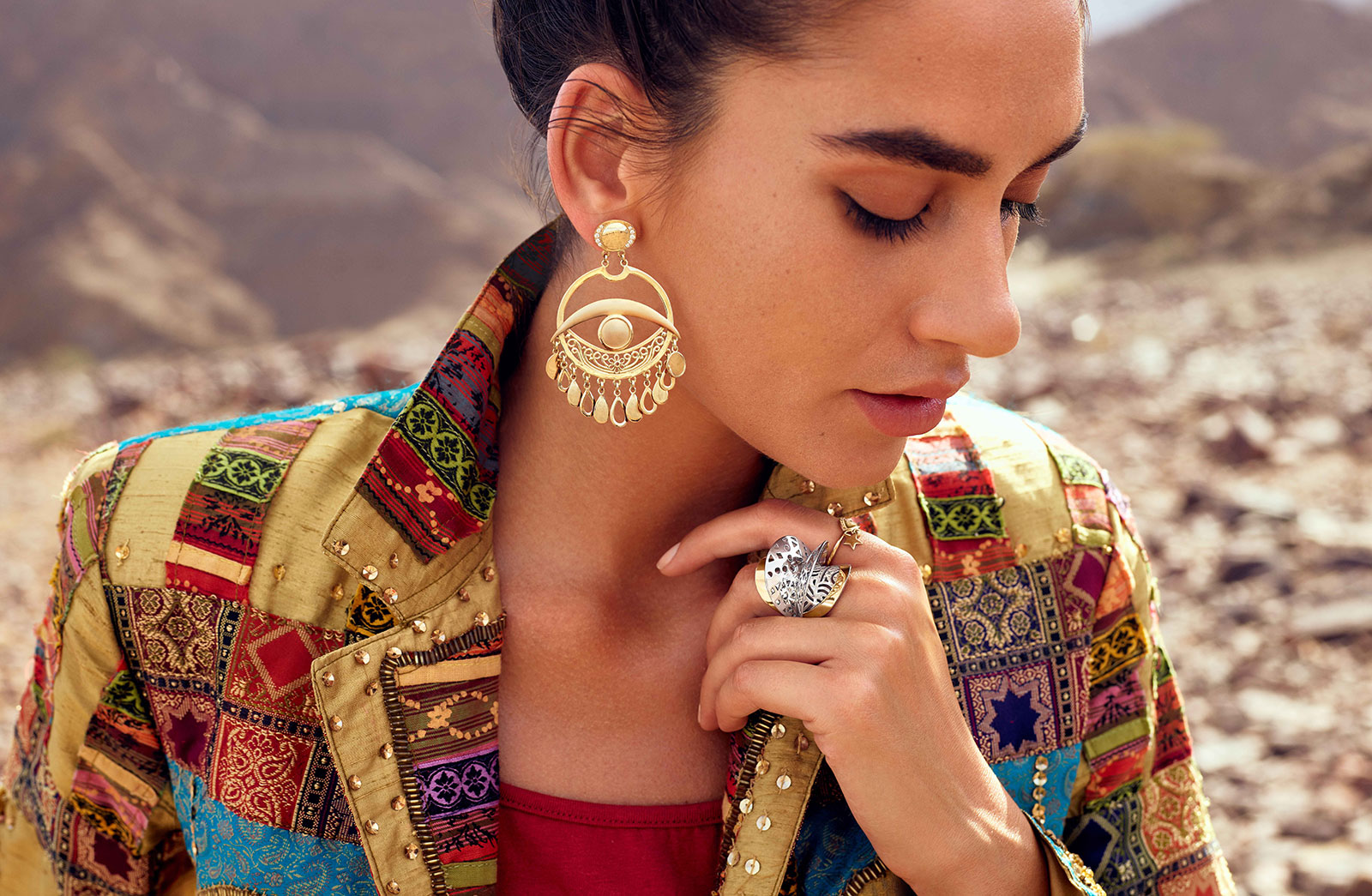 If you follow Azza Fahmy's art, you have probably already noticed that there is frequent use of miniature sculptural motifs and unusual jewellery forms, which make the collections particularly bedazzling. The five handmade rings from the capsule line, Nubia, for example, take the form of grand architectural ensembles reduced tenfold, as rings spread over several fingers or rise with a perpendicular edge over them and necklaces adorn the neckline.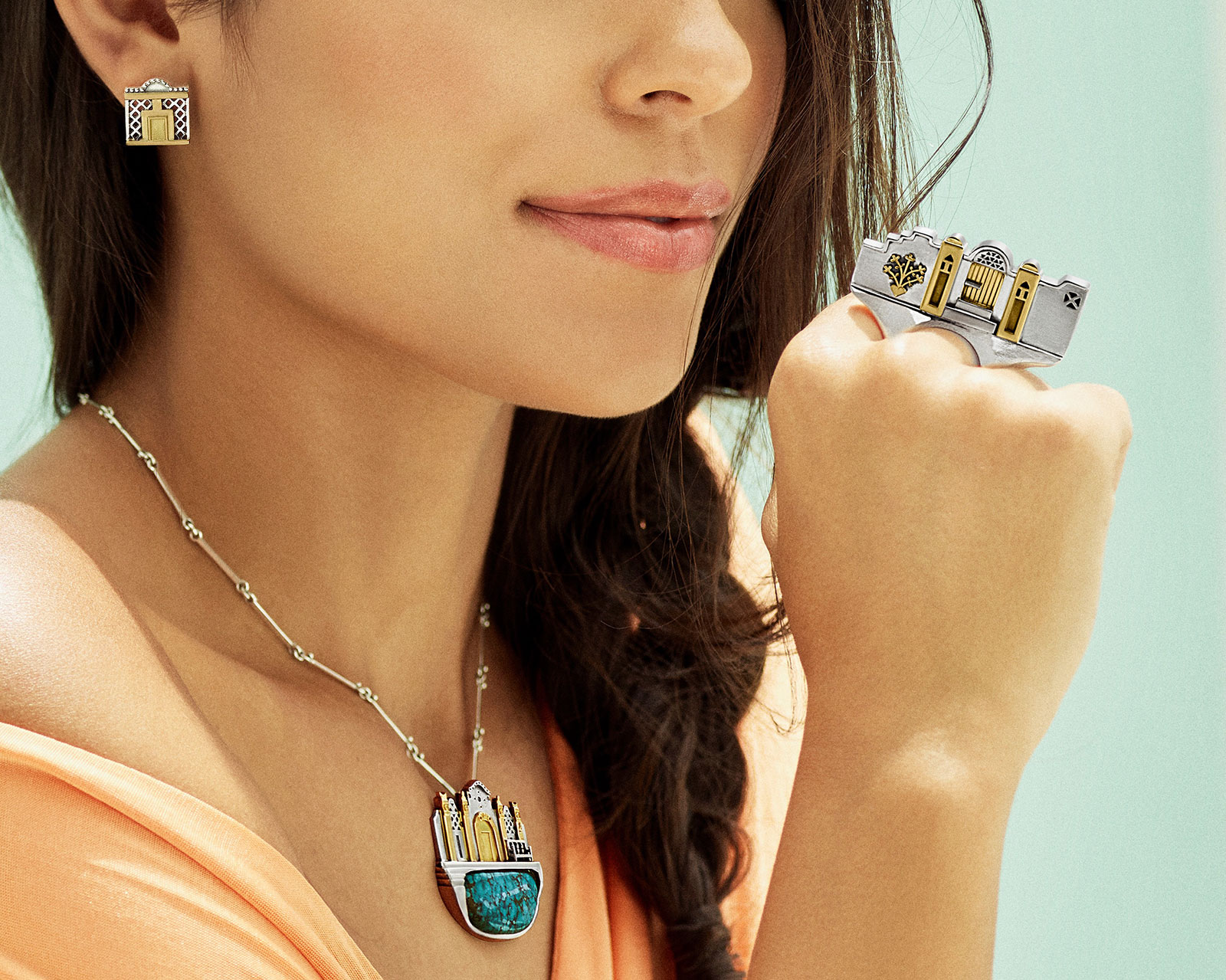 "This collection holds a very personal resonance as the theme is reminiscent of 'Houses of the Nile', my very first collection, which launched my design career. For 'Nubia' I was creatively drawn to the structure and characteristics of Nubia houses and that of the city. The collection artistically depicts authentic architectural details and also include a representation of lake Nasser through the use of a statement irregular Turquoise stone. It's great to be able to celebrate the city through our jewellery," says Azza Fahmy.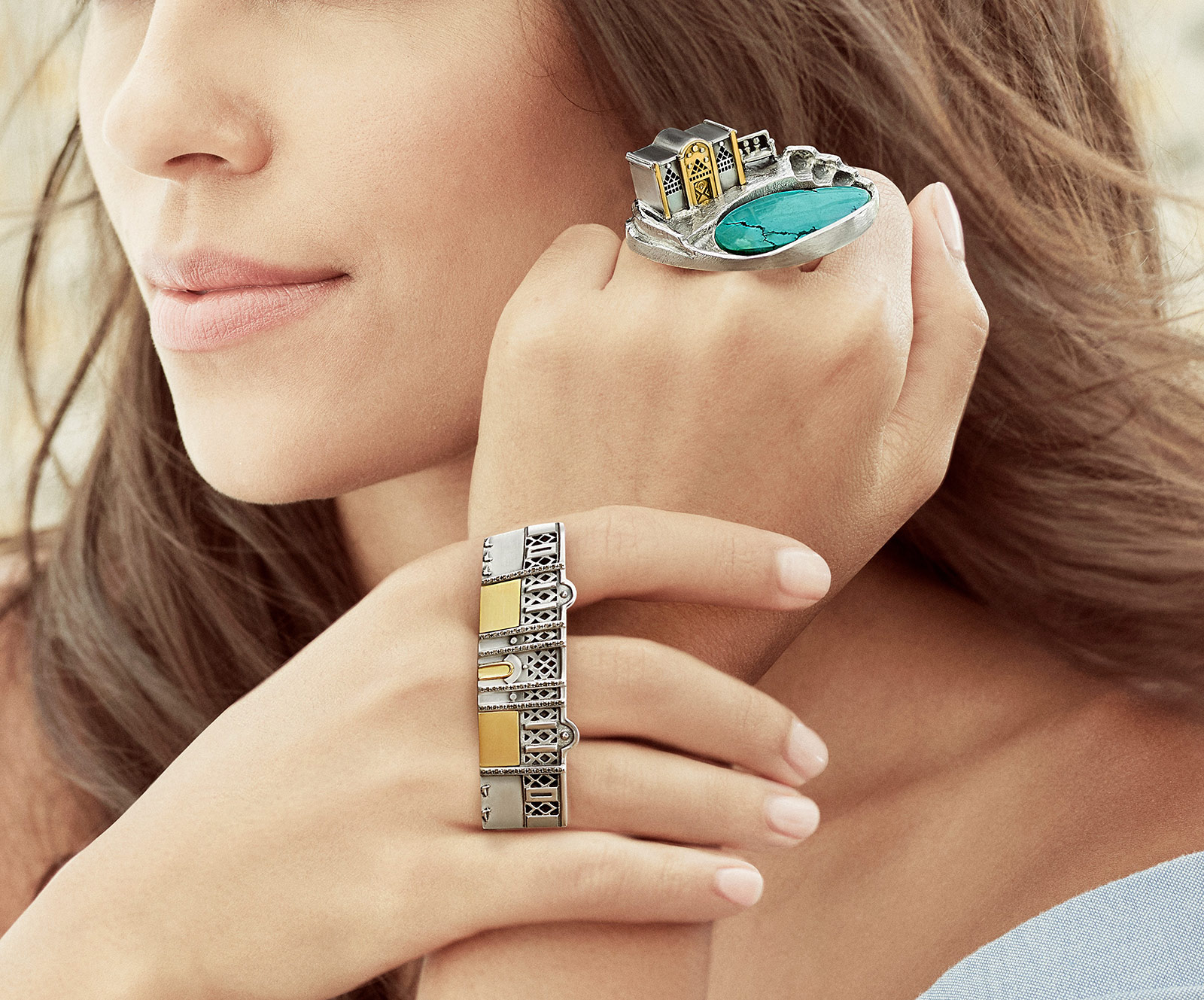 I cannot leave unnoticed a special capsule collection containing 5 jewels for everyday wear, released especially for Christmas. It includes a solid gold bracelet and pendant on which the word "happiness" is inscribed, a bracelet and pendant of silver mixed with gold on which the words "we shall never part" are inscribed and a small golden charm in the shape of an eye.
Last and by no means least, it's worth me mentioning that a number of pieces in the new Azza Fahmy boutique on Burlington Arcade are exclusively on display at this location only. As to which? Why not visit the boutique to find out?