The fashion for wearing composite rings has been established for some years now, and it doesn't seem to be going anywhere anytime soon. If you do not have hand jewellery which can be compiled one on the other in your collection, you can choose from a variety in the B Collection by NUUN divided it into two declinations: B and B2.
In the first you will find various jewels made of red gold and embellished with enamel in pastel shades – pink, blue and green – as well as items with no enamel decoration. A zig-zag pattern, half of which is encrusted with pavé set diamonds, adorns the rings, earrings, pendants and bangles. In the B2 you'll predominantly find rings and earrings made of white or rose gold, with and without diamonds. Everyone can make their own bejewelled combination with rings either in zig-zag shapes or with the usual round rim, made from precious metals and decorated with stones.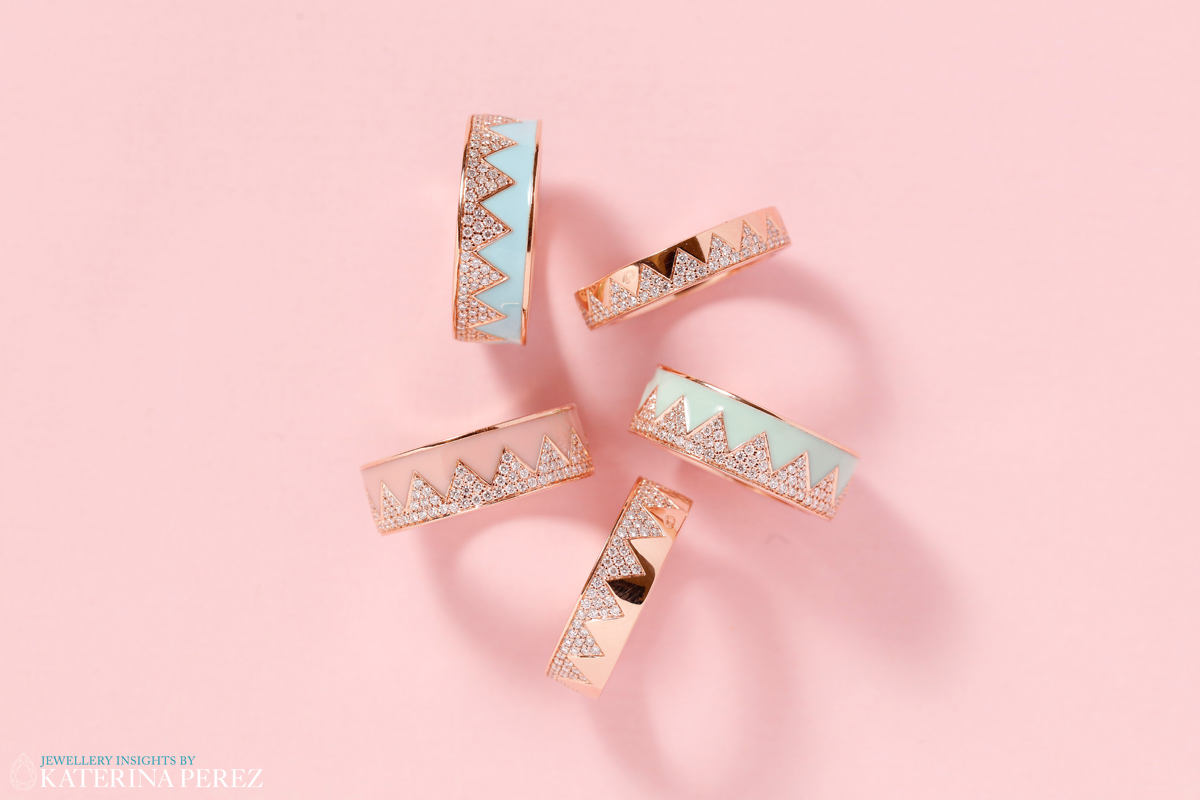 When I recently visited the NUUN boutique on 71 Rue du Faubourg Saint-Honoré, I looked through both of these collection and could not help noticing the high quality of their execution. Each line, which cuts through the rings in a zig-zag, was made perfectly, as if the jewellery master sat and measured out its every millimetre. Due to the simplicity of the design, any asymmetry would be irritation to the eye, but no fault can be found with it. Nourah has been very sensitive to the quality of her pieces, all of which are made in the very best workshops in Paris and are usually released in a limited number as they are completely handmade.
And by the way, you may be interested to know what prerequisite was established in the creation of the B Collection, and why Nourah chose zig-zag to embellish her B rings, earrings, bangles and pendants? Last year, NUUN released the Banajir bangles that were decorated with the same patterns and sold in pairs. Made of rose, white and blackened gold, each one was studded with 900 diamonds or sapphires each. Banajir translates from the Arabic as "bangle" – a favourite accessory for many women of the region, who often wear several at the same time. If you've ever been to Saudi Arabia, you probably already understand where the zig-zag on bracelets come from: the traditional, geometrical pattern often found on the doorways of Saudi homes.
In an interview with WWD Magazine, Nourah said: "I'm a Saudi designer, so obviously everything that I do is going to be touched by my worldview or my point of view. But I'm not very keen on my jewellery being labelled as either specifically Middle Eastern or even French. I really would like it to just be, you know, jewellery." A perfect explanation of what Nourah emanates in her jewellery design.