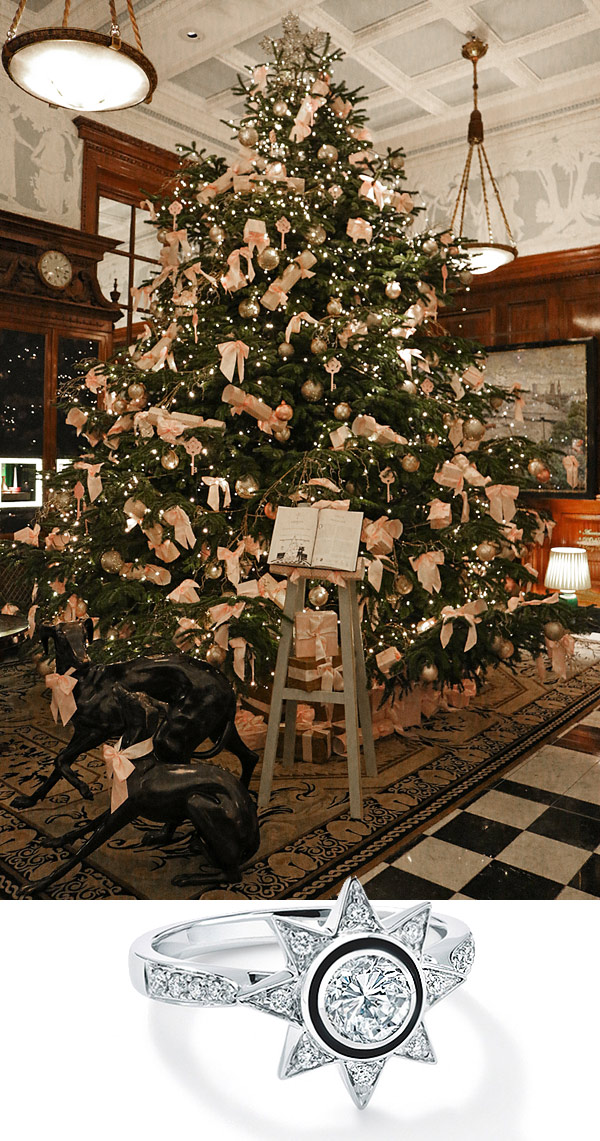 In the world of jewellery it is often the case that the more interesting collections and brand events coincide with the most festive period of the year: Christmas and New Year, a time for family, cosy comfort, fairy tales and magic. And one of the first yuletide events of the year I want to tell you about comes from British jewellers, Boodles, whose founders have organised a special treat at the Savoy Hotel to coincide with the release of their new Cosmos collection.
From 28th November a huge Christmas tree decorated with pink crackers, toys, garlands and ribbon in the signature Boodles style has been lighting up the hotel lobby, and just next to it, on a stand, you will find a big book of contemporary Christmas stories, just the thing for evoking nostalgia and warm festive feelings in grown-ups. And there's more: at 5pm on 11th December a choir is set to gather at the foot of the tree to sing Christmas carols, but not just the ones you know. This is an event organised by jewellers, after all, so they are, of course, going to be singing about…diamonds!
As I admired the decorations on the Christmas tree I noticed that it isn't just the hotel guests admiring it, but visitors to the American bar, a lovely spot in the hotel where you can have a cup of tea or a glass of champagne while sampling the specially created Boodles éclair with jam. Decorated with cream studded with sugar diamonds, with a disc of chocolate on the top, this one is quite the appetising treat!
After your cup of tea (or glass of champagne), the Boodles boutique, in the hall to the right of the entrance, is well worth a look. It is here that the newly released Cosmos collection can be found. The stars and the moon are the natural jewels of the night sky, evoking awe and amazement in children and grown-ups alike, but this new collection presents a lovely alternative way of immersing yourself in the universe and its secrets.
The diamond stars which form the central motif of the jewels in the collection sparkle like the heavens themselves in orbits fashioned from 18 karat white gold. Every jewel features a traditional round-cut diamond set in a halo of black enamel representing the night sky. Eight rays of light, each one its own diamond, complete the stars' elegant silhouettes.
The collection includes a long necklace, an elegant pendant, a ring and earrings. Cosmos is a jewellery collection which succeeds in being both refined and stylish, creating an air of mystery and calling to mind long lost ancient treasures. KP