The designer's calling card since founding of NUUN in 2014 has always been her ability to transform traditional art into original and bold jewellery. An inexhaustible source of inspiration for Nura has been the natural world - with its soft pastel colours - as well as her love of architectural forms and unusual minerals. With each new collection, NUUN jewellery revealed new aspects to the character of its creator - a modern female designer who creates a dialogue between her two cultures: Saudi Arabia, where she was born and raised, and Europe - particularly Paris - where her works are created in the finest workshops. Even taking into account Nura Al-Faisal's bold track record, this new collection could well be described as an experiment: her creative process - formerly more reminiscent of an artist's research into topics, materials and techniques - has this time gone beyond the established framework she has used in the past.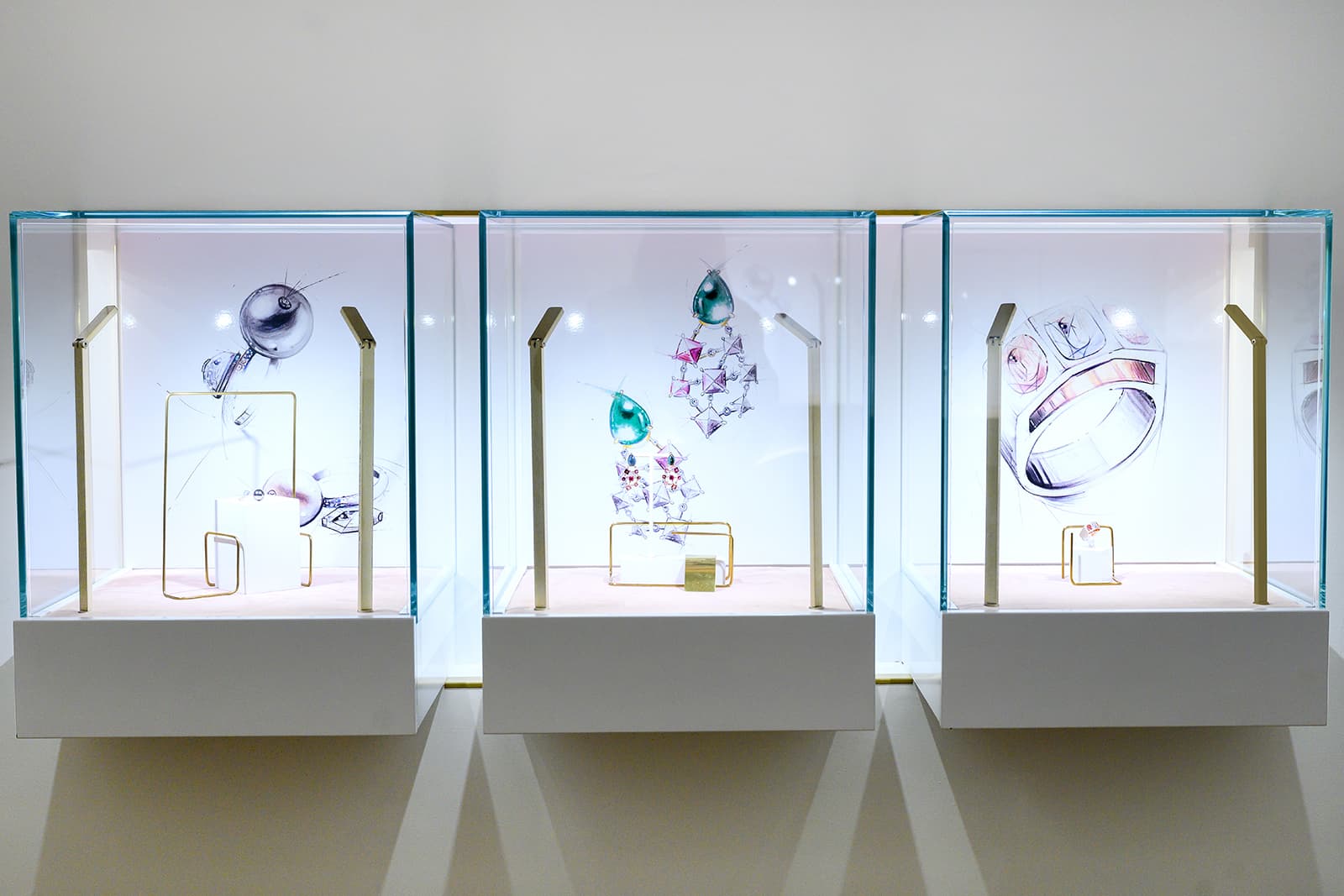 "I like to explore texture and create pieces which are not defined by taglines. When I work on new designs, I play a lot with different gemstones. I have this sweet spot in my mind, so I chop and change the stones constantly until what I am looking for is there before me. Eureka! When it's right I just know it. Sometimes it's the combination of colours, the right form or the perfect proportions... or sometimes it's all of those things!" Nura tells me.
As I have already mentioned, each ring or pair of earrings from the 'Manifesto' collection is a single edition, though recently Nura has been producing mostly larger collections of more commercial work. The unique nature of this new collection can easily be explained by considering the designer's perfectionism, as well as her desire to make the most of the lively energy of every gem she uses. This collection was inspired not only by gemstones, but also by beautiful specimens of pearls - which make a rare appearance here, and are largely absent from the artist's work.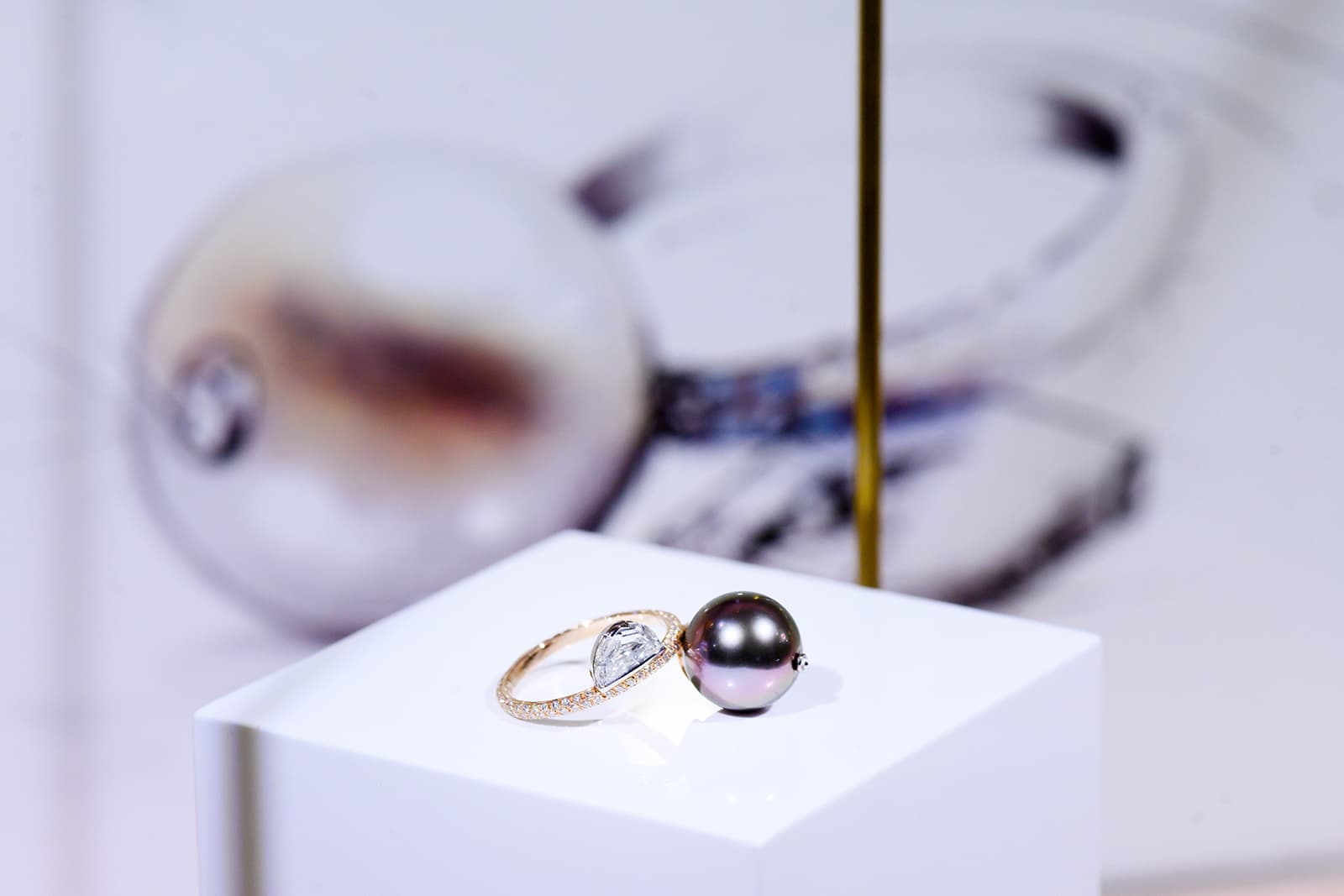 "I've had these pearls for years, but it didn't feel right to subject them to a traditional, symmetrical design. I wanted to find a way of giving my rings a more organic feeling, as if one were observing the natural world itself. Not only did I want to create asymmetric designs, but also make sure that the pearls fit nicely in the hand," Nura shared.
These magnificent oceanic beauties - 'Perle Jaune' and 'Perle Verte' - which weigh more than 13 carats, appear in rare hues and adorn stunning rings. Their beauty is emphasised by complementary shades of pink and yellow gold as well as fancy cut diamonds. Clear, smooth and finely tuned lines give rise to minimalist, but very effective compositions that induce the delight and wonder of whoever has the good fortune to look upon them.
But let's return to the gemstones with which we started this discussion: in this collection, Nura preferred coloured varieties - morganites, tourmalines, spinels and sapphires - as well as colourless diamonds. The morganite, weighing 3.34 carats, serves to soften the geometric shape of the 'Origami' ring, with its recognisable gentle radiance. "This ring has a sharpness and ruggedness to it which is more masculine, but I balanced it by drawing upon morganites and sanded rose gold - bringing a very special feeling to the metal finish. As you can see, the 'Origami' ring looks simultaneously strong and soft; both aggressive and feminine," the designer explains.
The palette of coloured gemstones is complemented by two green tourmalines which weigh 10.51 carats, and 14 pink tourmalines totaling 10.32 carats. The stones are worked into a shimmering 'constellation' of earrings entitled 'Tissus'. In addition, two pink tourmalines with a total weight of more than 8 carats become bright stars - in the 'Coeur' earrings. On top of these, rare padparadscha sapphires have become part of the rings entitled 'Padaparadscha' and 'Origami'.
The new NUUN collection - surprising with its unusual shapes, asymmetry, as well as custom-cut stones - clearly demonstrates the laconicism and inner beauty that Nura Al-Faisal has imbibed from the aesthetics of the Far East.