The Mumbai-based jewellery house has been creating precious pieces since its earliest days. This year, the brand illustrates the story of its sparkling success through a collection of 35 eye-catching creations – sautoirs, balas (bangles) and cuffs, necklaces and ornate earrings. Featuring dazzling diamonds, tanzanite beads, custom-cut ruby discs, pink sapphire cabochons, carved emerald beads and pearls, these elaborate designs create a lasting impression, while giving jewellery enthusiasts a good dose of eye-catching splendour. Each of these jewels celebrates beauty and craftsmanship, inspired by the rich cultural heritage of India.
The ravishing bouquet of jewels includes a series of bracelets titled Boulder Braces; a creative extension of the brand's famous Bala Bracelets. These playful prêt versions that can be worn individually or stylishly stacked up celebrate the beauty of a large, important central stone – in a tumbled or cabochon gem – accented by diamond-adorned motifs set in yellow and white gold. Noted for its jadau craftsmanship, the jewellery house creates befitting luxury statements with a trendy twist. A noteworthy piece is a three-tiered necklace set with uncut diamonds known as polki. These diamonds nestle within abstract peridot-enamel settings, contrasted by a small cluster of pink Sapphire cabochons, South Sea pearls and carved emerald beads.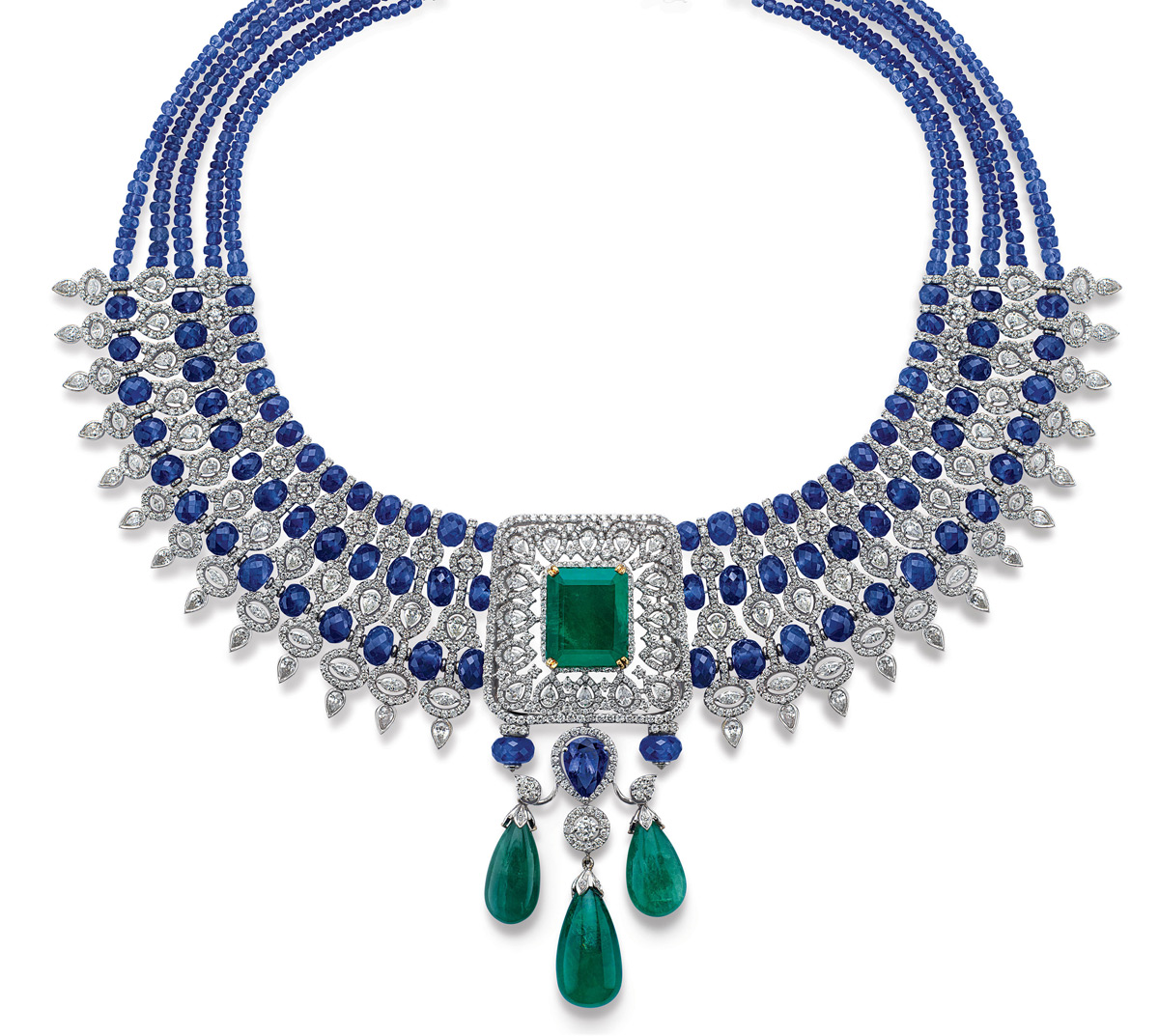 Another show-stopper that has been unveiled as part of the new collection is a tanzanite, emerald and diamond statement necklace. Biren has injected high-voltage drama into it – the central motif features a luscious emerald-cut emerald ensconced in fancy-cut diamonds and custom-cut tanzanite bead strands. In fact, Biren started making tanzanite jewellery in 2010 and the response was overwhelming; he then explored the endless design possibilities of this gemstone in playful concoctions along with emeralds. The blue-green gemstone colour palette has since become a key part of the brand's collection.
As Biren worked alongside his sister, Purnima Sheth, who founded the brand in 1981, his love for gemstones and the craft grew immensely. "I am quite passionate and fall in love with gems – to me, it is like poetry," says Biren, who is keen to throw the spotlight on exceptional gemstones and coloured stones by combining them in harmonious ways. As far as motifs are concerned, the designer has never been one to court a specific motif. The inspirations for Biren's designs have often evolved from his sojourns, architecture and even history.
Riding high on Rose's highly successful Colours of Life line, Biren has introduced a spectacular pair of earrings in the best traditions of Art Deco design. Inspired by this art movement, he has given these earrings a contemporary twist and additional volume with a tantalising combination of tanzanites and custom-cut pinkish ruby discs. With the brand keen to make a foray into London, Dubai and Hong Kong soon, you can surely look forward to more shimmer and bejewelled inspirations from the House of Rose.