The Cartier Beautés du Monde High Jewellery collection was launched in the summer of 2022 with some notable creations, including the Cymbale necklace with diamonds, rock crystal, rubies and onyx. As you might expect from a collection titled "Beauties of the World," the pieces were centred on animals, great and small. A series of four brooches brought to life the quetzal, dragonfly, flamingo and elephant in fantastic high jewellery fashion. The Éléphant Noir brooch, in particular, transformed petrified magnolia wood into something elegant with a pink sapphire and briolette diamond.
This next phase in the Beautés du Monde story continues this love affair with the natural world through four necklaces, launched at Paris Haute Couture Week, and further creations revealed shortly after this high-profile presentation (including rings, secret watches and necklaces shown below). Each of the four necklaces is purposefully different - to demonstrate the "diversity of beauty that is so dear to Cartier" – but still has a definitive link to the aesthetic codes of Cartier. They are recognisably of the Maison, which feels a little bit like magic but, more realistically, is down to the talents of Jacqueline Karachi, Creative Director of Cartier Prestige, and her team.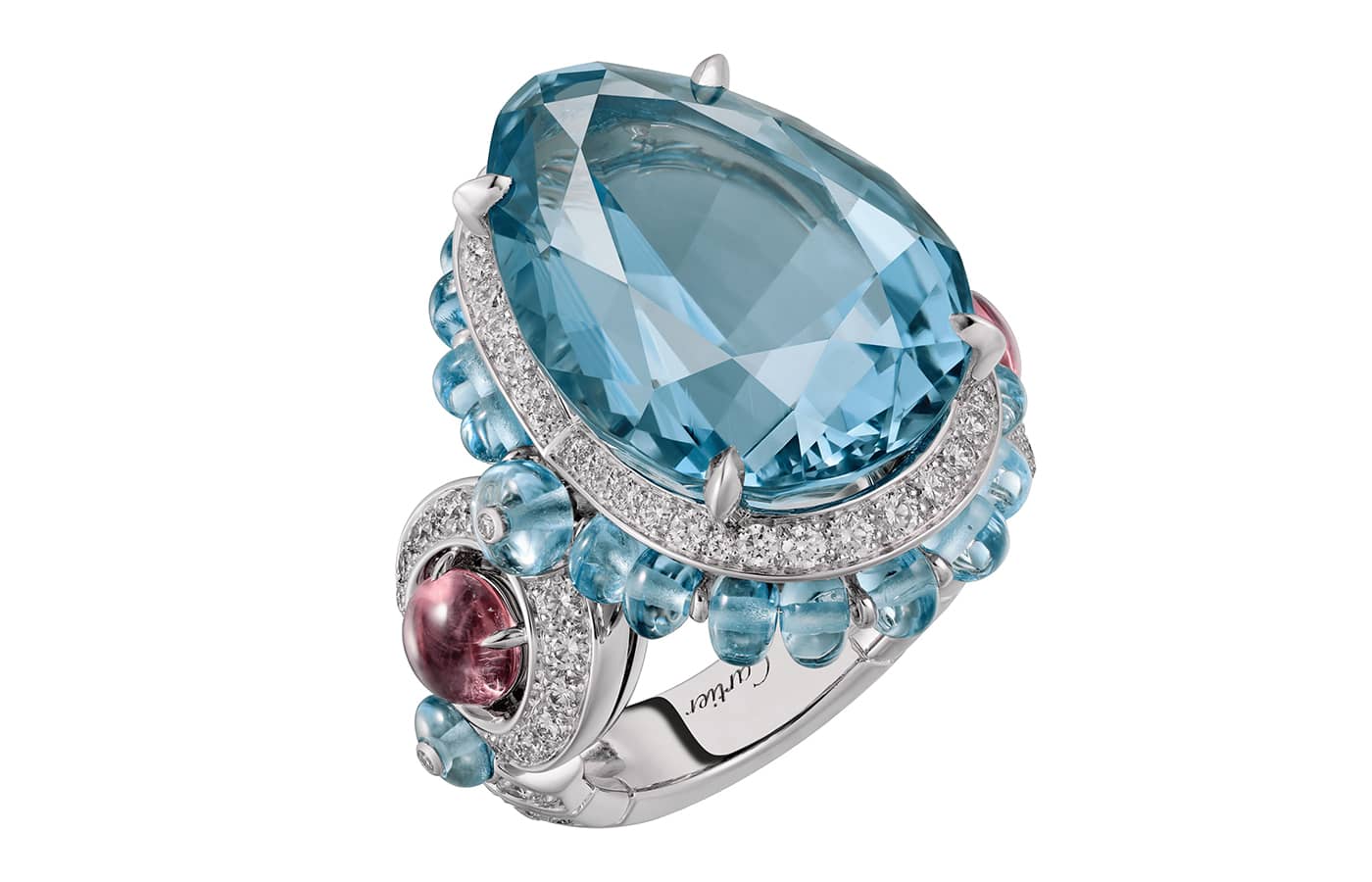 She says: "Always striving to enchant the senses, we transcribe the richness of cultures, landscapes, fauna, and flora with a contemporary outlook. Each collection represents an opportunity to reveal anew a distinctive aspect of the Cartier style, a unique multifaceted style."
The new designs are united by a spirited use of cabochon gems in rich shades of pinkish-red and green. Hints of Cartier's iconic 'Tutti Frutti' style infuse the pieces, as do elements of Art Deco contrast with black onyx and white diamond combinations. Let's take a look at each one in turn and discover the minerals that make them special.
Cartier Beautés du Monde Ocelle Necklace
Louis Cartier's passion for Islamic arts is what led to his creative obsession with blue and green. According to the brand: "For him, the discovery of this chromatic combination was so powerful that it became part of the Maison's palette under the name of 'peacock motif'." This tradition continues in the Ocelle necklace, set with two black opals weighing 16.59 and 6.19 carats, respectively, alongside a 21.18-carat Zambian emerald cabochon. The piece's design mirrors the 'eyespot' forms that characterise a peacock's plumage, surrounded by diamond-set teardrop-shaped feathers with an onyx trim.
Cartier Beautés du Monde Splendens Necklace
The Siamese fighting fish, otherwise known as the betta fish, was the creative starting point for the Splendens necklace. This is the first time this animal has appeared in the "Cartier bestiary," albeit in an abstract and hyper-feminine form. The cascading spinel beads are in the most sensational shade of pinkish-red and held in place with a tiny diamond 'cap' to mimic light-reflecting water droplets. Elsewhere, spinels appear in pear- and oval-shaped faceted form for a total weight of 27.79 carats, interspersed with square- and lozenge-shaped diamonds for further brightness.
Cartier Beautés du Monde Camail Necklace
Cartier returns to birds in this choker that combines 42.44 carats of pear-shaped Zambian emerald cabochons with square diamonds, custom-cut onyx, lacquer and enamel. The design was created to evoke the movement of a bird's wings in flight or the swish of wings as they twist and turn on the breeze. We can see this in the just-right placement of the deep green emeralds, bordered with a crescent moon of diamonds, which are set on an angle rather than being centred on the neck. Cartier explains: "The creation renews and explores the chromatic harmony between white, green, and black that appeared around 1910 and has since become an emblematic combination of the Maison."
Cartier Beautés du Monde Obi Necklace
Finally, the Obi necklace draws inspiration from Japanese fabrics and the rising sun motif. The eight cabochon-cut Zambian emeralds here are a uniform green – neither too dark nor too light – and have captivating internal textures that add to the piece. The softness of these gems contrasts perfectly with the Art Deco geometry of the design itself, which is decorated with custom-cut onyx inserts, diamonds, and calibrated rubies. The lower pendant motif can be detached from the necklace and worn as a brooch, so it's firmly in keeping with the spirit of multi-wear.
So, which of these new Cartier high jewellery creations is your favourite? I will admit the Obi necklace and its glowing green cabochons would be my first choice, but there's something about black opals that will always have my heart. So, let's wait and see what Cartier adds to its high jewellery repertoire later this year at Paris Couture Week in July.