There is a wealth of jewellers spread throughout India who craft modern treasures to suit different tastes. Among them, there are names that are focused on high jewellery, astonish with their creativity, have a unique signature style, are known for their unorthodox approach to jewellery design or excel in their high levels of craftsmanship. Having caught my attention, I want to highlight the work of some of my favourites in this article.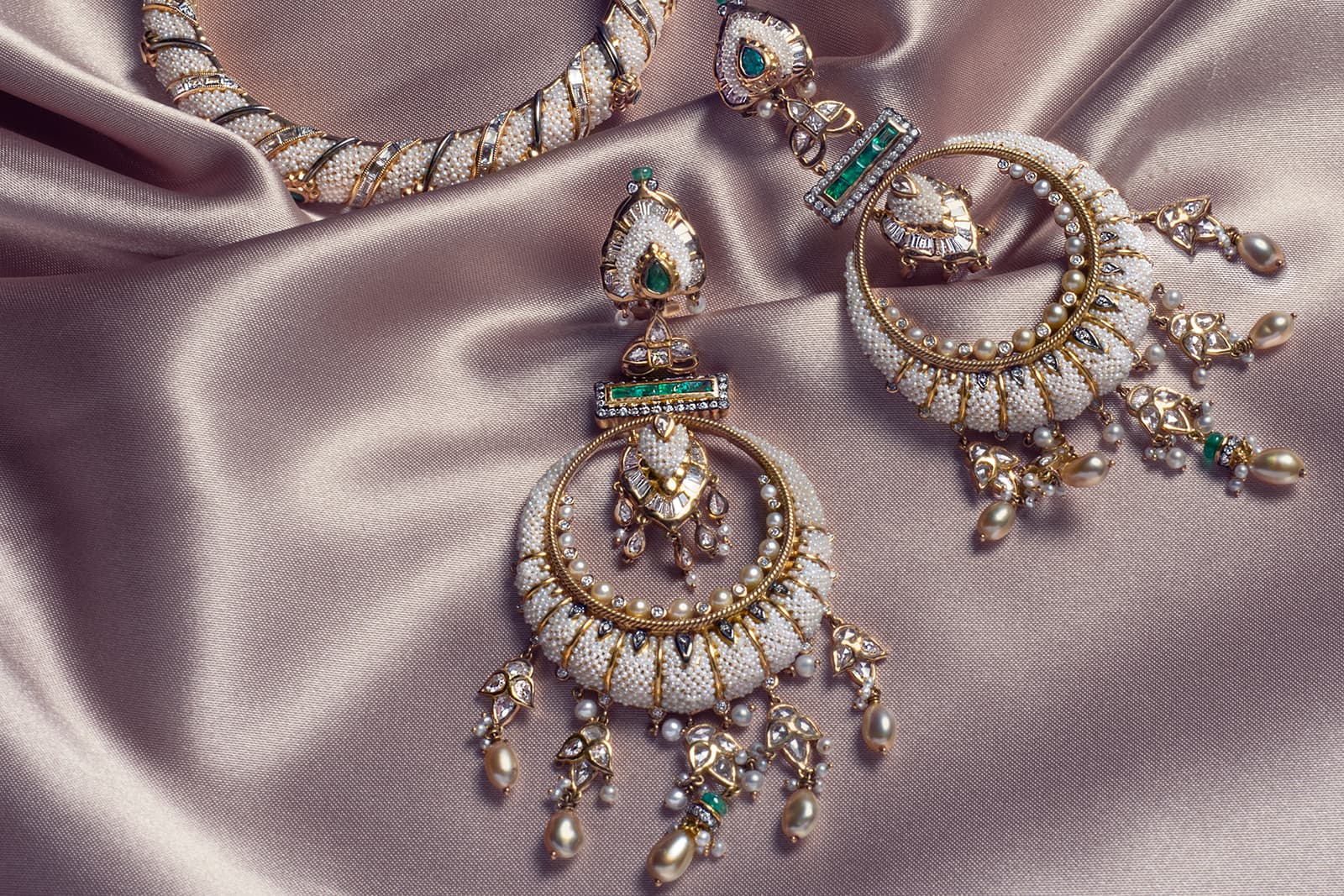 Founded by Milan Chokshi in 2005, Moksh immediately caught the eye of a wider, more international audience with its 2018 debut at the Couture Show in Las Vegas. After capturing the attention of journalists and jewellery buyers, this year the brand became available through Moda Operandi, and now luxury jewellery aficionados from all over the world have been introduced to the brand's Taantvi collection, which means "weave" in Sanskrit. Inspired by the splendours of Mughal India, each piece is created using a unique design technique that involves weaving tiny Japanese Keshi pearls to form a mesmerising mesh-like effect, accented by diamonds, sapphires, emeralds and rubies.
The private jeweller Hanut Singh is part of a jewellery dynasty. Third generation of the Kapurthala royal family of India, his great-grandfather was the Maharaja Jagatjit Singh of Kapurthala, a friend of Jacques Cartier well known for commissioning many exceptional jewels from the esteemed French maisons during his lifetime. Hanut's personal design language is an ode to Art Deco forms through a prism of darted points and daggers. His loyal celebrity following is particularly drawn to his extravagant pendant earrings, which feature shapes that suddenly erupt at the jawline. With a more modern design sensibility than many Indian jewellers, Singh plays with a larger vocabulary of materials, notably rock crystal and enamel accents, and uses traditional Indian gems, like carved rubies, to introduce texture into his designs.
For spectacular, avant-garde jewellery, VAK is the name to know. Vishal Kothari's penchant for unique and exciting diamond cuts results in rich, textural designs that defy all expectations of what Indian jewellery should look like. One of his signatures is to use rose-cut and custom-cut diamonds to create unexpected patterns, particularly in rings, as well as creating lightweight gold structures that make earrings appear as light as a feather, regardless of their volume. This unique approach to design allows light to pass through Vishal's carefully selected gems, emphasising their beauty.
Sajjante is an Indian jewellery house in Mumbai that prides itself on the skill evident within its handcrafted pieces. Owing to owner Sajil Shah's dedication to artisanship, Sajjante creates only 50 pieces a year, with some jewels taking up to 12 months to create. Taking inspiration from ancient garments, traditional Indian motifs, nature and art, Sajil creates masterpieces for modern Maharajas and is involved in every stage of the jewellery-making process, from the conception of an idea to the design, the workmanship and the presentation.
Where colour has traditionally been a focal point in Indian jewellery, Harakh's interpretation of luxury is modern and monochrome. Having met many diamantaires from the region, Harakh Mehta stood out for me for two reasons: his global presence and his obsession with quality. He is fastidious about one particular subject: the quality of the diamonds in his designs. "We only work with D, E and F colour, IF, VVS and VS clarity and excellent cut diamonds to make Harakh jewellery reflect my vision of perfection. We look at the material of the rough diamond first, use instruments to measure the light reflection and if we are happy with the result, the diamond goes into production."
Mumbai-based Bina Goenka is the jeweller to the Bollywood stars whose designs attract jewellery lovers from all over the world. With their artistic shapes and intricate details, each jewel is a wearable work of art. Bina's designs traditionally incorporate a wealth of gemstones, from emeralds to turquoise, with seed pearls and ruby slices her signature gems. However, she does not shy away from using unusual materials, such as wood and baroque pearls, constantly challenging her craftsmen and surprising discerning clients.
Founded by brothers Apurva and Anand Kothari, SAVAAB is a couture jewellery brand that encapsulates what it so enthralling about contemporary Indian jewellery. Third generation jewellers, SAVAAB creations are inspired by Indian culture and art, particularly traditional Moghul motifs, with a modern twist that gives the jewels their broader international appeal. The brothers pay close attention to the proportions and weight of each jewel. The designs may be ornate, but they also display a feather-light delicacy. Classic gems feature prominently – sapphires, rubies, emeralds and diamonds of the highest quality in timeless cuts, alongside carved emeralds, ruby beads, pearls and tanzanites – with settings so finely wrought they resemble lace. Quality and craftsmanship are vital to upholding the brand name, and as such SAVAAB creates no more than a few hundred jewels a year, earning it a reputation as one of the most exclusive contemporary jewellers in India.
As globalisation continues and technology draws artists from all disciplines closer together, I look forward to seeing more exciting designers emerge from India, with its rich history of creating and coveting precious jewellery.