Incorporating technological expertise and fine jewellery savoir faire, jewellers from across the globe are turning to sophisticated diamond designs that allow for the purity of the diamond's beauty and the maximum amount of light to illuminate the stone.
Swiss jeweller Boghossian has always focused on creating designs that showcase gemstones in a new way. As a continuation of their 'Art of Inlay' collection comprising of jewels with one gem set inside the other, the Boghossian family reversed the concept, calling the line 'Kissing.' Rings, earrings and pendants from this line showcase an innovative gemstone setting: with one gem set above the other, they gently touch each other, combining their complementing hues and letting an extraordinary amount of light to pass through.
FORMS, a Hong Kong based fine jewellery company, has made the tension technique truly their own. CEO Gilly Strauss talks about achieving the effect of floating stones and diamonds with almost no visible metal: "FORMS has managed to develop unique ways of setting, and these new processes and skill sets become what inspires our design choices." For both Boghossian and FORMS, floating diamonds which display their technical workmanship have become a signature. These hyper-futuristic designs are particularly revered in the Far East, where the appeal for high-tech designs meet a desire for large gemstones.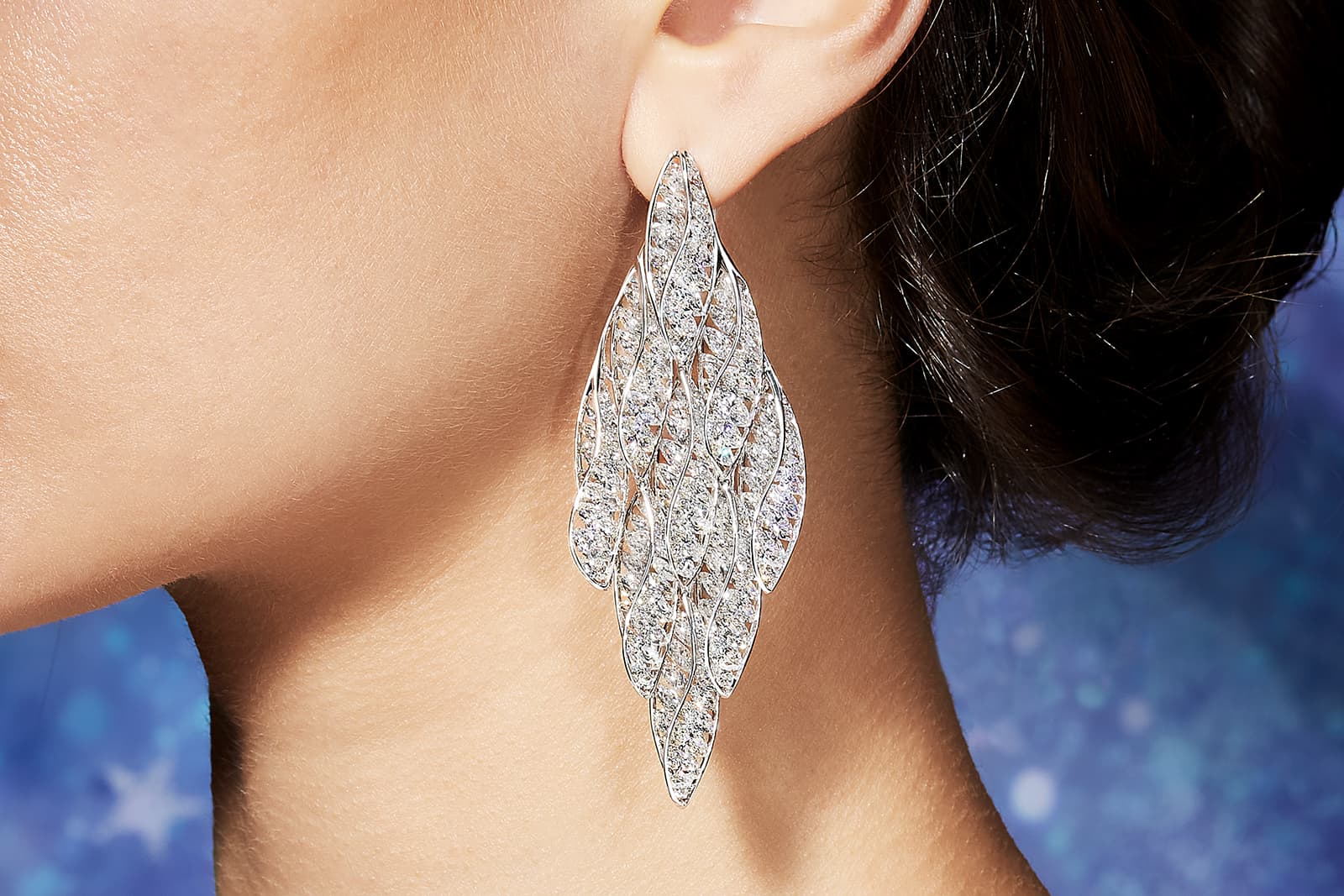 Another jeweller who defies gravity through tension set designs is the always innovative Hemmerle. Known for the extraordinary engineering executed in their jewellery, Hemmerle's floating gems are usually displayed to their fullest potential in show-stopping earrings. These floating diamond creations often become an immediate social media sensation when unveiled at PAD and TEFAF; the art and design fairs where the Munich based company showcase their latest jewels.
For their most recent 'Private Collection', Messika created a whole host of floating diamond designs. These were achieved through blade setting - a thin metal strip resembling a knife's edge - making the setting almost unnoticeable when viewed from the front. One can see this setting in the 'M Rainbow' hoop earrings with fancy coloured diamonds in rose gold, the 'Diamond Spears' hoop earring with 21.40ct pear cut diamonds in white gold, and the 'Pink Temptation' necklace with a vivid pink 5.36 carat radiant cut diamond in rose gold.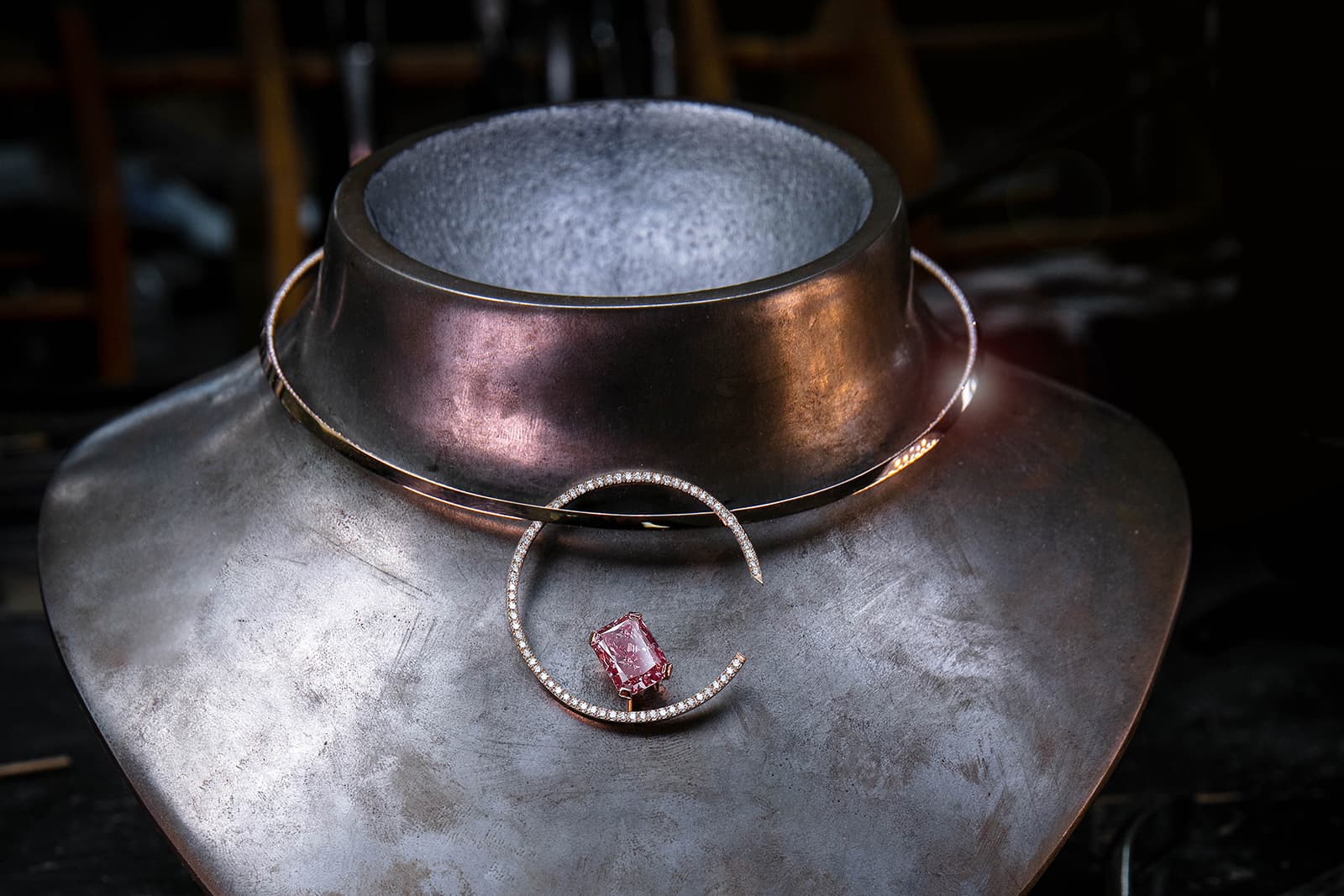 Fernando Jorge also explored the blade setting technique in his first diamond jewellery collection: 'Brilliant'. Renowned for his colourful, ergonomic jewellery, for this line the Brazilian designer was inspired by the natural radiance of diamonds, and the ubiquity of the brilliant cut. His celebration of the diamond cut and its brilliance was interpreted through graduating stone sizes, rhythmically placed on delicate gold structures in graphic shapes.
De Beers explored the blade setting in a different way in their 'Vulcan' line; part of the 'Diamond Legends' collection launched in 2018. Showcasing unfaceted diamonds in brown, green, yellow and orange hues which stood away from their colourless diamond counterparts within the designs. A tennis bracelet-like row of diamonds is coupled with a selection of their rough, colourful opposite numbers, which are each individually set on a fine thread of white gold that emanates from the main structure of the cuff.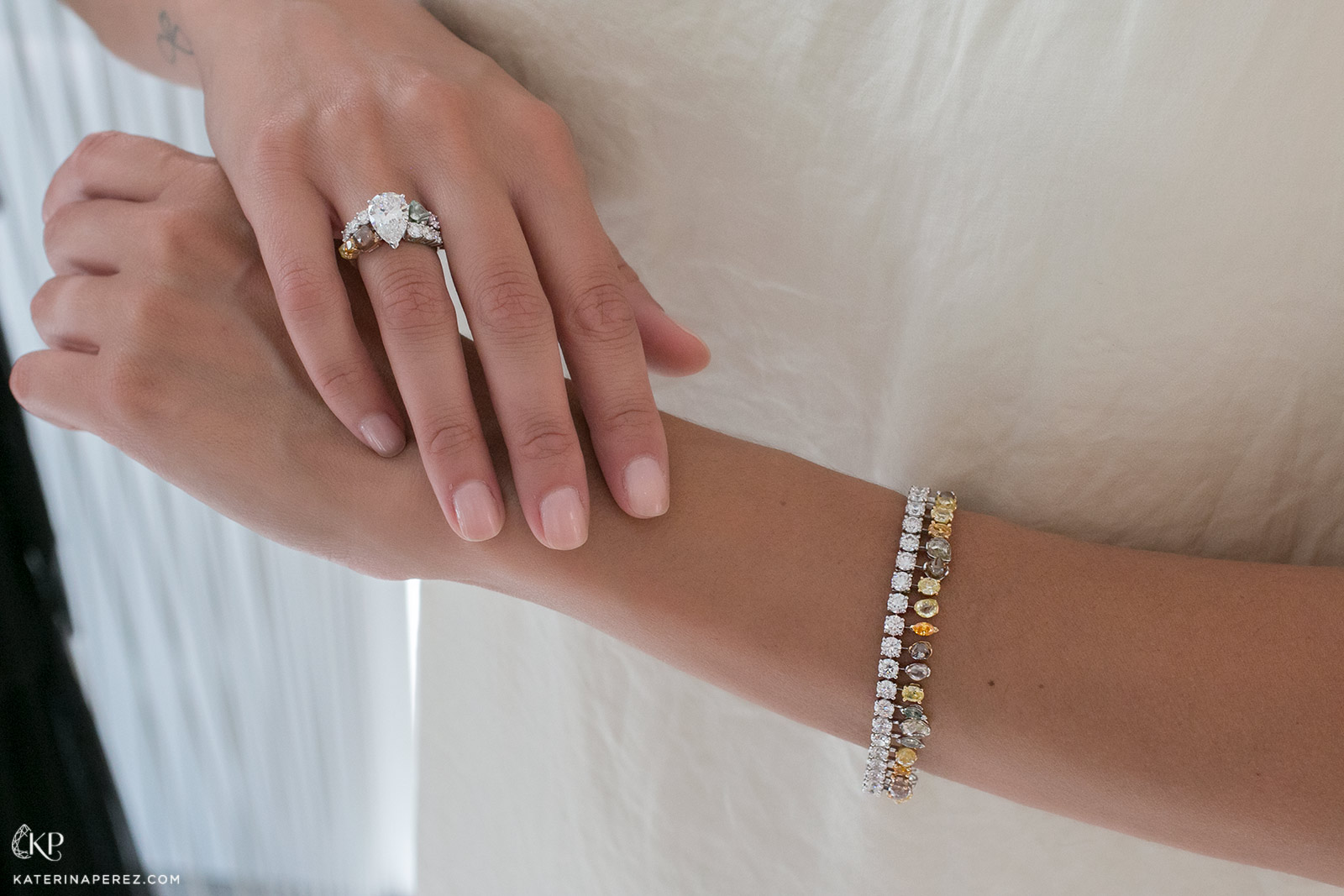 In order to make diamonds float in his designs, Nikos Koulis steered off metal structures and decided to experiment with enamel in his 'Universe' collection. Its instantly recognisable design features are the Art Deco shaped panels of transparent enamel, delicately outlined by white gold and embellished with a diamond in the centre. This patented technique earned Nikos Koulis the 2018 Couture Design Award in the Haute Couture category for his hero necklace within this line.
Floating diamond fine jewellery designs are achieved in a variety of ways, but the dazzling, innovative and exciting effect which this style of jewel creates is universally appealing.