The show curated by Lucia Boscaini, Heritage Curator of Bvlgari and the Maison's Brand Heritage Department, runs until April the 10th. It is housed in the beautiful rooms of Palazo Braschi, that are evocative of the neo-classical style in Rome.
According to Rome's iconography, ornaments featuring snake motifs were important accessories of Aphrodite, the goddess of love. Bvlgari, as we know, often turns to Rome for inspiration and found a muse that slithered into the creative minds at the Maison. Bvlgari's Serpenti stylishly snaked its way on to the jewellery scene in the 1940s, while symbolising rebirth, vitality and wisdom, and came to be reinterpreted on its accessories, watches and jewellery.
Colourful gemstones, enamelling and unmistakable style – all blended with an innate mastery of goldsmithing – turned the Serpenti creations into wearable bejewelled art. Realistic and geometrically abstract interpretations in the form of supple bracelet watches and gem-encrusted jewellery elevated the Serpenti motif into an iconic status – one that shaped the Bvlgari legacy. And what better way to celebrate the Serpenti that paved the way for boundless creativity than to celebrate it in myriad forms?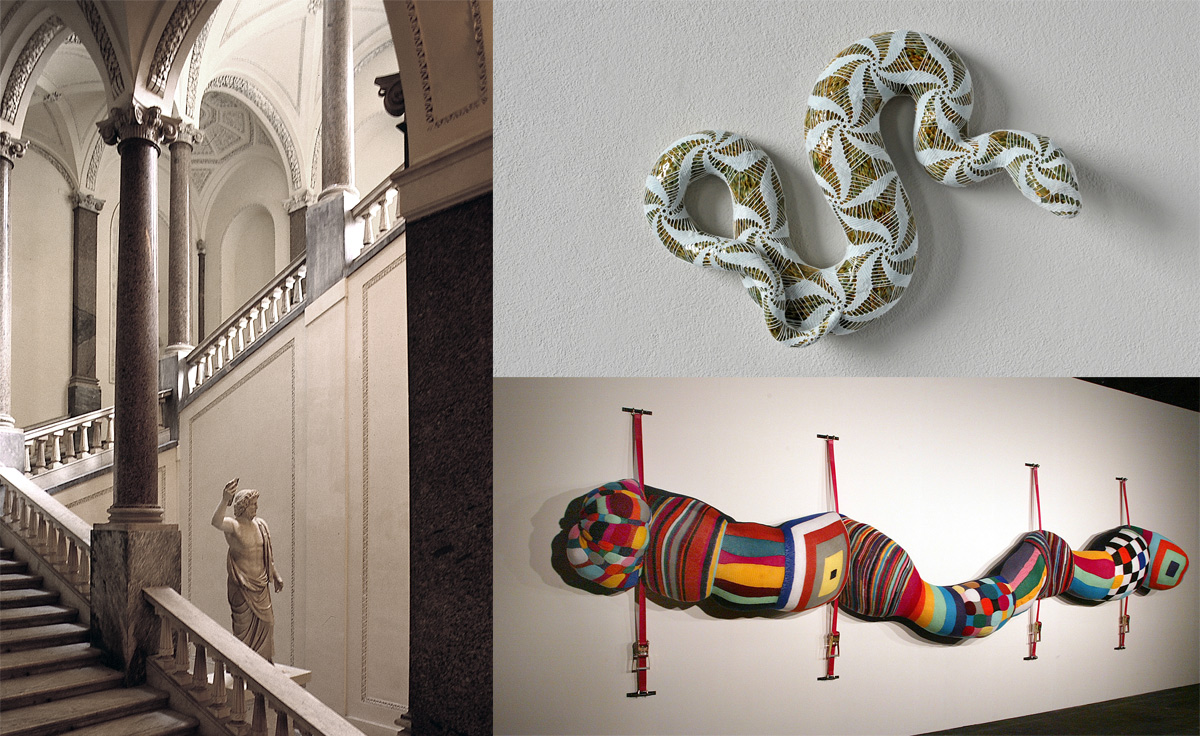 At the 'Serpenti Form' exhibition, take time to discover how the snake has become an inspiration for key names in the world of contemporary art, design, fashion and decorative arts. Complementing the show and offering a lucid understanding of how the snake has stimulated the imagination of artists are works by Keith Haring, Niki de saint Phalle, Alexander Calder, Mat Collishaw, Paul Klee, Joana Vasconcelos and select photographs by Robert Mapplethorpe, Helmut Newton, Peter Hujar and Guido Mocafico.
Jewellery aficionados will be fascinated by the selection of high jewellery Serpenti creations that Bvlgari selected for the show. Pave diamonds alternate with exotic wooden scales on the new Serpenti necklace. The lovely sheen on this rare, flexible wood is offset with the brilliance of diamonds. Another stunner is set in platinum and embellished with rare emeralds and flawless diamonds, while the snakehead hypnotically captures one's gaze as it nestles in the form of a pendant on the necklace. Some more show-stoppers at the exhibition belong to the past and include eclectic archival jewels. Besides vintage clothes by Italian fashion designers, and theatre and cinema costumes, a separate section at the show throws the spotlight on the costumes worn by Elizabeth Taylor in the film Cleopatra (1963).
To coincide with the event, Bvlgari has brought out a new book 'Serpenti in Art' that traces the journey of the snake as it slithers through the realms of modern and contemporary art, besides offering a glimpse into original sketches that were transformed into jewellery and brought to life by Maison Bvlgari.
Indicating the significance of snake design motif, Bvlgari CEO Jean-Christophe Babin says: "SerpentiForm is a tribute to a particularly evocative motif that is deeply linked to the Greek and Roman roots of the Maison." The exhibition, he adds, is an opportunity to start a useful and stimulating discussion – "jewellery, an expression of the aesthetic sense and of the trends of a period, is often inspired by art because it shares with it an attention to detail and the urge to shape matter to give it a new form and new life."