If you're a jeweller living and working in the United States or Canada, there's a high probability that you have heard of the AGTA Spectrum & Cutting Edge Awards™. For those who aren't in the know, AGTA hosts this prestigious annual design competition annually to spotlight talented designers and lapidarists from retailers, designer brands and independent businesses with an office base in North America. What helps to set the Spectrum & Cutting Edge Awards™ apart, however, is how much a win can bolster the careers of fledgling and established professionals.
If you don't believe me, just look at AGTA CEO John Ford. He ran the Lightning Ridge Collection by John Ford fine jewellery brand and won nine Spectrum Awards and one Cutting Edge Award over seven years. "I was a regional designer, and the Awards helped turn me into an international brand," he says.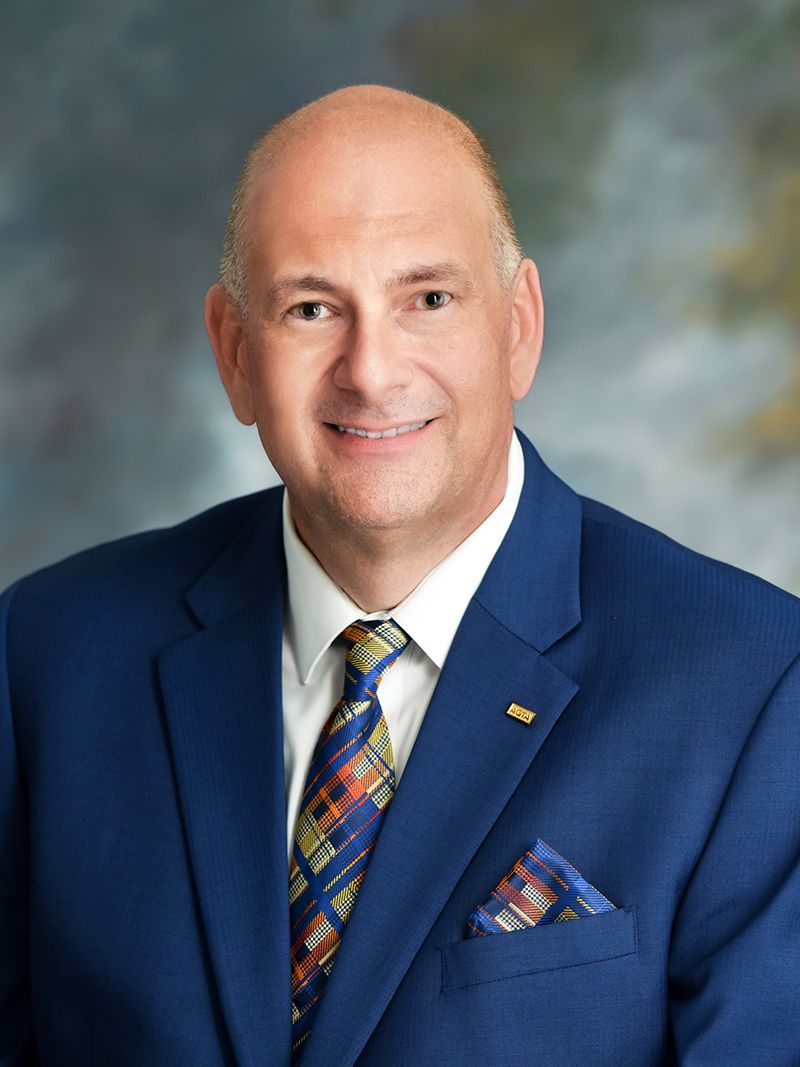 It's safe to say that the Awards have a special place in John's heart, and he's keen for its audience to grow and shape more careers, both within North America and worldwide. He explains: "While the purpose of the Awards is to celebrate creative excellence in coloured gemstone and pearl jewellery, they are also an opportunity for US and Canadian designers to showcase their newest styles. One of the criteria for entries is that pieces should not have been previously promoted or entered in any other contest."
There's a strategy to the Awards, too; AGTA starts accepting entries after the JCK Las Vegas show in June when creativity and inspiration are at their peak. "Many designers shop from dealers at all three of our shows - AGTA GemFair Tucson™, Las Vegas, and at the HardRock Summit in Denver—to source the focal points of pieces they create for the annual competition," Ford explains. "By the time entries start pouring in over the summer, competitors have absolutely been inspired by the rare and
exotic gems they've sourced all year."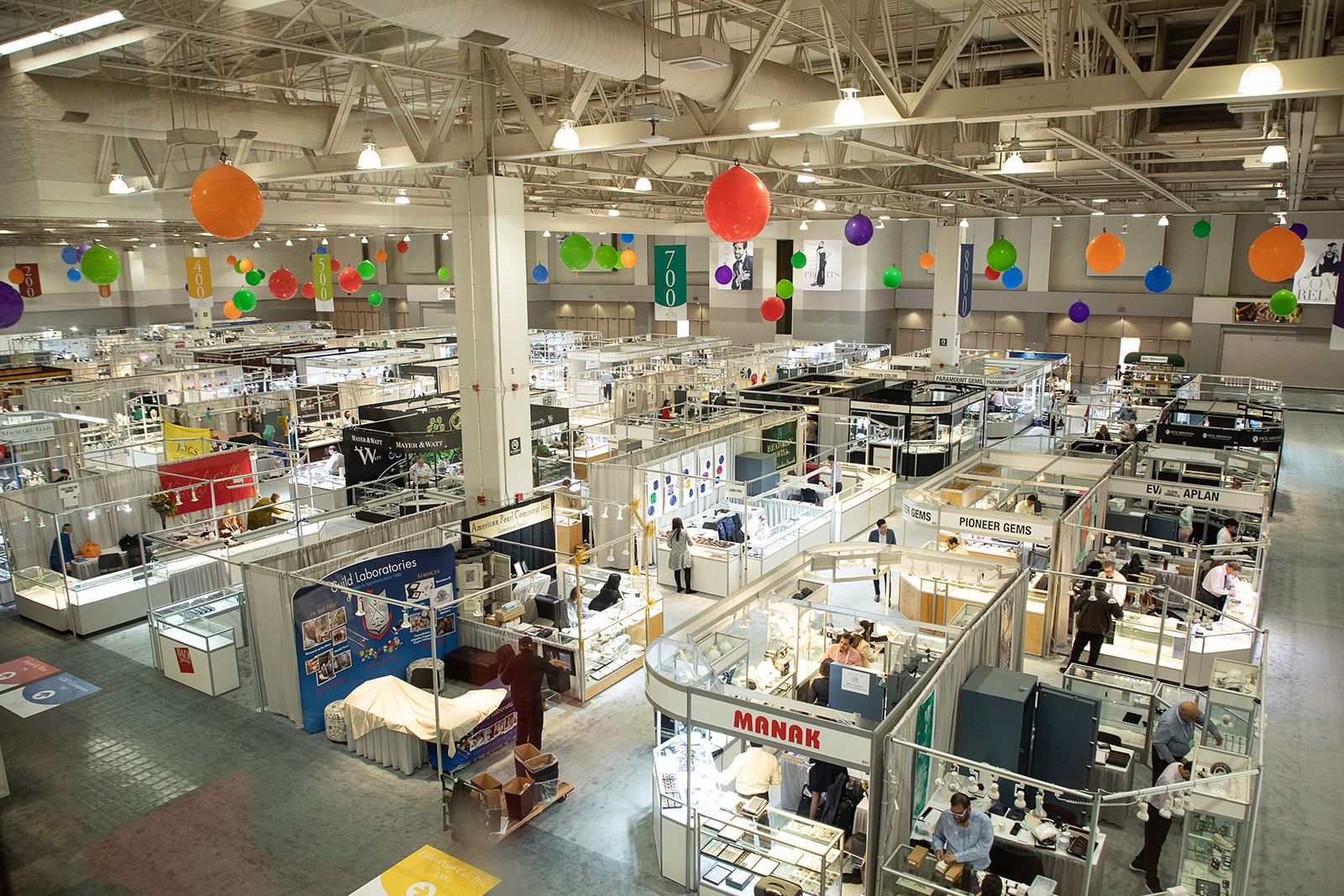 The AGTA Spectrum & Cutting Edge Awards™ go hand-in-hand with high standards of ethical and transparent sourcing. This comes from the ethos and principles of the AGTA itself, which holds its members to account and expects excellence. Ford says: "AGTA member dealers, retailers, and designers are not only knowledgeable about gemstone disclosures and treatments but instil confidence in shoppers because of their devotion to upholding ethical practices. If a member is found out to be neglectful of the tenets of the AGTA Code of Conduct, the person is held accountable by the board of directors and risks losing membership status, including the ability to exhibit in AGTA shows."
With a flurry of award entries, a presence at significant gemstone trade events and an active base of members, AGTA is in a unique position to assess the coloured stone landscape. That's why its tagline is: "The Authority in Color." Ford says that members have been "seeing an uptick in demand for tourmalines, multi-colour sapphires and Montana sapphires" over the last 12 months. There are some tourmalines among this year's competition winners… but more on that later!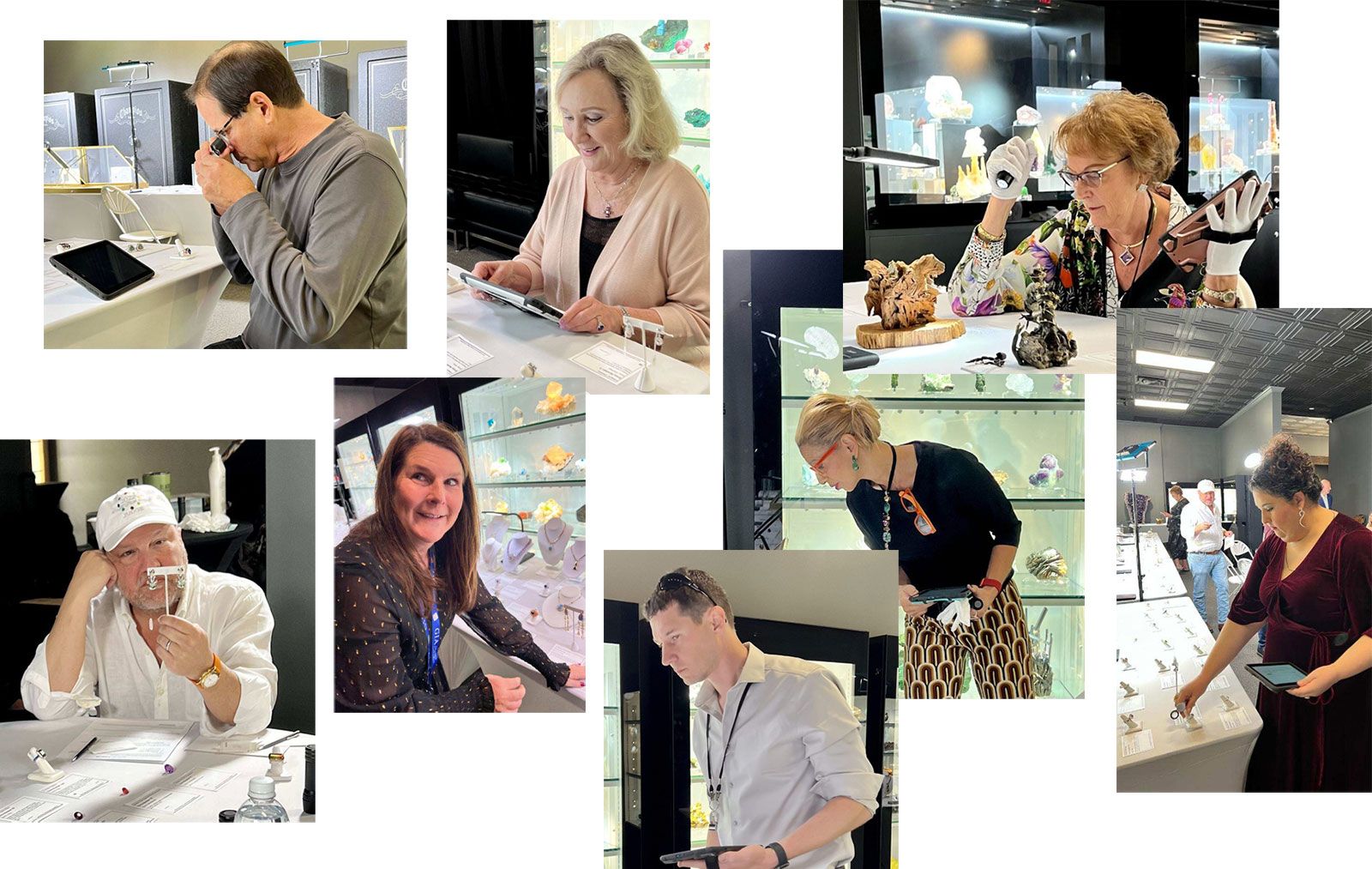 The AGTA Spectrum & Cutting Edge Awards™ has strict judging criteria. Pieces are scrutinized based on not only their aesthetic beauty but also their ability to generate publicity, the quality of their workmanship, the innovative use of materials, and overall wearability, among other aspects. There are two facets: the AGTA Spectrum Awards™, which focus on beauty, wearability, innovative design and workmanship, and the AGTA Cutting Edge Awards™, which honour excellence in the lapidary arts, including natural-coloured stones, cultured pearls, carvings and other gem materials. These awards are extensive, with many categories and opportunities to shine in bridalwear, daily wear, fashion and classical jewellery. Some Awards are also sponsored by Platinum Guild International and the Women's Jewelry Association.
So, without further ado, let's talk about some of this year's winners! The competition took place in Dallas, Texas, from October 22-23, and there are some notable trends among the entries, including tourmaline, spinel, yellow gold and step-cut gemstones. Kornerupine and dumortierite were among the rarest and most unusual gemstones entered, while a plethora of sapphires in all hues were more familiar sights. Among the Cutting Edge entries was a suite of Portuguese-cut zircons and a funky pair of faceted bubble-cut amethysts that caught my eye. For John Ford, his highlights included a ring designed by Gabriel Angulo for the Pompos Jewelry Corporation, set with a 2.55-carat rectangular emerald-cut Colombian emerald and accented with emerald-, baguette- and round brilliant-cut diamonds. This took First Place in the Bridal Wear category, while a second piece by the same company, set with a 6.29-carat Ceylon blue sapphire, won in the Classical category. He adds: "I also thought a yellow diamond ring, which took the Fashion Forward Award and [secured] First Place in Evening Wear, by Jeffrey Bilgore LLC, was well executed. The ring is a unique take on yellow diamonds and tsavorite with black ceramic."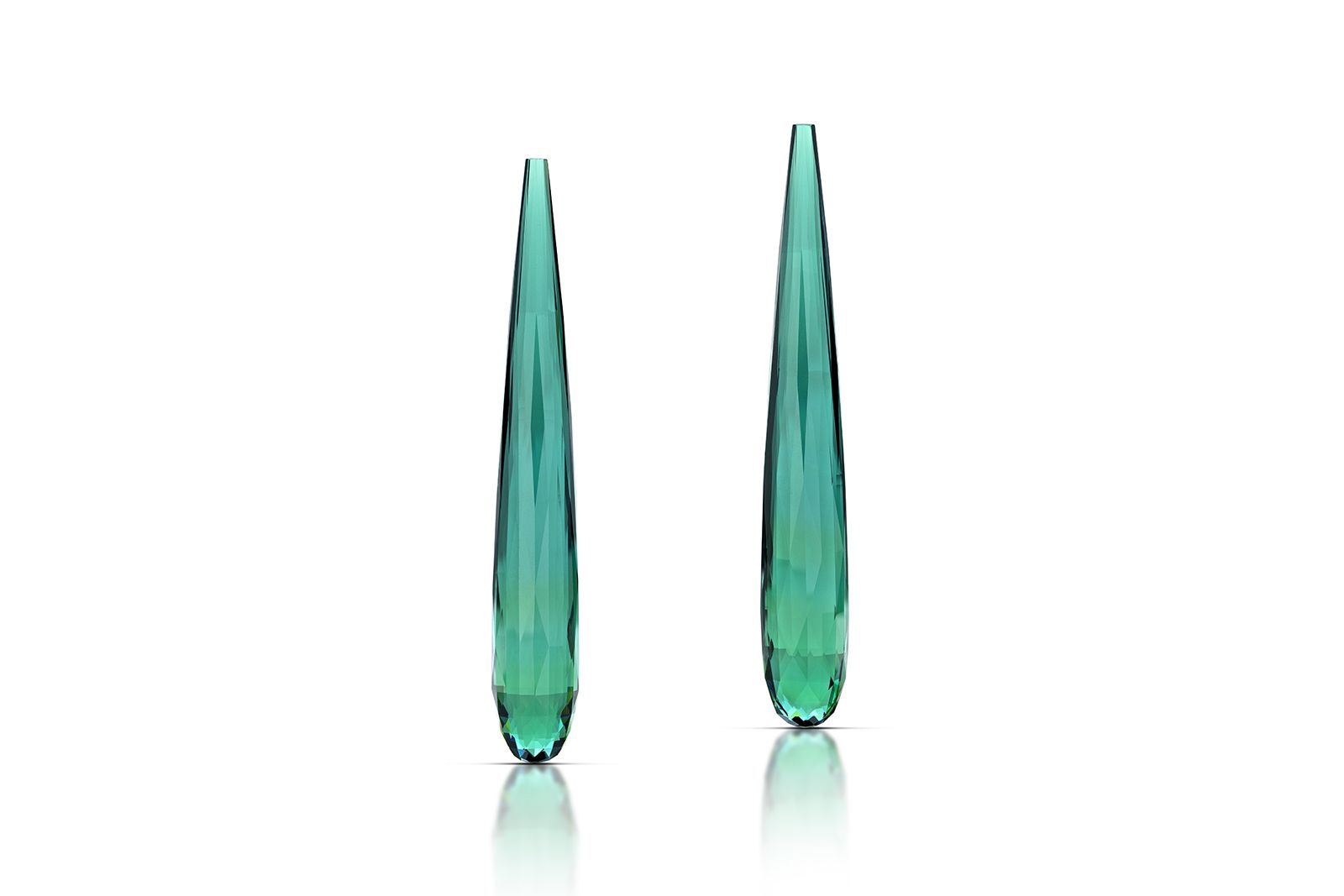 I couldn't possibly spotlight all the worthy winners here, but some deserve a special mention. For example, the Best of Show and 1st Place Carving Awards went to Dalan Hargrave of GemStarz Jewelry for his 210.55-carat green beryl carving of a stunning ballerina scene. I promise you're unlikely to have seen anything like it before. The Best Use of Color Award went to Robert Galustian of Robert Guild Jewelry Corp. for his 18k yellow gold earrings with two cushion-cut mint green tourmalines of 21.54 carats, two keystone-cut yellow sapphires, calf-cut kornerupines, 72 round amethysts, 66 round diamonds and six marquise-cut green tourmalines. Another fantastic pair of blue-green briolette tourmalines – with a total weight of 75.57 carats – was named the Best of Single Entries – Cutting Edge Award winner. These were presented by Robert Knupfer of Knupfer International Gems, Inc.
One of the most remarkable things about the AGTA Spectrum & Cutting Edge Awards™, in my opinion, is the way pieces live on in the memories of the judges but also among those who follow the Awards closely. Ford can still pinpoint his favourite entry from 2013 – James Currens' Lava ring with a vibrant ruby cabochon – as well as a piece from 2021 called DreamWeaver by Llyn Strelau. This necklace took Third Place in the Business/Day Wear category and featured multi-colour Akoya pearls and faceted gems from lapidarist Stephen Avery. The pearls were blended with morganite, heliodor and aquamarine to create an eye-catching palette of colour.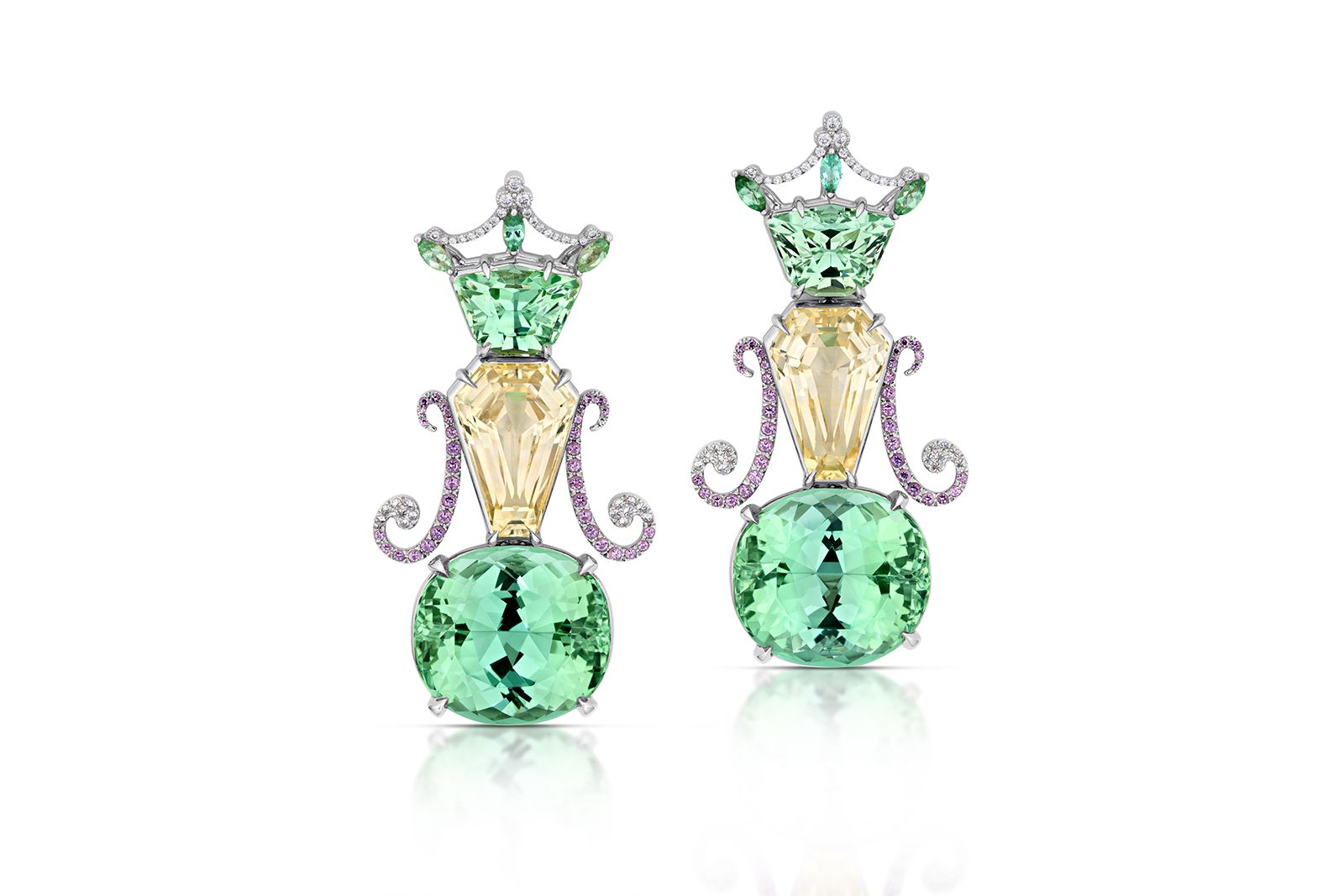 What's next for the Awards? Ford explains that he is "always open to adding new categories," which is exemplified by the introduction of a North American Mined Gemstone accolade as part of Cutting Edge. He continues: "For the evolution of the Awards, AGTA would like to strike up more relationships with industry partners. For example, Platinum Guild International has long been a partner with the Awards through its sponsorship of the Platinum Honors™ segment, which recognizes the outstanding use of platinum in six AGTA Spectrum Awards™ categories, including Platinum Honors™, Platinum Innovation, Entry Platinum Innovation, Best Use of Color and Platinum, and Best Use of Platinum Crown designations." Perhaps there is scope to turn the AGTA Spectrum & Cutting Edge Awards™ into something akin to an international gemstone Academy Awards? I would certainly love to attend the red carpet celebrations!
Finally, if you want to see some of this year's winning creations, visit the AGTA GemFair Tucson™ from January 31 to February 5, 2023. The AGTA Spectrum Gala, which takes place on Saturday, February 4, is not to be missed.